Halloween is a special time for Winnipeg musical outfit Sc Mira.  It was at a warehouse party that lead vocalist Sc, dressed up as Pulp Fiction's Mia Wallace (complete with a needle sticking through her heart) first met her musical collaborator Tyler Wagar, who was dressed up as "Planet Hollywood."  For the next year the pair would collaborate on a number of songs, resulting in the formation of their band Sc Mira and their single On My Own.  A very personal piece, On My Own has gained momentum throughout the Canadian independent music scene, creating a national buzz for the band and their upcoming album due to be released in the spring of 2015.
This Halloween Sc Mira is paying tribute to their Halloween roots by releasing a free on-line three song EP called Candy Apples and Razor Blades, celebrating the season featuring covers from The Misfits and the soundtrack of the cult film Phantom of the Paradise.  Currently on a North American tour, I caught up with Sc Mira to talk about their current musical projects, and to bond over our mutual love for Phantom of the Paradise.
Sam Tweedle:  How long have you guys been performing together?
Tyler Wagar:  As a full band we've been performing together for about a year.  As a duo for a little bit longer than that.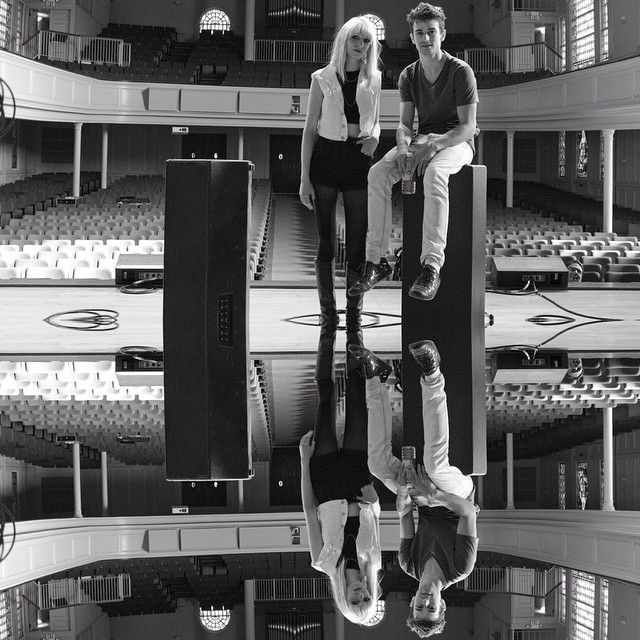 Sc:  We started as Tyler and myself.  Tyler had collaborated with some songs that I had written and then we collaborated on the EP.  After we had done that we knew we needed a full band and we started looking for members.  The members have been constantly changing.  Just friends that have been helping us as long as possible, but if they have to move onto other projects, or whatever the case is, they have been.  But we seem to keep finding people that want to jump on board.  Now we have a permanent drummer.
Sam:  You guys are on a North American tour right now, right?
Tyler:  You could say that it's North American.  We've done six Canadian dates so far.  We have three dates in Toronto, one in Kingston and then we are slipping down into the States.  Into the Midwest.
Sc:  Milwaukee, Madison…
Tyler:  Chicago….
Sc:  Green Bay, Minneapolis.
Sam:  I really think On My Own is one of the best singles that have crossed my desk in a long while.  I know that it has a very personal and deep meaning to you Sc.  Can you tell me a bit about it?
Sc:  I wrote the song a few years back after I broke my foot, again, for the nine hundredth time.  I had cancer a couple of years back and it has caused a lot of secondary physical issues.  Even when I moved on from the direct threat [of cancer] from my life, it just kept being a reoccurring problem and really it still is.  So the song is about being stuck in a body that is pretty useless in a body to me at times.
Sam:  How has the reception to the song been?  It seems to have put you on the radar.
Tyler: Yeah, it's been great in regards to publicly.  People have been noticing it.  [It's being played] on CBC.  Fans are liking it when it's played live.
Sc:  It's a little bit weird because the song is so personal and I never meant to share it.  People are asking about it and wanting to know what it's about.  That's what music is about.  Wanting to know where it comes from.
Sam:  When is the EP coming out?
Tyler:  We're hoping for March or April.
Sam:  How long have you been working on it?
Sc:  it's been wrapped for a while.  We fashioned it but didn't even have a whole band.  We wanted to get ourselves out there before releasing it.
Sam:  So this is a gem you're sitting on.   Now I read you have a Halloween project in the works.
Tyler:  Yeah.  We just had a Halloween EP released about a half an hour ago.  We recorded a couple of our favorite Halloween tunes.
Sc:  Yeah.  It's free on-line as a Sound Cloud stream, but Exclaim! did an article on it.  We did it as a free release to get some content out there because we are sitting on the EP.  Its three songs.  Two are covers from the soundtrack of The Phantom of the Paradise.
Tyler:  Oh yeah.
Sam:  Phantom of the Paradise is one of my top three all-time favorite films!
Sc:  Nobody usually knows what it is.
Sam:  What songs did you do?
Sc:  We did Life at Last and Somebody Super Like You because the themes are very Halloweeny.  The last song we did is Halloween by the Misfits.
Sam:  Now it's Winnipeg that has that strange Phantom of the Paradise cult following, right?
Tyler:  That's defiantly Winnipeg.
Sam:  Yeah – that film was a hit in Winnipeg and nobody else in the world.
Sc:  Yeah.  I grew up watching Phantom of the Paradise.  I've seen it so many times.  My Dad would show it to us and my siblings.  I guess Tyler watched it as a kid too.
Tyler.  Yeah.  It was also my Dad's favorite musical film.
Sc:  So it just seemed natural because Phantom of the Paradise is common ground for both of us.  We both already knew the songs.  I listen to the record year round.
Sam:  So do I.  I have it on my computer in my office.  It's one of my all-time favorite film soundtracks.
Tyler:  When we were working on the EP in Montreal last year we ended up in a vintage store and ended up finding the record just lying around.
Sc:  I had been looking for that record for a long time.  We found it for three dollars in some shop that we went into.  We both went in and thought I might find something worth taking home and I found it at the very back of the stack.
Sam:  So beyond the Halloween project and the upcoming EP, where do you guys plan on going?  Are you working on anything else?
Tyler:  Well over the winter, after the tour and before the release, we're going to work on more stuff.  We're going to do some in-house demos.
Sam:  I heard that part of the strength of the Winnipeg music scene is that all you can do in the winter is write songs and make albums.
Tyler:  Either that, or skate outside at minus forty.
Sc:  I can't skate.  I really have nothing to do but write music.
To get your own copy of Sc Mira's Halloween EP Candy Apples and Razor Blades, as well as a downloadable version of Own My Own, visit https://soundcloud.com/pipeandhat.  This is just the beginning for this charming duo.  We'll be looking towards Winnipeg to see what happens next.