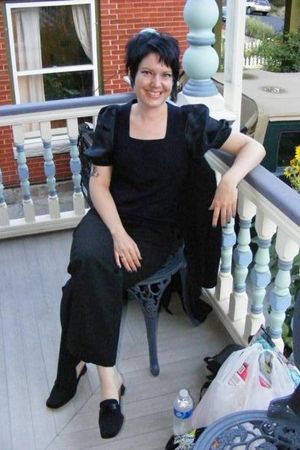 There is nobody on television that does what Amy Allan can do.  One of television's most enigmatic presenters, Amy Allan has been mystifying audiences and helping terrified people in need by using her unique gifts of communicating with the dead on Travel Channel's hit reality program The Dead Files since 2011.  Each week Amy and her partner, former NYPD homicide detective Steve  Di Schiavi, conduct separate investigations of haunted homes and businesses in an attempt to help the owners understand what unknown entities are living with them, and how they can protect themselves from malicious spirits, demons, shadow people and other supernatural presences.  While Steve does a more traditional investigation uncovering the history of the property, Amy, assisted by her husband Matthew Anderson, goes on a walk through the possessed buildings where she uses her powerful psychic gifts to communicate with the dead and uncover the hidden truths that lay within.
A gifted psychic medium since childhood, Amy Allan has been communicating with spirits as long as she can remember.  Highly expressive and intuitive, Amy's investigations are amazingly accurate, and when she comes together with Steve at the end, their findings seem to fit together like a haunted jig saw puzzle.  But beyond the television screen Amy Allan seems to be as much of a mystery as the places she investigates.  With little written about her past, and guarded about her present, little public information exists on Amy Allan.  However, her strong screen presence has earned her a devoted fan following which tunes in every Friday night to watch her eerie tours through haunted locations.
Despite her elusiveness, Amy Allan remains to be a busy woman.  With future projects in the works, including a new business and a series of books to help widen her work in helping people deal with the supernatural unknown, Amy is kept busy traveling North America with The Dead Files crew.  As a result, it was a rare honor to have Amy take some time to talk with me, and to reveal a little bit about her life as a medium and give some insight on what she does.
Sam Tweedle:  When did you discover that you had the gift to detect and communicate with dead people?
Amy Allan:  It was more of a process.  I have been told that I had strange things happening [to me] before I even remember.  My first memory was when I was four, but I really didn't know that it was anything abnormal or different.  I didn't really understand what I was going to be doing with it.  I started to test myself when I was in my late teens after having numerous inconsistent experiences throughout my life.  I had studied the field since I was a child trying to figure out what the hell [was happening to me].  I became fascinated with paranormal investigations and how they were being conducted with people who claimed to have abilities.  So I thought that it'd be a cool idea to go to a place that I didn't know anything about and see if I'm crazy.  So that's how the whole thing kind of started.
Sam:  Did you ever doubt yourself, and wonder if your gift was all in your head?
Amy:  Oh yeah.  When I was a kid, sure.  Especially when I was a teenager.  I thought I was crazy.  One of the things that I did do was that I put myself up for any kind of psychological tests or evaluation to see if I had any mental illnesses or mental disorders that was causing this, and they found that I did not.  So I definitely looked to science for answers for a very long time, and then started conducting these tests to see if I was getting accurate information, and I was.
Sam:  Is your gift to communicate with spirits a hereditary thing?
Amy:  It seems to be.  Both of my parents have it, and it seems to go through my mother's line through the females and my father's line through the males.
Sam:  So with your mother and father coming together, it would create a powerful medium in you.
Amy:  Yeah.
Sam:  Was there a defining moment when you became comfortable with this, and you realized that you were going to pursue this was really happening?  Was there a specific investigation?
Amy:  Really, it's every investigation. (Laughs)  I mean, I'm a scientist too, so I'll always be testing myself.  I'll never be done testing myself, or others for that matter.
Sam:  Your husband Matthew is a big part of the show and helps you in your investigations.  Was he initially interested in the paranormal as well?
Amy:  No, he really [wasn't].  He was a die-hard skeptic when he first met.
Sam:  Has he changed his mind?
Amy:  He says the same thing  Steve Di Schiavi says.  He believes in what I do.  He can't explain what I do, but he just knows that I can get this information.
Sam:  Did you know Steve Di Schiavi before The Dead Files was put into production?
Amy:  No.
Sam:  I love the juxtaposition between the different type of people you two are, but how your investigations seem to fit together like pieces of a puzzle.  How do you feel you two mesh as a team?
Amy:  We get along. (Laughs)  We have a mutual respect for each other in how we conduct our investigations.  I have been working for a long time with private investigators and police officers, so that was always an instrumental part of my investigation technique.
Sam:  How did Travel Channel first come in contact with you?
Amy:  Through Painless Productions and Jim Casey.  He went to them with this and they liked this.
Sam:  I watch a lot of paranormal shows, and one of the things that make The Dead Files different from the others is that you almost never see any actual physical evidence of ghosts or poltergeist activity on camera.  The show is focused on you and Steve and the actual investigation and information that the two of you collect.  During the filming of the show have you been to a place that has had a lot of physical activity or have the crew seen any apparitions?
Amy:  We've had various experiences filming the show.  Some of the crew have seen apparitions.  Yeah, things have happened.
Sam:  In all of the places you go you seem to encounter very malicious spirits and dark energy.  You've dealt with some really nasty creatures.  Obviously, in this type of work, you encounter good or passive spirits as well.  Do the producers of The Dead Files specifically send you out to places that have hostile spirit activity?
Amy:  From what I understand they pick locations where people really need help.  There has definitely been times when there are good dead people around and they're freaked out, but there is [the bad] dead people freaking them out.
Sam:  Has there been a time when you've been truly scared?  I mean, you get threatened a lot, but you seem to have pretty thick skin.
Amy:  Well, I just feel a lot of stuff.  I've been through a lot.  Not a lot really bothers me.  I've been in locations where I initially have that scared moment, but I'll work through it.
Sam:  But I have seen episodes where spirits are telling you that they want to harm you, or even kill you.  I'd be pretty freaked.
Amy:  Meh.  (Laughs)
Sam:  The show has been a great success.  What's next for you?
Amy:  I'm starting a business again.  I'm finding a location so that people can go there for help and for ongoing treatment and assistance.  I think  it's going to be a really great place where people can come and feel safe about talking about these kinds of things.  I am also working on some books to help people at home.  I've been doing [lots of] research.  I have a lot going on. (Laughs)
Sam:  Obviously you won't always be at the business due to your schedule with The Dead Files.  Will you be putting together your own team of mediums to help you?
Amy:  Yes.  Absolutely, and people who have been tested.
Sam:  Due to the success of The Dead Files, and Travel Channel's other supernatural show, Ghost Adventures, supernatural investigations have grown in popularity and more people are going out in search of spirits on their own.  What would your advice be to amateur ghost hunters?  What is the best way to protect yourself?
Amy:  Hm.  Well, first off, have respect for the dead people that you encounter, because they are just people in most cases.  Tell them straight up that they are not allowed to harm you and that they are not allowed to follow you home and really mean it.  The thing is, we have the power and we have the intention that we can place forth and [the dead] people just need to know that.
Sam:  Have you ever had anything follow you home?
Amy:  When I was younger.  Yeah.  Before I knew that I had to put my foot down.
Sam:  So this has really been a life long journey for you.
Amy:  Oh, absolutely.
Sam:  At the end of the show you always give the home owners advice to make their situation better, or advise them that they should leave their homes behind if there is nothing they can do.  Have you dealt with people who have flat out not taken your advice?
Amy:  Yeah.  I think that people who respond that way are typically unnerved because it's not something that's going to be resolved in five minutes, and they have to put a lot of work into taking care of the situations.  So, I think it's up to them if they want to do it or not.  But you got to take care of your house, and sometimes that means that you've got to remodel and that'll take some time and investment.
Sam:  How about success stories?  Do you feel that you have made some people's lives better?
Amy:  Yes.  It feels great because the dead people have been taken care of, and the living people are happy, and that's awesome.  That's why I do what I do.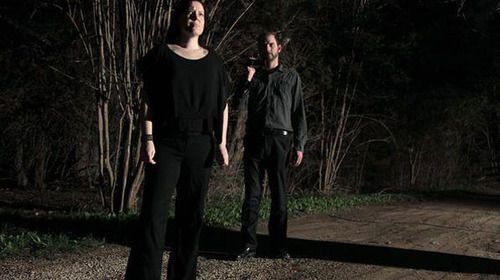 One of my favorite weekly programs, I never miss an episode of The Dead Files.  What Amy and Steve do is truly unique, and the histories and stories that they reveal are compelling.  They reveal the hidden horrors and local legends that don't make the history books.  It is a program I just can't turn away from.  But even after engaging with Amy in conversation, she still remains as mysterious as ever before.  Obviously very guarded about her privacy, Amy is definitely the most elusive individual I've ever interviewed.  But her dedication to take care of both living and dead people is a testimony to her compassion, and the importance of the works she does.  Amy Allan is using her incredible and rare gift for positive means, making her a light in the shadows that haunt our world.
The Dead Files air Fridays at 10pm ET/PT on Travel Channel.  For more information on Amy Allan and The Dead Files visit their official web-site at http://www.travelchannel.com/tv-shows/the-dead-files.
POP CULTURE NOTE:  Thanks to Stephanie DePietro from Travel Channel  for arranging the opportunity to talk to Amy Allan.