Archie Comics has become as much a part of Americana as apple pie.  There isn't anybody anywhere which can say that they haven't ever read an Archie Comic.  Even the people who have never read comics, probably at one time or another come in contact with Archie Andrews and his pals n' gals from Riverdale USA, thus making them virtual cultural archetypes – loveable and popular Archie, sweet and bright eyed Betty, vain and manipulative Veronica, arrogant and cocky Reggie and the enigmatic Jughead.  They are a part of our lives, our cultural landscape and our childhoods.  However, one of the unfortunate secrets in today's comic industry is that Archie Comics are no longer the comics that we grew up on.  Sure, the characters remain the same as we remember them, but the people that make Archie Comics one of North America's most respected family friendly publishing institutions have stepped up to plate and is now bringing Archie Comics into a new playing field.  By including new characters, multiple part storylines and crossovers and, most importantly, continuity, Archie Comics have suddenly matured into a whole new breed of comic which has been delighting mature comic readers, while still being friendly enough for kids.  In 2010 Archie had one of its most successful years in decades, making headlines and selling out of issues as a new cult following for America's favorite teenager began to emerge amongst serious comic readers.
In 2011 Archie and friends will become the world's oldest teenagers as they celebrate their 70th Anniversary.  As readers get ready for another year of excellent storytelling, Archie Comics is preparing to outshine last 2010's record breaking accomplishments as they build on many of last year's hit storylines, as well as bringing back popular characters from the past, more graphic novels and collections, a brand new tabloid sized magazine, a statue set from Darkhorse Comics and a brand new superhero line overseen by Stan Lee himself!  2011 is proving to be the biggest year ever for Archie fans!
With Archie Comics becoming a virtual obsession of mine, I was excited to talk to two of the men who were key factors in the success of Archie Comics in 2010 – writer and artist Dan Parent and artist Fernando Ruiz.  Working for Archie Comics for over a decade, Dan and Fernando take a certain pride and passion in the work they do at Archie, sharing the same love for the iconic characters that generations of others around the world hold in their hearts.  Encountering Dan and Fernando together at the Toronto Fan Expo in late 2010, the three of us partook in a fast and furious discussion about Archie's successful year, things to come in 2011, and some of the secrets behind Archie's resurgence on the pop culture radar.
CONFESSIONS OF A POP CULTURE ADDICT PRESENTS
EVERYTHING'S ARCHIE!:
A CONVERSATION WITH DAN PARENT AND FERNANDO RUIZ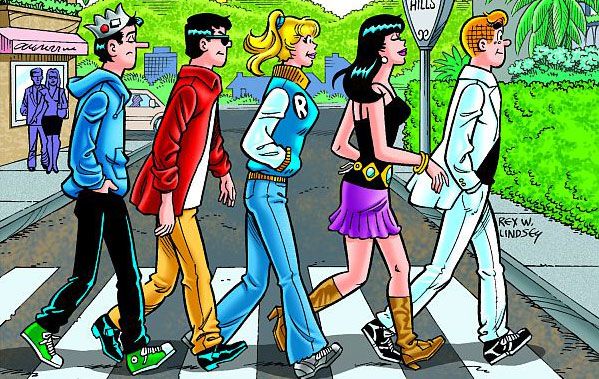 Sam Tweedle:   In the last year or so it seems that Archie Comics has really stepped up to plate in being able to compete with the larger companies, and are starting to realize that kids are far more sophisticated then they were given credit for in the past.  Archie Comics have really matured to appeal to older audiences as well as kids but they still are not reaching a large portion of comic fandom due to the stigma that the public still thinks about Archie Comics just being for kids.  What are your individual thoughts on this?
Dan Parent:  Well there always has been [this idea] that Archie has been a comic book for kids, but there always have been an older readership for Archie – especially now.  Now I think it's about 50/50 as far as older readers and younger readers.  Maybe there will always be a stigma because it is Archie Comics, but I think a lot of people have noticed the changes that we've made in the last few years.
Fernando Ruiz:  I think [we've grown] creatively too with Mike Pellerino becoming the new managing editor and our new CEO Jonathan Goldwater. They've been pushing us more.  They've said "Make this funny.  Be creative.  Do whatever you want.  If there's anything where your going to far we'll put the breaks on you, but go crazy."   It certainly has become a lot more fun for us and it lets us take more chances.  We were very conservative for many years.  We held back a little and I think that's why people have a little bit of a stigma too [about Archie Comics].  Does Archie take place in the 50's?  No.  Archie always took place today and now we are making a point to stress that.
Sam:  I am personally a very cynical person when it comes to humor.  I hate comedy films, and it is hard to make me laugh with traditional humor.  However, for some reason I catch myself laughing out loud to many of the current Archie books.  Some of my favorite punch lines over the last year was when Archie went to Paris to find Veronica and got stuck there with Mr. Lodge, and of course the final scene to the Kevin Keller issue of Veronica.  The comedy has been amped up.  How are you making me laugh?
Dan:  Well I watch tons of TV and situation comedies and I'm going to make something that will make me laugh.  The Kevin Keller story works a lot because it is Jughead vs Veronica and those are the stories that always work best for me.  [They are] the two total opposite ends of the spectrum as far as the Archie Universe goes.  That's a real classic example of a Jughead vs. Veronica story.
Sam:  What is so funny is that Veronica and Jughead are my two favorite Archie characters.
Dan:  They are mine too! 
Sam:  Why are they your two favorite characters?
Dan:  Well Jughead is Jughead.  You don't have to explain why he is cool.  Veronica is just an interesting character.  From a creative standpoint, as a writer and an artist, it's much easier to write a Veronica story then it is a Betty story.
Sam:  How about you Fernando?  Who is your favorite character?
Fernando:  My favorite was always Reggie.  He's evil, he's arrogant and Reggie stories just write themselves.  Once you come up with the situation, bingo, you've got your story.  With Archie and Betty, they are so perfect that it is hard to make fun of their flaws.  They are nice characters.  That's why they work best when they play well off of Reggie and Veronica.
Sam:  People know I am a Veronica fan and they can't figure out why I like her over Betty.  Well in my opinion, Betty is like Glenn Close from Fatal Attraction.  Seriously.  Betty is spineless, a victim and she will do anything Archie told her to do.  If Archie really married Veronica, Betty would totally skin Hotdog.  Betty is a psycho.  That's the kind of a girl you get a restraining order on!  Anyhow, that's enough of my rant.  Let's get back on track.  A couple of years ago I was flirting around with the Archie books a bit and I was disappointed on the high amount of parody being used and I thought that the books were really gimmicky for a while.  I remember when Sabrina the Teenage Witch had an Ozzy Osborne inspired character in the book I decided to call it a day at that time.  Are the Archie books less gimmicky now, or do you feel that my assessment of this trend is off base?
Dan:  I don't remember Archie being too gimmicky.  If anything, I use a lot of gimmicks myself because I do a lot of pop culture parody and I'm the first to admit it.
Fernando:  I think we're more gimmicky now, but I think it works.
Dan:  Yeah.  It does.  I kind of think of it like MAD Magazine and their parodies.  MAD Magazine is always so timely.  I feel that's a little like what we are doing now. 
Fernando:  Archie always have to make that statement on what's popular now.  It's part of staying relevant. 
Sam:  In the first issue of Life with Archie there was an interview with John Goldwater where he talked about things to come in 2011 and said that characters such as Sabrina, Josie and the Pussycats and Katy Keene are coming back for the 70th Anniversary.  Is that a true statement?  Do you know if these characters will all be coming back?
Dan:  For what I understand.  I am not working on anything with Katy Keene or Sabrina, but I understand that they are revamping them.  They'll never get rid of Sabrina or Josie.  In fact, I get tons of requests to draw Josie.
Fernando:  Yeah.  They are relaunching them.  They are also bringing back Sam Hill, who was an obscure private eye character.
Dan:  Their bringing back Lil' Jinx too.
Sam:  They are bringing back Lil' Jinx?  How are they bringing back Lil' Jinx?
Dan:  Well she's about thirteen.
Fernando:  Yeah.  She's a little older.  It's going to be a more sophisticated story.  There's going to be tween drama.   Actually, the book is very hip.  She's not a little girl anymore.
Sam:  I never liked the original Lil' Jinx strips, but if you can promise me that it's good, I'll buy it.
Fernando:  I think its going to be good.
Sam:  So let's talk about the Archie movie.  Now I know you aren't allowed to talk about the movie, but we all know there is a movie coming out.
Fernando:  There's a movie?
Sam:  Of course there is a movie!  Honestly.  So I've been following the polls for casting the Archie movie on line and Justin Beiber has been winning via reader's votes for the role of Archie.  What's your thoughts on that?
Dan:  I actually have no opinion on that at all.  I don't know if that is good or bad.
Fernando:  Well my picks to play Betty and Veronica for many, many years were Angelina Jolie for Veronica and Jessica Simpson as Betty but they are too old now.
Dan:  I think Hillary Duff would have been a good Betty when she was younger, and ten years ago Jennifer Love Hewitt would have made a good Veronica.
Sam:  I think Venessa Hudgens would have been a good Veronica.
Fernando:  I also think Mila Kunis would make a good Veronica.
Sam:  Now I've become very affectionate towards some of the secondary characters that have been introduced over the last few years.  My absolute favorite is Ginger Lopez.  Which do you guys feel are the most interesting of the second tier characters?
Fernando:  I like Chuck.  He's a cartoonist.
Sam:  He used to be a jock.
Fernando:  He still is, but he's got that creative sci-fi/geeky thing on the side.  I think we've been doing more with Chuck. 
Sam:  Well I've always thought of Chuck as being more of a first tier character.  He's kind of on the periphery of things.
Fernando:  Yeah.  Dilton too.  He's a character who is begging to have more done with him.
Dan:  I've always liked Cheryl but I guess she could be considered a main character too.  I like Veronica's cousin Marcy.
Sam:  She's a lot of fun.
Dan:  She's another one I use in a lot of the stories because you need a foil for Veronica and she's the complete opposite of Veronica.  She's this little geeky nerdy girl.   Veronica picks on her, and she never wants anything to do with her because she's always going to sci-fi shows and comic book conventions.  She doesn't really hate her, but she finds her annoying.  In fact, that's how Veronica describes her.  "My annoying cousin Marcy."
Sam:  Now of course the big news story for Archie in 2010 has been the introduction of gay character Kevin Keller.  You've received so much press on him and I'm sure that you have said all that needs to be said.  Dan, you created Kevin.  What can you tell us about the feedback on Kevin's creation, both positive and negative?
Dan:  I don't know of any postal mail that has been negative, and even the response that we get directly from people is good.  The most negative I've seen is on blogs that don't have anything to do with Archie.  It'll be on something like CNN and someone will post a negative comment.  But as far as the feedback to us has been 95% positive and when its not it's usually the same thing.  No matter what you do there will be people who don't like it.
Sam:  I think the first appearance of Kevin Keller justifiably deserved the hype it received, and I thought it was one of the funniest and delightful books I've read in a long time.  I thought it was sweet and well done and realistic.  Kevin reminded me of some of my gay friends and, most importantly, the fact that Kevin was gay was not the focus of the character as much as it was the punch line against Veronica.  Besides that, the fact that he was gay seemed to be an afterthought.  That was incredibly well done.
Dan:  People get nervous when they hear the word "gay" but when you read the story its really a family friendly story.  We've been doing Archie for a long time and we are not going to do anything that's going to damage the characters in any way.
Sam:  I remember reading a comment where some concerned parent said that Archie Comics was now going to turn their kids gay.  In my opinion, Kevin Keller might be more apt to inspire gay kids to embrace their true self because they were gay to begin with.
Fernando:  And how many kids did we turn hetero?
Dan:  Yeah.  We're behind every boy that chases after two girls at the same time.
Sam:  One of the notable differences in Archie Comics, which I think is one of the reasons that I have a new appreciation for them, is the fact that you are doing longer archs and that you've introduced continuity into your stories.  When did that come into play, and do you feel that has increased your fan base?
Fernando:  Only recently have we been referring to back stories and building something with it.  We don't want to go overboard with it because we don't want it to turn into Marvel Comics or X-Men where it is so inaccessible to new readers and we want to stay fresh and easy so that the first issue of Archie for a new reader makes sense.  But I think [continuity] makes things more richer.  It makes the stories matter more. 
Dan:  I like the fact that we think about the stories a little more now, and we think ahead to what we want to do.  Its just better planning basically.
Sam:  I'm glad you guys are doing that now because, as a comic reader, it is what has interested me in Archie and is why I am buying all the comics in the Archie line.  So what do you guys want to do next?  What do you want to do that hasn't come to the board yet?
Dan:  [I want to do] more with Josie and the Pussycats.  I got to do the Archie/Valerie storyline and  I'd like to do more with the romance, which I will be.  But I'd like to do a regular Josie and the Pussycats book.
Sam:  How about you Fernando?
Fernando:  I'd like to do two things.  First, bring back the Archie's Weird Mystery book, and do a Reggie solo book.
Sam:  Reggie hasn't had a regular book since the 50's, has he?
Fernando:  He had a string of specials in the early 90's.  The Reggie's Revenge Specials, but I think he could carry his own book.
Sam:  Now how long have you guys been working for Archie Comics?
Fernando:  Sixteen years.
Dan:  I've been with them for twenty three years.
Fernando:  That's a prison sentence.
Sam:  I was only twelve years old when you started with Archie!  Why have you stayed with Archie for so long?
Dan:  It's the best job you could have.  I'd be a fool to quit.
Fernando:  Absolutely.  I love the job and thankfully they've kept me employed all this time.  I wouldn't quit for anything.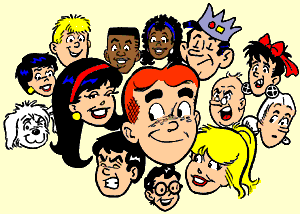 If you haven't picked up an Archie Comic in the last few years, you are missing out on some of the best comics being written today.  Archie Comics is not the same books you remember from your youth.  The stories are fresh, funny and with enough story that you'll want to buy more and more.  Do yourself a favor and pick up an Archie comic today, and share it with the kid in your life.  Archie may be 70 years old, but he is better then ever before and ready to celebrate his biggest year yet!