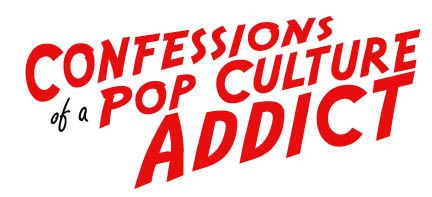 REMEMBERS
ARON KINCAID
1940 – 2011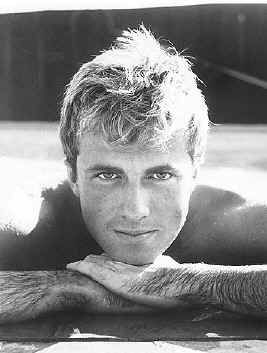 The first time I came face to face with actor Aron Kincaid was at the legendary Musso and Frank Grill on Hollywood Boulevard, a place which Aron, like many stars from Hollywood's colorful past, frequented for a luxurious meal.  He no longer looked like the beach stud from the AIP beach films I knew him from.  His golden hair had turned dark, his smooth boyish looks were worn with age, and his clean cut face was replaced with a neatly trimmed beard.  However, the expressive eyes that young girls swooned over at Saturday matinees of days gone by were still the same.  The decades had physically changed Aron Kincaid, but the good looking stud of 60's beach films was still there somewhere.  As I sat down he handed me a DVD – a bootleg of his 1965 film The Girls on the Beach.  A long time fan of beach films, when setting up our interview I had mentioned to him that I had been seeking out a copy of the odd little film, which had never been released on DVD, for years.
"This is my only copy" Aron said, "You can have it."
"But this is yours.  You're going to want this" I protested.
"No I won't" Aron replied, "One day I'm going to die and nobody is going to want this.  It's yours.  You take it."  I wrote his comment off as cynicism but I didn't argue and I put the gift in my briefcase.  The two of us spent a leisurely two hours at Musso and Franks dining amongst the ghosts of Chaplin, Valentino and D.W. Griffith, basking in the glory of one of the last relics of old Hollywood and sharing stories about our love for classic film.  Yet, as the wine continued to flow, it became very clear that we were not going to be doing an interview that day.  "There is no longer a place called Hollywood.  It's just a big sign" Aron said, repeating Mickey Rooney's famous quote.  As the afternoon came to an end, Aron and I decided that would we would continue to keep in touch, and that on another date we would eventually do our interview.  Yet, once back in Canada, as I called Aron on a regular basis, he once again changed his mind.  "I don't like talking on your speaker phone" he bluntly stated "You sound like you're in a wind tunnel.  Next time you come out to Los Angeles I'll have you to my house and I'll cook a nice meal and we can talk as long as you want."  I told him it was a deal.  It was a promise that we were never able to keep.  On January 6th, 2011 Aron Kincaid passed away at age 70.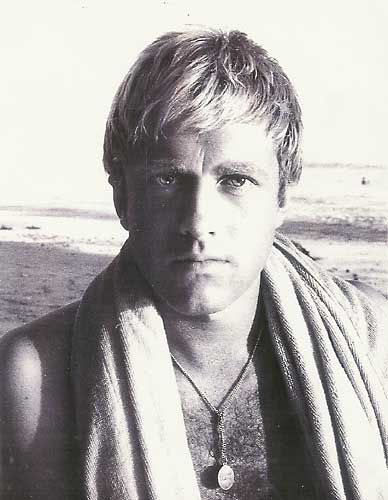 I didn't know Aron Kincaid very long, and I wouldn't say that I was a close confident of his by any means.  However, I believe the two of us liked each other well enough and we spoke often throughout the early part of 2010.  An eccentric and incredibly private man, Aron Kincaid seemed to struggle between wanting to be a social butterfly and wanting to be a hermit.  He seemed to hate attention, but loved when he got it.  But if you called him on the right night Aron would be full of stories of Hollywood's glory days.  "Everybody is connected in this town" Aron would say, and eventually I'd realize that what he said was very true.  Aron had a story about everything and everyone.  I don't know if all of Aron's stories were true, or how accurate they all were, but when he was in one of his pleasantly charming moods he had incredible stories to tell.
A life long resident of California, Aron's grandfather and mother had both flirted with show business themselves, and their love for the golden age of Hollywood was passed down to Aron when he was a young boy"Once we were at a restaurant and my grandfather pointed George Raft out and said 'There.  That's George Raft.  Go and ask him for an autograph.'" Aron told me, "' But I looked at my grandfather and said "Is he anybody?  I've never heard of him.'  'Of course he'd famous' my grandfather said, as he pushed me towards Raft.  I still have his autograph today."
On another occasion Aron told me about how he skipped school and took the long bus ride to go to Grauman's and watch Marilyn Monroe and Jane Russell put their hands into cement.  "It was a different era then" Aron said, "Nobody pushed or shoved or shouted.  Everybody got a chance to see and Marilyn and Jane were so beautiful.  It was a fantastic day."
Another story too fabulous to be true Aron told me on more then one occasion talked of a chance meeting with two of his screen idols. "One afternoon I swam out to Humphrey Bogart's yacht and Bogie and Bacall pulled me on board.  We talked a while and they signed an autograph for me.  They had a guest on board and asked if I wanted his autograph too but I declined.  It wasn't until later that I realized the man in the lounge chair was Marlon Brando."  It sounded like an unlikely story, but framed above his fireplace mantle was the brittle pieces of paper with Humphrey Bogart and Lauren Bacall's signatures.
His favorite souvenir was a telephone from the office of his idol – filmmaker Cecil B. DeMille.  Aron often claimed to have met DeMille during his youth, but I was unable to ever keep the details straight.  But what I do know was that as a boy Aron would write the famed movie mogul, and DeMille would, from time to time, write him back on personal stationary.  Eventually, although how it happened was never clear to me, Aron acquired his telephone which he cherished the rest of his life.
But by the time that Aron found his way into pictures the classic days of Hollywood were coming to an end.  An art prodigy, winning awards for his portraits and landscapes as early as the age of twelve, Aron was studying at UCLA when he met fabled B movie director Roger Corman who cast Aron as the uncredited bee keeper in the opening scenes to his classic horror cheapie The Wasp Woman.  His next film would be of a different caliber, when he appeared, once again unbilled, in Stanley Kubrick's Spartacus.  However, growing into a good looking lad of the beefcake variety, Aron got his first regular gig in the role of Warren Dawson in the final season of Bachelor Father alongside John Forsythe.  More television appearances would follow on programs such as The Beverly Hillbillies, The Donna Reed Show, Family Affair, The Patty Duke Show, My Three Sons and Get Smart, with Aron often being typecast as the "young stud of the week."  But sometimes television roles came out of odd circumstances.
"When Bonita Granville's son Jack ran off and eloped with sixteen year old Lana Wood, for some reason it was left to me to call his mother and tell her what he had done" Aron told me when learning that I was a Bonita Granville fan.  "She listened to the news in silence and after I had finished she thanked me and then told me 'If you would like, we will have you on an episode of Lassie.'"  When Granville and her husband, oil man Jack Wrather Sr caught up to the young lovers they forced the marriage to be annulled, and sure enough Aron made an appearance on Lassie not long afterwards.
With his rigid jaw, his jocular good looks, his sun bleached hair and big grin, Aron eventually found his own place in Hollywood appearing in the popular beach films of the era.  However, while Frankie Avalon and Annette Funicello's beach party films were hits, Aron's films, such as Beach Ball and The Girls on the Beach were second string stinkers in comparison.  Eventually Aron signed up with AIP pictures, the company behind the definitive beach party films, where he was quickly cast as Frankie Avalon and Dwayne Hickman's rival Freddie in Ski Party.  Just a bit beefcakier, a bit hunkier and a bit smoother then Avalon and Hickman, Aron Kincaid played the ultimate foil for the duo as he upstaged them time and time again.
But in real life Aron never married and never had a family of his own, despite being engaged on four different occasions.  But that didn't stop Aron from having some interesting and off beat affairs of his own.  During the 60's he often would accompany pop singer Lesley Gore, whom appeared with him in Ski Party and The Girls on the Beach, to Hollywood premiers and parties.  "She was one of the smartest girls I ever met" Aron reminisced, "but she told me very early on that she was a lesbian.  She wasn't at all into guys, but that was okay with me.  I kept her secret as long as she did."  Meanwhile, Aron also often became the much younger companion of some of Hollywood's legendary glamour queens of the golden era, including Rita Hayworth and Maureen O'Hara.  When Maureen O'Hara came back to America to attend the Oscars in 2002 Aron accompanied her as her date.  "At one point during the ceremony Richard Gere came flying from the stage and fell to Maureen's feet, kissing her hands and exclaiming her a legend" Aron told me once laughing, "As he pranced away Maureen turned to me and said 'Who in the world was that?'  'That's Richard Gere' I told her.  'And who is Richard Gere?' Maureen exclaimed.  'Why he's one of the biggest actors in the world' I told her.  'That man is insane' Maureen replied and she said nothing more of the incident."
Yet as the 1960's came to an end, Aron began to grow tired of Hollywood and the silly pictures that AIP was putting him in, including a bit part in Dr. Goldfoot and the Bikini Machine and the dismal flop The Ghost in the Invisible Bikini.  Entering a legal dispute with AIP over the terms of his contract, Aron  rented out his Beverly Hills home and turned his back on Hollywood for the hills of San Francisco where he put his focus into his art once again, painting under the name of N.N Williams II.  Not long after his move to San Francisco Aron began a lucrative career as a male model which eventually relocated him to New York City.  Due to his eternal good looks, Aron was able to remain in the modeling industry well into his 50's in the role of the elegant older man.
Growing homesick for California Aron eventually returned to Beverly Hills and took up another career in voice acting on cult cartoons such as Transformers, The Smurfs, Johnny Quest and Batman: The Animated Series, acquiring a cult fandom that he never really understood.  "I don't know who these people are" he would say of fans who wrote him for autograph requests on Killer Croc and Sky Lynx memorabilia.  Yet his love for classic Hollywood would carry over to his voice acting work.  "Killer Croc is just my own impersonation of Richard Widmark" he once explained.
But like all people there was a dark side to Aron Kincaid too.  He wasn't always a happy man.  He would often get angry, and could be vile.  He feared that his legacy would be forgotten.  He often seemed lonely, and could become very bitter.  Calling him soon after attending a funeral of a friend Aron said to me "Nobody cares anymore.  One day we'll all be dead and nobody is going to remember any of us."
By the summer of 2010 Aron Kincaid and I began to communicate less and less, but I tried to keep the lines open with him as much as I could.  The last time I spoke to him was on Christmas Eve.  When Aron said hello he did not sound like the animated eccentric I knew from the beginning of the year.  His deep voice sounded muted and tired and he sounded out of breath.  He did not sound at all well.  "It's Sam Tweedle" I said to Aron after his initial greeting.  "Oh Sam.  How are you?"  Aron said .  "I'm fine.  How have you been" I replied.  "I haven't been well," Aron confessed, but he did not give me further details.  "Well I just called to check in on you and let you know that I was thinking of you and to wish you a happy Christmas" I said.  "Well thank you" Aron said.  "Merry Christmas to you too."  Somehow I knew that Aron was not in the mood to talk anymore.  "Well…take care of yourself" I said.  "You too Sam.  Goodbye" Aron replied and he hung up the phone.  It was the shortest conversation we ever shared.  Three weeks later Aron would be gone forever.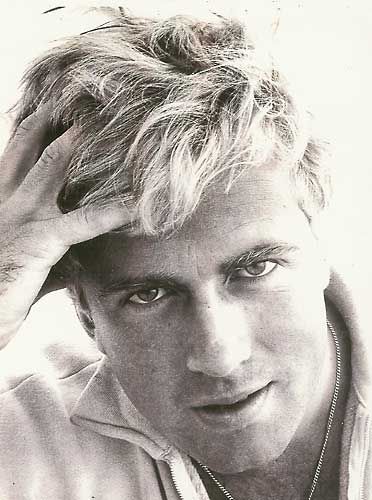 As I searched through the internet today looking for information on Aron's death, and attempting to find tributes, it became very clear that Aron's fears of the loss of his legacy may have been more real then I ever believed.  For the exception of one decent obituary from the Los Angeles Times, it became very clear to me that very few people really knew Aron Kincaid.  A few Transformers fans made quick tributes to him, but clearly they had no understanding of the full extent of Aron's career in the same way that Aron had no real understanding of Transformers fandom.  But once when Aron questioned the strength of his legacy to me I told him "That's why I want to do an interview with you Aron.  I want to preserve your story.  I want to make sure that people will remember."  I never did the interview, but I hope that by telling just small portions of the stories he told me that I will do justice to his memory.  Tonight I will pull out his DVD copy of The Girls on the Beach, open a bottle of red wine, and drink a toast to my friend Aron Kincaid.  Even if everyone else forgets, I'll make sure to remember you forever Aron.  Your legacy will always remain alive in my mind and my heart.  To me you were as big a star as your personal icons were to you, and you gave me a world of stories to share with the next generation of film fans.