All summer long PCA reviews pop culture's greatest summer films…reminding you that the world's best films are not in the "New Release" section at your local Blockbuster.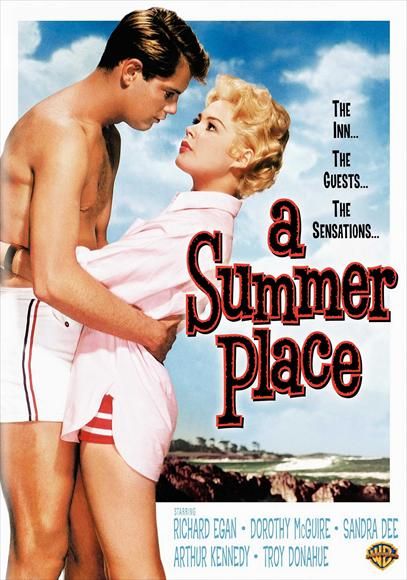 A Summer Place (1959) – When A Summer Place was released in 1959 it both thrilled and shocked audiences for it's obvert and blunt discussion of sexuality and acceptance of adultery.  Post war America was a society at its most repressed, where good people in perfect families tried to hide their dirty little secrets behind locked doors, and denied that sex was on their minds.  Based on the controversial novel by Sloan Wilson, A Summer Place flipped the moralities of the era upside down, revealing the many shades of grey of sex, lust and passion for the first time in film.  Furthermore, A Summer Place brought sex out into the open, revealing it as a natural thing and showing American families the thing they didn't want to see.  No matter how respected your family is, and how closely you watch your children, your teenagers are thinking about and having sex too…and it's going to be okay.  In fact, it's hypocritical to treat their sexual desires as a sin, because they are the same ones you possessed when you were young too.
Self made millionaire Ken Jorgensen (Richard Egan), who made his fortune as a research chemist, brings his family to Pine Island, off the coast of Maine, to the resort where he once worked as a life guard twenty years earlier.  There he is reunited with his long lost love Sylvia Hunter (Dorothy McGuire) who is now married to the weasly Bart (Arthur Kennedy); her alcoholic husband who has drank the family fortune away, forcing them to turn their once grand estate into a dilapidated inn.  Twenty years ago Sylvia was from a rich family, and Ken was not in her social rank, and instead he left her without saying goodbye.  When he found out that she married Bart, he took a bride of his own, Helen (Constance Ford), an elitist bigot with a strict and demented sense of morality.  Both wallowing in unhappy marriages, the only thing that they have in the world is their children – for Ken it is his daughter Molly (Sandra Dee) and for Sylvia her son Johnny (Troy Donahue).  Realizing that the flames of passion have not died between them, Ken and Sylvia begin meeting after dark and having an affair on their estranged spouses, while Molly and Johnny partake in their own summer romance, much to the Helen's chagrin.  Eventually their betrayal is revealed, allowing Ken and Sylvia to leave their spouses and find happiness together, but in the process lose the love and devotion of their children who are horrified of their parent's affair.  A year later, in an attempt to repair their fractured relationship with Molly and Johnny, Ken and Sylvia, now married, invite the kids to spend another summer at their beach house, where Molly and Johnny's love affair, which had been brewing through letters and secret visits throughout the school year, becomes reignited.  But just how dangerous can young love be?  In the end, young lovers and old lovers learn that despite a generation gap, passion is the same no matter how old you are.
Following on the heels of 1957's controversial hit Peyton Place which dealt with taboo subjects such as sex, rape, incest and moral hypocrisy, A Summer Place built itself on the same basis of showing a repressed America the secret realities that exist in families everywhere.  The primary subject of A Summer Place is the exploration of passion and sexual desire, and revealing them to not be a dirty or sinful subject, which the morality dramas of the past had made sex to be, but as something strong and beautiful that brings people together, as well as tear others apart.  A Summer Place was also the first major feature film to deal with teenage sexuality in a positive and approving manner, as well as find a certain justification for the hero and heroines' adultery.  As a result, A Summer Place was a truly ground breaking film, which challenged the publics fears about sex, thus pushing forth the first domino to the sexual revolution that was just a few years away.
Of course A Summer Place is most famous for the screen coupling of Sandra Dee and Troy Donahue as Molly and Johnny.  Already a teen queen by the time A Summer Place came out, Sandra Dee is the perfect choice for the pivotal part of Molly Jorgenson.  Still very much a girl, Sandra Dee was just blossoming into a young woman.  Often underappreciated for her dramatic acting, Sandra Dee captures every scene that she is in with a combination of innocence and sexuality.  Troy Donahue, on the other hand, was never a good actor, but he was, and in many cases continues to be, the ideal of all young girls' fantasies.  With his chiseled jaw, athletic build and clean cut varsity looks, Troy Donahue's Johnny is a boy with simple ideas of chivalry, but makes up for it by following his heart over his head when it comes to love.  Furthermore, their sexual relationship wasn't perceived by the filmmakers to be indecent or to make Sandra Dee a slut or Troy Donahue as a deviant.  At the end they are still just two good kids madly and passionately in love who the audience is rooting for. Together Sandra Dee and Troy Donahue created a screen couple that was almost too hot for Hollywood censors, but became a sensation for teenagers everywhere who related to their overt sexual exploration compared to the chaste teenagers in other films.  It was depicted as a natural thing between two kids in love for the first time in the history of film.  Through their pairing in A Summer Place, Dee and Donahue became one of the most important screen couples of the era.
Yet, while Dee and Donahue are the best remembered of the couples in A Summer Place, the film really belongs to Richard Egan and Dorothy McGuire.  In the 1950's adultery and divorce were still discussed in hushed tones, if talked about at all.  Still considered a major sin by a nation still ruled by Christian values, the justification of Ken and Sylvia's affair was truly a radical plot point.  Yet, the audience wants nothing more then Ken and Sylvia together again because it is obvious that they belong with one another, and the fact that they are married to two horrible people and living miserable lives makes their story a tragedy.  Ken and Sylvia are easily the two most likeable people in the film, and the chemistry between Egan and McGuire is so natural that the audience, despite what their personal moral code was at the time the film came out was, can't help but support Ken and Sylvia's unfaithfulness to their spouses, nor cheer for their eventual union.  Put into the social climate in 1959, Egan and McGuire were one of the rawest screen couples in film.  Yet, that helps them to be understanding and supportive allies to their children.  In fact, Richard Egan should get the award for being the most liberated Dad in the history of movies.  His acceptance of his daughter's budding sexuality is still unconventional compared to most fathers in television and film today who would rather break the neck of the boy making love to his daughter instead of allowing him into his home.
Constance Ford could go down in history as being one of the most underrated film villains of all time for her role of Helen Jorgenson.  With her wicked eyes, mad hysterics and nasty ulterior motives, he character is one crazy bitch.  Arrogant, elitist, hateful, racist and sexually repressed, she forces her demented world view on that of her more liberated daughter.  Via Ford's performance as one of the most loathsome and nasty women in film history, the audience is able to further accept Ken and Sylvia's affair.  Ford plays such a hateful creature that everything she rejects, or goes against her, is automatically acceptable and just.  One of the characters could murder her and a jury made up of audience members would never convict them.  Ford's performance is just that powerful.
Today A Summer Place is most famous for its theme song written by Max Steiner and recorded by Percy Faith.  One of the most recognizable and beloved theme songs of all time, the instrumental piece has been rerecorded various times, hitting the top forty charts during the early sixties on multiple occasions.  Today The Theme From a Summer Place is still considered one of the great romantic pieces of music ever recorded and has become so connected to the era of the late 50's/early 60's that it continues to be used in films and on television programs that depict the era.  It should be noted, however, that the song is not the actual theme to A Summer Place, but is used primarily during scenes featuring Sandra Dee and Troy Donahue alone together, holding hands and walking along the beach, or sneaking off to a secret rendezvous.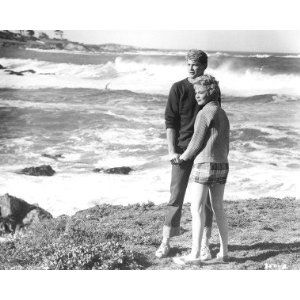 The only set back to A Summer Place is that it suffers by ending the film too quickly in a clean little package.  The book depicts far more of Johnny and Molly's story, including a marriage, a birth and the beginning of a future for the young lovers.  These scenes could have only enhanced the film even more and could have been easily done without adding too much more time to the film.  Yet, for some reason the producers decided to wrap the film up quickly, making the viewer want a clearer image of what the future had in store for Molly and Johnny.
Although A Summer Place has become dated due to the change of sexual and moral attitudes in the decades since its release, it still is a gripping drama today.  Yet, when put into the social climate in which it was released, the film becomes a daring and bold statement of the realities of passion.  Furthermore, Sandra Dee and Troy Donahue continue to ignite the screen as two of film's most important, and passionate, young lovers.