Be warned.  Watching Hamilton, Ontario performer B.A. Johnston in something not for the squeamish.  Part music, part comedy and part performance art, B.A. Johnston is aggressive, abrasive, repulsive and has no respect for personal space.  He sweats, he spits beer on his himself and he will go shirtless.  You can not quietly watch his show, because he will make you a part of the performance, and the more you squirm, the more he will hassle you to the audiences' delight.  Like an embodiment of every skid row dirtbag standing in front of the liquor store that you have ever hurried past and not made eye contact with, B.A. Johnston becomes the poster boy for "Canadian white trash."  So if this is true, why would you want to spend an evening at his show?  Well, for starters, B.A.  Johnston's performances are truly unforgettable and entertaining.  Possibly the most hilarious performer in Canadian music today, B.A. Johnston makes art out of simplicity, and not only does he know how to captivate a shocked audience, but keeps them wondering just what he is going to do next.  From climbing on top of tables and chairs to bringing the entire bar outside to perform in the middle of the street, B.A. Johnston is like a madman on a suicidal rampage of song and laughter.
But through the façade of the transient figure he creates, there is a true genius to B.A. Johnston's act.  Although his music appears to be simple in composition, B.A. is writing songs like no other artist can.  While he may not be the greatest songsmith of all time, B.A. writes about the secret everyday realities of society.  On a human level, its far easier to relate to a B.A. Johnston song then it is to relate to a Leonard Cohen one.  Through a combination of pop culture and pathos, B.A. Johnston manages to make his audience face their most pathetic insecurities and their unspoken self destructive dreams and desires.  Through real life emotions such as inadequacy, broken hearts, insecurity, slothfulness and lust it is easy to find a simple poetry in B.A. Johnston's songs.  With an array of topics including Loni Anderson, McDonald coupons, Nintendo, helper monkeys and deep fried food, B.A. Johnston reveals a side of our everyday world that we try to conceal, but deep in our hearts we can't.  His songs are ones that all of us can relate to on some level, whether we want to or not, proving that there is a little B.A. Johnston in us all.  Pretty frightening, isn't it?
In recent months things have been good for B.A. Johnston.  Having completed his eighth album, Hi Dudes, featuring songs with titles like Douchestorm, Dirtbag Beach, Truffle Shuffle, Showcase Showdown and Sesame Street Fight, B.A Johnston has been featured on CBC radio and has been on constant tour throughout Canada.  After nearly a decade of performing his unique stage show in bars and comedy clubs across the country, B.A. Johnston is finally getting the respect and attention that he deserves.
However it should be noted that the B.A. Johnston on stage is a very different character then the B.A. Johnston of reality.  The raving madman on stage is nothing more then a character created by a fearless and charismatic performer.  Much more subtle, quiet and thoughtful then the character on stage, I met with B.A. Johnston an hour before a mid-week performance in a small Peterborough, ON bar in what would be a "calm before the storm." B.A. proved to be intelligent and self aware as he shared with me his philosophy of song writing and performance, and bonded over memories of video games, fathers and potato chip flavors.  Just another part of the reality we all share with B.A. Johnston.
CONFESSIONS OF A POP CULTURE ADDICT PRESENTS
THE MADNESS B.A. JOHNSTON
Sam Tweedle:  You know, I sent one of your songs to a girl who broke my heart once.
B.A. Johnston:  Why would you do that?  To break her heart?
Sam:  Well, because in its own strange way, it captured exactly how I was feeling.
B.A.:  Well there was a kernel of truth in there.  Did it work?
Sam:  Um.  No.  Actually, we don't talk at all anymore.  She won't return my phone calls and took me off of facebook.
B.A.:  That wasn't because of my song, was it?
Sam:  I don't know.
B.A.:  Well it couldn't have helped.
Sam:  I have seen your show numerous times now and I have a difficult time explaining exactly what a B.A. Johnston performance is about.  Where did the inspiration for what you do come from?
B.A.:  I don't know.  I don't know if I'd even say that I'm that inspired anymore.  The show has been a really slow evolving thing.  I've been playing live since 2004, and the show just naturally evolved.  I find that since I've been playing live so much that you just keep using what works.  Certain nights are better then others and I build upon that.  In terms of being inspired, I try to only write songs about heartbreak, nostalgia, food and that's probably it.
Sam:  Obviously when you do your show you are portraying a character more then yourself.  Is that version of you totally a creation at this point?
B.A.:  Yeah.  He's different then me, as in "B.A. the me" opposed to "B.A. the guy on stage."  No one would want to hang out with "B.A. Johnston the guy on stage."  Some people have trouble sitting through forty minutes of B.A. Johnston's show, let alone actually having to sit with me in a van for ten hours.
Sam:  I remember going to one of your shows with some friends once and your stage persona unnerved one of the girls at my table so bad she had to leave.
B.A.:  Yeah.  It happens all the time.  Often people don't stay for my whole show.  I'm very used to that.
Sam:  But, with that said, you can pack a house.  You have a cult following.  I've been in bars packed to capacity with the entire crowd singing your songs word for word.
B.A.:  Oh yeah.  Its just my show isn't something that just anyone is going to enjoy.  Any comedian or any musician is going to have people who don't like him regardless of how mainstream they [become], and then my stuff is more annoying and aggressive then the average man's.
Sam:  Your songs are basically comedic novelty songs, and they are very funny.  But when you really listen to the lyrics there is often a very deep sense of pathos in many of them.  Some of them are very potent and really get to the core of what most people feel and think.
B.A.:  Yeah.  I try to use the humor as a way to draw people into things, and then you can go at them with heavier subject matter.  The humor makes everything a little easier to digest, and no one wants to be depressed.  So I find that you can write funny songs about sad things and it doesn't make them less sad.  It just means that people don't realize what the musician is talking about.
Sam:  A big part of the theme in your songs is also self deprecation.  What I find interesting, especially in a male point of view, is that it is a self deprecation that is so common to most men.  I think a lot of men, whether they would ever want to admit it or not, find a certain reality in your lyrics.  If they could get away with it they would have a helper monkey or a deep fryer in their bedroom.
B.A.:  Probably a lot of people do.  Most comedians use that kind of thing.  I went through a period where "B.A. Johnston" went through this confident phase and a lot of people hated it.  So I thought that I'd go back to being less confident and unsure, because people seem to relate better to it.
Sam:  You're almost like a backwoods Charlie Brown.
B.A.:  I can see the similarities to Charlie Brown.  Sure.  Never getting to kick the football.
Sam:  How many of your songs are based on real experiences?  I mean, Helper Monkeys obviously isn't.
B.A.:  No.  Helper Monkeys is based on being lazy and wanting a monkey servant.  When people write a song they all have some basis of truth.  They might be exaggerated in some ways, but they begin from some kind of true experience.  The new record has a song about breaking up with someone and then playing Final Fantasy 7 to avoid being depressed.  I did that.
Sam:  You use a lot of Canadian geography and small town local landmarks in your songs.  Is that intentional?
B.A.:  Yeah.  I tour around a lot, and I get to go to a lot of different places, so it definitely makes it easy to reference Canadian geography.  Then people who are from places like to hear references to where they're from.
Sam:  Where are you from?
B.A.:  I'm from Hamilton.
Sam:  Hence the song Jesus Came From Hamilton.  That's a great song.
B.A.:  Thank you.
Sam:  I've e-mailed it to my friends that are Argo fans.
B.A.:  All two of them?
Sam:  You use a lot of pop culture references in your lyrics as well.  Is that another way to connect people to your songs?
B.A.:  Yeah.  As I get older I find that I get more interested in 80's culture and things in my childhood just as it disappears.  You don't really notice it when you're twenty-two, but when you get a little bit older there is no more arcades, and certain things are no longer on TV and you kind of realize that its gone or died.  You start to pay more attention to it.  I've kind of been mining that territory song wise for a bit now.
Sam:  When you first started writing music what were you listening to?  Who are your musical inspirations?
B.A.:  I was pretty varied.  The person who probably had the most direct influence on me for writing songs was Daniel Johnston because he's probably the only one who sounds remotely similar to what I do.  He's probably the big one.
Sam:  Did you ever try to be a serious  songwriter?
B.A.:  No.  It always sort of headed in this direction.  The only difference is that when I first started it was all acoustic guitar, but as the show progressed I added keyboards.  Nothing makes an audience more hostile then a guy playing an acoustic guitar.  People really hate that a lot.  There are people who are famous for playing acoustic guitar, but I don't know how.
Sam:  Have you ever unnerved an audience member so much that they have become violent towards you?
B.A.:  Oh yeah.  Very rarely [though].  People have tried to fight me during the show.  That's happen twice.  People have thrown beer at me.  That's about as extreme as it gets.  A lot of time people just leave, or they'll give me the finger if they're that mad.
Sam:  You have a very abrasive stage presence, and you are very good at deflecting hecklers.
B.A.:  You kind of have to.  I find it strange that people even get that angry.  I've seen bands that I don't like all the time.  There's no sense being enraged about it.  If you just wait forty minutes chances are whoever is enraging you will stop.  I find people who don't like you that sit in the front row odd.  I find that the most confusing.   They get a good seat or something, and they are unwilling to get rid of it so they are there for your whole set and they hate your guts.  It's really strange.  I don't know why they don't go to the back of the bar.  It's really weird.
Sam:  Have you faced a crowd who truly didn't know what to expect?  They thought that they were coming out to a quite night out and then you show up?
B.A.:  Yeah, sometimes.  Or you get people who think I'm a comedian because I get billed with a lot of Yuk Yuk places.  Especially out West, where you'll get an older crowd who come to see the comedian and they are usually disappointed.  But sometimes it goes the other way.  I've played in some towns where the audience are all coal miners and you kind of assume that you'll die, but they'll get into it.  But you need to know when to stop.
Sam:  I've never seen you not please an audience.  I actually notice that there are a lot of hot women at your show, which is ironic because you write one song about how all the women at your shows run away as fast as they can from you.  But I've noticed that you can fill a place full of women.  I know a couple of beautiful women that are fans.
B.A.:  That's pretty rare.  That seems to happen in certain places but it's not very common.  Some towns, like St. Johns Newfoundland, have a lot more women at the shows, but the majority of the audience is probably dudes.
Sam:  Well, as I said, your music has a real masculine edge to it, and it sort of feeds into male issues.  It makes sense that you would appeal to a male audience.
B.A.:  Well, not being a woman, I'm not really writing from a feminine point of view.  There are women at my shows, but usually there are a lot more men.
Sam:  One of my favorite lyrics that you wrote is in the song Snow Shovel Blues when you sing "I know I'm not half the man that my Dad is/he can clear a driveway of all its snow/by looking kind of angry at it."
B.A.:  Well he does.  My dad compulsively shovels snow.  He'll shovel the second it begins snowing.  He'll shovel the driveway five times in the same storm.
Sam:  My father does the same thing, and when I was a kid he'd send me out to shovel, but when it wasn't as good as he'd do it he'd yell at me and then go and do it again anyways.
B.A.:  So you'd be wondering why doesn't he just do it.
Sam:  Well my father would ask why I didn't have pride in the driveway.
B.A.:  Well my Dad would get it right down to the pavement, which I find really hard.  I also don't care.  I have a car, and I drive my car on the snow.  It doesn't matter to me if it's on pavement or not.  He would have to get it right down to the pavement, which is really strange.  My father is obsessed with snow shoveling.
Sam:  Is your Dad obsessed with his lawn?
B.A.:  Not as much.  He's quite obsessed by it, but it's not as over the top as snow shoveling.  I think it's because they think their going to get fined.  Like if the city is going to come by and fine them.  Maybe that's something that happened in the 70's where the city would actually charge you if you didn't shovel properly.  He always gets nervous that some by-law officer is going to come and kick him.  I don't think that's even something that exists.
Sam:  Now I need to ask you about My Heart is a Blinking Nintendo.  It's probably your most popular song.
B.A.:  It is the most popular song.
Sam:  Why do you think it hits a chord with the audience?
B.A.:  I think it's a pretty good metaphor for wanting something to work but it won't.  It probably resonates a lot less now with younger people, but people our age grew up playing Nintendo knew that they tragic thing about Nintendo was that it would eventually break and then it would blink.  Sega never did that shit.
Sam:  Remember with Atari how you'd have to blow into the cartridge to get it to work?
B.A.:  I remember blowing into a Nintendo cartridge too.
Sam:  Is there a metaphor about the Old Dutch ketchup chip logo?
B.A.: I think it's a really bad ass logo.  I'm kind of obsessed with advertising and I think the Old Dutch ketchup chip logo is a cool guy.  He has sunglasses and high tops.  All ketchup chip logos are cool.  That's the bad ass chip.
Sam:  You know they don't have ketchup chips in the US?
B.A.:  It doesn't make any sense why when they have other crazy snack foods.  Why wouldn't they have ketchup chips either?
Sam:  Yeah.  Like dill pickle chips.  They don't have those either.
B.A.:  Or all dressed chips.  I don't think they have those.  It really makes no sense to me.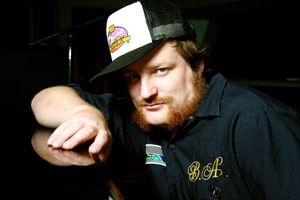 Listen up Canada.  This summer B.A. Johnston will be bringing the madness and the music to a town near you.  Visit his web-site at http://www.bajohnston.ca/ for music, videos, tour dates and a preview of the insanity that is a B.A. Johnston show.  If you've never seen B.A, Johnston in concert it is something you have to do at least once in your lifetime.  However, be prepared to not be at all prepared at what is to come.  No article can even begin to explain the B.A. Johnston show.  It is something you need to experience for yourself.