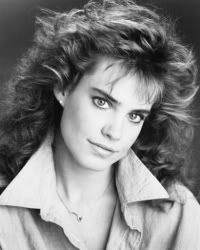 With her dark piercing cat eyes and chestnut hair, Catherine Mary Stewart wasn't like most of the girls appearing in the movies during the 1980s.  She was sexy and sweet yet tough and tomboyish, and often had a bit of a raw edge about her.  She was a girl who could take care of herself, and on some occasions she had to take care of her male leads as well. Furthermore, while she may not have had the mass appeal of other young actresses like Molly Ringwald or Pheobe Cates, for the legion of young cinefiles who were willing to go off the beaten path of 80s cinema, Catherine Mary Stewart was the girl that lived next door to their dreams.  Besides, do you think that Molly Ringwald could chase down zombies in a post apocalyptic America?  No.  Neither do I.  But Catherine Mary Stewart sure could.
Originally from Edmonton, Alberta Catherine was trained in dance and theater in England before making her way to Los Angeles in the early 80s.  After a brief stint on the soap opera Days of Our Lives, Catherine became a fixture on the big screen with such cult movies as The Last Starfighter, Night of the Comet, Dudes, World Gone Wild and Weekend at Bernie's.  But while her films were only mildly successful during their initial releases, in the current century they have aged like fine wine.  Riding the wave of 80s nostalgia, it is only now that Catherine Mary Stewart's body of work has finally started to become appreciated, and she has risen to the rank of being one of the 80s most beloved cult actresses.
After slowing down her career in the 1990s to raise her children, Catherine has returned on the pop culture radar, appearing primarily in television and on stage as well as reconnecting to her long time fans at autograph shows around the world.  I had the great pleasure to meet Catherine at Wizard World in Toronto where she appeared with co-star Lance Guest for a special screening of The Last Starfighter.  Just as beautiful and vibrant as she was during the 1980s, Catherine took the time to talk about her amazing career, and explain how a girl from Alberta would become one of the premier cult actresses for a generation of film fans.
CONFESSIONS OF A POP CULTURE ADDICT PRESENTS
COMETS, CORPSES, COWGIRLS AND CULT FILMS:
A CONVERSATION WITH CATHERINE MARY STEWART
Sam Tweedle:  You had a very extensive training background in theater.  How did you become a girl from the Canadian prairies to doing theater and dance in Europe?
Catherine Mary Stewart:  Well I was a dancer.  I was studying dancing pretty seriously in Edmonton.  I started when I was seven, and then I took a break from twelve to fourteen, and then I went back again where I was a member of a dance company called Synergy where we performed professionally in Canada.  I was actually underage.  I was supposed to be eighteen but we sort of lied because I was only sixteen.  But we went around the provinces, and then when I was eighteen the company was invited to do this UN peacekeeping tour where we went to Israel, Egypt and Cyprus and performed for the Canadian peacekeeping troops.  We were a part of a big variety show, which was really really cool.  That cemented the fact that I wanted to take [dance] very very seriously and make it my profession.  So when I graduated from high school I decided to take the next step and [study dance] and I had to decide where I was going to go.  Was it going to be New York, Toronto or London?  Toronto seemed to close to home, New York scared the crap out of me, but I had relatives in London and I had been there before and it seemed exotic, but familiar, so I chose London.  It certainly had a reputation for dance and theater and the arts.
Sam:  Was it a natural progression to go from dance into acting?
Catherine:  I ended up in a performance arts school, and it was a dance focused school, but we were required to take acting and singing classes, and we learned every kind of dance imaginable.  Everything that a performer really needs for a strong foundation.  Also, in school, I did a lot of acting in school productions, so performing was in my blood.  I never foresaw that I would make acting my priority, but it kind of, in retrospect, was a natural progression.  The way I fell into it, which was actually what happened, [was that] I happened to audition for this rock musical called The Apple.  I auditioned as a dancer, but ended up with the lead role.
Sam:  Was it a successful film?
Catherine:  Oh…no.  It's become one of these cult things.  It's had a couple of screenings at The Lincoln Center in New York and it kind of became something of a Rocky Horror Picture Show.  It's become more popular now then when it came out.  The people who filmed it, Cannon Films, had huge hopes for it.  The budget for the time was about five million.  It was about a mid-range budget, and there were a lot of production costs in terms of costumes.  It was supposed to be a futuristic thing. Nowadays, of course, it looks ridiculous.  It was a really weird movie.  It opened the Montreal International Film Festival in 1980 and, the story goes, that the audience [didn't get it].  It didn't do well and the director/producer Meneham Golan was suicidal after the reaction.  He was devastated.  Last time they screened it at the Lincoln Center he did a Q&A and talked about after they screened it he went back to his hotel room in Montreal and seriously was considering throwing himself out the window.  But it has this cult status because it's such a weird, bizarre movie.
Sam:  Well you got me interested in this film.  I need to seek this film out!
Catherine:  I don't condone it, but perhaps you'll want to smoke some dope first.  I hear that helps. (Laughs)
Sam:  Well the film worked for you because you became a cult actress from the 80s.  Do you think of yourself in terms of being a cult actress?
Catherine:  Well, honestly, this sort of "cult actress" status is sort of new for me.  I guess, in a sense, I am.  I worked a lot in the 80s and the movies I did have arrived at this cult status.  It was never something that I preconceived, or even dreamed of it.
Sam:  The Apple was obviously a European production.  How did you end up going from European cinema to finding your way to Hollywood?
Catherine:  Cannon Films was based in Los Angeles, and Meneham was doing another movie and he wanted me to star in it.  So that initially drew me to Los Angeles, where they were shooting it.  But I didn't end up doing it because at that time I was living in London, but I was visiting my parents in Canada, and I didn't have papers to work in the States.  When I got to the airport to fly to LA and [the customs officer asked] "Why are you going to LA?" I said "I'm doing a movie!"  He said "Oh?  Do you have working papers?"  I said "I guess I do because they've asked me to do this movie."  Well he said "Well where are they?"  I said, "Oh.  I don't know."  Anyway, the long and short of it was that I didn't end up going to LA.  They were so mad at me, but I was young and naive and I didn't know that I was supposed to have all these papers.  So I didn't end up doing it, but it sparked the idea of going to LA for me.  So I ended up going a while later just to visit, and I eventually ended up staying and getting my Green Card and lived in LA for twelve years.
Sam:  What was your transition from living in London to going to Los Angeles like?
Catherine:  I was so happy to make that transition because I couldn't believe I was living in what I considered to be a paradise, with the palm trees and the beach and the ocean.
Sam:  Oh I know how it is.  I love Los Angeles.
Catherine: I know, and after growing up in Edmonton, where it was winter most of the time, I loved it!  Plus, when I got there I hit the ground running.  Instantly I had an agent, and then I was going on auditions and I was going crazy, and every day I'd come home exhausted, but so happy.  It was really the best time of my life.  I got into Days of Our Lives, and then The Last Starfighter and Night of the Comet.  There was lots of momentum.
Sam:  How long were you on Days of our Lives For?
Catherine:  I was on it for two years.
Sam:  I've talked to people who have done soaps and they say it's grueling.  Did you find it that way?
Catherine:  Oh my God.  It was the most grueling thing ever.  I found it to be the hardest job I ever had, before or since.  I put it in perspective this way.  A movie is ninety minutes to two hours long and it takes two months to shoot.  An hour soap opera would be shot in one day.  They kind of rotate the storylines, but sometimes if you have a strong storyline at one time you are shooting fifty pages of dialogue a day.  So it's a lot, and you're working five days a week.  So if you are in a strong storyline, of fifty pages of dialogue, five days a week, then I don't know how you do it.  I still don't know how you do it.
Sam:  It's amazing how some actors can stay on soap for thirty years.
Catherine:  My theory on that is that you become sort of engrained into the culture of the show itself.  It's almost like they know what they're saying before they say it.  I think the longer you are on [a soap opera], the easier it becomes.
Sam:  When you left Days of Our Lives, where you wishing you were on it longer, or were you wanting to get out?
Catherine:  You know, I don't think when I left the show that I was looking to get out, but I think that I was lucky.  I never completely got into the rhythm of it, but what happened is that I auditioned and got the role of Maggie on The Last Starfighter while I was still on the show, so at a certain point I was shooting Days of Our Lives and The Last Starfighter at the same time.  Fortunately the stuff I was shooting on The Last Starfighter was at night, so if I had to work on the soap opera during the day, I could work on the movie at night.  It was brutal, but it accommodated a smooth transition for me when I left the show because I already had some film background on my resume.
Sam:  The Last Starfighter sort of came out during the tail end of what was a very over saturated era of science fiction films.  When you first got involved with the film did you know it'd become such a cult favorite, or was it just another job?
Catherine:  At first it was just a job because I didn't have any notion of what it was going to be.  It is a sci-fi film, but, I feel it is more of about these really great well thought out characters, and the story is so sweet.  Of course my character was in the trailer park for the whole film, so I didn't get to go into outer space.  I loved the script.  I loved working with Lance Guest.  We auditioned together and we clicked immediately.  Nick Castle, the director, was just a doll.  The atmosphere on the set was just so wonderful all the time.  You just couldn't wait to get to work.  Having said that, I had no idea of what it would become, but it was such a great working environment.  I think that kids watching it when it first came out could relate to it on a level that you don't find that often.
Sam:  I find that, compared to Tron, which the film gets compared to a lot of the time, The Last Starfighter has a nice human element to the story.
Catherine:  I know.  I think that is one of the reasons it has been so successful over the years in the long term.  Also, people who loved it as a kid have introduced their kids to it, because it is a movie that you want your kids to be a part of.  It's not going to bother them.  There is nothing about it that is offensive.
Sam:  Well that sort of brings me to another one of your films that you've done.  I would like to talk about Weekend at Bernie's.  I find it really amazing how that film has really endured on the pop culture radar.  That has become a major cult hit from the era!  It is probably going to be here forever!  What's the story behind Weekend at Bernie's?  How did you get involved in that one?.
Catherine:  Well, first of all, when I read the script, I was so offended by it.  I mean they are pulling a dead body behind a boat and its banging on buoys.  I just thought it was so crude.  But when I auditioned with Jonathan Silverman I felt like I had blown the audition.  I forgot my lines.  When I left I called my manager and said "I can not believe that I screwed up this audition," but I ended up getting it.  Even when we were shooting it I kind of thought "Okay, I am going to go along with this but I think it's kind of silly."  The reaction blew me away because people loved it.  They thought it was so funny.  In fact, you hear Weekend at Bernie's mention in other series, and it cracks me up!  And now there is the Bernie dance.  My son, who is fifteen, was in a concert, and he had a solo and he did the Bernie dance.
Sam:  Did his friends know what it was?
Catherine:  They all know what it is.  It's odd.  Just bizarre.
Sam:  Now throughout the movie was "Bernie" a guy, or a dummy, or a little bit of both?
Catherine: A little bit of both.  There is this scene when the guys first discover Bernie sitting at the desk and he is dead.  Well it was really the actor, Terry Kiser, at the desk, and he would have to sit there and not breathe.  Well the actors would do the scene around him, and they'd keep rolling the film to see how long it would take before Terry would turn purple.  They would pull little gags like that on him.
Sam:  I think one of the best films you did during the era was Night of the Comet.  Its one of the most underrated horror films of the 80s.  It has so many different elements going on in it.  It has horror and action and comedy and pathos and romance.  It has everything and the kitchen sink.
Catherine:  One of the reasons that you recognize all those elements of the script is because the writer and director, Thom Eberhardt, is just brilliant.  He really fought to maintain the tone of the movie.  The producers were confused by it because it wasn't really a horror and it wasn't really a comedy and it wasn't really a love story.  They couldn't pigeon hole it.  That's exactly what Thom Eberhardt's intention was.  He managed to maintain that.  That's why it is a unique movie.  The element that really attracted me is that it was about a couple of girls.  It wasn't some guy or some superhero.  It was about a couple of girls who could take care of themselves.  How often do you see that a story like that which revolves around two teenage girls.
Sam:  I liked the fact that the two girls were sisters, because it added an emotional element to the characters that helped intensify the relationship between them. Also, they were smart girls.  They didn't opt for the stupid valley girl stereotype that was so common in films of that era.
Catherine:  On the outside, the cheerleader character looks like another valley girl, but she's not.  She's tough and smart.
Sam:  We've been talking about some of my favorite movies that you were in.  What were your favorites?
Catherine:  I really liked Dudes and World Gone Wild.  I love Dudes because I think it's really unusual.  I just love the feel and the fantasy of Dudes.  I used to love Westerns as a kid, and I thought it'd be so cool to ride across the prairie on horseback.  I fantasized about being a cowgirl when I was a kid.  So my role in Dudes kind of fulfilled that fantasy for me because I was this tough cowgirl.  I could handle myself and twirl a pistol and shoot bottles and ride horseback full out across the field.  I loved all of that stuff.  The whole atmosphere and feel of that movie…I dig it man.  You remember how the cowboy disappears in the smoke at the end?  I just love it!  It just has a wonderful message and the characters in the movie are just so great.
Sam:  Why do you love World Gone Wild?
Catherine:  Well, first of all, I got the chance to work with Michael Pare, who is one of the most handsome men alive, and at that time…holy smokes!  (Laughs)  He was such a good looking guy.  On the same movie was Bruce Dern.  When I think about working with him on that movie I just crack up because he came up with one liners out of the blue that were just gems.  He was so funny and so dark and sarcastic, but hilarious.  I just felt that it was a gem of an experience to work with Bruce Dern.  It was something I will never forget.  And Adam Ant was in it, and he was so fantastic in this movie.  Anthony James was in it.  We became friends.  He was great.  What a character.  I remember seeing it the first time and I thought "Oh, whatever."  But seeing it later [I thought] I love everybody in this movie.  I love the performances.  I love the feel of the movie.  The weird futuristic craziness.  Have you seen the poster?  Even the poster I love.
Sam:  Now when I was growing up I remember buddies of mine having your picture hanging up on their bedroom walls.
Catherine:  You're kidding.
Sam:  Not at all, and I am sure that to this day you meet guys that tell you that they had crushes on you during the 80s.  You must have guys coming up to you at autograph shows and telling you that all the time.
Catherine:  I do.  I get the story that I was their first crush.  It's kind of bizarre but it's an incredible compliment.  Every time I hear something like that I feel so grateful.  People actually look at me and that character I portrayed was something that they enjoyed.
Sam:  Were you aware at the time that you were having that sort of impact on your audience?  The fact that you were making the hearts of teenage boys across North America go "thumpidy thump thump thump?"
Catherine:  I have to say that it did not occur to me.  I don't know.  Do actors think about that kind of stuff?
Sam:  I don't know.  I'm not an actor.  Nobody has a crush on me.
Catherine:  I guess when I was making [movies] I was thinking about what we are doing, and the situations that we are in, and the story but we are not thinking about if we did it that boys would like it.
Sam:  You didn't have any jealous boyfriends in LA that were aware of the fan reaction?
Catherine:  Well that's a different story.  That story is that when guys stand back and watch their girlfriend doing things like this, the girls are oblivious to it but the guys are going "I know exactly what is going through that guy's mind."  That's a completely different thing.
Sam:  A lot of young actresses from the 80s, and throughout film history, sort of disappear after ten years.  It's the sad reality of the business.  However, you have maintained pretty much consistently since 1980.  What did you do right to make sure that didn't happen to you?
Catherine:  I think it's a matter of persistence.  It gets tiring.  It's hard.  You get beat up after a while.  I think part of my saving grace is the fact that although I kept my hand in the pot over the years, I took a step back for a while when I got married and had kids, so it wasn't my whole life.  Coming back into [movies], I'm rejuvenated and energetic and in the last four or five years I've really made an effort to get back into it.  Also, I've been away for long enough that I'm not identified in the business for these characters.  I'm not just Maggie from The Last Starfighter.  I've had enough distance that I can come back and play "the Mom."
Sam:  So you were never really type cast.
Catherine:  Well I was typecast in the day.  I was the girl next door.  But now that I am back, I am older and I think that it's easier for me to jump back in without having an identity.
Sam:  So you currently live in New York?
Catherine:  Yes.  I live in Brooklyn.
Sam:  What brought you from LA to New York?
Catherine:  My husband didn't like LA.  He was a Wall Street guy and he said "I don't want to live here."  He loved Manhattan.  He wanted to be back there.  So I thought that there is an industry in Manhattan.  I thought it was a good compromise.  I thought we'd go to New York for awhile and then we'd go back to LA, but we never went back to LA.
Sam:  You like New York?
Catherine:  I do like New York.  It was a tough transition for a while, because as I was saying, I loved LA.  I just loved it.  New York is completely the opposite.  But I really appreciate it now.  I've raised my kids there.
Sam:  What have you been working on in New York?
Catherine:  It's funny.  I get cast in New York for things that go somewhere else.  I did a thing in New Orleans that premiered in the Chiller Network called Ghoul.  It's a horror thing with Nolan Gould who plays one of the kids in Modern Family.  I play his mother.  I also recently just did an episode of White Collar.  This is a whole new thing.  I was actually shocked that I was cast as this, but I was cast as a judge, which is great.  I'm glad that somebody sees me in that sort of authorities mature role.  Its kind of a blessing and a curse that I've always been cast much younger then I am, because I look younger then I am.  Most people think that I'm lucky, but in a way it was a drag for me because that was hard for me to fight.  To be looked as a mature woman.  But the fact that I've been cast as a judge is great, because so many actors really are so afraid of getting older, and the surgery that they do to themselves to maintain youth has ever really interested me yet.  I'm not going to say that I'll never do anything, but [thus far] I haven't done anything.  I really embrace, at this point of my life, the ageing process.  Another one of my theories is that eventually I'll be an old lady that actually looks like an old lady, and then I'll get all the old lady roles.
Sam:  You mentioned that your son was doing "The Bernie."  Obviously your kids have seen some of your films.  Do they connect you with the characters you played?  What is their reaction to their Mom being in these movies?
Catherine: They couldn't have cared less when they were younger, but as they get older, and I think that as their friends recognize me a little bit more, that it's kind of cooler for them.  But I'm just their Mom really.  They have seen the movies.  When both of my kids were around twelve or thirteen they would have sleep over parties for their birthdays and they would play my movies.  For me it was the biggest compliment they could have given me.  It was so much fun.  Especially hearing all my daughter's friends screaming during Night of the Comet.  It was just so nice.
Sam:  And it proves that these films have lasted the test of time.
Catherine:  They are great movies.  There is nothing wrong with them.  There is nothing offensive about them, and they're movies that kids can still relate to.  I think it just goes from generation to generation.
Although most films of the 1980s haven't aged well over time, most of Catherine Mary Stewart's films are as watchable now as they were when they came out.  They have become beloved cult classics that have become even more popular now via the nostalgic driven memories of the fans that dared to go to see something just a little off the beaten path while their friends were going to John Hughes movies.  One of the things I really appreciated while talking to Catherine is the fact that she totally understands how special these films are.  Her enthusiasm for the movies that she appeared in is contagious as she discusses them, which flows over to the fans who have kept her body of work alive by keeping them on the pop culture radar by sharing them with others film buffs and, most importantly, the next generation of movie fans
POP CULTURE ADDICT NOTE:  I would like to thank Sean Clark of Convention All-Stars for giving me the time to talk with Catherine Mary Stewart.  Sean Clark will be bringing some of the 80s and 90s biggest stars to conventions throughout North America this year, including the Motor City Comic Con, Monsterpalooza and other Wizard World shows.  If you are interested in booking Catherine Mary Stewart, or any of the many cult celebrities available through Convention All-Stars, contact Sean at http://www.conventionallstars.com/.
I'd also like to thank Jerry Milani of Wizard World Entertainment for his part in arranging this interview, and for his continued support and friendship.  Make sure to support your local Wizard World.  Visit http://www.wizardworld.com/ for more information for a Wizard World convention coming to your area.