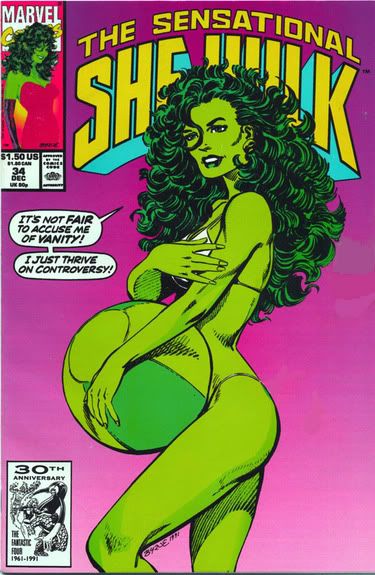 "So what's the deal with She-Hulk?" Yvonne asked as she held her blue corduroy coat tightly around her to fend off the cold February wind that was blowing through our bones. A sprinkle of light snow softly began to fall as the two of us trotted in a fast pace to the movie theatre three blocks away.
"Well," I replied, trying to formulate an explanation, "She-Hulk is kind of a fan boy favorite. I mean she has the longest legs, the biggest muscles and the hugest chest and she's colored green and for some reason all comic fans seem to love her, whether they want to admit it or not."
"And this is why this is a world that I don't want to raise children in," Yvonne said matter-of-factly. As I listened to the clacking of her heels on the cold pavement I knew there was a lot to ponder in Yvonne's judgment of She-Hulk fans.  Much to ponder indeed.