Over the last number of years Dynamite Entertainment has found massive success by bringing some of fiction's most beloved pulp characters to the modern age and breathing new and dynamic life into them via some of the top writers and artists working in comic books today.  The Lone Ranger, Zorro, Tarzan, The Green Hornet, Red Sonja, John Carter of Mars and The Shadow have been amongst the pulp heroes to get the Dynamite treatment.  Now one of the more obscure, yet still beloved, pulp characters, The Spider, takes center stage in a brand new series by writer David Liss and artist Colton Worley.
Created by Harry Steegler for Popular Publications as competition to rival publisher Street and Smith Publications' massively popular pulp character The Shadow, The Spider gained his own group of fans via his own magazine which ran from 1933 to 1943.  Yet, while many would think of The Spider as just a Shadow knock-off, The Spider became famous for his over the top villains, as well as for being the most violent pulp heroes of the era.  The alter ego of millionaire playboy Richard Wentworth, The Spider dished out his own brand of vigilante style justice in a post depression America.  He didn't keep his enemies alive so they could battle it out another day.  He killed them dead, and branded their forehead with the symbol of a spider. Furthermore, his colorful villains weren't just common thugs and gangsters.  They often caused mass murder and even genocide and the body counts in a Spider story were massive.  There was something a bit more extreme about a Spider story.
Best known for his historical-thriller novels, including his Edgar Allen Poe Award winning book A Conspiracy of Paper, author David Liss has also found critical acclaim for his work in comic books, including his run on Black Panther, and creating a world of brand new pulp heroes for Marvel Comic's mini-series Mystery Men.  Incredibly gifted at creating a feel for past time periods, Liss is an obvious choice at bringing The Spider back to life, but now faces the challenge of updating the classic pulp hero into the current century, while still maintaining the mood and the original concept of the character.  I had the pleasure to talk to David Liss about just why he chose to work on The Spider, and how he plans on bringing the character out of obscurity and back into the fold of Dynamite's continuing series of pulp comics.
CONFESSIONS OF A POP CULTURE ADDICT PRESENTS
ALONG COMES THE SPIDER:
A CONVERSATION WITH DAVID LISS
Sam Tweedle:  What attracted you to do this project?  I mean, The Spider is not the most mainstream of characters.
David Liss:  Well, when I first got involved in comics I had some conversations with Dynamite right from the beginning and we were looking for a project that I could work on with them.  About a year ago I met with Nick Barrucci at E2C2 and we sat down and talked about various projects and various characters.  He said "What do you want to work on" and then he mentioned that they had recently acquired the rights to The Spider.  I said "That's what I want to work on!"  I've always loved pulp characters.  There is something really primal about the original pulp characters in terms of what comic readers want in comic books.  I don't want to suggest that there is anything wrong with the way mainstream DC and Marvel Universes have evolved, because it gets sophisticated and interesting and interconnected, and all of that is good.  But I think it comes at a price.  There is something I think that is really compelling about the lone guy who is out there on his own.  There is no network.  There is no fall back.  It's him or nothing.  That kind of thing has always attracted me.  The Spider is not the best known of characters, but I think that's really an accident of history rather than having anything to do with the quality of the character himself.  I think his influence runs much deeper then most fans often realize.  I think he's shaped the contemporary superhero in a lot of ways.
Sam:  In which ways has he done that?
David:  Obviously he's one of the most important prototypes of Batman.  One of the things particularly influential about The Spider is just the insane nature of the villains he fought, which had these proto-comic book style names.  They had outlandish names and wore outlandish costumes and would do outrageous, over the top things, so it wasn't the standard pulp vigilante mobsters.  He was fighting people who were blowing up large chunks of the city, or taking over cities, or doing really extreme things.  Spider villains were not so much committing crimes, but committing acts of war.  There is a huge scale to the kinds of villains he faced.  If I were to describe The Spider to someone who knows just a little bit about comic books I'd say he's an incredibly wealthy guy who uses a lot of advanced technology to fight crime, and has a close relationship with the police commissioner, but that might sound like somebody else.  So, the history is definitely there.
Sam:  The Spider was originally a knock off of The Shadow, who is also now being published by Dynamite.  How do you differentiate the two characters?
David:  Well, I think that has been overstated.  I think there is no doubt that The Spider began as a property to compete with The Shadow, or to get some of The Shadow's readers, or to tap into The Shadow's popularity.  But I think he's always been different.  He's never just been a Shadow knock off.  I think some of the things I've already talked about, just the nature of the kinds of criminals he faced, is really one of the main differences.  But I really think the difference is that The Spider is a much more human and emotional character.  He feels the pain of what's going on around him.  He has fairly decent meaningful relationships with a lot of the secondary characters.  I think he's much more approachable character then The Shadow.
Sam:  What was behind the reasoning to update the character into the 21st Century, and has it been complicated to update him while still staying true to the original feel of the pulp version?
David:  When we first started talking about it the publisher was open to doing it as a period piece, or updating it.  The first thing they [asked] was for my preference, and I really didn't have one.  Obviously I love doing period pieces.  That's my bread and butter.  But I also like the idea of the challenge of updating it, and if you were going to do that then what would have to change and what could be the same.  Ultimately it was Dynamite that decided they wanted to update it.  As far as the challenges go was that I wanted to capture the essence to who The Spider was without taking a time machine and bringing him a hundred years forward in time without altering him.  So some aspects of his personality had to change because they might have made sense in the 1930's, but they would not have made sense today.  I made some changes about his personality and the way he lives to make him seem like a cool guy today instead of a cool guy then, because Richard Wentworth is cool.  That's one of the things about him.  He's a person people want to be around.  The other thing about the changes I had to make were with the secondary characters.  The major relationship that The Spider has is with Nita Van Sloan.  In the pulps he can never marry her because to marry her is to risk turning her into a widow because of the dangerous life he leads.  So you have these two people who are monumentally in love, but they are also eternally separated.  That's great narrative.  The essence of character is creating obstacles, and that's a good one.  But, in 2012 that doesn't seem like a good reason not to get married.  That's awfully patriarchal.  So I thought, "What would keep these two apart in 2012," and the answer I came up with is that she's already married.  So that's one of the big charges.  Then there is his body servant Ram Singh, who was a Hindu with a Sikh's name, which I never understood.  In the 1930's nobody would be offended by what was obviously and Orientalist stereotype.  [The idea] of this 'noble savage" brutish guy who is fiendishly devoted to Wentworth would be obviously laughable today, and offensive.  So now Ram Singh is a lawyer, and a sophisticated guy in his own right, and is Wentworth's best friend.  He knows his secret and he's somebody who helps him.
Sam:  That sounds a lot like the different problems modern writers have had when trying to figure out how to work with Mandrake the Magician and Lothar.
David:  Yes.  These characters have been around for a long time, and what's acceptable or normal or offensive is going to change invariably over the course of eighty years.  So the trick is to look at these characters, and look at these relationships and not get thrown off by the window dressing, but to try to figure out what's essential here.  What makes this relationship interesting?  Its not Ram Singh's "noble savagery" or brutish nature, but that this is a guy who knows who Richard Wentworth is, and is a tough, powerful guy who will do anything for this man that he genuinely admires.
Sam:  With the updating of the character, is The Spider going to be heavily techy now, or is he still a man with a gun?
David:  The technology level will be roughly equivalent to the time period as it was in the 1930's.  Stuff that's kind of sophisticated for now, but not over the type.  In the original pulps Professor Brownlee was this guy that he went to for tech.
Sam:  Will you be continuing the tradition of the larger then life villains, and the large scale genocide type plots?
David:  Yes.  I felt that if I'm doing The Spider, I've got to do The Spider.  That means doing insane villains with insane schemes.  I felt that for the first story I wanted someone who was larger then life.  I didn't want The Spider tracking down international arms dealers or money launderers.  That wouldn't capture who this character is, and obviously we want Spider fans to read it, but we want new readers who don't know The Spider to read it as well.  So yes.  Crazy villains doing crazy things, definitely.
Sam:  Are you updating one of his old villains?
David:  Needless to say I thought about it, but for the first story I thought it would be better to do something original.  So the villain is someone who would be very much at home in the pulps, but is a new creation.
Sam:  As someone who has an appreciation for the pulp characters, I am really looking forward to this book coming out.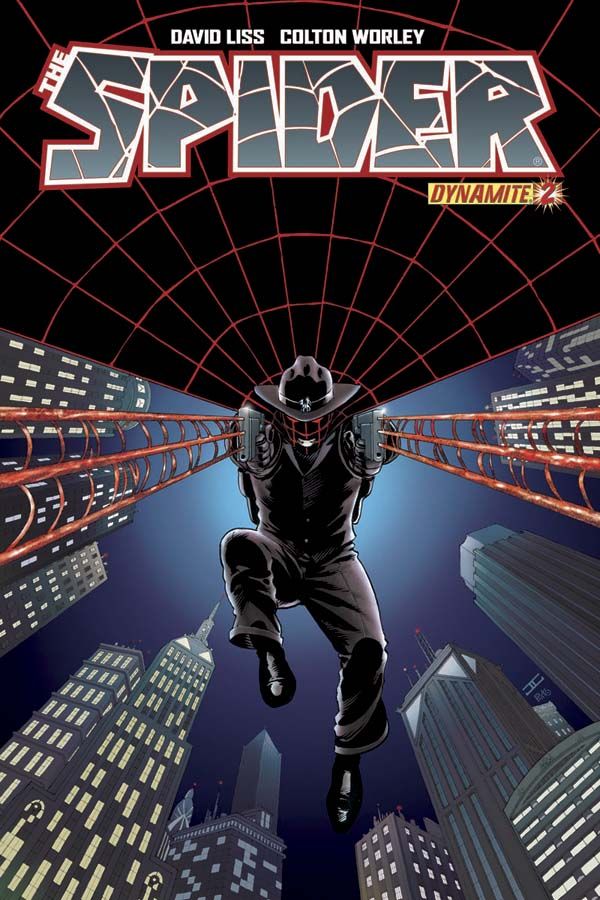 David:  Well, I've now read the composites for the first two issues and I'm biased, but I think it looks pretty good.  The art is obviously fantastic and I'm really happy how this is coming together.  [Dynamite Entertainment] is really becoming the pulp label, and I think they are doing a fantastic job of it.  I don't think that The Spider has always been treated well as a franchise.  Some of the different Spider stuff I've seen seem really just slaps together some of the elements of The Spider and presents it as a story.  So here's five things you need to tell a Spider story, but those five things together don't make it a story.  The characters make it a story, and caring about what happens next makes it a story.  I'm really happy Dynamites given me and Colton a chance to tell a Spider story instead of just hitting some Spider notes.
The first issue of The Spider is now at your local comic book shop.  Make sure to call today to have a copy put aside for you, or have your comic book retailer reorder a copy if they have already sold out.  In the first issue Liss manages to reacquaint readers with The Spider and his world, and sets up his battle with a mysterious villainess calling herself Anput.  Dark and moody, Liss and Worley manages to update The Spider while still keeping a sort of timeless look to the book which doesn't take the character to far out of the confines of his pulp origins.  The Spider is another triumph for Liss, Worley and Dynamite Entertainment which you don't want to miss out on.