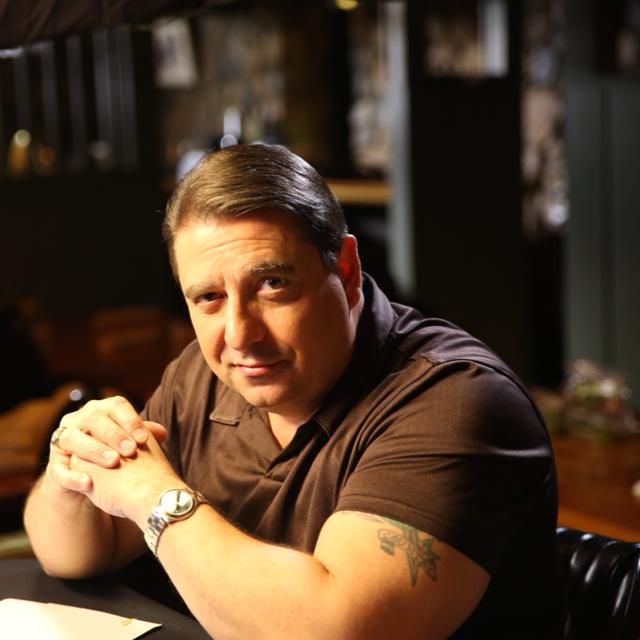 In the world of paranormal investigators, Steve DiSchiavi is unique.  He isn't going into haunted locations with infra-red cameras or spirit voice boxes.  The tools of his trade are his sharp mind and dusty old books from libraries and archives.  He's never seen a ghost, and he isn't interested in seeing ghost.  But he knows fear, and he has a special way with dealing with frightened people.  Instead, Steve DiShiavi's  job is to help the living by finding out the often sordid past of their haunted properties.  He knows every person and every house he sees.
A retired New York City homicide detective, Steve DiSchiavi uses his talents as an investigator to put together the puzzle pieces of the haunted past on Travel Channel's The Dead Files.  Along with co-investigator Amy Allen, a powerful psychic who can talk with the dead, Steve has been helping home and business owners come to grips with the unknown entities that go bump in the night for six seasons.  While Amy walks through the buildings facing the dead, Steve conducts the interviews with the victims of the haunting about their experiences, and follows up with historians, law officials and archivists while digging through historical documents, manuscripts, archives and libraries in order to piece together the often brutal and terrifying past.  The results lead to Steve and Amy coming together and discovering how their information matches up. The results are always astonishing.  Amy and Steve are two investigators using different methods and techniques, but with one result – helping their clients find some sort of peace.
A tough guy with a heart of gold, Steve DiSchiavi is the public's guide through the mysteries on The Dead Files.  With over thirty years on the mean streets of New York, Steve has seen a lot of gruesome stuff and dealt with a lot of hysterical people, preparing him for such an unusual job he has on The Dead Files.  Asking all the right questions, Steve has a calculating mind and a compassionate way with people.  He is able to get people to tell their stories, without fear of judgment, and can guide them to the answers that they need in order to deal with the things that they fear.
Last year I interviewed Steve's partner Amy Allen, which proved to be one of PCA's most popular interviews to date.  As a follow up to that interview, I was happy to be able to get Steve DiSchiavi, on the telephone to talk to him about his unique place in the world of paranormal investigations and about what he does, and how his life has been changed by The Dead Files.  A very different kind of interview by a very different kind of investigator, Steve proved to be talkative and friendly, but as tough as the New York streets that he came from.  Steve has seen a lot of scary things and a lot of death, and as a result one thing that doesn't scare him is ghosts.