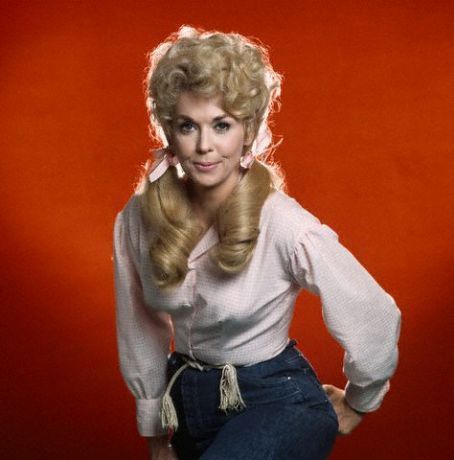 With her sparkling eyes and head of blonde curls, actress Donna Douglas created the role of tom boy Elly May Clampett on one of television's most successful sit-coms of all time, The Beverly Hillbillies.  The friendly but headstrong daughter of a poor mountain man that strikes it rich when he discovers oil on his land, Ellie May held the heartstrings of viewers worldwide, but seemed to have more success with her critters than she did with men.  Crossing good natured Appalachian humor with upper class society, The Beverly Hillbillies was a light hearted study in cross culture dynamics, and gained some of the highest ratings in television history.  Running from 1962 to 1971, before heading into syndication where it has been a staple for television audiences ever since, Donna Douglas was the belle of the ball on what proved to be America's favorite sit-com.  Kind hearted and desirable in a chaste kind of way, Elly Mae would be the role that Donna believes that she was born to play and she would forever be associated with the character.  But, while many pop culture icons often shy away from the characters that they make iconic in fear of typecasting, Donna Douglas has embraced the role of Elly May Clampett, holding the character close to her heart and making her life synonymous with The Beverly Hillbillies.  The result has been a lifetime of recognition and love from generations of viewers who adore that simple country girl from Tennessee.
But Donna Douglas' own journey to fame proved to be more complex than that of Elly May Clampett.  Her reality took a combination of faith, bravely and fate to make her the pop culture icon which she has become.  Raised just outside of Baton Rouge, Louisiana, Douglas' early life reflected that of Elly May Clampett in many ways.  Raised as a tom boy, Donna would rather chase after her cousins and play baseball than learn any of the practical skills expected of girls in the 1950's.  But after a failed teenage marriage, Donna decided to get serious about her life and moved to New York City to make a living without any practical skills, direction or prospects.  All she had was a belief that God would take care of her and put her on the proper path.  Via her good looks and some basic modeling experience, Donna soon created a name for herself in New York, which lead her to California where she began appearing in a variety of television programs including Bachelor Father, The Steve Allen Show, The Detectives, Thriller, 77 Sunset Strip, Dr. Kildare, Surfside 6, Mr. Ed and, most importantly, a jaw dropping performance in the classic Twilight Zone episode Eye of the Beholder.  But stardom would finally come her way when she was introduced to television producer Paul Henning who offered her the role of a lifetime as Elly May Clampett.  A role that seemed to mirror her own life, Elly Mae was a character that Donna Douglas could truly understand and, as a result, she would become one of television's most endearing stars.
A deeply religious woman, Donna Douglas continues to be as popular now as she was during the silver age of television.  A fixture at county fairs, rodeos and autograph shows throughout the eighties and nineties, Donna has also become a  popular public speakers at churches across North America where she delivers her own personal testimony to captivated congregations.  She has also written two books, a cookbook titled Southern Favorites with a Taste of Hollywood, and a children's book, Miss Donna's Mulberry Acres Farm, which, once again, plays homage to her Elly May persona.  Warm and compassionate, Donna Douglas is a complete delight to talk with as she shared with me stories about working on The Beverly Hillbillies, and about her own incredible journey from Baton Rouge to Hollywood.
READ FULL INTERVIEW

Tags: u