Have comics gone too far?  This debate isn't an old one.  It finds its roots in psychiatrist Fredric Wertham's book Seduction of the Innocent, which lead to the great comic book witch hunt of the 50's that nearly shut down the comic book industry, and forced a censorship code on comic creators for decades.  However, in the last thirty years, violence and adult subject matter have once again become common in comic books as the industry has evolved itself in accordance to its primarily adult readership.  But it has been often noted that the result of this violent and dark evolution has hurt the industry itself by alienating comic's next generation of readers.  Although the major comic book companies, such as Marvel and DC, have tried to create lines of comics that are aimed towards kids, the results have been mixed, while material not suited for young readers has found its way into major comic franchises, such as The X-Men, Batman and Justice League of America.  There seems to be no happy medium.  While kid's comics often lack the drama, action, intelligence and pathos that a good comic needs, mainstream comics are filled with subject matter not suitable for a kid just cutting their teeth on the medium.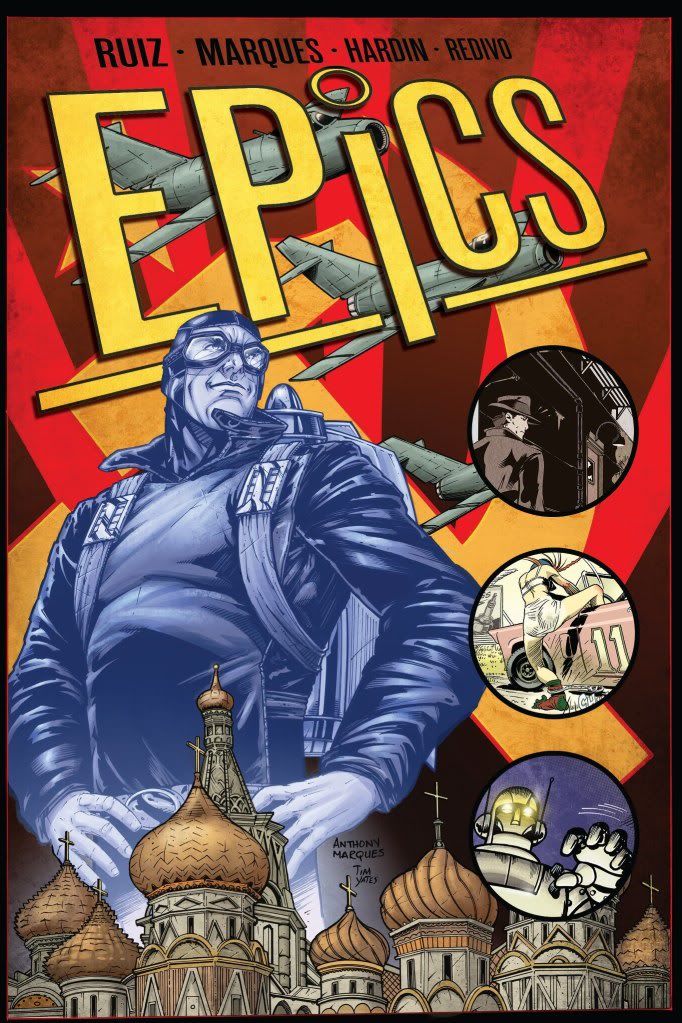 With this eternal struggle in mind, four instructors from the fabled Joe Kubert School of Cartooning and Graphic Art have joined forces to find the right blend of comic entertainment too satisfy both adult readers and ignite the imagination of younger fans.  With funds raised via Kickstarter, a team consisting of Anthony Marques, Fernando Ruiz, Bob Harden and Fabio Redivo released the first issue of their brand new anthology collection, Epics.  With the first issue celebrating the comic books of the 1950's, Epics has successfully achieved that perfect balance desperately needed in today's comic industry.  Picked up by Wave New World immediately upon its release, two of the features from Epics are already slated for their own spin-off books in 2013, sparking a brand new universe where comics are fun again.
Best known as one of Archie Comic's primary artists, where he currently draws Archie Marries Veronica, one half of the Eisner nominated Life with Archie, Fernando Ruiz introduces his tragic anti-hero, The Iron Ghost, in the premier issue of Epics.  Graduating from the Kubert School in 1991, Ruiz currently works as an instructor at the school, where he teaches Narrative Art.  Now Ruiz has another accomplishment on his resume as The Iron Ghost is one of the features getting its own series in 2013.
One of my favorite people in the comic industry, I always enjoy hearing from Fernando Ruiz.  However, as we were planning this interview the Kubert School suffered a great loss when its founder, comic legend Joe Kubert, passed away at age 85.  This added an extra element to my conversation with Fernando, as we talked about the Kubert School and the legacy that Joe Kubert left behind.  And, of course, I wasn't going to let Fernando Ruiz go without talking about his work on Life with Archie.  One of the most groundbreaking books Archie Comics has ever released, Life with Archie has not only been praised by both comic and literary critics, but was the first monthly Archie comic to be nominated for an Eisner Award.  To say the least, Fernando Ruiz and I had a lot to talk about.
CONFESSIONS OF A POP CULTURE ADDICT PRESENTS
THE IRON GHOST AND OTHER EPICS:
A CONVERSATION WITH FERNANDO RUIZ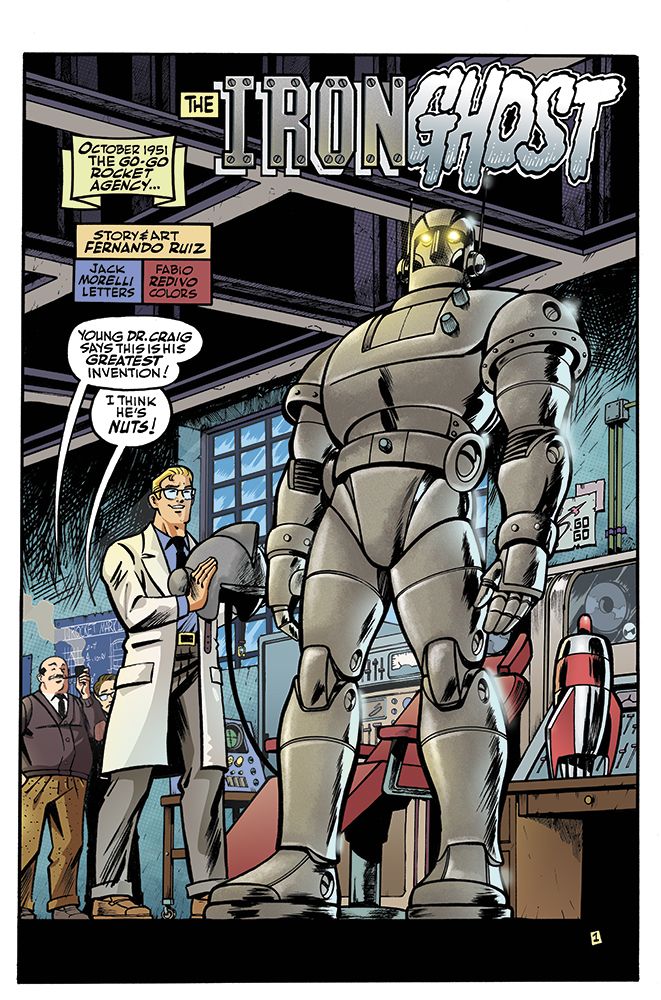 Sam Tweedle:  Now I've been watching the growth of your feature in Epics from its infancy via facebook.  I know it is a feature called The Iron Ghost, but I don't know a lot about Epics beyond the fact that it's an anthology book.  Tell me a bit about this project.
Fernando Ruiz:  It's an anthology book by four of us from The Kubert School.  We're all graduates and we're all instructors at the school.  It was the idea of Anthony Marques, who does the Katyusha feature in our first issue of Epics.  He got us together and asked us if we wanted to do this.  We thought the anthology format was perfect.  We weren't each doing a whole issue.  We didn't have to do twenty two pages, and we didn't have to commit to an on-going series.  We could do six pages each and the whole book would come together.
Sam:  I read that there is a philosophy about the book that you guys wanted to bring it back to when comics weren't so dark.  What is your opinion on the darker tone of comic books today?
Fernando:  Well, I do think comics do take themselves way too seriously.  I think they look for drama in very dark subject matter.  Everything has to be "the death" of somebody.  The characters have to be crippled or maimed.  We used to like our bad guys as much as our heroes, but it's hard to get behind them anymore.  A couple of years ago when DC did Identity Crisis, they took a guy liked Dr. Light, who is essentially a bank robber, and they reveal that he was a rapist.  That's one of those crimes that you just can't come back from.  You don't want to see that bad guy just get hauled off to jail over and over again.  That's the kind of bad guy that you want to see get put away for good.  So, stuff like that just drains the fun out of comics.  I read a mini-series with Arsenal, who used to be Speedy, and it was the most dire thing I ever read.  He's hooked on drugs, he's had his arm cut off, his baby daughter was killed.  I was reading this thing and thinking "If I were twelve years old I wouldn't want to read this.  It's depressing.  Where's the fun in this?"  So we really wanted to get to a sense of fun in comics.  It is not heavy but the excitement is there and the drama is there without going to a depressing well to deliver. We got Soviets in jetpacks evading New York.  We've got robots fighting the mob.  We've got all sorts of drama, but its not depressing drama.
Sam:  So tell me about your feature, The Iron Ghost.
Fernando:  The moment we decided on our theme, which is the comics of the 50's, I really wanted to go back to the EC Comics of [that era], and the horror stuff that Atlas was doing at that time.  I wanted to do the kind of story that was self contained and had a little bit of a dark edge, but still fun and have that sense of wonder about it.  Something that had a little bit of a
Twilight Zone
conclusion to it.  So that's where I came from with my story.  The good guy in my story isn't that nice of a guy.  He is mostly acting out of self preservation.  That is ultimately what gets him where he ends up in at the [conclusion]. [The story] takes place in the 1950's.  It involves the space race.  It takes place in a space agency where a young scientist has developed a way to use mind control robots which you can telepathically control that can go into space for humans.  That way we don't need to risk peoples lives in manned space travel and we can send these robots that we would be mentally connected to.  So these robots are his invention.  It's a remarkable invention and he's a smart guy and he becomes a hot shot at the space agency and he likes to live the good life.  Unfortunately he has a dark secret and runs with the wrong crowd, and eventually they catch up to him.  The story is what happens to him when they do catch up to him, and what he can do about it.
Sam:  I've seen some of the art on your facebook page.  It really has a nice pulp feel to it.
Fernando:  I was looking for sort of a Darwyn Cook or Bruce Timm style.  I didn't want to go Neal Adams realism or anything to gritty, because I think that is how I can approach a little bit of heavy material but still keep it light.
Sam:  After working for Archie as long as you have, was it a fresh break to do a project like this?
Fernando:  Oh sure.  Its one of the reasons I jumped to it when Anthony first presented it.  Thankfully Archie has kept me busy for eighteen years.  It's been a very steady gig.  It's something I'm very grateful for.  But creatively I've always wanted an opportunity to do my own thing, but the time and avenue has never been there.  But then this came along and six pages is doable.  The fact that the other three guys that I am working with are so committed, I knew we would get it done.  That was a blast.
Sam:  Who are the other creators working on Epics, and what would we know them from?
Fernando:  Anthony Marques, who is really the one who started it, was a student of mine at The Kubert School.  He graduated in 2011 and went right to work for the school as their convention coordinator.  He's published things here and there, but really I think this is his first big thing.  Fabio Redivo, who does the private eye/film noir story, Drake, is another student of mine.  He graduated about ten years ago, and I had him working at Archie with me for a little bit.  He is currently inking Hell Yeah for Image, and he teaches at the school.  Bob Hardin graduated before any of us and he's been in the business and has been illustrating everything, but mostly cars for the last twenty five years now.  He loves the 60's car/Rat Fink sort of art.
Sam:  Is there a second Epics in the works?
Fernando:  Yeah.  We wanted to do another one anyway.  We were hoping to get into a groove where we can do a quarterly book.  We've been lucky because A Wave New World, which published American Terrorist last year, saw our first issue and they want to pick us up.  They want to publish our second issue and made it possible for us to get on Amazon.com and ComiXology.  So they are going to keep Epics going, and we are going to do two spin offs.  Katysuha, the jet pack guy, is getting his own series, and The Iron Ghost is getting his own series.
Sam:  And you'll be writing and drawing The Iron Ghost series still?
Fernando:  I'll be writing and drawing, and probably inking it too.
Sam:  Is this the first time you'll be doing a book that is solely your own property?
Fernando:  Absolutely.  I've never had the resources or the opportunity to do anything like this.  That's one of the reasons I'm so excited about it.  I'm really excited because I think his story is only beginning.
Sam:  Well that's a really big deal.
Fernando:  It is.  It's really fun, and I've been happy that the reaction so far has been really positive.  Everybody who has read Epics so far told us they really like it, so that's been gratifying.  When you do it all yourself, that's all you baby.  There is nothing to hide behind.  If it works, that's great.  If its not, its you who screwed up.
Sam:  If you are bringing The Iron Ghost into his own series, are you working on a new feature for the next issue of Epics?
Fernando:  Yes.  I'll still be continuing with Epics.  We are going to keep the formula of six pages, which makes it possible for me.
Sam:  What do you have in the works for the second issue of Epics?
Fernando:  Well each issue has its own theme, so our second issue is going to be "War."  That is one of those long neglected genres in comics.  There are not a lot of war books anymore.  But war is a very broad topic.  War can be many things, so we've got a nice, diverse range of ideas.  Fabio, for example, is going to take the Napoleonic Wars.  I'm going to do a space war.
Sam:  How long have you been teaching at The Kubert School?
Fernando:  I've been teaching there for sixteen years.
Sam:  How are the classes set up for your program?
Fernando:  Well when a student goes to the school he goes five days a week, from eight thirty to two thirty.   They have two classes a day with a total of ten classes a week.  I teach narrative art, which is telling a story using pictures.  I teach basic drawing, which is just what the name says – learning how to draw everything.  The school has other classes as well, such as figure drawing and intro to animation and a lettering class and a design class.  Even though all of our backgrounds are heavily laden in comics, we try to put down a foundation in any aspect of commercial art.
Sam:  A lot of the biggest artists in comics have come out of The Kubert School.  Who are some of the people that have become successful that were students of yours?
Fernando:  Mike Pallerito, who is the president of Archie Comics, was one of the students in the very first class I taught.  One of his classmates was Andre Szymanowicz, who is the penciller on Hell Yeah; Joe Caromagna, who does lettering for Marvel; and Jered Fletcher, who does lettering for DC; and Shane Davis.  I've got students all over the place.
Sam:  I remember as a kid that I dreamed about going to The Kubert School.  I think any kid who ever drew a picture of Batman or Spider-Man dreamed about going to The Kubert School at one point or another.  What has been the mood since Joe Kubert passed away?
Fernando:  It's sad, because he was such a presence.  We're missing him there, because, God bless him, he was eighty five but still active with the school.  His studio was there, so he was drawing there every day.  He was very hands on and involved.  He was at teachers meetings.  He had an open door policy as far everything was concerned.  He's not there now so we are missing him, but at the same time we are happy to keep things going, which is what he would have wanted.  His sons, Adam and Andy, have stepped up and are going to keep the place going.
Sam:  You know, I've met hundreds of celebrities and I don't get very star struck, but one of the few times in my life where I truly lost control and got tongue tied was when I met Joe Kubert.  When I met him he seemed like a nice man and I didn't really think much, but it was when he made his famous signature in my Sgt. Rock Archives that it all sunk in who he was and how legendary he was, and I turned into a babbling idiot.  Stan Lee didn't even have that effect on me.
Fernando:  I know how that feels. When you talked to him he was such a nice man.  [With his] accomplishments and history you expect a God, but he was such a down to earth guy.  To him, he was just working and making a living.
Sam:  Well I think Joe Kubert's real legacy is going to be creating The Kubert School, and keeping the comic industry going through educating and inspiring so many comic professionals.
Fernando:  Absolutely, and I think that's what he would have wanted.  Artistically he was so accomplished, but when you take the school into account, his influence was magnified.  It was so much more, because there is so many of us that he taught and that he guided.
Sam:  Let's talk a bit about your run on the Archie Marries Veronica feature in Life with Archie.  That book has been incredibly successful for Archie.
Fernando:  It has.
Sam:  Are you guys surprised by its successes?
Fernando:  I think so, because it was such a gamble.  It's such an odd premise.  It's a serious book.  It's a magazine.  It was an experiment all the way around.  But I think the magazine format gave it its life.  Let's face.  New books have a hard time finding its home nowadays.  The distribution market is not what it once was.  But this being a magazine, its getting into places that no longer carry comic books, so that gave it its own life.  Just seeing people get caught up in the storyline has been incredible.
Sam:  Well it's been such a gripping series.  It was nominated for an Eisner even.  That was huge.  I noticed that your storyline features Reggie, your favorite character, quite prominently.
Fernando:  It does, but that's just coincidence.  That has nothing to do with me, but I'm glad though.  I get the lion's share of Reggie.
Sam:  My favorite panel that you've done thus far in Life with Archie is the homage to Mary Jane Watson's first appearance featuring Big Ethel.  That was great!
Fernando:  I've been digging Ethel in this series and her relationship with Fred Mirth, who is my favorite bad guy.  That's been pretty good.
Sam:  Is there any spoilers that you can give us about upcoming issues?
Fernando:  Well, we had a really bit milestone earlier in the year with Archie's first gay wedding.
Sam:  Well, I believe that it was actually the first gay wedding in comic books,
Fernando:  Was it?  Okay.  I knew we beat Marvel to it.
Sam:  I thought it was funny because right after the Archie gay wedding, Marvel and DC started scrambling around for their own gay storylines in order to make headlines.  Marvel did the wedding of Northstar, and DC made Alan Scott gay.  Everybody was trying to trump Archie Comics' gay headline.
Fernando:  Absolutely, and we noticed that too.  Well Dan Parent's character, Kevin Keller, got married in Archie Marries Veronica, and his husband, Clay, got shot in a recent issue of Life with Archie.  Well that gets Kevin to make some big decisions.  He's going to leave the military, and he's going to be running for the US Senate.  So I think things are going to get edgier in Life with Archie.
Sam:  But isn't Moose thinking about running for the US Senate as well?Fernando:  Yes…but I don't want to spoil anything.
If you truly love the comic book medium make sure to check out Epics.  Fast and fun, Epics has the right mix of action, adventure, violence and suspense to capture the imagination without being gratuitous.  Meanwhile, Fernando Ruiz's The Iron Ghost is a creepy little tale that successfully harkens back to the sci-fi comics of the EC era.  You can order Epics at Amazon.ca or Comixology, or visit Epics' official website at http://epicsanthology.wordpress.com/ for more information.  Meanwhile, watch for more of The Iron Ghost in 2013.  With all biases aside, The Iron Ghost is one of the more interesting character concepts that I have encountered in a long while, and is a nice relief from the often garish recycling of the DCnU and the violent overtones of Marvel Now.  PCA is throwing its full support behind Fernando Ruiz and The Iron Ghost, and hopes that a new cult comic book hit is about to take off.