PCA presents article from the past for you to enjoy today!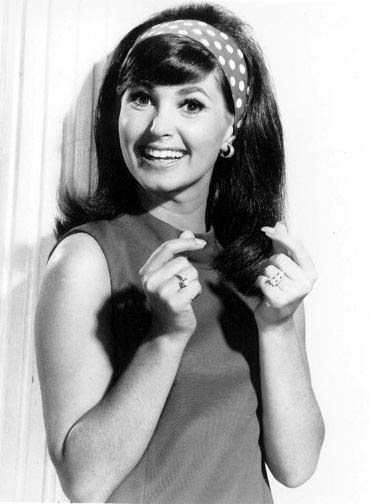 The year is 2005.  I am sitting in former Monkee Davy Jones' trailer just before he goes on stage.  Davy is not wearing any pants.  I am looking for a way to break the ice but, believe me; it's not easy when Davy Jones isn't wearing pants.  The World Cup is on and Davy is talking soccer to me, but considering that I am barely an armature on the subject I tactfully change the topic.
"You know who I got an e-mail from the other day Davy?  Donna Loren," I say.
"Cor.  Donna Loren!  Do you know Donna Loren!"  Davy exclaims breathlessly.
"Not personally.  I wrote an article on her and sent it to her people and she sent me a nice e-mail back" I replied.
:"Whatever happened to her?  Where is she?" Davy asked.
"She is in Hawaii.  Works in the fashion industry."  I answer.
"Oh.  She was beautiful.  Wow.  Donna Loren.  Me and her had a thing.  I mean, we never did the nasty or anything but we went out a few times.  I took her around" Davy says with a far away look in his eye and a wide grin.  "How does she look?  Is she still beautiful?  I bet she's beautiful" Davy asked.
"I don't know.  I've never actually met her" I remind him.
"Oh.  Well I bet she's still beautiful" Davy reasons.
Davy Jones would not be the last performer who worked with Donna Loren who would mention her to me.  Donna Loren was one of the 1960s true oddities.   Model, singer, actress, movie star and TV icon, Donna Loren was America's girl next door. The spokesperson for Dr. Pepper, she appeared in the Frankie and Annette Beach Party movies, was a regular performer on ShinDig! and appeared in such cult TV hits as Batman, The Monkees, Dr. Kildare and Gomer Pyle.  However, when retiring from show business at the age of 21 in 1968, Donna Loren went from being one of the most recognized faces in show business to one of the more obscure members of the pop culture community.  However, there is no denying that the people who remember her truly love her, and she knew how to make an impression.  Just ask Davy Jones.
Reintroduce yourself to Donna Loren in today's archive feature, featuring an analysis of her TV, movie and music career, videos, photos, trivia and lots more!
Also, Jim Beard, an acquaintance and writer who's work I truly admire, recently did a short interview with Donna Loren in regards to her work on Batman.  Make sure to check it out at Wild Hairs From the Beard, and for more of Jim's writing check out http://wildhairsfromthebeard.blogspot.com