Confession time.  I am totally emotionally invested in American Idol this year.  Seriously.  It's been nearly eight years since I've watched the program, but the show that I once deemed a mean spirited Karaoke contest has reinvented itself into what is always sought itself out to be – a showcase for the most talent young singers in America.  Season 11 of the popular reality show has often been difficult to watch because everybody on the show truly deserves a recording contract, but eventually, all your favorites, will go home one by one.  As of this writing, all of my favorites have gone home.  But careers don't stop when a contestant goes home, and as I am starting to discover, the music doesn't begin the day that the contestant walks into the audition room.
Take Gabi Carrubba for example.  When Gabi stepped into the audition room this year in Savannah Georgia, the pretty sixteen year old with a cute smile and a voice like golden butter grooved her way into the judge's hearts with her rendition of Maroon 5's Sunday Morning.  Randy Jackson told her "You were born to do this,"  Jennifer Lopez compared her to Luther Vandross,  Steven Tyler said "This may be your magic moment" and for me, watching at home, I pegged Gabi Carrubba as one of the contestants to watch.  She became the youngest of my personal top three contestants in the early days of America Idol Season 11.
Unfortunately, Gabi also was the first of my top three to be eliminated.  Plowing through the brutal Hollywood week with barely a scrape, and even making it through a difficult first round in Las Vegas, Gabi was the first to be eliminated, with absolutely no explanation, in the second round of the Vegas performances.  Viewers barely got to know Gabi Carrubba.  The girl was obviously a young powerhouse of sound.  Something just seemed wrong about it.  I felt ripped off.
But to be honest, it wasn't American Idol that made me a real Gabi Carrubba fan.  While I first heard of her through the show, it was while doing a search for her on YouTube that I discovered a live performance from this year of Gabi singing At Last  as a tribute to the recent death of Etta James.  It was that performance that made me sit up and really listen.  As Gabi tackled the song seemingly effortlessly all I could think was "Wow.  Little white girls do sound like that."  That's when I knew that Gabi Carrubba was something special, and if she is not the future face of music, then she should be.  The music industry needs more talent like Gabi Carrubba.
Tracking down Gabi to her home in New Haven Connecticut, I had the pleasure to recently had a chance to talk to her about her American Idol experience, and to talk about her future plans in the music industry.  But I was surprised how much American Idol downplayed her previous career.  Having been dancing since the age of one, Gabi has worked in professional theater, has been taking voice lessons for a decade and has been singing on stage for most of her life. Now seventeen and applying for New York based theater and art schools, life didn't end in Las Vegas for Gabi Carrubba.  We are just finally getting to know her.
CONFESSIONS OF A POP CULTURE PRESENTS
AT LAST:
A CONVERSATION WITH GABI CARRUBBA
Sam:  As I wrote to you, like most people I became aware of you watching American Idol.  However, when I was doing research for this interview I was really surprised by how much American Idol downplayed the career that you have already had in music.  You've been a professional since you were a little kid.
Gabi:  Yeah.
Sam:  When did you start performing professionally?
Gabi:  I was a dancer first.  I started dancing when I was one year old.  I was in [what they called] "the diaper dancers."
Sam:  Wow.  At age one had you even developed memory yet?
Gabi:  Probably not.  I was just doing shovel step and just dancing around.
Sam:  How did dancing graduate to singing?
Gabi:  Well my dance studio also had some singers there, and I'd hear them and think "Oh.  I like that."  So I'd just be humming along with them and then my Mom said "Gab.  You can kind of sing!"  So I tried out for Annie at the local theater, and I got in as one of the extra orphans.  Not a name character.  Just one of the ones that came on for Hard Knock Life and scrub the floors for a little bit.  So I just loved to do that.  Singing and dancing has been a part of my life.
Sam:  Now your production of Annie was a big deal, wasn't it?
Gabi:  It was the national tour.  We stopped at Madison Square Gardens.
Sam:  What was that like for you?
Gabi:  Annie was eight months of seventh grade.  Being on the stage was better then anything I could ever ask for.  Being on stage every night was a dream come true.  But coming back was when it was hard.  I mean, girls are rough.  They didn't really like me when I came back.
Sam:  Really?
Gabi:  Yeah.  It was hard because nobody understood, and nobody really understands now.  It's hard to explain music to anyone who doesn't appreciate it as much as I do.
Sam:  Do you come from a musical family, or a performance background?
Gabi:  Not really, no.  My Dad can play the guitar very very well, but he can't carry a tune.  No offense.  I love him to death.  And my mother…oh God no.  Nobody in my family sings.
Sam:  Well I look at the stuff that you have done on YouTube, and I've read about some of your musical influences, and you seem to have a love for good performers and great songs.  Where does this influence come from?
Gabi:  Well the songs that I like are the songs that I know I can move to.  Dancing has always been such a strong influence.  Plus, my Noni has been humming around me.  I think I'm an old soul.  I love old bluesy music.  I think that's a major interest.
Sam:  Now I read that you were the winner of "The American Idol Experience."  I've never heard of this.  What is that exactly?
Gabi:  "The American Idol Experience" is an attraction at Universal Studios in Florida.  Anybody can try out.  The winner gets to go to the front of the line at the real American Idol audition.  Thank god I won that because waiting in that line would have been horrible!
Sam:  Now you auditioned in Savannah, right?
Gabi:  Yeah.
Sam:  Were you one of the first people through that door?
Gabi:  I was the ninth person of the whole day.  Thank god.  I don't know what I would have done if I didn't get that place in line,  I don't know if I'd even tried out.
Sam:  Before that had you been singing on stage beyond theater?
Gabi:  No.  I had been doing theater my entire life.  I think that's also why I could have gotten eliminated on Idol.  I've been taking singing lessons for ten years, and I've just been doing Broadway.  During the "American Idol Experience" I sang a Broadway song.
Sam:  What did you sing?
Gabi:  I sang Colors of the Wind from Pocahontas.  I was fourteen.  So I've been doing that my whole life.  So singing for myself…well…I was just winging it the whole time.  So when I go back to Idol I'm going to be more prepared as my own artist.
Sam:  So you will be trying out for American Idol again next year!
Gabi:  Yes I am.
Sam:  American Idol's producer Nigel Lythgoe went on twitter and said that he was sorry to see you get cut.  He obviously really liked you.  Were you ever given a reason why you were cut?
Gabi:  They didn't give me any reason.  What they showed on TV was exactly what happened in real life.
Sam:  And as a viewer looking in, that was painful to watch.
Gabi:  Yeah.  It made me seem like such a little diva.  I did freak out a little bit because I was really stressed and completely exhausted.  I had known the people I was with since early July, so I could be brutally honest with them and tell them it wasn't right and they would completely understand it.  It was all to help each other, you know?  It was never anything to be mean or to hurt them.
Sam:  How hands on were Steven Tyler, Jennifer Lopez and Randy Jackson when it came to the contestants.  Did you just see them at the performances or did they offer any additional guidance during the process?
Gabi:  I saw them at the performances and the auditions, but we really got to be close to the executive producers.  That was who we were close to.  The executive producers basically call the shots on everything.  They are great.  Nigel Lythgoe and Ken Warwick are amazing. I am so thankful to have met them.  And all the judges were never looking to discourage anybody.  They truly do want what's best for you.  They give you criticism because they know you can take it.
Sam:  What I've noticed this year, compared to others, is that there is a more nurturing and positive energy to the judges compared to when Simon Cowell was on the show.  It's all about building people up, and I think that brings out much better performances.
Gabi:  Right.  I wish I could have sung for Simon though.  I really do.
Sam:  How about your experiences with the contestants.  Were there a lot of friendships built?
Gabi:  Yes.  Oh my god yes.  I still talk to everybody.
Sam:  What about the other end of it?  Was there any jealousy or rivalries?
Gabi:  Well, you could always tell that there was, but I always stayed close with my group of friends.  The younger kids.  I am so glad I met them.  We were all so focused and we didn't want to deal with that drama.  It was just so amazing.  I miss it so much.  That's why I want to go back.  I really need to meet more people.  I loved meeting everyone.  But with the adults there was definitely some bickering, but the younger kids stayed completely out of it.  We'd laugh at everything.
Sam:  Well looking back at the group numbers you were in, those performances always went very smooth compared to some of the older groups, and were always well welcomed by the judges.  Was this because of the lack of drama?
Gabi:  Well, in Vegas there was a little drama but we were all laughing.  Do you remember David Leathers?
Sam:  Yes I do.
Gabi:  He was one of my best friends during this whole thing, because anytime I was crying or freaking out he would just laugh at me. He would just straight up and laugh, and then I'd laugh and feel better.
Sam:  In retrospect, how do you feel about the way you were let go from the competition.  Do you feel that they cut you loose too early?
Gabi:  I don't dwell on it.  American Idol has put a fire under my butt and every single day I say that when I go back there that I want them to say "There she is.  That's going to be the next American Idol.  That's the next winner."  I want them to think that the moment I walk in, and I want them to say "Wow, Gabi.  I can really tell you practiced."  Nigel e-mailed me and said "Gabi, as bad as this sounds, I'm actually kind of happy you got eliminated because you know what you have to do in order to be better and to definitely go farther in the competition.  You need to find yourself more as an artist."  I've taken that criticism and every day I've been trying to be more creative and trying to cover more songs and put my own twist on them.  Every single day I think about that, and that's my motivation.  That's what's driving me and keeping me positive.
Sam:  Are you still watching the competition?
Gabi:  Yes.  I have to watch it on YouTube because I am always dancing and singing or something.
Sam:  Who is your favorite to win?
Gabi:  Well, oh my gosh.  I love Jessica Sanchez and her Mom.  I love Joshua Ledet.  He is like a soul train.  A walking soul.  The model of American Idol Season 11 is when Joshua would sing "Someone say Jesus!"  He would always be singing that.  But I can't believe Colton Dixon is gone.
Sam:  That was hard to watch, but at this point of the show it's really just the painful reality of watching these amazing performers go home.  Everyone deserves to win at this point.   It'll keep getting harder as it goes along.
Gabi:  I know, but everybody has to go eventually.
Sam:  This must be even more emotional for you to watch because you actually know these people.
Gabi:  I just love Colton so much.  I love him.  I love everyone.  I don't know.  It's so hard.
Sam:  So let's talk about what comes next.  You said you are developing yourself more as an individual artist.  Are you composing music?
Gabi:  Yes.  I am working really hard on creating an album of my own style.  Really, my music is very simple.  It's me on a piano.  I'm not one for all the techno crap.  I want it to be real.  I want it to be me.  Just me.
Sam:  Are you collaborating with someone?
Gabi:  I've been working with some people, but some people don't understand what's new, and what's upcoming.  I'll be working with some people in New York.
Sam:  Now I don't want to sound old here, but I don't understand music on the radio anymore.  Do you know what I mean?
Gabi:  Yup.
Sam:  It doesn't even sound like music to me.
Gabi:  Nope.
Sam:  Do you get frustrated with the trends in the modern music industry?
Gabi:  Yes.  Totally.
Sam:  What are you hoping to do to help make the musical landscape?  What is your vision of what music can be?
Gabi:  I think that people need to start appreciating real music.  Music that people are playing with their real hands and not on a computer screen.  One of my favorite bands is Bon Iver.  [Justin Vernon] is so creative, and nobody really appreciates his creativity.  I aspire to be just like him.  He is successful, but without being on the radio and without auto-tuning his music.  He is himself and he is loved by so many people.  I'd rather be playing my own music that I love to do for ten people then doing technological crap that I don't enjoy singing for five million people.
Sam:  When you have been given the talent you have, why would you want to sing something you don't enjoy singing?  You don't need to be auto-tuned.  You're in tune already.  What is the next step in your career?
Gabi:  I've been doing auditions for college.
Sam:  Oh!  What are you applying for?
Gabi:  I'm doing musical theater for now.
Sam:  Obviously someone is going to let you in.  They should be falling over themselves for you.  Who have you auditioned for?
Gabi:  I auditioned for NYU, Pace University, Marymount Manhattan and American Music and Dramatic Academy.
Sam:  And who have you heard back from?
Gabi:  I've gotten [accepted by] Pace, Marymount and I'm still waiting for AMDA and NYU.
Sam:  And you'll be starting in the fall?
Gabi:  Yup.  These are all right in New York City, which is perfect too.
Sam:  So although you are going back to American Idol next year, no matter what happens you will still be continuing your career in music.  Do you still get recognized or media attention wince you left American Idol?
Gabi:  Yes.  It's so weird, but I like it.  I went shopping with my best friend the other day and I went in line to get a hot dog and she sat down with some other people and they looked at her and said "Is that Gabi Carrubba from American Idol?"  She said "It is" and I sat down and they were so nice.  They said "You got robbed!"  It's funny that people recognize me.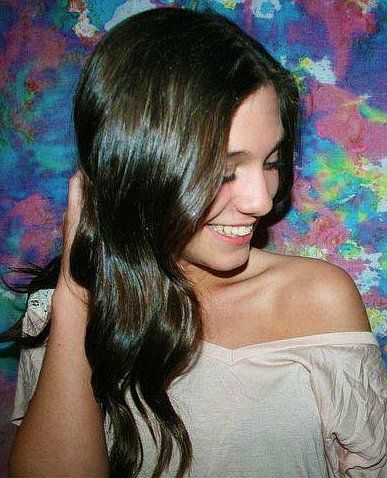 Let me tell you something I really like about Gabi Carrubba.  I have done a lot of interviews with musicians, and when it comes to the topic of what is right and wrong with the music industry today most musicians tend to try to stay liberal about the topic despite what their true feelings are.  Perhaps it's her age, or maybe it's her confidence, but I found it really refreshing that Gabi has a firm idea of what she wants and does not want out of a music career, and that she is willing to bluntly call out what is phony and fake about the modern recording industry.  The sad truth is that in the modern music industry it no longer takes talent to be a star.  That's why when someone is born with a voice like Gabi Carrubba, not to mention all this years contestants on American Idol, it is tough to watch some of the pop acts that rise to the top of the music charts, while other kids with real talent fall through the cracks.  An emotional and artistic turn around needs to be made in the music industry today.  We need to support talent over image instead of the other way around.  Recording companies need to sign people who can sing instead of people who can look good.  American Idol seems to be on the right track again, and as Gabi Carrubba goes back to the auditions next year I know I'll be watching her next American Idol adventure.  But no matter what happens in Season 12, I know this kid has a brilliant future in the music industry.  She was born with a true gift, and she is a real talent.  She has the drive, the enthusiasm and the confidence to have an incredible career in the entertainment industry whether she becomes and American Idol or not.  Gabi Carrubba is an example of what our future music stars should be, and knowing that there is a world of talented kids like her throughout America reassures me about the future of the recording industry.  We just need to discover these individuals and give them a chance to be heard because they are the face of the next musical revolution.
To follow Gabi Carrubba on the next leg of her musical journey, follow her on facebook, twitter and YouTube, and visit her web-site at http://www.gabicarrubba.com/home.html.
POP CULTURE ADDICT NOTE:  Thanks to Tom Cavalier for helping to connect me with Gabi Carrubba.  I appareciate your help in allowing PCA to further promoting the future of this incredible performer.