I hated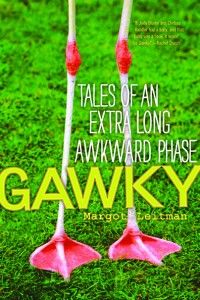 school.  In fact, I think everybody I know hated school, and if you were one of the of people who liked it, it's most likely that I hated you as well.  The purest example of Darwinism in our society is the reality of our school days, where kids were jerks to each other for the sake of being mean, and hopefully as a way to get it out of their systems by the time they became an adult.  Of course, lots of them grew up to become jerky adults, but that's beyond the point.  The point is, whether you have fond memories or bad memories of school, it sucked, and most people have carried on with the memories of those days scarred on their psyche forever.
It's these bitter sweet memories that have become the focus of comedian/storyteller Margot Leitman's debut book Gawky:  Tales of an Extra Long Awkward Phase.  Telling true to life stories about her adolescent years, from elementary school to her first year in college, Leitman's stories are painfully funny.  Growing up as the tallest girl in school, Margot Leitman was a misfit kid trying to survive during the cultureless backdrop of the 1990's, and seemingly losing a never ending battle against conformity and social politics.  From dealing with mean girls (the white lipstick posse) to an obsession with Bobby Brown to finally finding friendship and acceptance at an art camp, Margot Leitman creates a narrative which we can all relate to, and as a result, makes us all realize that the feelings of being a misfit is universal.
Gawky is also filled with cultural references from the 1990's, a decade which pop culture significance continues to be lack luster and questionable.  Reliving the 90's with Leitman is surprising  nostalgic as she brings up things that we probably forgot (anybody remember the 1-900 number craze, Sean Lennon's remake of Give Peace a Chance in regards to Desert Storm?) and reminds us just how truly lame that the entire decade was.
Receiving an advance copy of Gawky, I spoke with Leitman a few days after the release of the book.  Now I must admit that throughout the book I couldn't help but develop a bit of a crush on her seventeen year old self, wondering "Where was she when I was an awkward teenager?"  In reality Margot Leitman is as charming and witty as she is in the book.
Sam Tweedle:  I just got your book last week and I absolutely love it.  I can't put it down.
Margot Leitman:  Oh great!
Sam:  You are the first person ever to make me look Bobby Brown up on YouTube.
Margot:  That is the chapter that everybody is talking about.  It's so funny.  It was a late addition [to the book].  I was under my word count and I thought "I'm going to bring back Bobby Brown."
Sam:  I didn't know that I even knew any Bobby Brown songs.
Margot:  You didn't know Roni, did you?
Sam:  No I didn't.  I still don't know it.  The video you write about is not on YouTube.
Margot:  Yes.  It's too dirty. [Laughs]
Sam:  That's one of the things that pulls me into the book.  You make all these cultural references that people of our generation can relate to.
Margot:  Yeah.  It's a lot of pop culture from a time in pop culture that is completely forgotten.
Sam:  It's true.  The 90's didn't have a culture.  I remember going from 1989 straight to 2001.  Anything in-between didn't interest me.
Margot:  Yeah.  I know.  It was hair metal, and then Spice Girls.  Grunge is what people think about when they think of the 90's.
Sam: Exactly.  That, and "new" country.
Margot:  "New" country. (Laughs)
Sam:  We are around the same age.  I think I'm a few years older.  But as I read this book I can totally relate to so much in it.  I'm sure that you have people tell you all the time "That's my story."
Margot:  I'm getting it here and there.  I had three people e-mail me and say "I felt the exact same way about that Bobby Brown video.  I'm not kidding."  I think "Oh my God."  A lot of people who were tall girls say that for me.  It's universal.  How is it your story, as a man?
Sam:  Well, I was a kid who didn't fit in.  I dressed from a different era.  I hung out with a lot of girls like you. Reading the book, I have a total crush on you.  Where were you when I was seventeen?
Margot:  (Laughs)
Sam:  I relate to the musical aspect of the book.  We were listening to the same music in high school, and I remember listening to the music of the 60's and 70's and hating the current culture around me.  The part of the book where you spend New Year's 1990 with your mother and she talks about the decade being "your time" really resonated for me.  We had all the bad bands.
Margot:  It was when Jesus Jones sang Right Here, Right Now.  It was like "1990!  Right here, right now!  It's never going to get better than this!"  I was like "Really?  This is it?"  It just felt so lame.  The Berlin Wall came down in 1989 and that was great, but after that…?  It was a really lame decade.
Sam:  One thing you wrote about, that I completely forgot about, was the 1-900 number industry.  I've been on YouTube looking up the old commercials.
Margot:  Oh, weren't they hilarious?
Sam:  Your book is painfully funny.  Sometimes I'm wincing as I'm reading it.  I'll read something and think "Oh man.  She's not going to do that, is she?  Oh shit.  She did…"
Margot:  (Laughs)
Sam:  The one that hurt the most for me, mainly because it was the same sort of dumb ass thing I would have done at that age, is when you sing Give Peace a Chance in the cafeteria.
Margot:  It's still one of the most humiliating things in my life.  I remember when I wrote it, my hands were still shaking.  I was in a writing class at the time and I had to bring it in and read it out loud.  It all came back, and I was so embarrassed at staging this protest that nobody joined me in.  Reliving it again was as humiliating as doing it in the first place.
Sam:  As a writer, I often find it hard to write about my past because I don't want to relive it.  Did you find it hard to revisit your past when you were writing this book, or are you just able to laugh about it now?
Margot:  Anything I wrote about in the book I can laugh about now.  Anything that was too painful after all these years didn't go in the book.  There is no formula for how much perspective you can have on a story in order to have it be funny.  If I didn't have the perspective on it than I left it out.  There's this whole thing about my Grandmother in the beginning, and then she passes away.  That was a very upsetting time in [my family's] life, and I sort of glazed over it because I don't know if I can write about that with my outlook.  There was a guy in high school that I could not have been more in love with who could not have been less in love with me, and I still don't think that's funny.  I didn't write about that.  He's not in the book at all.  Things like that.
Sam:  You bring your old friends into the book as characters, so as a reader we get attached to them.  Are you still in touch with any of the friends that are in the book?  Do you hope that some of them find your book?
Margot:  I don't really know anybody from highs cool.  I speak on the phone and sometimes see in person two people from high school on a fairly regular basis.  I didn't go to my reunion because I didn't want to revisit.  I did keep in touch with Jackie Angel, the cool girl from camp.
Sam:  I have such a crush on her too!
Margot:  She is the coolest person I ever met.  I still want to be her.  She said to me "Read the book.  Loved it, girl.  I'm still planning my escape to France."  I said "What is your escape to France?"  She said "Oh, I'm trying to move there."  I thought "Oh God, you're still so cool."
Sam:  What does she do now?  Is she in the business?
Margot:  No.  Not at all.
Sam:  You write a lot about your family in the book.  Have they read it?
Margot:  My Mom has read it.  She loved it because she's part of the book.
Sam:  I love how your Mom backs you up when you are kicked out of school for wearing the orange leotard.
Margot:  Yeah, and  a big thing about my Mom is that she liked the way she was portrayed.  She's portrayed as eccentric, but very nice and I kept her true to who she is.  She is a bit of a ridiculous character.  She kept calling me laughing while reading it.  I didn't show her anything before hand, and wrote it as if my Mom would never see it.  I also wrote it with the kindest intentions, and a clear conscious and by the best of my memory and my perspective.  Perhaps the facts got a little jumbled, but that's how I remember it.  So, to me, I can get all the bad reviews in the world, but in the end, if my Mom likes it, that's all that matters.  Isn't that funny?  That's all that we really care about.
Sam:  Was your mother surprised about any of the things in the book?
Margot:  Yeah.  She was really upset about some of it.  She said, "I didn't realize that a girl waited at your locker every day to berate you and taunt you about what you were wearing every morning when you arrived at school."  But that was every day for me.
Sam:  As I was saying, I hung out with a lot of girls like you when I was in high school.
Margot:  Yeah.  I tended to hang out with a lot of guys.  There weren't that many girlfriends.  Girls in high school are a different breed.  So I hung out with a lot of guys.  It was all plutonic, although I wish it wasn't.
Sam:  I know how that feels.  Did you find that it gave you a complex at all?
Margot:  I will say this.  When I got married I said to a friend, "You know, I never thought I'd ever get married."  I was teased so much, and made to feel like I was a weirdo, that I never thought anybody would love me.  Is that terrible to say?
Sam:  Not at all.  I think lots of people feel that way.  The part about you being criticized by the "white lipstick posse" was enough to give you a complex I think.  I've had that kind of thing happen to me.  I've even had it happen multiple times as an adult, and that sort of thing doesn't go away easily.
Margot:  I felt that again when I first came to LA.  I was in an acting class and I did my scene and I was pulled out of the acting class and was told that I was too fat to make it as an actress, and told that I had a terrible style.  Well look, we're all too fat by LA actor's standards and that you can take it or leave it.  I'm too fat by a normal person's standards.  But the style thing.  [The teacher said] "Stand up" and she went through everything, [from my necklace to my hair] and it depressed me so much because I felt like I was in that moment again.  I have issues with being bullied about my clothes from when I was a kid, and it triggered something in me.  I was so affected by it because I had moved to the big city, but I was right in middle school again.  I had gotten over all that bullying, and here it was happening again.  I ended up taking classes at another studio that I really liked and the first thing they did was that they went around the room and they were asking us "What do you feel comfortable in when you audition?"  One girl said "I like wearing skirts and boots" and the guy next to me said "I like to dress up a little" and everybody was just saying that they dressed normally, and they got to me and I was crying.
Sam:  I understand why you wouldn't want to go back to your reunion.  I didn't go to my high school reunion either.
Margot:  I think that there are certain people who go "I can't wait to go back and show everyone how great I'm doing and stick it to them."  That's great, but for me I could not do it again.  Even though I'm not doing terribly I could not do it again.
Sam:  Do you think things that you went through are universal?  Do you think that other generations could relate to your story or do you things have changed?
Margot:  Absolutely it's universal.  I think the kids who fit in are the minority.  Maybe because of field I work in, or the people I'm surrounded with, I don't think a lot of people enjoyed that time of their life.  If I was the high school football coach in my home town I might feel differently.
Sam:  I find that I run into people from high school and that they remember me differently than I remember myself.  You write the chapter where you were runner up for the Homecoming queen.  Do you think part of your "unpopularity" was in your own head?
Margot:  Yeah, and I think I come to that conclusion in that chapter.  The other thing is that the prom court was chosen by the teachers and not the students, so there's that.  I think an adult would appreciate a "weird kid" or "a misfit" more than their own peers.  But I do have this moment where a teacher says to me in the bathroom "I love your style, and I've appreciated you the whole time you've been here" and I had that moment of "Oh.  Was it just me, or did people really have my back?"  So I'll never know.  Unfortunately someone from my high school recently passed away and I got this note from someone from high school who said "Hey Margo.  Did you hear about so and so? He made people like us feel that high school was a little more tolerable."  I thought that it was odd that I hadn't spoken to any of these people in years and this guy was grouping people into "Like us."  I think that people in hindsight might still look at me as an outsider.
Sam:  Do you still see yourself as an outsider today?
Margot:  Yeah, I do.  I'm a comedian, but I [don't really do] stand-up, because I tell stories.  In the storytelling world there are a lot of intellectual types that just write stories and don't do other things.  I come from a comedy background so I don't truly fit into that.  I've done some acting work, but I'm certainly not Meryl Streep.  Then there is the writing world, which I guess I fit in, but I'm all by myself.  So I guess I found my niche, writing alone with my dog on my lap.  I guess I fit in there.  I don't really feel that there's a specific group I belong with now.
Sam:  Do you have a sequel in mind?
Margot:  I purposely ended the book when I'm nineteen.  So, hopefully I'll be able to write more.  I'm only in the first week of college when I end [the book].
Sam:  Well I hope so because I want to read more of your stories.  I love this book.  I haven't picked up Game of Thrones for a week because I've been reading about you.
Margot:  Oh, thank you so much!  That means so much to me!
Thus far, Gawky: Tales of an Extra Long Awkward Phase has been my favorite read of the summer.  A humorous, although often painful, look at adolescent memories, Gawky works on so many levels because it explores universal feelings of anxiety and inadequacy which we all feel growing up.  It's a book which we can all relate to some way or another.  An incredible storyteller, I didn't want Margot Leitman's story to end, which makes me hopeful that a sequel to Gawky will eventually be on the way.
To order your own copy of Gawky:  Tales of an Extra Long Awkward Phase and visit Margot Leitman's web-site at http://www.margotleitman.com/.