The scheduled presentation of Oliver Stones' Seizure was unavailable today, so instead we present to you Tony Randall and Janet Leigh in "Hello Down There!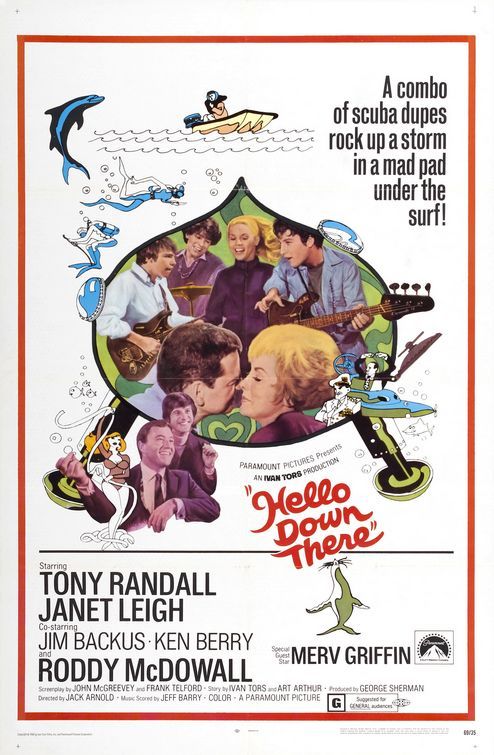 "With an eclectic cast of entertainment icons and pop culture favorites lead by stars Tony Randall and Janet Leigh, its hard to imagine why Jack Arnold and Racou Browning's 1969 comedy Hello Down There didn't become one of those endearing comedies that would last the test of time.  Well, for some reason it didn't.  Instead, the film sort of sunk.  Forgettable and lackluster, Hello Down There is one of the blandest comedies of the 1960's.  But that is exactly where the charm lays in this film.  It's full of prat falls, outdated fashion, old school sexual stereotypes, bad rock n' roll numbers and lots of people getting all wet.  In other words, Hello Down There is the ultimate guilty pleasure to watch on a Sunday afternoon with nothing else to do.
Tony Randall plays inventor/architect Fred Miller who, concerned with overpopulation, invents a full functional ultra-modern underwater house, which he calls "The Green Onion," ninety feet below the Pacific Ocean.  When he fails to sell his angry and greedy boss, T.R. Hollister (a stereotyped Jim Backus), on the idea, he strikes a deal that if he and his family, consisting of wife Vivian (Janet Leigh, in the most forgettable role of her career) and his two teenage kids Lorie and Tommy (nobody who really went on to do anything else noteworthy) live in the house for thirty days, then Hollister will fund the project.  However there are a number of glitches in Miller's plan, including the fact that Vivian suffers of hydrophobia, and his kids are in a rock band that is in the midst of negotiating a deal with eccentric music mogul Nate Ashbury (Roddy McDowall in a parody of Phil Spector).  Upon convincing his wife that it'll be totally safe in the Green Onion, Miller agrees to bring the rest of the band, consisting of Lorie's hippie rocker boyfriend Harold (a very young Richard Dreyfuss in one of his earliest performances) and his younger brother Marvin (more on him in a bit) to come live in the Green Onion where they can continue to write, practice and record.  With a pair of friendly dolphins and a comical seal as their companions, the Millers and company make their life under the ocean.  So what kind of hijinks can happen to a family of six living underwater? Plenty.  From a runaway submarine to the US Navy monitoring suspecting they are a Russian threat to a malicious co-worker trying to steal Miller's job (future Mama's Family star Ken Berry), the Millers find more underwater adventure this side of an Aquaman comic book.  All this and Tony Randall fights a shark.  I kid you not.  A mother fucking shark!  Chuck Norris hasn't even done that!  For real!
Now Hello Down There is not the best film you will watch this summer, but it is a great guilty pleasure and will keep you entertained.  The real mystery of Hello Down There is how they were able to get so many fine actors in this forgettable screwball comedy.  Beyond those I've already mentioned, the film boasts a virtual "sea" of notable pop culture icons including Lee Merriweather (as a blonde) in the role of Roddy McDowall's brainy assistant Dr. Wells; Charlotte Rae as the Miller's alcoholic house keeper Myrtle; former Untouchables star Bruce Gordon and comedian Harvey Lembeck as naval officers; and a special appearance by Merv Griffin as himself.  Yes.  That Merv Griffin.  As himself.
But my personal favorite performance in this film comes from character actor Lou Wagner in the role of Harold's brother Marvin.  Wagner would be best remembered as Roddy McDowell's nephew Lucius in Planet of the Apes (which, incidentally, came out the same year as Hello Down There) and he would later go on to play jerky police scientist Harlan Arliss on CHiP's.  While the majority of the cast seems to realize that Hello Down There is a total stinker, Wagner seems to be actually having a good time making it, and smiles and laughs through the film as if he is in on a giant joke.  While the entire cast is interesting to watch, Lew Wagner's amusement adds a likeable quality to an otherwise bland film.
But if Hello Down There is such an awful picture, you may ask what redeeming qualities does it have?  Quite frankly, the musical performances by Harold and his Hang Ups makes the whole film worthwhile.  Mind you, I said it makes up for the film.  I never said they were good songs though.  Performing a trio of songs written by the Academy Award winning lyricist Sam Coslow, whose most famous contribution to the 20th Century was writing the lyrics to Dean Martin's Everybody Loves Somebody, and Arthur Johnston who wrote the classic Pennies From Heaven, Harold and the Hangups perform such unmemorable songs such as Glub, Hey Little Goldfish and I Can Love You.  Dreyfuss attempts to swagger and grimace like a stoned Marlon Brando but comes off looking more like Mickey Dolenz having a brain aneurism,  and Lew Wagner laughs his way through the numbers, while the Miller kids just lip sync….badly.  And thank god.  Actress Kay Cole, in the role of Lorrie Miller, is easy on the eyes, but has one of the most annoying speaking voices.  I would not want to hear her sing.  The reason you have never heard of the songs in the film is because none of them are that good.  Harold and the Hangups would never get invited to perform at the Monterey Pop Festival and the team of Johnston and Coslow weren't getting Oscar nominations for lyrics such as "Glub Glub Glub/I'm floating on a sea of love."  But with that said, I Can Love You is a really boss tune.  I am serious.  Thankfully it is the number that Harold and his Hang Ups perform the most.  Also worth noting is the film's opening theme, Hello Down There, written and sung by Jeff Barry, best remembered for such monster hits as River Deep/Mountain High, It's Christmas (Baby Please Come Home), Doo Wah Diddy, Da Do Ron Ron, Leader of the Pack, Chapel of Love, Be my Baby and television theme songs for Family Ties, The Jeffersons and One Day at a Time.  The Hello Down There theme is fantastic, but it should be noted that during the opening credits it's sang in gibberish by Barry and a group of animated singing fishes.  The reason?  Because when Barry sings it with lyrics during the closing credits it is revealed that the song is actually about flying in the air, not being beneath the sea.  D'oh!
I have no idea what audience Hello Down There was made for.  To juvenile for adults, to lame for teens, to boring for children, Hello Down There misses its mark again and again despite the incredible talent pool assembled for the film.  Why watch it?  Well, all kidding aside, Hello Down There is a personal favorite from my childhood and was shown on TV all the time. Although I always knew that it wasn't good, I always watched it and I still, to this day, have a nostalgic love for this strange little film.   I may never be able to explain why I love it, but all I hope is that you watch it for yourself and discover for yourself what the appeal of Hello Down There is.  If for any other reason because it is an incredible curiosity piece.  If anything, stick around to watch Tony Randall fight the shark.  Did I mention he fights a shark?  Tony Randall TOTALLY fights a shark.  Even Richard Dreyfuss wasn't ready to do that yet, and Randall didn't need a bigger boat.  That is worth the time you put into Hello Down There.  For real!