Due to the holidays, this week there are no comic book reviews today, but instead we give you The Kid Super Power Hour with the fresh faced kids from Hero High!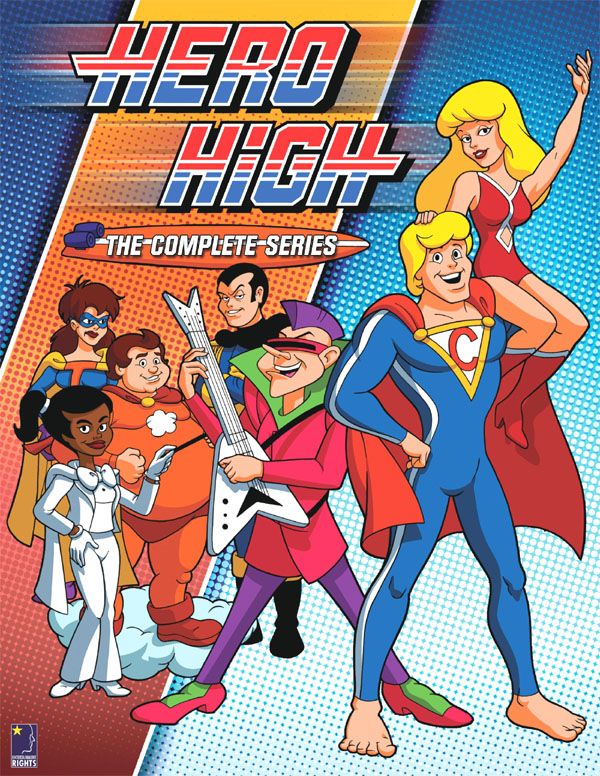 Developed in 1981 by Norman Prescott and Lou Schrimer, the same guys that brought you such favorites as Fat Albert, Sport Billy, The Brady Kids and The Hardy Boys,  Hero High was originally intended to be an animated version of the Archie comic strip Captain Pureheart, featuring Archie and friends as superheroes.  However, due to some last minute negotiation breakdowns between Prescott and Schrimer and Archie publications the characters had to be changed.  However you can still figure out who was intended to be who – Captain California is Archie, Glorious Gal is Betty, Dirty Trixie (oh God I love her name) is Veronica, Punk Rock is Jughead, Rex Ruthless is Reggie and Misty Magic is Sabrina the Teenage Witch.  The Weatherman was just an added overweight character to insert fat jokes about.
So who, you might ask, are these kids and whatever happened to them?  Let's find out!
For the most part the actors who played the live action version of the characters had relatively short careers in show business and none of them are working in the business today.  However, for the most part, there is still information available on them. 
Christopher Hensel (Captain California) – With his blonde hair, puppy dog eyes, golden voice and giant cod piece (I'm serious – look at the unit on that guy – its hard to miss), Chris Hensel had an incredibly short career on television and primarily made his career in musical theatre in productions of The Phantom of the Opera and Evita.  However, some people might remember him as Duke cousin Jeb Duke on The Duke of Hazard.  However, if you liked Chris Hensel's singing you canlisten to and  purchase his CD, Tell the Wind, here.
Mayo McCaslin (Dirty Trixie) – The Kid Super Power Hour was the first TV series for Mayo McCaslin who would prove to stay in the public eye longer then the majority of her co-stars.  She went on to do guest spots on a number of other television programs including Riptide, The A-Team, Hunter and The Power of Matthew Star before getting a regular gig as Sally Taylor on Santa Barbara.  However, it was on a forgotten sit-com called Rocky Road that she was appearing on that McCaslin met troubled teen star, and Scott Baio's eternal sidekick, Willie Aames who had just divorced his first wife.  McCaslin and Aames were married in 1986 and, despite his numerous troubles with drugs and alcohol is still technically with him although reports say they are currently separated.  The majority of McCaslin's recent appearances have been tied into some of Willie Aames wacky projects (ie Bibleman). 
Jim Greenleaf (Weatherman) – The rotund actor who was brave enough (or at least paid enough) to don a pair of spandex actually had a fairly colorful career in Hollywood playing bit parts and supporting roles in a lot of episodic television including James at 16, Laverne and Shirley, Mork and Mindy, The Greatest American Hero and The Fall Guy.  He also appeared as McDorfus in the cult 80's film Joysticks.  Jim Greenleaf is still out there where he does his own home made video series On the Road via YouTube and houses his own blog at http://jimgreenleaf.wordpress.com and you can follow him on Twitter at http://twitter.com/ilivetodayav.
Rebecca Perle (Glorious Gal) – It might be hard to believe, but smokin' hot Rebecca Perle actually won something called The Young Artist Award in the category of Best Young Actress in a Daytime Series for The Kid Super Power Hour?  Obviously the judges were blinded by her good looks because, well, even if Rebecca Perle was a decent actress the writers of this monstrosity gave her very little to work with in the means of any sort of dramatics.  Vaudville/pantomime is hardly acting.  Anyhow, Rebecca Perle made her TV debut a year earlier on an episode of the The Waltons and would go on to make appearances in Airwolf, Knight Rider and Mr. Merlin.  However, believe it or not, in 1983 Rebecca Perle was seen around Los Angeles with Hollywood legend Clint Eastwood who, at the time, was married to Maggie Johnston.  A year later Clint was divorced and Rebecca Perle was appearing in his latest flick Tightrope in the role of Becky Jacklin.  However the romance would be short lived.  By 1986, when she appeared with Clint in Heartbreak Ridge she had the forgettable role of "student in shower."  Perle's final screen credit is from the short lived Adventures of Superboy TV series from 1988 and has since fallen off of the radar. 
Jere Fields (Misty Magic) – Is there something familiar about Jere Fields?  Well if so it's because she is the splitting image of her kid sister Kim "Tootie" Fields!  They could be twins, right down to the same voice.  Jere Fields made her television debut on a 1970 episode of Gunsmoke, and went on to appear as Jan Brady's token black friend in the classic Brady Bunch episode Miss Popularity.  After The Kid Super Power Hour Fields appeared in episodes of The Jeffersons, What's Happening Now, Diff'rent Strokes (in the memorable episode when Mr. T visits the Drummond household), TJ Hooker, Cheers and The Facts of Life (in another landmark episode when Tootie meets Jermaine Jackson).  However what is likely her most memorable role (and I use the term memorable lightly) would be playing token black chick Anita who gets hacked up by Jason in Friday the 13th 5.  Yet Jere Fields is possibly most famous today for being the long suffering wife of the notoriously sexist former Good Times star Jimmie "J.J." Walker.
John Berwick (Rex Ruthless) – John Berwick was nearing the end of his career when he took the role of arrogant Rex Ruthless.  Prior to the role he appeared in Jason of Star Command and a bunch of shows I've never heard of.  His career would be over by 1981 when he appeared in a forgettable TV movie called Goliath starring Mark Harmon, Christopher Lee, Eddie Albert, Robert Forster, Jean Marsh, Frank Gorshin and John Carradine.  Berwick had the role of "crewman."  Obviously it was all down hill for Berwick after The Kid Super Power Hour.  Where he is today is anybody's guess.
Johnny Venocur (Punk Rock) – Johnny Venocur, who played the bizarre rocker punk rock, is really the only one out of The Kids Super Power Hour that has maintained any sort of career in Hollywood.  Still active in Hollywood today, Venocur has made a career out of playing bit parts such as "cop", "waiter", "juror", "crack dealer" and "second white tough" in a host of films and television programs ranging from Lords of Illusion to S Club 7.  However, his true claim to fame is probably as producer to the short lived reality program Scott Baio is 45…and Single where he appeared various times as himself. 
So there you are kids!  The heroes of Hero High may be gone but not forgotten.  Don't worry.  We will be back next week with comic reviews.  It'll be fun.  I promise.