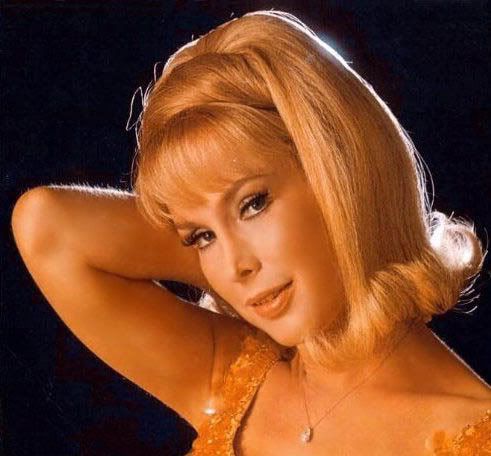 For generations of television viewers, Barbara Eden has been one of the magical fantasy girls of our pop culture dreams.  With her long blond pony tail, wide blue eyes and pink harem outfit, Barbara Eden enticed and delighted audiences as the enthusiastic and sweet two thousand year old genie aptly named, "Jeannie" on the classic sit-com I Dream of Jeannie.  Beautiful, innocent and tantalizing, for myself, and thousands of kids that ran home after school to sit in front of Jeannie reruns, we didn't need three wishes.  We only needed one.  Our one wish was to trade places with Major Tony Nelson for just one single day.  Even for just one single moment.  In our earliest school boy crushes we dreamed of Barbara.
Throughout a career that cross
es five decades, Barbara Eden has entertained audiences on movie screens, television sets and in night clubs.  From Hollywood to Las Vegas, Barbara Eden has not only become one of the most recognizable stars of all time, but one of the most important icons in pop culture history.  In her latest endeavor, Ms. Eden is now an author, sharing the story of her career and her life in her best selling memoir Jeannie Out of the Bottle in which she shares the stories from her years as a starlet in Hollywood, her international stardom as a TV icon and beyond.  In the process she shares her encounters with and insights into a who's who of cultural icons – Elvis, Marilyn, JFK and far more than we could ever list in one article.  Full of laughter, love and her unique perspective, Jeannie Out of a Bottle is the story of a nice girl's journey amongst pop culture's elite.  However, Barbara Eden's story is not always a light one.  Within her book she also bravely and honestly shares her stories of depression, an abusive marriage and, most heartbreakingly, the loss of her son in a drug related death.  An honest and emotional book, Jeannie Out of the Bottle is a revealing look at Barbara Eden in a way we've never seen before.
Promoting her book for most of the summer, I was honoured to have a chance to talk to Ms. Eden about her life and insight into her pop culture journey in a phone interview in June 2011.   As warm and delightful as you would expect her to be, Ms. Eden spoke with me about her career as well as some of the more heartbreaking moments of her life as openly and honestly as she revealed in her book.  One of the most beautiful women on television, Barbara Eden also proved to be one of the loveliest ladies I've had the pleasure to interview.
CONFESSIONS OF A POP CULTURE ADDICT PRESENTS
I DREAM OF BARBARA:
A CONVERSATION WITH BARBARA EDEN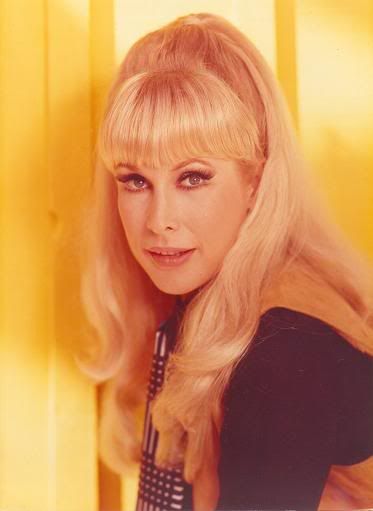 Sam Tweedle:  I just recently finished reading your book and I was very delighted by it. I learned so much about the depth of your life and your career.  What do you think that people who pick up your book are going to find the most surprising about you?
Barbara Eden:  (Laughs) I can't answer that.  That's a very subjective question and I would be presuming to go into other people's heads.  You could answer that.
Sam:  What was I most surprised by?  Probably the sheer number of pop culture icons that you have encountered in your lifetime. Elvis, Marilyn, and Orson Welles.  Your book is full of stories of your experiences with the most important figures of 20th Century pop culture.
Barbara:  Oh yes.
Sam:  I understand how this business is so closely intertwined but, my God, you encountered everyone.
Barbara:  I've been very lucky.  Of course I didn't work with Orson or Marilyn but I was so in awe of both of them. At the time that I met them I knew how lucky I was.
Sam:  Yours and Marilyn Monroe's careers seem to be intertwined in more ways than one.  You worked with many of the same people, and you even portrayed her character in the TV version of How to Marry a Millionaire.  What was your perception of Marilyn when you met her?
Barbara:  Absolutely an angel.  She was the most beautiful thing I had ever seen in my life.  She glowed, and was so warm.  She was everything that you wanted her to be when you saw her on screen.  That's what she was.  She was a lovely, lovely human being.
Sam:  You met her on the set of Something's Got To Give which was the film she never completed.  That wasn't very long before she died, was it?
Barbara:  I think it was three weeks [before she died].  She was doing the wardrobe tests at the time.
Sam:  Another thing that you and Marilyn have in common is that you both caught the eye of John F. Kennedy, although when he slipped you his number he was still a senator.  You mention in your book that you tore his number up.  Have you ever thought to yourself in retrospect, "I could have gotten a lot of money for that little piece of paper today?"
Barbara:  I have!  (Laughs) But you're not thinking of things like that, especially when you are twenty years old.  And he didn't mean anything to me.  First of all I wasn't very political, and secondly he was "Senator" Kennedy.  That's nice.  He was no good looking hunk as far as I was concerned.  In his later years I recognized what a handsome man he was.  But that story shouldn't surprise you because of his reputation.  He did that.  But at that time I didn't know who he was.
Sam:  But really, it is an impressive story.  I mean how many women can say that they've been hit on by JFK?
Barbara:  Unfortunately, I think many. (Laughs)
Sam:  On sort of a similar subject, I was also interested in your book when you wrote about your time on I Love Lucy, and thought it was wonderful the way that Lucille Ball took you under her wing, and how you specifically stayed away from Desi Arnaz to avoid his advances.  Your description of Desi as a philanderer was pure Desi in all his Desiness.
Barbara:  Well everyone knows about Desi.  I did going in, so I hid.  (Laughs)
Sam:  I thought it was wonderful the way that Lucy was so kind to you.  Was she like that a lot with young actresses?
Barbara:  I don't know.  I only know my experience with her and I was just blown away by what a lovely and gracious person she was. How good she was to me, and how much she appreciated my work.  That of course always makes an actor really happy.
Sam:  On the other side of the spectrum, you write about is some of the viciousness that you were subjected to by other young women who were also trying to make it in Hollywood while you were singing at Ciro's night club.  Was that sort of cut throat mentality common amongst young struggling actresses?
Barbara:  Well that's a completely different [situation].  That's not Hollywood.  That's a night club.  You know what it was like?  It was like being in high school with tougher and bigger women.  It was like being in high school and they probably thought it was very funny.  I was also super sensitive because I hadn't been around it or dealt with it.  Maybe if I had older sisters I could have dealt with it better, but I didn't.  Of course, being locked in a bathroom when I was supposed to make an entrance was a nightmare to me.  The best thing for me was when I was fired.  That was great.
Sam:  Of course the role that you will always be remembered for, and that you have endeared yourself to people with, is that of Jeannie on I Dream of Jeannie.  However, one thing that you try to make very clear throughout your book is that you are not Jeannie.  What do you mean by that, and if you are not Jeannie, then just who is she?
Barbara Eden: Well Jeannie is a character that I dreamed up and Sidney Sheldon handed to me.  But I dreamed up her personality.  What I meant by that was that people expect me to bounce around and act like Jeannie, and sometimes I do, but not all the time.
Sam:  How much control did you have in constructing the character of Jeannie?
Barbara:  I had complete control.  Except this one time when Sidney wanted to change the character to be stronger because it was disturbing to Larry [Hagman]. He felt like he was being a bad guy.  So I did it.  I made Jeannie stronger, and they tested it, and it was horrible.  Sidney said "They don't like it!  They don't like it!  No. No. No. No!  We can't do this!"  Well I did what they wanted me to do.  That's what I do for a living.  I act.  But that's the only time.  Other than that I had a hundred percent control.
Sam:  You had some amazing guest stars on I Dream of Jeannie, such as Sammy Davis Jr and Milton Berle, but one of the guest stars that you didn't mention in your book was possibly one of my all time favorite episodes.  That's when you had Tommy Boyce and Bobby Hart on the show and you auditioned for music producer Phil Spector.  Phil Spector was sort of reclusive and he rarely made appearances like that.  How did the producers get Phil Spector on the show, and what was he like to work with?
Barbara:  I don't have a clue how they were able to get him.  I don't know, but he was wonderful to work with.  I just recently saw that scene.  They had a Barbara Eden day in San Francisco, which is my home town, and they put together some film clips and I didn't have that one.  If I did it's on my DVD set.  [Phil Spector] was really good.
Sam:  In your book you defend I Dream of Jeannie from some of the criticism it has received over the years from various groups about being overtly sexist and about the "slave/master" analogy that is often made between the relationship between Tony and Jeannie.  Is that an argument that you often hear today from people?
Barbara:  No.  I think most intelligent people realize that Jeannie wasn't a slave.  Secondly, she was doing her job.  The girl has been in that bottle for all those years and the first guy she sees is really cute.  I mean that's going to be it.  He's going to be the focus of her life, and that's what he was.
Sam:  But you make a really good point when you point out that Jeannie is, in fact, the one who is really in charge of this relationship.
Barbara:  Oh yeah, and I think [Tony] knew it.
Sam:  Now you write a lot about the difficulties of working with Larry Hagman.  You are very kind to him personally, but some of your stories about his outrageous behavior on the set of I Dream of Jeannie are often startling, if not a bit humorous. But you paint an erratic and unhappy portrait of Mr. Hagman.  I know the two of you have done some public appearances together in the last year.  Has Mr. Hagman spoken to you about your book, and if so, how did he feel about you revealing these stories about him?
Barbara:  I asked him if he was mad at me. His reaction to the book was fine.  He said, "I don't remember half of the 60's and it's probably true."
Sam:  So you didn't speak to him about how you were going to portray him in your book.
Barbara:  No, and I'll tell you why.  He alludes to it in his book.  Sidney Sheldon was quite honest about it in his book.  Other people have written about him.  Larry has had other instances on other shows.  I didn't feel like I was saying anything [untrue] but I was concerned about his feelings after the fact.
Sam:  Well, your book talks of an outrageous side to Mr. Hagman. It also discusses a side of him that most people can't imagine, Mr. Hagman as a struggling actor. With the success of Dallas, it's hard to ever picture.
Barbara:  He was struggling in more ways than one.  He really wanted to be as important as his Mom.  He wanted to prove that he was worthy of being her son and it put a great strain on him.
Sam:  Well he certainly proved himself.
Barbara:  Yes he did.
Sam:  Now your story is not all about the Hollywood fantasy and near the final chapters, your book heads in a very different direction.  It has a much sadder tone and certain chapters are very hard to read.  Was it difficult to write about some of the darker times of your life, such as the loss of your son Matthew or your abusive second marriage, or did you find it to be therapeutic?
Barbara:  No.  It wasn't a bit therapeutic.  It was one of the most difficult things I had to do.  You know, all lives have ups and downs and everyone has problems they work through and live through but not everyone wants to go back and relive them.  Well that's what you do when you write a memoir.  You go back and revisit them.  It's not fun but it's necessary.  You make a commitment to write the book and then, there you are.
Sam:  But the way that I look at it is that the book reveals you as being a strong person who has forged on.
Barbara:  Well I don't think there's another option, is there?  You just do what you have to do.  The story about my son, I tried to tell people about him as much as possible because I really want parents to profit from my mistakes and ignorance.  Perhaps it will help another child.  Drugs are so pervasive nowadays, it's frightening.  If you know what you're dealing with, you can deal with it.  But we didn't know.
Sam:  Reading the chapters about Matthew's drug addiction and what happened to him was one of the most difficult chapters in your book to read.  I can't imagine what it was like to share that with the world, but if your story does help a family then you have done a wonderful thing.
Barbara:  Matthew was just one of the most evolved human beings in most ways.  He was allergic to alcohol and drugs.  He should have never touched them.  Unfortunately he did when he was too young to start.  His friends called him the "gentle giant."  He was a big guy, sweet, caring and thoughtful of other people.  You just wouldn't know how wonderful he was.  He was just a wonderful man.
Sam:  Well, through your words and the love you put in your book when writing about him I think you put together a beautiful tribute to him.  You portray him as an incredible man who was truly loved. You make him into a figure that the reader cares about, and his death was truly a loss felt by everyone who read your memoir.
Barbara:  Thank you.
Sam:  You also discuss seeing Bob Hope perform when you were a girl, and about working with him and how he was a big influence on you.  Have you ever spoken to anyone who told you that you were an influence on them?
Barbara:  If I have I don't know about it.  I do have those who have come up to me, not actors but people who meet me… well I'll tell you one story.  In New York just recently while promoting the book, you go to the TV stations and although I already have my make-up on, the make-up artist there fixes it because I don't always hit all the bases on my face so they fix the powder and the eyeliner and whatever.  There was a young man there who was very very nice and I went in and did the interview. As I was leaving I said, "Thank you" and he asked, "May I tell you something?"  I said, "Certainly."  He said, "Well, I want to thank you for your show."  I said, "I'm glad you enjoyed it."  He said, "No.  It's more than that to me.  I had a terrible childhood and the only refuge I had was to run home, turn on I Dream of Jeannie and pretend like what was going on in the house wasn't going on."  I've had more than one person give me a story like that which breaks my heart, but it brings home to you how different everyone's lives are.  I was grateful to him for telling me his story.
Sam:  It is amazing how television shows, especially from that era, seems to reach beyond the screen and touch the audience in a very powerful way.  I think it's wonderful when people like you, who were making the show, can hear about the ways that what you did touched our lives.
Barbara:  Well television touches your lives.  It's in your home.  It's not separate like a film.  I think that has a lot to do with why people connect with our program.
Weeks after our interview I had the incredible opportunity to meet Ms. Eden during an appearance at Toronto's Fan Expo.  Barbara Eden is still today as lovely as she was when she made I Dream of Jeannie over forty years ago.  Those eyes, that smile and that voice.  It all took me back to a time when I ran home from school and she made me swoon.  Barbara Eden can still make me swoon.  That is the real life magic that Barbara Eden possesses.  Although Jeannie may only be a fictional character, she is still very much alive in Ms. Eden's genuine smile.  She is still today, as much as she was yesterday, the subject of school boy crushes and daydreams.  She is the reason why we all still dream of Jeannie.
POP CULTURE ADDICT NOTE:  Special thanks to Mike Casey for helping to arrange our talk with Barbara Eden.  Thank you for giving us this fantastic opportunity.