Cathy Cole-Green:  (Laughs)  I think that's true for a lot of people.
Sam:  Well I've thrown myself in with both feet.  Now, I understand that you have a show coming up on November 6th.  When was the last time the four of you performed together publicly?
Cathy:  It was almost thirty five years ago; our last gig was in 1979.  All of us have been doing our own things.  One of the girls sings in a church choir, and my sister does this and that, but we haven't sung together in almost 35 years.
Sam:  So what made the four of you reunite like this?
Cathy:  In 2009 a team of producers, Shane Rosamonda and Rene Reyes, came to us with a proposal to do a PBS retrospective of all of The King Family Christmas specials.  So we did that, and it aired for a couple of years after that.  Well, those fellows stayed in our lives, and they created The King Family's Facebook page, and The Four King Cousins' web-site, and they've been gently prodding us ever since to get together and reunite.  Then, after the response to Facebook we really started to think about it.  We got together in May, because we all live in different places, and sang through a bunch of arrangements that we had in our 70s nightclub act, and we decided that we could do it.
Sam:  What was it like for the four of you to come back together and sing again for the first time in decades?  Did it all come back naturally?
Cathy:  Kind of.  There were those of us who remembered the arrangements a little bit better than the others.  Tina and I remembered them because Tina always sang leads.  She never really had any trouble with that.  I sang the fourth part, the lowest part, but I somehow have a memory for all of that and so I remembered just about everything.  [Candy and Carolyn] fumbled a little bit, but fortunately once you sing through things several times it starts coming back.
Sam:  Is this the only show you are planning on doing, or will there be more in the future?
Cathy:  They talked us into the first show, but [Shane and Rene] have all kinds of ideas, and they have feelers out and they want to start booking us here and there.  Not long tours.  They also manage Mitzi Gaynor who, at age 82, is still out there performing, and they have worked with Lorna Luft, Roslyn Kind and The Lennon Sisters, and they are really working on us to start working more.  We think it'll be more than just this one concert.
Sam:  Shane and Rene are very good at branding.
Cathy:  (Laughs)  Yes, they are, aren't they?
Sam:  Is there any hesitation to get back in front of an audience?
Cathy:  No, there are some nerves, having not sung together for so long, and we're 30 years older, and not having used our voices the way we used to all the time means we have to get our voices back in shape.  We're doing vocal exercises, and really working on getting that back together.  There's an excitement, there's a little bit of nerves, which is actually very healthy, and we're looking forward to doing it.
Sam:  Now, you obviously come from a huge musical legacy.  How did the King Family come together as an entity.  I'll be blunt: I can't even imagine forming a singing group with my entire extended family.
Cathy:  (Laughs)  Well, my mother was one of eight siblings.  My grandfather was a musician, and every time a new child was born, as soon as he could he'd hand them a musical instrument and teach them to sing.  I have pictures of my Mom at three years old in this little family vaudeville band.  So the King Sisters came out of that.  At first they were a trio, and then one of the trio got married and didn't want to be on the road anymore, so my Grandfather went to my mother's high school and said to my mother and Aunt Donna, "Girls, you're needed in Chicago," and he took them out of school and drove them cross-country to join their other sisters, and that's when they became The Four King Sisters.  So they'd been singing for years.  They were quite well-known in the 40s, during the big band era.  They [eventually] retired to have their families, and then they came out of retirement in the late 50s and started recording with a different sound than they had had.  They did a song called Imagination for Capitol Records, which was nominated for one of the first Grammys.  So they started touring and doing nightclubs.  I guess it was in 1963 that my mother was asked by the church to do a benefit concert.  [My mother] had a very creative mind.  She was constantly thinking of what this could be and how to produce that, so she had the idea to bring all the families together and bring them to Oakland to do this benefit.  So she created the idea of [The King Family].
Sam:  When you combined all the different families you ended up with a very large group.  Did music come naturally to everyone?
Cathy:  We had always been around music, and when [our mothers] sang at night clubs in Tahoe or Reno or Las Vegas, they would usually do it during vacation time so we could be with them.  At night we'd either be in the audience, or in the wings watching, and they would usually towards the end of their engagement bring us all up to sing with them.  So when we were quite young we were already singing on stage.  So this is where my mother got the idea for the King Family show.  So we did the first show, and then we did another for my Aunt's church in Burbank, and the response was always fantastic.  Then Brigham Young University in Utah asked us to come and do a benefit to help build a new field house.  So when we did that the television and broadcasting department filmed it, and presented us with a kinescope of the benefit.  All along people were telling my mother that this should be a television series and people would love this.  You can't do this nowadays, but my mother had a lot of guts, and she contacted the president of ABC and said I have an idea for a show that I think you'd be interested in.  She told him about it, and he said, "You go to the ABC affiliate in San Francisco and take what you have, and edit it to an hour and we'll take a look at it."  So that's what she did and they loved it.  They watched it and [the ABC president] said, "I'd want my family to watch this, and it's great for families."  So he gave us the pilot, which went to broadcast in August, 1964 and we got 53,000 letters asking for it to become a series, and in January we went on the air as the first 1965 series.
Sam:  I've seen performances with the four cousins, but then there are the early performances were there is a whole batch of cousins.  I have no idea how many cousins you had.
Cathy:  We just counted the other day: there were 23 or 24 of us all together.
Sam:  Okay, so how did you, Tina, Candy, and Carolyn step out and become a separate vocal group away from the rest of the cousins, as a spin-off of sorts of The King Sisters?  You four were kind of like the original Wilson Phillips!
Cathy:  (Laughs)  Yeah.  In 1966, John Davidson was doing a summer replacement series for Perry Como called
The Kraft Summer Music Hall
.  The producer of that show wanted to have a regular cast of young performers on the show, and they wanted to surround John with girls.  The producer called our producer and said, "You have a lot of girl singers.  Do you know anybody who would want to do this?"  So, originally, five of us did it.  Myself and my sister, and Candy, and Carolyn and Candy's sister, Jamie.  So in 1966 we became regulars on
The Kraft Summer Music Hall
.  This was an interesting show because it was the first network show [to feature] George Carlin, Richard Pryor and Flip Wilson.
Sam:  That's pretty incredible.  Those are really counter-culture icons.
Cathy:  Yeah, but then they were in white pants and bright shirts doing very family-oriented stuff.  We loved Richard Pryor, and he loved us, and we'd go to lunch, and it'd be interesting because we'd get some kind of stares.  It was kind of strange.
Sam:  Even at that period of his career was Pryor's counter culture rebel persona present in his personality?
Cathy:  He kind of got himself in trouble here or there, but he didn't have that humor yet.  What he did was tell really wonderful and funny stories.  He was wonderful.
Sam:  So why did Jaime leave the group?
Cathy:  Well after we did [The Kraft Music Hall], Jamie decided that she wanted to go to university. Then, in early 1967, John Davidson asked the four remaining girls to tour with him and George Carlin after the show was off the air.  So we did that, and that's when we became The Four King Cousins.
Sam:  I read that you shared the stage with a lot of incredible performers during your career.  Who were some of the most memorable to you?
Cathy:  Oh gosh.  Well, in combination with The King Family we performed with a lot of people on The Hollywood Palace.  We did a lot of Hollywood Palaces.  It was wonderful.  We sang with Bing Crosby, Dean Martin, Ray Bolger, George Burns, Don Rickles, Phyllis Diller, Louis Jordan, Milton Berle…
Sam:  That's a real mixed bag of performers!
Cathy:  Yeah, because it had a different host every week.  Then, when we were on The Ed Sullivan Show, because of the way our show was, we got an extra-long segment.  Our segments were quite long for guest spots on variety shows.  There were the different contingents: The King Sisters, The King Cousins, The King Kiddies, and then the whole family.
Sam:  I think it's wonderful that you had all these various family members of different ages, including teenagers and adults and little kids, which were part of this large musical act.  Were there any rebel King cousins out there that didn't want to be a part of this?
Cathy:  No.  Everybody pretty much got on board.
Sam:  That's pretty cool.
Cathy:  Yeah, well, we had been around this musical family all of our lives; we would put on little shows in the backyard and do plays.  I remember that the cousins did The King and I when I was eight years old, and we put it on in the backyard of my Aunt's home.  So it was just kind of by osmosis.  My father was Buddy Cole, who was one of the big studio keyboard players in the 50's and early 60's and he played everything, and he also worked with Bing Crosby, Judy Garland, Doris Day, Rosemary Clooney and the list goes on and on and on.  So we were also exposed to that.  He had a music studio in the back of our home and there would be people coming over to our home to record.  If I had known as a little girl what I know now I would have been amazed at the people who would come in and out, just to hang out.
Sam:  I like watching the old videos where the cousins wore the matching outfits with their names on their sweaters, kind of like on The Mickey Mouse Club.  It was clever marketing.
Cathy:  Those were actually designed by Bob Mackie.  [The King Family] was his first job on his own after he left Edith Head.  We were the first show to give him a chance to design for his show on his own.  This was way before Cher or anybody else.  Our show was originally in black and white, and Bob was really a master for dressing for black and white.  When we first aired we didn't have those name sweaters on, and then people wanted to know who was who, so Bob created those sweaters for us and people always seemed to remember that.
Sam:  What about now?  Obviously The King Family has expanded to include even more generations.  Has  the musical tradition continued with the children and grandchildren?
Cathy:  Yes.  My daughter's name is Jamie Green and she's a wonderful singer/songwriter.  She's got three CDs out.  Some of my cousin Lex's kids still sing; one of his daughters, whose name is Rachel, created a program called Signing Time! which has won Emmys for children's programming.  It's a show on PBS to teach signing to children so they can learn to communicate earlier through signing [instead of] talking.  She's had quite a lot of success with that.  My cousin Ric sings with a group called Reunion, which is an off-shoot of The Lettermen; they tour quite a bit.  My cousin Liza, who is a very talented musician, her sons are Arcade Fire.
Sam:  You've got to be kidding me!
Cathy:  I'm not kidding you.
Sam:  Really?
Cathy:  (Laughs)
Sam:  You're telling me Arcade Fire came out of The King Family.
Cathy:  Well, they were born way after The King Family were off the air.  Their grandfather was Alvino Rey, who was a virtuoso on the guitar.  Liza had two sons, Will and Win, and they formed Arcade Fire.
Sam:  I've ordered your original Four Kings Cousins LP off Ebay.  I'm still waiting for it to arrive.
Cathy:  Which one?
Sam:  The first one.  I did see your second LP on Ebay selling for $80.  It was a bit out of my price range.
Cathy:  You rarely find that one because it was only released in Japan.  I'm probably different than the other girls because I wanted to sing a little more hip.  We were very young, and Capitol was looking for a kind of a female Beach Boys-type of sound.  Everything was very light and breathy.  The second album, which was recorded in the 70s, has much more rich harmonies and more experienced voices.
Sam:  Why was the second album only released in Japan?
Cathy:  Well, we had toured Japan, and after the tour the record company approached us about doing the album.  It was recorded by Playboy Records, in association with Trio/Kenwood.  It wasn't bad for being made for $15,000 over three days.
Sam:  I find a lot of the numbers that you picked were very interesting; a lot of them were covers, but you weren't picking the biggest hits of the day.  For instance, on the first record you did I Want to Be Free, which was a Boyce and Hart penned Monkees b-side, and you did one of my very favorite Lesley Gore songs, California Nights, which wasn't a very big hit for her.
Cathy:  We didn't have much choice about choosing the songs.  It came from the producer who chose the songs.
Sam:  Well they were making interesting choices.  They were often going off the beaten path.
Cathy:  (Laughs) I've never thought about it that way, but now that you mention it…
Sam:  I want to talk about Today I'm in Love.  I absolutely love that song, and I haven't been able to find another version of that song anywhere.  You took lead on that, and it's fantastic!  I feel that it should have been The King Cousins' signature song.
Cathy:  The producer and the arranger, Gene Page and Dick Glazer, were really top notch.  I don't know why they chose me to do lead, but they did.  I've had several people hear it now, 45 years later, and say, "Why wasn't that a hit?"  When it was first released it appeared in Billboard with a bullet, where they had a little paragraph about Today I'm in Love, so it was supposed to have raised in the charts.  I suppose it [didn't become a hit] for lack of promotion and marketing.
Sam:  Was that an original song for The King Cousins?
Cathy:  I can't really tell you that.  I'm trying to think about who wrote it.  It was someone well known who wrote it, but I can't remember who it was.
Sam:  Are you doing a lot of the songs that you did on The King Family shows at the show on November 6th?
Cathy:  The concept [of the show] is the music of the 60's and 70's, and it's a walk down memory lane, so there will be video clips from back in the day, and there is going to be a moment when we'll be actually singing with our mothers, because they'll be on the screen.
Sam:  You know, I watch the videos that are going up on YouTube and some of them are very, very good, while others are obviously dated.  When you watch these old videos do you get nostalgic?
Cathy:  Some of them I get nostalgic, some of them are really corny, and I think, "Oh, did we really do that?"  But most of the time it's fun to watch all these things, and to have all that material that is over 50 years old is pretty amazing. I have to credit our cousin, Cam Clarke, who was one of the King Kiddies, and he is now a well-known voice over and cartoon artist.  He was Leonardo on The Teenage Mutant Ninja Turtles, and was the voice of He-Man.  Well he was the one, as he got into his thirties, to try to find all of the old shows and take them off of tape and put them onto DVD.  So he has kind of been the one who has preserved whatever we could preserve.  A few of them are missing, but we do have quite a few of them.
Sam:  Well he has done a great job, and he has created an archive that not only keeps The King Family legacy alive, but continues to create a new fan base.
Cathy:  Well, whats interesting is that when my mother passed away in December 2009 – and she would have been 90 in January – when we went to put together a video of her life we realized that we had her in one [form of] media or another, starting with still photographs, to her last appearance on television, which was in October 2009, when we did the PBS pledge breaks, for her entire life.  It was really pretty amazing.
Sam:  What do you think of the way that music has changed in the years since you and your cousins last performed?
Cathy:  [I recently saw a documentary called Twenty Feet from Stardom] and the interesting thing was that there was this man who was a vocal contractor, and he was saying that music has lost its soul.  Now it's all about the technology, and no longer about the creativity or the voices. I totally agree with him about the state of music today, compared to the state of music in the 60s or in the 70s.  There were melodies and songs, and we were very fortunate to be around our mothers who played everything.  As a child I was exposed to every kind of music.  Growing up, I knew my own era, and I knew my mother's music – Frank Sinatra, and Tony Bennett, and Count Basie.  So I knew all of it, and I liked all of it.  We all were exposed to that.  When you mention something from 20 years ago to a kid today they say, "Who's that?"  I always felt that it was a gift to be exposed to all of that [music], and have all of that knowledge, and know all of those performers.  I could be wrong about this, but I feel when it's family [singing together] it's like the blend is already there; there is something about the genetics.  When my Aunt Marilyn passed away 21 of the cousins were there.  My cousin Lex did a whole little thing at the grave where he said that the one thing that we all have in common, besides all of the shared history and shared memories, was that we were always looking for the hot note in the chord, and the only way you can get the hot note was to have four-part harmony.  We used to play in the room where our mothers were rehearsing when we were children, so we would learn all of their arrangements by osmosis.  I still can sing every single note from all of [The King Sisters] albums from the 50s and early 60s.  So our mothers were always looking for who would sing the hot note, and that's become one of the legacies in our family.  We were always trying to get the juiciest chords.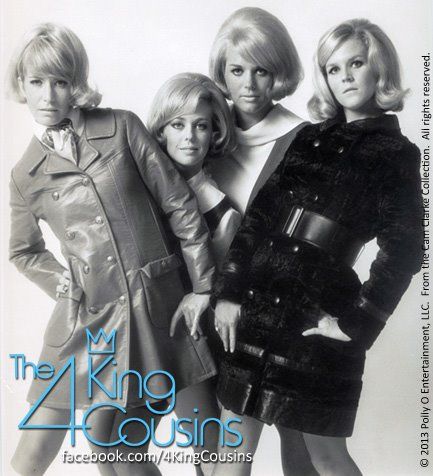 There is nowhere in the world I'd rather be on November 6th than The Catalina Jazz Club in Hollywood to see The Four King Cousins return to the stage.  The art of the four piece harmony girl group is sadly fading in our pop culture landscape, so the return of The Four King Cousins is not only timely, but important in regards to keeping this form of performance alive.  For more information on The Four King Cousins visit their excellent web-site at http://www.fourkingcousins.com/ and discover the legacy of The King Family at http://www.officialkingfamily.com/.  The King Cousins are also on facebook and twitter, and new videos are being added all the time at YouTube.  The King Family is a musical time capsule waiting to be explored, and The Four King Cousins fandom is alive and continuing to grow daily.  Now is truly the right time for their return to the spotlight.
PCA NOTE:  I'd like to send out a special thanks to The Four King Cousins' mangers, Shane Rosamonda and Rene Reyes, for not only arranging this interview with Cathy Cole-Green and providing the photos used for this intervew, but also for branding and preserving the legacy of The King Family and The Four King Cousins.  You gents are doing a fine job, and breathing new life into an important musical legacy.  Without your hard work I know that I, and many others, might have never become fans of The Four King Cousins.  Thank you!
Sam Tweedle:  I'm going to be honest with you:  The Four King Cousins just crossed my pop culture radar for the first time within the last month.