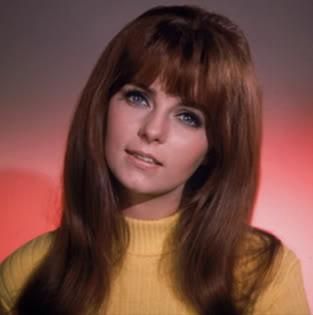 There is something about Dolly Read that just sends me right to the moon, but then, Dolly has had a way of sending me to the moon since 1966.  With her red hair and her big eyes, Dolly Read became a symbol of elegance, innocence and free love during the swinging 60s.
First coming to the attention of the public via the pages of Playboy Magazine, Dolly lead the British pin-up invasion when she became the first British Playboy Playmate in 1966.  One of the most popular Playmates in Playboy history, Dolly made her way to Hollywood to pursue an acting career, which lead to the starring role in Russ Meyer's cult masterpiece Beyond the Valley of the Dolls.  In the role of rock n' roll singer Kelly MacNamara, Dolly charmed audiences as a good girl gone wild in a psychedelic world of perversions, drugs, greed and violence.  One of the weirdest morality films in the history of motion pictures, BVD got buried upon its release while Dolly's life took a different route.  Dolly Read met Laugh-In's Dick Martin and fell in love.  Falling off the pop culture radar, Dolly continued to make occasional appearances on television, primarily on the game show circuit, under her married name, Dolly Martin and stayed with Dick for forty years, until his passing in 2008.  But Dolly would once again find herself in the spotlight when BVD was rediscovered in the 1990's and hailed one of the 1960's forgotten gems.  With a new breed of audience discovering Dolly's performance in BVD for the first time, Dolly was finally praised for her charm, her magnetism and her passionate portrayal of a young girl in over her head.  Despite only three film credits to her name, Dolly Read has become a cult film superstar.
I pride myself at keeping my composure when I interview the icons of the entertainment industry.  I try to never let my interview subjects know how much of a fan I am.  For Dolly Read, though, it was nearly impossible.  Beyond the Valley of the Dolls is one of my all time favorite films, and I wasn't talking to just another actress.  I was talking to Dolly Read:  this was Kelly MacNamara; this was the lead singer of The Carrie Nations.  It was impossible to keep my composure.  There was only one thing I could do:  I was left to swoon.  Let me tell you, Dolly Read does not disappoint.  She was just as friendly and as warm as you would want her to be, and Dolly and I gossiped and laughed like two old chums for over an hour.  By the time that we got off the phone, Dolly Read had done it again.  Dolly had sent me right to the moon.
CONFESSIONS OF A POP CULTURE ADDICT PRESENTS
THE DOLLY AFFAIR:
A CONVERSATION WITH DOLLY READ
Sam Tweedle:  I've been trying to piece together your career over the past few weeks, but while Beyond the Valley of the Dolls is one of my all time favorite films, you still remain a bit of an enigma to me.  I know a couple of key points of your career, but information is spotty.  When did you first decide to enter the entertainment industry?
Dolly Reed:  Well I went to acting school after regular school.  My brother and I would go and we would perform Shakespeare.  I actually won an award for that.  When I was seventeen I did a film called Kiss of the Vampire.
Sam:  I know the film well.  It's a Hammer Picture.
Dolly:  Yes.  It was a Hammer Production.  Several years ago Dick got me a copy from somewhere to surprise me and I didn't even recognize me.  I just heard my voice and I said "Wait a minute.  I think that's my voice!"  At the end I got eaten by bats. (Laughs)
Sam:  What did you think of it after seeing it after so many years?
Dolly:  I thought it was fun.  I also did a lot of TV in England for the BBC – tiny little parts – but I always wanted to come to America.  It was my dream to come to America, and I always thought, in my naiveté, that America was gangsters and Indians.
Sam:  How did you get involved with Playboy?
Dolly:  There was an ad in the paper, and my girlfriend was going, and I said "I'll go with you."  They wanted six girls to come to America to train for six months at the Chicago Playboy club, and then go home and interview people and open the London Playboy Club.  Victor Lownes, who was in charge of Playboy in London, said "You're my kind of bunny, but I don't know if you're Hefner's kind of bunny."  But he said "Let's do it" and the six of us came to America.  We worked until four in the morning and then had interviews during the day.  We had to learn everything in six months.  In England they've got whisky and scotch and I never knew the difference.  I'm not a drinker and I could never get it in my brain what the difference was.
Sam:  When they said that they didn't think you'd be Mr. Hefner's type of bunny, what did they mean?
Dolly:  Well he liked tall and slim with big boobs.  I am 5'4" and I don't have a great body, but I had beautiful tits though. (Laughs)
Sam:  So you have the distinction of being the first British Playboy Playmate.  How did you get chosen?
Dolly:  Well, we all took shots to be the first English Playmate and they chose me.  So I called my mother and I said "Mum, they want me to be a Playmate."  She lives in Bristol, England and she said "Really?  How much are they paying you?"  I said "Five thousand dollars."  In those days that was a lot of money.  So in May, 1966 I became the Playboy Playmate.
Sam:  When your pictorial came out, it quickly became one of the most famous of the decade.
Dolly:  Isn't it amazing?  I still get letters.  There was a lot of airbrushing. (Laughs)  Well, about three weeks before we were coming home I got really sick to death of being a bunny.  I wasn't feeling well, and we had TV shows and radio shows and photo shoots every day, plus we were working until four in the morning every night.  Well, the night I quit I had a party of twenty people and they stiffed me. I threw my tray and I yelled "That's it!  I've had enough!" and because I said that, all the other girls said that they were going to quit too.  Well the next day we were all sitting around and [the manager said] "Who's going to quit?"  He came to everybody and everyone said that they were not going to quit, but I said "Yes I am."  He talked me into staying because the Playboy pictures was about to come out saying how much I like being a bunny.  He said, "I don't want to hear anything about you being sick," but I said, "Well I'm just going to the doctor now." It turns out that I had really bad pneumonia and so I never did go back.  We were staying at the Hefner mansion at the time, in dorms, and the Doctor came by everyday and gave me penicillin.  While I was in Chicago, I went to Los Angeles to do an audition.  When the plane was landing, I couldn't believe what I was seeing:  there were palm trees!  There were blue skies!  There were people smiling and all different color houses and people wearing bright colors!  I said "I've landed in utopia!  This is it!" I was determined to come back.
Sam:  Do you still feel that way about LA?
Dolly:  Yes.  But [at that time] I still didn't have my Green Card, so I went back to England and we opened the London Club.  Then I returned to the Chicago Club and stayed at the Hefner mansion again, and I eventually got my Green Card after two years.  Fortunately, before I left England, I went gambling and won six thousand dollars.  So I spent three thousand on my family, and I thought I'd go to America and the rest would last me a long time.  Well, it was really rough.  After I got my Green Card I went to New York, and I went to the Playboy Club there.  It was lovely.  The people were there were lovely.  But I've never had the greatest lungs and I got pneumonia again while I was in New York.  I was doing a speech for Chrysler cars, and I went to get off stage, and they only had a chair for me to step on and I had these heels on and I fell and broke my ankle.  So I said "Something's telling me to get out of New York."  I loved New York, but I didn't think I could live there, so I went to Los Angeles.  People in Los Angeles are always smiling.  When I was walking around in New York I'd be smiling and people would think I was nuts.
Sam:  While you were working at the Playboy Clubs, you obviously must have encountered Hugh Hefner.  How did the two of you get along?
Dolly:  We became great friends, but I thought he was a bit strange.  His long time girlfriends, I was told, had to be virgins. I knew a couple of his girlfriends in Chicago.  But when I came out to LA he was a little pissed off at me because I didn't want to be a bunny anymore.  It was a tough time because I was broke.  I tried to get a job at the House of Pancakes and this terrible woman wouldn't even give me a try.  I remember that she said "This is hard work and you can't work here."  So from that day until this I've never been to a House of Pancakes because I was starving and they wouldn't give me a chance.  Well, I wrote to Hef and I said "I hate to do this but could I borrow a thousand dollars from you, and I will pay it back with interest."  But he sent me back the worst letter.  He said "How dare you ask for money after all we've done for you."  Well I understood, but by that point I had gotten Beyond the Valley of the Dolls.  So I sat down and wrote him back, and said "Dear Hef, I'm sorry you took it so badly and I apologize, but incidentally, I got the lead in Beyond the Valley of the Dolls so I don't need the money."  Hef came to the set, and they were doing pictures and he came up to me and said, "About that letter…" and I said, "Don't worry about it."  But we became dear friends.  He's a lovely man.  He really is.
Sam:  Even when things were tough, did you get recognized for being a former Playmate?
Dolly:  No, but I did get stacks and stacks of mail, which was lovely.  They didn't recognize me until I got Beyond the Valley of the Dolls.
Sam: Before you did BVD, you did a little exploitation film called That Tender Touch.
Dolly:  Oh boy.  Talk about something coming back and biting you in the ass.
Sam:  It was an early lesbian film.
Dolly:  Was it?  I don't remember much about it.  It was a low budget thing.  I know I was in the shower at one point, but I really don't know much about it.  It's amazing when somebody remembers that I was in That Tender Touch.  How they knew that I do not know.  I'd like to see it just to see what it's all about.
Sam:  How did you get the lead in Beyond the Valley of the Dolls?  What was the audition process like?
Dolly:  I had an old brown push button Dodge Dart and I was going up Peco Boulevard in Beverly Hills, where 20th Century Fox is, and I was literally poor.   I looked up and there was a big billboard that was advertising Hello Dolly!  I knew I was going to get the part.  It was like a mantra from heaven when I saw the words Hello Dolly!  I knew that was a sign.  I walked in there full of confidence because I knew I was going to get it.  Isn't that weird?  I went for the part that Cynthia Myers got, but [Russ Meyer] said "No, I want this part for you."
Sam:  What was your first impression of Russ Meyer?
Dolly:  He was a little intimidating.  He was a big bear.  Just the softest heart, but on his outside…oh my.  He [was like] Sam Pekinpah.  He would pick, pick, pick.  He would threaten me.  He's say "I could replace you, you know."  But he only did that to get the best out of somebody.  Then my parents came to the set, from England, and he took my parents and me to San Francisco, where his mother lived, and he put us up in a hotel.  He was just the sweetest, sweetest guy.  So when he was yelling at me, I'd think of those times.  My mother is still alive in Bristol.  She's 92.  She remembers visiting the set.  She loved it.  She always wanted to be an actress, but the war came and it wasn't possible.
Sam:  I could talk BVD forever if you let me.  I've interviewed other people who were involved with the film, and everybody seems to have a different idea of what was going on behind the scenes.  The film is notorious for being a twenty-four hour party.  Was it like that making the film?
Dolly:  There was a lot of partying going on, but I was involved with Dick Martin by that time so Harrison Page and I seemed to be the only ones not partying.  But it was a very lovely time for me because I was in love.  Everyone was professional though.  There was one scene that David Gurian and Cynthia Myers did where Cynthia was popping pills and they had been up all night.  So they wanted it to be authentic so they stayed up all night.  I said "Why did you do that?"  They said "Well we feel like shit now."  It was definitely the morning after.  But it was so much fun to do it.  We went to the rushes for two days and we'd say "Oh, do I look like that? Oh my God."  So Russ banned us from them.
Sam:  But everybody in that film is so bloody good looking!
Dolly:  Oh they were!  I had lunch with Harrison not long ago and he's still as good looking as he was.
Sam:  When BVD came out, it wasn't much of success, was it?
Dolly:  No.  When it came out it wasn't.
Sam:  Are you surprised how much of a huge cult classic it has become?
Dolly:  Yes.  Amazed.  Absolutely amazed.  It wasn't a hit, and it got panned a great deal.  Some people liked it in New York, but it was weird.  But we did a twentieth reunion at UCLA and there were people lined up outside.  There were people lined up in the aisles.  It was jam-packed.  I thought, "Boy, they really like it."  Since then I know if it's been on TV or shown somewhere because I get a stack of mail from [people] seeing me.  I am amazed that the next generation has gotten into it.  It has really held up.  I was in a beauty shop in Malibu, and this lady across from me was getting her hair done.  Well my hairdresser said, "Dolly, what movie did you do?"  I said, "Beyond the Valley of the Dolls."  The lady across from me was so excited that I thought she was going to faint, and she had to only be all of twenty-five.  Oh my goodness me.  It's thrilling.
Sam:  When I first saw BVD I watched it three times in a 24 hour period.
Dolly:  Did you?  Oh my God, I'm in love with you.
Sam:  Still today, I see something new.  It was a beautifully made film.  For me I think the appeal is the incredibly good-looking cast, vibrant memorable characters and ridiculous over the top melodrama.
Dolly:  Well, Russ was an amazing man, and Roger Ebert wrote it.  Can you believe that?  Roger was on the set, and very young.
Sam:  What was your feelings about BVD when you first saw it once it was completed?
Dolly:  I was stunned.  We didn't shoot it in sequence.  We had the script of course, but Russ had the way he wanted it, and you were going to do it the way he wanted it, of course.  That was it.  When I first saw it, I saw it in New York and my mouth was open [the whole time].  I was so shocked when [Michael Blodgett's] head came off.  And that final scene, where David Gurian is in the wheelchair and we all get in the car and we're going to help Cynthia Myers, and then David gets out of the car and falls, and all this is going on with the killing and the cutting and David says "I can feel my toes." (Laughs)  It was terrible!  But people write me all the time with lines and lines of quotations from the movie.  It's absolutely incredible.
Sam:  Oh.  I could do that.
Dolly:  Can you?
Sam:  Oh sure.  "You shall drink the sperm of my black vengeance.  This is my happening and it freaks me out.  You're a groovy boy, I'd like to strap you on some time. Don't bogart the joint, man.  I've been at a party that plays the Strawberry Alarmclock, but I've never been to a party with the Strawberry Alarmclock.  Up yours Ratso.  Why don't you lose your laundry."
Dolly:  (Laughs) When I was smoking the joint and I had to say "Don't bogart the joint, man" I had no idea what that meant.  I'm from England.  It was great.  I had to get a lot explained to me.  I also loved that I was a singer because I've got a dreadful voice.  Dick said to me that I changed keys halfway through a song, and I do.  So I was singing, but of course the soundtrack was going over my voice.  But it was so exciting that I could actually do it and I think I lip synced very well.
Sam:  Well, when I first saw the film I thought it was you singing, and I did not realize you are British at that time.  You pull off a very good American accent.
Dolly:  Russ said to me "You can't have a British accent, but maybe you can be from Boston."
Sam:  So what did Dick Martin think of BVD when he saw it?
Dolly:  Oh, he loved it.  He laughed at it.  I said, "What are you laughing at it?"  I was kind of hurt that he was laughing at it, but then I got it.  The lines are so hysterical.  After a couple of years I realized what it was really all about.  I was really naive when I made it.
Sam:  Over the last few years, with the release of the DVD, and special screenings, you have been reunited with some members of the BVD cast.  Is there any sort of kinship with the former BVD cast members?
Dolly:  Oh, I can't begin to tell you.  Yes.  It's like family.  It's a weird thing.  We were part of something that people still like.
Sam:  All of the cast members of BVD have gone on to receive cult fame of one sort or another, for the exception of David Gurian who had a huge presence in the film.  He has completely gone off radar.  You worked a lot with him.  What was he like?
Dolly:  He was very quiet, very sweet, but a loner.  In the movie, when he's got sandals on and Edie Williams says, "You won't get much action with the foot if you're wearing sandals."  Well that's how he really was.  He was a very sweet guy, but we always imagined he'd go to Tibet and live in the mountains.  Nobody has heard from him or seen him, or has any idea where he is.
Sam:  I know through my own research there were love affairs and rivalries on the set.  What was your relationship with the rest of The Carrie Nations like?
Dolly:  I love Marcia McBroom.  She's a doll.  I spoke to her on the phone a couple of years ago.  She's adorable.  Cynthia Myers was so sweet.  We had a little bit of a rivalry going on for awhile, but when we went to reunions she couldn't have been nicer.
Sam:  While cult movie fans know you as Dolly Read from BVD, a lot of others know you as Dolly Martin, wife of Dick Martin.  How did you meet Dick?
Dolly:  I was in a restaurant in Los Angeles called Stefaninos.  I was there was a friend and we were having dinner, and I had to go to the loo.  I was walking past and I saw the comic Jack Carter and this girl, and Dick Martin.  But my friend was dating Jack Carter, and I was thinking "Is he cheating on my friend?"  So I said "Hi Jack!  How are you?"  He introduced me.  I don't know who the lady he was with was, but she was giving me daggers.  So Dick stood up, and I never thought Dick was very good looking until we looked at each other and you know the comics where the stars come out of the eyes?  It was like we connected.  It was amazing. Jack called the next day and said, "Dick was crazy about you and he'd like to go out with you.  Can I give him your number?"  I said, "Of course."  Eight weeks went by.  Eight weeks.  Of course, Dick says that he was on the road promoting this terrible movie that he did.  I said, "That's no excuse."  So I said to Jack, "Tell him not to call me.  I don't care anymore.  This is ridiculous."  So Dick calls me and says "Dolly, this is Dick Martin and I think I love you."  I started laughing.  He just made me laugh.  So I went up to his house in my car.  He didn't even come to pick me up.  We went out with some friends and from then on it was wonderful.  We were together for forty years.  He made me laugh every day of my life.  Even if I didn't want to laugh.  He had a different humor.  He never gave me a dull moment.  Now that he's gone it's been very hard on me, but life goes on.
Sam:  How long were you two together before you got married?
Dolly:  We went out together for two years, and then were married for two years, and then we got divorced.  But we were dating the whole time we were divorced because I couldn't find anyone, and he couldn't find anyone, and we loved each other.  So we started living together after about six months after the divorce.  Well, one day he looked at me and said, "Why do I have to pay you alimony?"  I said, "Don't pay me."  He said "The judge says I had to pay you."  Well the day after the alimony was over we got married.  We said that the divorce didn't work out.
Sam:  Did your friends or family find that bizarre?
Dolly:  No.  Not really.  We are both weird people.  But mostly Bob Newhart and his wife Ginny, who are my dearest friends, wanted us to be back together.  One night I would be over at their house until two or three in the morning, and the next night he'd be over at their house and they were trying to get us back together.  So when we did get married the second time we got married at their house.
Sam:  You didn't do any other films after BVD, and your television credits were far and in between.  Why was BVD your final film?
Dolly:  I'll tell you why:  Dick did not want to be married to an actress.  I did stuff like Charlie's Angels.  I played "the bad girl."  I did Fantasy Island.  I had a lot of fun doing that, but [Dick] said that he had never known an actress and an actor with a happy marriage.  He didn't say "You can't do it," but he wanted me to go on the road with him when he and Dan Rowan were appearing all over the country.  And if I was not with him, then who would be?  I was up for a movie but I didn't want to do it because I would have been away from Dick, and I didn't want to be away from him because I was in love.  People do weird things when they are in love.
Sam:  How did you two get involved on the game show circuit?
Dolly:  Well, Dick was a celebrity and they wanted celebrities on Match Game and stuff like that.  Well I would go to the studio with him and they liked me, so they said "Why don't you do one of these."  So I did and I ended up doing a lot.  I loved Tattletales.  We would be on with Steve Lawrence and Edie Gorme, and Bob and Ginny.  We'd drink wine after the second show, and we'd do five shows a day, and it was hysterical.  It was really fun.
Sam:  Do you feel that giving up your acting career helped the success of your marriage?  I mean, you two had one of the longest marriages in Hollywood history.
Dolly:  Yes we did.  Isn't it amazing?  Since Dick died I am so blessed with friends.  Just blessed with people, but they are all married, so I'll never find anyone.  I did go out on a blind date.  My friend said to me "You've got to go out with this guy.  He's a hoot."  I said "I don't want to go out with a guy who's a hoot.  I was married to a funny man for forty years."  Anyway, they talked me into it and he was a very very nice man, but not my type at all.  He was five years younger then me, so he called me "the older lady" all night, and he'd say to the waiter, "How am I doing?  How am I doing?"  Then he looked at me and said, "Is that your real nose?"  I said "I beg your pardon? Whose nose would it be?"  He said "People get their nose done and you've got a beautiful nose."  I said "Thank you very much but that's real," and then I went with my boobs: "and these are real."  I told him that he was too young for me.
Sam:  Well if he's too young for you, I must not have a chance, right?
Dolly:  How old are you?
Sam:  Thirty-six.
Dolly: Oh my gosh.  (Laughs) I'm not a cougar.
For days after talking with Dolly Read I was still floating in orbit.  Dolly Read was not only charming and funny, but had this honesty about her in which she often just laid it out on the line and said exactly what she felt.  A piece of my heart is still floating around in orbit somewhere beyond the moon.  That's the piece of my heart that belongs to Dolly Read.
POP CULTURE ADDICT NOTE:  I want to thank the always lovely Siouxzan Perry of Girlwerks Media for arranging this interview with Dolly Read.  Talking to Dolly was a true gift to this cult film fan Sooz.  Thank you for making the connections, as well as your part in keeping BVD alive for future generations to discover and enjoy!  You are a true gem.