Sam Tweedle:  Throughout the years you continue to embrace the role Elly May Clampett.
Donna Douglas:  Elly May was like a slice out of my life.  She is a wonderful little door opener for me because people love her, and they love the Hillbillies.  Even to this day it's shown everyday somewhere.  But, as with any abilities, she may open a door for you, but you have to have substance or integrity to advance you through that door.
Sam:  The Beverly Hillbillies seems to be a show that has spanned generations.  I remember as a kid I came home from school to watch it.  My mother, as a child, remembers her mother watching it.  The children of my generation watch it today.  There's four different generations enjoying the program during different decades.
Donna:  It's amazing.  People keep coming up to me today and say how much they love the show, and that they are so sorry that there are not shows like that today.  If you put a child in the room with our show, you knew what they were seeing.  You knew the content.
Sam:  What do you think it is about The Beverly Hillbillies that is so enduring that five generations of people are now watching it?
Donna:  It had wonderful values.  It showed respect to parents, and people, and we loved animals.  In other words, we took care and respected life with whatever we were doing.  It would go across the board, and speak to everyone.
Sam:  You had the unique experience with working with a wide range of animals on the show.
Donna:  Well, when I started, working with that many animals was not a prerequisite.  They found out that I would work with the animals, and the more I would work with them then it just would never stop.  People would come in with new ideas for the producers, and they would expand on that.
Sam:  You worked with everything from skunks and racoons to giant cats.  Was there ever an animal you didn't like working with?
Donna:  I didn't work a lot with creepy crawlies.  I did work with a lot of different animals though.  You have to love animals to work with them, and certainly to the degree that I did.   [Hollywood animal supplier] Frank Inns would always say "Y'all made my business."  In other words, he started with one little dog, but The Hillbillies needed all these different animals, and he'd have to go and get them, and within time he'd start working with other animal suppliers and trainers.  Within time he became one of the biggest animal suppliers in the business.  In the early part of the show, one day we were shooting with a mountain lion.  Well, Frank didn't realize at that time how you had to familiarize the mountain lion with the surroundings.  So here was this mountain lion that hadn't been around television sets before.  So they sat me down on the bench on the set, and they sat this mountain lion right next to me.  I just trusted that everyone was going to take care of me, and that they wouldn't put something that would hurt me right next to me.  So the director wanted to get his shot, and the mountain lion is there, and I'm there, and I'm still as a mouse being aware of the lion.  Well, the director suddenly changed his mind and said "This isn't going to work."  So they take the mountain lion off set, change the lightning, and then bring him back on.  I asked the director to give us a little time so I could get the mountain lion calm and back into the scene, but he was getting antsy and, well, I didn't have much say.  They just wanted to get the shot.  So I'm sitting there getting ready for them to get the scene going, and the mountain lion goes down my arm and he looks up at me.  I said "Uh oh. I'm going to get it."  They got him back up, and the scene starts, and all of a sudden the mountain lion is up on my arm and he took a little bite out of me.  He didn't hurt me.  He just broke the skin a little bit.  Well I just kept going with the scene.  I didn't let on what happened.  But I wasn't really hurt.  They never knew that anything had happened.
Sam:  How did your co-stars react to the different animals?
Donna:  Well I remember working on another scene, and we were in an old store back home.  A little country store.  Well Granny was sitting by the stove on her rocker, and Jethro and Pa were sitting on the counter.  So, Elly walks in the back door and she has this four hundred pound lion with a little rope looped around his head.  So, Ellie is supposed to walk in the backdoor with the lion, and she says "Howdy" but when I walked in the lion just kept going.  Granny headed for the front door, Jethro jumped off of the counter and the lion broke away from me and went after them.  Not dangerously, but they broke out.  Granny, in her boots, weren't trying to be quite, and Jethro and Pa were rattled.  You never know what an animal will do.
Sam:  You had a wonderful on-screen chemistry with Buddy Ebsen.
Donna:  I loved Buddy Ebsen.  He reminded me so much of my own Dad.  Most of my scenes were with Buddy, and most of Max's with Irene.  Buddy was just a wonderful man.  I related to him so easily.  The night before he died Max and I went up to the hospital to see him.   Buddy and Irene had to conserve their energies, and Buddy would take little naps on the set sometimes.  He wasn't a "busy body" on the set.  Of course, they had most of the lines.  I didn't have very many lines.  I said "Yes pa" and "Howdy" more than anything else.  Sometimes I'd have more to say.
Sam:  It's hard for people of my generation to think of Irene Ryan as being anything more than just Granny.  She was so much that character.  What was she like to work with?
Donna:  She was eleven years old when she first went on stage.  Her mother had put her in an amateur contest, and her mother told her "You just sing loud."  Even when we had her on the show as Granny, she would do The September Song or different songs, but she would belt them.  She was a belter.  She had done vaudeville with her husband Tim, and they were known as "Tim and Irene."  They were a team and go town to town and do little plays and take different parts.  Buddy did vaudeville too.  Granny and Jethro were closer.  They did their scenes together.  Supposedly Max and Irene had their screen test the same day, and they went to lunch together.  Well, they had a few martinis and by the time they left, Max went up to do his little scene and he was kind of tipsy.  He walked in and he was grinning like a Cheshire cat, and he bumped into the door jam and he says "Oh excuse me!"  Well they hired him.  That's how he got the job.
Sam:  Someone who I thought was so brilliant on the series, and who I thought was such an under appreciated comedian, was Nancy Culp.
Donna:  Miss Jane.
Sam:  I just think she was so funny, and had a dry sense of humor.
Donna:  She had been in the WAVES, and she had been a newspaper reporter.  Somehow she got into acting, but I loved when they had her working with Wally Cox as the birdwatchers.  Nancy was one of the all-time comedians.
Sam:  You were originally from Louisiana, correct?
Donna:  Yes.  I was born just outside of Baton Rouge.  When I was born my folks were very poor.  My Daddy didn't have a job at the time.  In time he got a job.  I was brought up around animals, and we always had animals around the house.  But I was raised a "tom boy."  I would run and jump and swing on vines and play football and baseball and everything, because I had all boy cousins.  I was getting ready for Jethro long before The Hillbillies.  You should never be ashamed of your past, because where you come from will be used for your future.
Sam:  But your career started out of New York.  How does a girl from Louisiana end up in show business in New York?
Donna:  Well, before I went to New York the furthest North had been Tree Port, Louisiana.  I knew New York was to the right of the map, and I knew Hollywood was to the left.  Well I was trying to get a job, and I couldn't get it together in Baton Rouge. I had been through a teenage marriage.  I was seventeen, going on twelve when I was married.  I thought it'd be forever, and I was in love, but circumstances happened.  In other words, I was expecting a child.  My husband was away, and then he returned, and I really poured my heart out to God and said "Things aren't going well for us.  We really don't know each other."  We were just young, and we didn't work out.  So I was trying to get my life together and one day I said to my folks "Mommy and Daddy, I think I'll go to New York."  I thought maybe I could get a job.  But I had my little boy, and my folks were going to help out and take care of him while I go and make a living, because I wanted to raise him and be responsible for him.  [My parents] were raising my little nephew, and I knew that [my son and nephew] could be raised as brothers.  I knew the love that I grew up with at home so I knew they could help me raise him, and I could go and make some money and send it home and be responsible.  So I got on a plane in Baton Rouge and flew to New Orleans, which was seventy miles away from home, and when I got there they said "If you change your flight you can get into New York an hour early."  So I did that, and I ended up flying into Newark, New Jersey.  I didn't know they had two airports for New York!  The decisions in life is the information that you have.  You need to get information for your life, because it's your life and it's very precious.  The decisions you make as a young person will become a part of your life, so you have to get them right going in.
Sam:  Did you know anybody in New York?
Donna:  No.  I didn't know anybody there.  I had just met some people very briefly who said that if I came to New York that they'd pick me up and get me into the Barbizon Hotel for Women, but I couldn't stay there too long because I didn't have too much money.  Well, when I didn't show up [at the airport] they figured out what I had done and came out to New Jersey and got me and brought me to New York.
Sam:  How did this lead to show business?
Donna:  Well, I didn't have any experience in dancing or singing or acting.  I had a bit of modeling training back home.  I did that when I was trying to get things together, but I only had a bit – sitting and standing and smiling a little.  I really didn't know nothing.  But I made a commitment with God, and I believed with all my heart that if I did the best that I could do God would take care of me.  I believed that.  Simple childlike type faith was what it was.   Also, if my folks trusted me enough to help me raise my little boy, then I was going to be worthy of their trust.  This is a commitment I made to God in my heart and I didn't tell anybody.  But, boy, when I made that commitment everything started coming my way.  I had men who wanted to keep me in penthouse apartments and wanted to give me money.  They had all these things.  They just offered me all kinds of things, but the simplicity of my attitude towards all of this stuff being offered to me was that I had made that commitment to God.  God wants to see that what you say with your mouth, that you mean in your heart.  Anybody can talk, but can you walk your talk?  So I let all those opportunities go because there were strings attached.
Sam:  Was New York a sort of culture shock for you?
Donna:  I didn't get caught up with the bigness of the city.  I was trying to keep it simple because that was all I could handle.  I understood it was a big city, but to me, you don't go out to Fire Island or Long Island and all those places.  I stayed within my small little area of the city.  That was where I functioned.  I didn't go wandering off.  I wasn't curious at all.  I got work at a little agency and I would just go out for jobs there.  The lady who ran the agency would try to straighten out her models, so they didn't get too cocky, and she would say "You may have been good for Louisiana, but not New York."  In other words, she was saying that I was good for beauty contests.  I had done a few before I came out to New York.  My ambition was never to be a model anyway. As a child I wanted to be a softball pitcher.
Sam:  Really?  A softball pitcher?
Donna:  Sure.  That was the extent of my ambition as a child.  I played with church teams and city teams.  Just anybody who would let us play ball.  But God had plans for my life.  I wasn't fully aware of them yet.  So I got all these little modeling jobs.  I went around to all the photographers and I got my [portfolio] together.  I didn't want to do fashion.  I knew that, but I could do illustration modeling.  Then I got a few toothpaste commercials.  But I didn't know anybody in New York.  I didn't have any contacts.  I would just walk the streets and bring my book around to the different photographers and get holes in my shoes.  But eventually I got into The Rehearsal Club for Girls.  It was what I wanted.  I wanted a place where I'd be safe up there, but I didn't know the dangers really.  It was a house which had all these girls who were singers and actresses and it had a house mother, and it was between Fifth and Sixth Avenue.   So I finally got around to doing little walk on [parts on television].  Just don't ask me to say anything.  I couldn't say anything on television for nothing.  Don't ask me to talk.  That would totally throw me.  But I knew how to smile. That's all I could do.  I could do a commercial and smile.  Then I got a job as an "elbow grabber."  That's kinda like what Vanna White does.  I'd grab people by the elbow and bring them up to the host.  So I was doing a walk on job and I met this producer who told me "I'm going to be interviewing girls for a show that's coming up.  Why don't you come?"  I thought he was a nice man.  Sort of a family man.  So he gave me a time so I could [avoid the open call].  The day came for my interview, but as I was there, the producer said "Do you mind if I ask you a few questions?"  I said "Oh, yes sir.  That'll be fine."  He said "Would you mind going out in a bathing suit before the [audience]."  Now this was back [in the fifties], and by now I had heard about all the wild people and the things that would go on in the big cities.  So I wasn't naïve, but I hadn't thought that this would happen [to me] because I would keep it simple.  So when he asked me that question, right away I had to get more information.  I said "You mean you want me to go out in a bathing suit in front of all these people?"  He said "What difference does it make?  You got on a bathing suit."  I said, "No sir, I would not be willing to do that."  So he smiled and said "Would you be willing to go out with the sponsor."  Well my guard went up again.  I said "Would that man be married?"  He said "You're just going to dinner."  I said "No sir, I wouldn't do that."  So he smiled again and asked me a few more questions, but by then my little old heart was broken.   Inside I was crushed, because I thought he was a nice man, but he was asking me these kinds of questions.  Tears were starting to come to my eyes and I stood up and said "Mister, I don't want your job.  Your job is not that important to me" and I walked out.  Well, I got the job.  Because of a national expose on quiz shows, they had to be careful about the girl they got because of the shows that had been exposed.
Sam:  So he was asking trick questions.
Donna:  Yes.  Character is what's inside, but your reputation is what you make other peoples think.  Character is what is in your heart and what you hold on to.  That's the anchor in your life and what you make your decisions from.  So I got the job, and by this time the newspapers reporters and photographers picked a girl to be "Miss Byline."  I didn't have any contacts and nobody pitching for me.  I don't know how it came about, but they picked me.  They had it in the New York Mirror and they had a big ball and brought in celebrities and all these big people.  They gave me all these presents.  I was introduced on The Ed Sullivan Show.  Remember when I first came to New York and the men came to me and offered me all these things with all the strings attached, but I made my commitment to God?  Now all these things are given to me even bigger than before, but with no strings attached.
Sam:  How did you end up going to California?
Donna:  During this time I had met a couple in New York who introduced me to Hal Wallis from Paramount Studios very briefly.  Well, by this time I thought maybe I could be an actress, and Hal said "If you go to the lady at my office here in New York, and if she thinks you qualify to come out to California to do a screen test, I'll make all the arrangements for you there."  So I went to see Ms. Lee in New York, and she sent me to California.  I'd been in acting classes for two weeks and hadn't done anything.  So they gave me my screen test and, of course, I'm stiff as a board, so I didn't do very good.  They gave me another one and I got the notion to do a little funny thing and I did it that way and they signed me to a movie contract.  I moved out to California and I lived with a family for a while.  I did little parts, and then they wanted to make me into a movie star.  When they sign you to a contract they want to move you up and make you into a star as quickly as possible.  Well a movie came up and they wanted to give me the lead in the movie but I knew I couldn't handle being the lead in a movie.  I could do little parts, but they wanted me to be a movie star right away.  So I told them, "You give me a little part, and give the role to another girl."  So that's what they did.  I wasn't under the movie contract to long, because I wasn't ready to take leads.  But, in time, I started getting parts on television and then, within time, this man told me that they were going to be interviewing girls for The Beverly Hillbillies.
Sam:  Before you did The Beverly Hillbillies, you really shocked audiences in one of the classic episodes of The Twilight Zone.  You were in Eye of the Beholder.  You don't have many lines in that, but the paranoia and fear in your eyes spoke a thousand words.
Donna:  Yes. Eye of the Beholder was taught in the curriculum at UCLA in the theater department.   I did many many shows, but that's one that people like.  I did that with Rod Serling.  He was a remarkable man.  Very talented.  A friend of mine, George Faber, was one of the vice presidents at CBS.  He was a great family man and a lovely person.  Anytime I had to go to a big event in Hollywood, George would usually take me.  He worked for CBS, but was my representative.  If I needed pictures or press, he would take care of it.  Well, George was friends with Rod Serling and they would have a Christmas drink and he would invite me.  I would just go and sit, and I would chit chat, but thinking back, to I never asked a lot of questions.  I was very appreciative of being there.  But Rod was such a nice man.  So real.   I just wish that I had more of an opportunity to talk to him.  I guess I was just in awe of him maybe.
Sam:  So tell me about how you met Paul Henning.
Donna:  I met Paul Henning not long after I turned down that role in that movie.  I auditioned for Elly Mae and Paul said to me "Do you think you could do this part?"  I thought my heart was going to pop wide open.  I was so excited.  I couldn't say a word and just bob my head up and down.  But the day I went up for the part, I was going home and I [got in a car accident].  A fairly well known actor had rammed into the back of my little car and I got whiplash and was in the hospital for seventeen days.  Well, the day I got out of the hospital I was told that I had to test in three days or I would lose the part.  So I was pretty wobbly, but I was there.  By this time they had interviewed over five hundred girls but had narrowed it down to six, and gave a screen test to only five.  So they had a goat tied up on the set and they asked me "Do you reckon you can milk that goat?"  Well I had never milked a goat in my life, but I said "Sure I can milk that goat."  That was my first critter.  Over the nine years I probably worked with over nine hundred different animals.  Elly didn't kiss a lot of men, but she sure kissed a lot of critters.
Sam:  Those were some lucky raccoons!
Donna:  So, now that I'm in California, they've offered me a lead in a movie and to make me a movie star and I let it go.  Now I go up on The Beverly Hillbillies.  God's timing is perfect.   I let the big opportunity go, but if I had taken it I would have never gone anywhere.  I would have ruined my opportunity to do anything else.
Sam:  Now I've read somewhere that the highest rated single episode in the history of television was the episode of The Beverly Hillbillies that aired the week after President Kennedy was shot.  Is that true?
Donna:  I don't know when it aired, but it was the episode about the giant jack rabbit.  It's unbelievable.
Sam:  You played Elly Mae for almost a decade.  You took that role right into the 1970's.
Donna:  That's right.  People ask me if I got tired of it.  I didn't.  It was a joy doing it.  It was really a blessing to me, and it was like you were being a blessing to people.  You leave something good with people, on the screen or otherwise.
Sam:  Did you have a difficult time getting roles after The Beverly Hillbillies left the air because people were associating you so closely with Elly Mae?
Donna:  I wanted to do family type things, so that worked well for me.  Right after The Hillbillies I was offered different shows, but I wanted do something with the family values of The Hillbillies.  They had love and respect and morals and modest principals.  My bathing suits could never be low cut.  They had to be straight cut with my thighs, and I couldn't show a belly button or any cleavage.  All of those things.  Today, when you think of where bathing suits, they are just a rope up the back.  But I was offered to go up on this part for a movie.  The agents knew I wanted to only do family type shows, but they sent me up with this big star and famous producer, and I got the script and they had words in there that I had never heard in my life.  Not pretty words.  Vulgar words.  I was praying "Oh dear God, please let me not get this part."  Well I didn't, and it was a break.  But after The Hillbillies I did a little country singing, and gospel singing.
Sam:  In the last few years you have put out a pair of books.  Your first book was a cookbook.
Donna:  Yes.  I must pitch my cookbook (Laughs). It's called Southern Favorites with a Taste of Hollywood.  I got recipes from some very famous stars, and got anecdotes from Hollywood and we put a lot of pictures in it.  It's not a fancy, gourmet cookbook.  It's just a lot of information and little things about [The Beverly Hillbillies].
Sam:  You also published children's book titled Miss Donna's Mulberry Acres Farm.  Tell me about the book.  I think this is just so charming.
Donna:  It's like a little series.  We are coming out with another one.  I've had this idea for doing a show or doing a series for children, but it never worked out, so this is as close as I've gotten to do these things.  Well, Miss Donna takes over the farm and the farm needs lots of repairs.  So this story is about the horse, which has been on the farm for a while, and he wants to be a racehorse.  The next book is going to focus on the pig.  That's going to be a great story!
Sam:  You've been speaking at churches for a while now.  How often do you do this?
Donna:  I don't do as much as I was.  I was doing a lot.
Sam:  That must be a wonderful experience for congregations to have you come, but also for them to meet with you and share stories.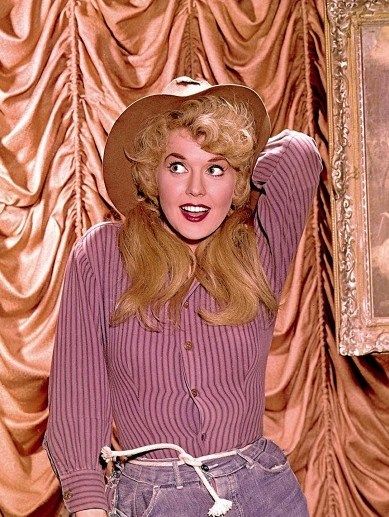 Donna:  I wish I had more time to talk with people but you don't have much time.  But that was my time of giving back.  That has been one of the most rewarding experiences of my life.  You want to make a difference to people if you can say something that will make a difference or add something to their lives.  But I keep learning, and they keep sharing.  Before that I'd do country fairs and rodeos.  I've been to Japan and Australia.   I've been to Israel five times, and we filmed in Europe for two years in England.  Not bad for a little country girl who was afraid to leave home
Donna Douglas is an extraordinary woman who accounts to her faith in God.  Although I consider myself to be more spiritual than religious, during our interview Donna gave me a very special piece of career advice.  She said to me "What you do before every interview you ask God to let it be a story.  Get the heart of the story. Ask the Holy Spirit to give you the heart rather than what everybody else does."  These words, said to me with so much honesty, kindness and conviction, will be held in my heart.  Perhaps if we all embraced the same sort of simple faith that Donna Douglas has throughout her journey, no matter what our personal belief might be, we too have the same good fortune in our lives.
POP CULTURE ADDICT NOTE:  A warm thanks to our friend Jeffrey D. Dalrymple who helped arrange our interview with Donna Douglas.  A special friend of Donna's, I want to thank Jeffrey for trusting me with this rare opportunity to talk so long with one of the lovliest women in pop culture.  Your support means the world Jeffrey!
I also want to give a special shout out to Alan Mercer for helping to make the introductions that lead to this interview.  To read Alan's own interview with Donna Douglas make sure to visit his fantastic web-site here.  Alan's interviews are amongst the best on the internet.  Thansk again for all your support Alan!