Zak Bagans:  Hello, everyone. Happy you all could join us today. We're really excited. It's been a long journey…and in that whole process of investigations, we have really matured as paranormal investigators because we have seen and felt and heard just how real and dangerous this field can be.  The 100th episode at The Exorcist House deals with something that we've all been through before, possessions. So this was about learning more about the experiences we went through, and experiences that Nick, Aaron, and myself, as brothers and as friends, helped each [other through]. We were there for each other in those moments, and it's something that the three of us will really only understand because we were there to feel it and to witness it.  To be at such an iconic home, that housed the world's most famous possession and exorcism, and to learn the truth about it, and to actually speak with a great-niece of the chief exorcist, Father William Bowdern, and to interview her and hear…hear her [story about how she witnessed] her uncle at a Christmas party talking about the actual exorcism, was a true honor for us. But to hear her tell us, and look inside our eyes and say, "I will not go to that house to interview," you know, to do this interview. [She said], "I will not even go down the street to do this interview with you all." That erased my skepticism that this house is not haunted. You know, I'm a firm believer that a haunting takes place where somebody dies a tragic death or a suicide. You know the supercharged emotional event attributed to a death that creates a portal, a doorway to a haunting, and a residual energy that houses a nest for that entity. But I was unaware that an exorcism that housed supercharged emotional energy, dealing with a spiritual event of Satan himself, is just as powerful as the deaths or anything like that. So we went there to investigate a man who claims that he was recently attacked in the home in 2009 – a man whose credibility was really, really strong – through the words of the great-niece of Father William Bowdern. She validated his credibility. And ultimately, this is what attracted us to the house, and to investigate with the questions of did the demon re-emerge itself from the exorcism in the 1940s, or was it him simply experiencing the psychic scars re-manifesting from the residual energy of the stone and wood surfaces of the home?  That is truly what attracted us to the investigation.
Press Conference Coordinator:  Nick, do you want talk a little bit about Transylvania?
Nick Groff:  Yes. Throughout our journey through Ghost Adventures, Zak, Aaron, and myself have been to very interesting and unique locations all over the world, and it's been crazy – a crazy rollercoaster ride. But there's nothing like going overseas and back in time.  Back into the history, very rich in that fashion, and we did that when we went to Romania, to Transylvania, to investigate Dracula's castle. It was amazing, just amazing to step foot on the ground, and be some of the first investigators ever to investigate where Dracula and his father, Dracul, ruled, and actually go to where he was born. It was just interesting: to see that, to feel it, and we actually captured some amazing evidence in the process of being able to investigate his former castle that he ruled. Zak was in this forbidden forest that was absolutely insane [as well.]  Some of the greatest parallel footage that I've seen captured by Zak, [who] got it when he was alone with Billy Tolley in the woods of this very scary forest. Then Aaron and myself, back at Dracula's castle, we got a voice that came through on one of our devices, the Ovalis 3, that Aaron was holding, that just blew our minds away.   We communicated with not only some sort of spirit, but something that you know relates to the former castle, the former owner, the ruler of Romania, Transylvania. It was just absolutely amazing this experience to be a part of that.
Aaron Goodwin:  And not only that but we got to see the beginning.  We got to see where he was born, all the way to where he was ruler, to where he was captured. Then he died, like his whole family history. It was awesome.
Zak:  Aaron and Nick were investigating his castle in Poenari, Transylvania…and they captured two voices, [that said] "Vlad" and then "flowers." They had no idea what those two voices meant. I mean they knew Vlad, but they didn't know what flowers meant. Three days later, somehow and someway, we were trying to interview Princess Brianna Caradja, who is Vlad Depes' last known ancestor through blood.  She wasn't going to interview with us but a couple of days after the investigation that Nick and Aaron did, all of sudden Princess Briana Caragea agrees to do our interview.  It's very last minute. She arrives and we are hurrying up to do the interview and we interviewed her in this patch of flowers.  Then while we're interviewing her, she tells us that her ancestor Vlad Depes came through. We were not expecting this because Romanian people are not open to talking about ghosts, let alone the ancestor of Vlad Depes. She comes out and tells us that during a Ouija board session about 15 or 20 years ago, her ancestor, Vlad Depes comes through and spells out V-L-A-D on the Ouija board, and starts giving her information and premonitions about her upcoming life.  So she connected the dots with these synchronicities that we interview her in the flowers. It was Vlad that communicated with Nick and Aaron, predicting that we were going to interview his ancestor. It was really interesting.
Coordinator:  Thanks, Zak. Aaron, do you have anything else that you want us to tease about the upcoming investigations this season?
Aaron: They're crazy. They're awesome. We finally got to go Alcatraz and that was an experience. We've been trying to do that for a while. That finally happened. But these Halloween specials, the Exorcist House and going to Transylvania, are just off the hook. Then we just did a cool re-enactment scene in Prairieville. We did kind of different than normal, and got some amazing evidence. I don't know what I can say.  I don't know what to tell, but we have some pretty awesome evidence. We actually go to a mustang ranch where it's really haunted, out there in Reno. And that's one pretty cool too.
Coordinator:   Okay, great. I think we can open up for questions now.  We have a question from Alley Handley with Examiner.
Alley Handley:  I would like you guys to each touch on how this milestone of getting to 100 episodes has changed your life. Zak, you mentioned that you know you guys have really matured over the course of all these seasons. Then, if you could also talk on the difference of intensity for each of you when you investigate an area that had residual haunting, spirit haunting versus a demonic possession or reports of demon activities.
Zak:  Okay, I'll try and remember all. Well, investigating up to 100 episodes has definitely matured us. It's matured us on a level of knowledge within this paranormal field; and the way that we have learned and gained our knowledge is through our various investigations and the different professionals and scientists and demonologists and what not that we have interviewed.  On the 100th episode, at The Exorcist House, we brought in one of the most educated demonologists in the world, Dr. Bradshaw. He's from Scotland, and he and others like him are the people that we ultimately gain our knowledge from in this field.  Nobody on this planet will ever be able to answer the question, "What happens when you die?" Nobody. But what we can answer are the questions that we have about, you know, how are we able to capture these voices, and how are we able to experience these compelling events. You know, these spirits are speaking.  They're answering questions and we still don't know how they're able to do that. But all we can do now is just capture this evidence, and it just keeps getting more and more compelling, it seems, the longer and deeper we are in this field.
Nick:  Yes, Zak is absolutely right. Over the years, a lot of learning, just in general, comes from experience with anything that you do. With Zak, Aaron, and myself as paranormal investigators, we go to a new location week after week, and we are learning so much about life, about death, about all the things that go through everybody's mind no matter what their background is.  That's so compelling to us, because we just feel like we skated on thin ice for so long on that other side. We're almost in between two places, two dimensions, with what we're doing sometimes. To me that's scary, because most of the time you don't know who you're communicating with, or what dimension. You can theorize, and you can sit here all day and we can talk about different pathways that happen after you die.  What we've learned through capturing evidence with intelligence spirits, with residuals, with demonic forces, with even negative energies, which is the scariest for me, is the positive and negative energies that we're running and communicating with at different locations. I think that's what I've learned. The scariest thing for me is coming into contact with something that's negative, where it can actually attach itself to you personally and really have an effect on your health, your physical well-being and your mental state.  It can linger with you for a long time unless you put yourself in that positive surrounding where you don't let it win and destroy your life and everything around it. The three of us have gone through that. We're still going through it and it's very scary. It's dangerous. We didn't realize that when we first started, did we Zak?
Zak:  No. You know, Nick has made a good point. I guess it's something that is personal, but we'll tell you guys: we are dealing with attachments; I'm dealing with them right now, and I don't know what they're doing. I am seeking various people to help me with it. They're very real, the things that they do in my home, the things that they do to people that I get close to.  Every girl that I ever tried to have a relationship will have an experience. I have a possessive female spirit attached to me.  I was also told I have a demonic attachment. They make me sick. They make me agitated.  It's a side that nobody sees. It's something that Nick and Aaron [know], and I can turn to these guys, and Bill and Jay.  These are guys that I can talk to now. So it's brought us closer together, even though we'll still have our stupid little friendly fights and stuff.  These 100 episodes have brought us closer together because we've been through it, and we understand it. So we are dealing with it now. Sometimes it's great, and sometime it comes back. It's crazy. Going to The Exorcist House, and seeing what can happen to a little boy in a worst case scenario, that's when it gets bad. That's when it goes from just having an attachment to having a full-on diabolical possession where you're not even in control of your own body anymore.  You know your body is not your body anymore. It's the body of Satan, and even just saying that out loud right now in this hotel room makes me…it's scary. It's scary to know that I don't know what else is listening to it around me. That's how deep we are involved in these investigations, guys. This is why we get the help of the most educated demonologists in the world. We talk to the family members of the exorcists from the exorcism portrayed by the movie, The Exorcist.  This is the level that we're at. While we were at that house, we communicated with something; we communicated with an entity. We shared that evidence with a priest, an exorcist, Father Jack Ashcraft, who is supposed to join us on this investigation, but on the way to the investigation with his brother, he had a freak medical emergency in his car that he had to go from meeting us to go to the hospital.  Then, during the filming of that episode, I also had a medical thing happen that was just like his. The voices that came through that have actually [made us ask] ourselves, how far do we want to keep going with this?. Do we really want to keep doing demonic investigations? What have we gotten ourselves into? It's crazy, but we're involved in it, and this is what we do.
Coordinator:  We have a question from Chad Garrison, Riverfront Times.
Chad Garrison:  I'm in St. Louis, and I've written a bit about The Exorcist House. I was curious with this incident where you say a person was attacked. Can you provide a little bit of a detail about that? I was curious when you did your investigation, and if you can give us a little bit more of a teaser. I know you just mentioned about kind of the medical emergency that happened with the demonologist.  If you could, for us St. Louis readers, who just want to know a little bit more, kind of give us a bit of tease here.
Zak:  Nick, what was [the paranormal investigator who was attacked in the Exorcist House's] first name? Greg or Garry.
Nick:  It was Greg.
Zak:  Greg was a real nice guy, and I guess in 2009, he was doing an investigation there. A lot doesn't bother this guy. He's a big guy, and a tough guy, and he didn't believe the home was haunted. That's what he told us. He's real skeptical that the home was haunted. But he went there and did this investigation. He was in the little boy's room, and the left side of his face started getting extremely, extremely hot.  Then he started getting, what he said, "disoriented". The next thing that he knows is that another woman that was with him as part of the investigation, who was a nurse, noticed the left side of his neck started forming white blisters, and within the blisters formed a white cross. There are photographs of it, and we have some of the footage from the investigation.  Just because Nick, Aaron, and myself are extremely credible investigators, we will debunk things. We will separate facts from fiction in terms of urban legends and what's true. We're very big sticklers on credibility, whether it's the history or evidence. So we wanted to get a better sense of who this guy is, because we didn't know him. So that's why, before we investigated him, we talked with the great-niece of Father William Bowdern, and asked her if she was aware of this guy.  She really validated his credibility to us as an investigator, so we listened to him. We heard him out, and when he took us up there and we interviewed him in the room, he was visibly shaking.
Chad Garrison:  Is he with a paranormal task force here in St. Louis?
Zak: Yes he is. I think it's actually called the Paranormal Task Force.
Chad Garrison: Okay, yes. I believe so.
Zak:  Yes.
Nick:  I'll give you a little tease here about what we captured because I think, personally, it's one of the scariest things that we've encountered or captured for a couple of different reasons. We were using our spear box, our SP7 spear box, one of our devices that communicates within the frequencies to capture spirit voices that come through, and Zak and I had a Ouija board. We decided to bring that in and see what could come through. That was the greatest.
Zak:  Can I tell it real quick, Nick.
Nick:  Yes.
Zak:  Can you tell him that for first three hours, we didn't experience it.
Nick:  Yes, that's right. We were in there for a couple of hours. We went to the basement. We went up and down that house and nothing happened. We're trying everything. Nothing's going on. So we go back to our base camp. Then Zak says, "Hey let's bring in Greg's Ouija board, that Greg gave to us, that we can use in the house."  We bring that in to the second floor right to the room where this boy was possessed when they were exercising him. Zak put the Ouija board down. Aaron tried warning us before we went in not to use it, but we try to push the limit sometimes and do whatever it takes. Try to get evidence and capture things.  Zak had the spirit box, and he put it on the Ouija board. There was a weird moment for a second where I asked myself and Zak, "Do you want to do this?" I was scared. Right now I kind of get chills thinking about what happened to us in that moment. Well, there's nothing coming through, but then suddenly we get some voices that come through.  But to get right to the point that I'm talking about, the voices that scared the crap out of me was when two difference voices came through. One said, "Devil," and the other said, "Diablo." It scared us. It scared us so bad that I looked at Zak, and for that split-second Zak's face looked so different, like it shifted in the dark, like his eyes went back. His eyes went black like something was there with us.  I learned later when I presented this evidence to Jack Ashcraft, when he was finally able to meet up with us two weeks later.  Zak wasn't feeling good either, so I had to go interview Jack Ashcraft. I really wanted to show him these voices that came through – "Devil" and "Diablo." That's huge. That's crazy to capture this.  [Jack Ashcraft's] face just dropped. As a priest, and as an exorcist, this is a guy who has witnessed real exorcisms before. He talks very deep on them. He's a very nice guy. Very credible and has good factual information.  He always tells me to be cautious and everything. His face, I'll never forget it, just drops when he heard those two voices, "Devil" and "Diablo," that came though on our device. He said, "You guys need to be very, very careful of what you're doing because not only is that one spirit.  There were probably multiple demonic entities that came through." Usually the first one disguises itself as the weaker demonic entity. The second and third and fourth and sometimes seventh are the strongest. I was blown away. He said, "Just don't do it anymore. You guys need to seek help. Go seek help. Zak needs to get help." I had to go bring Jack Ashcraft to give us blessings and a lot of stuff. I was shaken up from that investigation.
Zak:  We're still shaken up from it and we're at a new location right now. This is what we do week after week. It's draining after a while, not because of the traveling, but because of what we encounter sometimes. The energies are what blows my mind. They drag everything out of you.  Sometimes your own soul.  You really have to mentally be stable or else you'll lose it.
Coordinator:  Our next question comes from Abby Normal with Yahoo.
Abby Normal:  If you could take just one investigative tool with you, what would it be?
Zak:  My SP7 Spirit Box.
Abby Normal:  How about Nick and Aaron?
Aaron:  Myself, just because you can sense certain things when it happens, but for proof I bring the PX.
Nick:  For me it would probably be myself too, just because I know what to feel and sense.  Also, a digital recorder, so that way I can hear what the spirits are saying to me.
Abby Normal: What advice would give to a homeowner that lives on lay lines, has a vortex on what was once considered sacred Indian grounds that are having unwanted paranormal activity?
Zak:  Move.
Nick:  Sell me the house.
Zak:  Move. This is Zak Bagans. Move. If you chose to live in a home that you know are lying on intersecting lay lines, and to add to that layer of cake, you're living on an Indian burial ground and you're having paranormal experiences that are bothersome, you're not going to get rid of them. I mean you're lying on a nest.  You're not going to erase those energies. Other homes where there's a problematic spirit or an entity, you can go the route of trying to get the home cleansed and helping that spirit move on from there. But when you're living in a geomagnetic location that the home is actually placed on top of a geomagnetic intersection of energy on top of this burial ground, it doesn't matter what you do.  I don't believe that you'll ever be able to get rid of that. It's either you put up with it or you get out.
Abby Normal: Aaron, how do you feel about usually being the one that gets solo duty in the creepiest places?
Aaron:   It's the only way I know how. I used to dread it. I still do. But something in me now just wants to go and see what can happen, because I get scared. I can't help it. No matter how much you know, I know the spirit in there will come out. It spooks you.  It's good because getting spooked and all that really fuels like energy I believe.  So it's been working, so I keep doing it.
Coordinator:  Our next question comes from Sam Tweedle, Pop Culture Addict. Your line is open.
Sam Tweedle:  Alright.  I've seen every episode of your show, but it has never been clear to me how the three of you originally came together. How did you guys meet and start doing what you do?
Aaron:   Me and Nick met back when we were in college. We helped each other in some projects. I met Zak through Nick, and then joined the show. I never even though about ghosts.  I thought, "What, all right, I'll help you out." Then, all of sudden, I was like, "What the heck just happened?" I love you guys.
Sam Tweedle: And Nick, when did you and Zak meet?
Nick:  Zak actually DJed my wedding, which was cool.
Sam Tweedle: Oh, really?
Zak:  I screwed up his first dance song.
Sam Tweedle: Yes.
Nick:  After we had all this footage, and we thought, "Wow this is amazing. We've got to do something with this. We have to show the world what we captured." What we did was put a narrative to a documentary, and that's what Ghost Adventures kind of spawned from. Then Zak and I were able to get locked down by ourselves in Gold Field the Hotel.  That was the epic night that we will never forget. That just topped it all, and that made us want to pursue this even deeper and deeper, and more and more.  The rest is history.
Sam Tweedle: One of my favorite haunted locations you haven't investigated yet is the Roosevelt Hotel in Los Angeles. Have you ever tried going in there, and are there locations that you guys would love to go where they haven't let you in yet? What would be some of your top dream places to go?
Nick:  I'm actually staying at the Roosevelt Hotel right now.
Sam Tweedle: Now that's freaky.
Nick:  That was weird you just mentioned that.
Sam Tweedle: Love that place. It's very eerie. You can feel a presence when you're in there just walking around.
Nick:  Yes. It's definitely [eerie]. It has rich history, and it's unique. You walk through the lobby and you can just almost sense that you know the spirits are the people that once were here.  All the famous people that walked this path and stayed here. It's just really cool. It's definitely awesome. But we're not investigating it.  We're just staying here for the first couple of nights until we do our investigation at the location we're going to.
Sam Tweedle: Okay.
Nick:  But there's so many places all over the world I want go to, especially overseas. There's a lot of really, really awesome places in Ireland and some really just insane places even further, like in Australia. But there's some outside of New York, like this huge mental hospital I've been dying to go to forever. But it's so hard to get permission sometimes.
Sam Tweedle: Yes.
Nick:  I mean governments own the whole complex. But there are a lot of places. We've been hitting a lot of the places that I've wanted to go to for a long time, like The Exorcist House. I've always wanted to do that one. That was a dream come true. I don't know if it was a good decision, but we did it because it scared me.
Sam Tweedle: Real quickly, what are your favorite horror films?
Nick:  Go ahead, Zak.
Zak:  Favorite horror films. I really don't watch too many horror films. I like Bram Stoker's Dracula. That's my favorite.
Sam Tweedle:  Well, has doing this kind of work sort of desensitized you to watching this kind of fantasy horror?
Sam Tweedle:  Well, yes. Well, look thanks guys. And thanks for doing what you guys do.
Zak:  Thank you.
Sam Tweedle:  Because I mean it's a great hour every week.
Zak:  Thank you very much. Appreciate that.
Coordinator:  We have a question from Christina Elin with Glean.
Christina Elin: I can't believe it's 100 episodes. I've watched them all. I've been a fan since the documentary. You filmed that back in 2004, is that correct?
Zak:   Yes.
Christina Elin:  Is there any place along the way that you liked, not because of necessarily the evidence that you captured, but the history of the location?
Zak:  I really enjoyed the La Purisima Mission and that's in Lompoc, California. La Purisima really got me because of the history. I felt something there that was truly powerful. I felt a real deepness of the sadness that the Chumash Indians went through because of the Spanish.  I don't know what that experience was all about. I can't answer exactly how or why I felt so strongly about the Chumash Indians and the pain that was inflicted on them, but it's something that always stays with me. Every now and then out of nowhere I'll just get those feelings again. It will re-manifest itself inside of me of the Chumash Indians. It's really strange. It's crazy. But we captured some flute music there too.  It's just an investigation that always stays with me.
Aaron:   I'd definitely say Romania and the whole history of Vlad the Impaler, and then the Hellfire Caves. Those are my two.
Nick:  You know we've been to 100 locations and still going strong. I mean to me it's almost like all of them because so many of them…
Zak: She said one, dude.
Nick:  I know, but I'm picking all of them.  All of them have different experiences. I want them all. I mean we learn something different at each location we go to through researching the background. They all have some sort of different history that I learn, that I didn't know prior to going there. It's almost like being in history class. If I had to, I think the pivotal would be Poveglia Island.  That was kind of epic for me because of just the layers and layers of history that occurred there on that island just surrounding the water right there. You had battle ships, mental hospitals, plague victims burned there, and all these mysterious deaths revolving around just this small patch of island off of Poveglia in Italy. So I guess that would be the one, and plus we researched that for ten years before we even went there.
Christina Elin:  That's awesome. I know you guys are involved in a lot of side projects. Anything that you do that's not involved in the paranormal.
Zak:  We do little things here and there, but you know Ghost Adventures is our main focus and we put all of our time and energy into Ghost Adventures. So outside of that, yes, I mean I like cars and hobbies, lifting weights, stuff like that. But paranormal's my number one.
Coordinator:  We have a question from Steve Barton, Dread Central. Your line is open.
Steve Barton:  I don't know how you've lasted so long with Aaron being tortured in tiny little places, and Nick jumping into morgues, but I'm glad you do. Being that 100 episodes is such an incredible milestone, I was wondering what each of you feel was your defining moment of your careers since you've started doing this.
Zak:  What I would say the defining moment for me was when I went from a boy to a man in terms of the paranormal world at Bobby Mackey's Music World, where I had an exorcism performed on me. I wasn't expecting that. So Bobby Mackey changed everything for me.  If I were to go back and talk to that Zak in 2008-2007 I would tell him, "Dude, you need to chill out a little bit. What you're doing right now is you're screaming and yelling at something that is very powerful and something that you cannot fight with those muscles. Soon you are going to get a wakeup call, and you are going to see just how powerful these forces that you cannot always see and hear truly are."  Once we investigated Mackey's and what happened to us in the first investigation, then we did an event there, and brought 100 people there to witness what a lot of people thought was maybe rigged or whatever. We're a TV show. "Oh, this is really happening, blah, blah, blah." So we decided to bring 100 people there, and that two-day event could be a real life horror movie for all the things that happened to all the people there.  It was nonstop. To sum this up, to see myself, the director of security, and the bouncer actually be taken away by one of the priests that was there and for him to put medallions and holy waters on our foreheads, and we couldn't even bare the pain of how bad it was burning, or keeping these medals on our chests.  That eventually lead into another investigation with us to return to Mackey's.  That's when bad things started happening.  Personal things started happening to all of us.  But when I fell under this possession and had to be exorcised, and things happened that will never been shown on camera, and will never be told to anybody except Nick, Aaron, and myself, and the priest that was there. That was a defining moment for me.
Steve Barton: Well please don't ever go to Mackey's ever again.
Zak:  I'm done with it. We're not going there ever again.
Aaron:  Mine was the Winchester Mystery House, because during that moment something snapped in me. Since then, I've been more aggressive. I'll do whatever it takes to get the evidence.  That was weird. And then it kind of goes into the Hellfire Cave.  The Hellfire Cave was like a turning point also. So you combine those two, it kind of changed me in a weird way.
Zak:  Yes, because in the beginning you were always the shyer one..
Aaron:  Well, I was scared half to death. I never thought about ghosts. I was never into ghosts or anything, so it's kind of like this was a whole shock wave thrown at me. As soon as we went into that documentary, once you're chosen for the paranormal it kind of like keeps you in it.  So I just kept doing it. Now I've learned so much over the last 100 episodes that I'm completely different, but still the same. It's really weird.  It's a whole different way of life.
Steve Barton:  Nick, what defines you?
Nick:  I mean every time I say Winda Vista, that was the one that defined, when I saw that lady standing there two feet in front of my face.  [I thought] "Wow, that's the moment I've been waiting for." But then something else occurs at another location, like Savannah, Georgia. This negative energy just overtook my own mental state. You [think to yourself], "I've got to wake up.  I can't do this anymore." But I get to Central Una Prison and I become ill in the moment, and I'm having this high fever, and we capture all this evidence revolving around [my sudden illness.] But I think the defining, defining moment after the years of doing this, and after experiencing all of this horrific things that took a toll on my body, is honestly The Exorcist House.  The only reason I say that is because all these moments and experiences lead up to where I'm at in my life right now, and it opened my eyes, and it made me think that something more evil, and something more sinister lies out there that we don't fully understand, and that can actually linger on your own mental state and really destroy your well-being, your own inner soul, your own spirit that's in this body that we're living right now.  I think that woke me up at The Exorcist House, hearing those voices come through – "Diablo," "Devil."  Then talking to the priest really opened up my mind, because I wasn't such a religious dude. I was raised as a Catholic, but I think I'm more spiritual. In that sense, I'm open-minded with talking to everybody from all backgrounds. But that defined me to wake me up and say, "I need to calm down with what we're doing and be more cautious." I need to put a threshold on where I'm at in my life right now with the way we investigate and stuff.
Coordinator:  Last question comes from Jonathan James, Daily Dead.
Jonathan James:  What I've enjoyed [over the last 100 episodes], is that you guys have gotten more technologically advanced.  Now you have the audio, you have the spirit box, you have the Kinect. So I was just wondering with the way technological advances are going, and the way you guys keep advancing what you're using, do you think that you're going to get to a point soon where you'll be able to definitively say, "Well, you know here's what we found. Here's your four or five different pieces of proof," and finally find something that skeptics can't, you know, pick apart?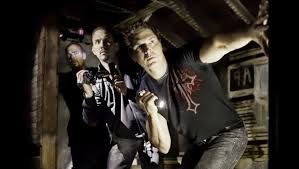 Nick:  You know, I think we're already at that level now that we live in the digital age. It's just moving so fast; it's almost like us human beings can't keep up with it. The one thing that the digital age is doing to the paranormal world, and especially for us exclusively, is that it's enabling us to work with inventors and electrical engineers like Bill Chapel and Gary Galka, who are so enthused about the world of the paranormal.  They're putting their knowledge and education to building and designing this new equipment, and making modifications to existing equipment. That is really enabling us to take a personal experience and validate scientific data to suggest that there is fluctuations within the environment that are, you know, in unison to these experiences that are unexplained.  It's so important for us to separate ourselves from just a television show. We do Ghost Adventures because we love dissecting history.  We love presenting the history of locations. We love to travel. We love to show our personalities and to have fun with each other as friends. But the most important thing is, yes, we are getting more serious about this because we know it's real. So how can we update and actually further put ourselves in a higher pedestal to show our credibility?  That is by using all of these new different scientific pieces of equipment and working with engineers like Bill.  So we appreciate your comments with that. We feel that the audio that we're getting now through the SP7 Spirit Box have eradicated the skepticism of radio feedback or things like that.  We will let the spirit box just sit there for three hours and we'll not even have a single blip of speck of voice or anything come through.  Then we ask a single question and we'll get a response right away. Having environmental data measured while we do these experiments and these voice transmissions to spirits, it is really getting to the level now to where we don't know what to do. It's like we're showing this on television but you know we really should be having some more organizations come and witness this stuff. Can we call NASA?  Can we call the biggest of biggest scientific organizations and just have them sit with us, because it's getting to that level.  The Travel Channel even knows. I send them emails and [write], "Guys, this just happened!  What should we do? Should we call NASA?"
Perhaps NASA may be reluctant to get involved in supernatural investigations, but Zak Bagans, Aaron Goodwin, and Nick Groff are true explorers of the last unknown realm.  A recent study by the Association for the Scientific Study of Anomalous Phenomena showed that since the last study was done in 2008, the percentage of people who believe in the supernatural has grown to 52% from 39%. No doubt that the popularity of Ghost Adventures, and the strong evidence that the guys have collected, has had a lot to do with this increase of believers.
But what about the skeptics?  What about those who believe that Zak and the gang are just a bunch of charlatans?  Well, people will always doubt, but no matter what, Ghost Adventures is a solid, entertaining hour of creepy thrills and intriguing stories and legends about eerie places all over the world.  Whether you believe or not, you're not going to find a more interesting and entertaining hour on television.
And for the record, I believe.
The Ghost Adventures 100th investigation of The Exorcist House will air on Travel Channel on September 4th at 9 pm.  Their investigation of Vlad the Impaler's castle will air on October 25th.  For more information on Ghost Adventures, visit their web-site at http://www.ghostadventurescrew.com/web/.