What exactly is Kelly and the Kellygirls? They're a combination of jazz, funk, ska, Latin, pop, soul, sexiness, kitch, camp, vamp, comedy, fashion and fun. Whatever they are, they are pretty much one of the only bands I give half a damn about these days.  Comprising of a traditional guitar, bass and drum trio, joined with an explosive and sexy all girl horn section, Kelly and the Kellygirls is fronted by the flamboyant and charismatic singer R. Kelly Clipperton.  Mixing together an eclectic selection of musical styles and genres, Kelly and the Kellygirls' high energy stage show has been entertaining clubs, festivals and Pride Parades all over Canada, in one form or another, since Kelly first formed the group in 2003.
Kelly's presence on the Toronto entertainment scene began in the early 90's where he has succeeded in proving himself a man of many talents.  Photographer, actor, model, stylist, fashion promoter, musician, playwright and song writer, Kelly is truly a renaissance man.  Former lead singer of Toronto indie-groups My Dear Heretic and Merkury Burn, Kelly found his greatest musical success when he struck out on his own and was able to combine his own inspirations and interests into creating a unique band and sound that he wanted in the form of the Kellygirls.  Releasing their first album in 2004, Kelly and the Kellygirls had a series of minor successes in 2006 when independent radio stations and college campuses began to play Napoleon and Catherine Deneuva and the Deus ExMachina, gaining Kelly and the Kellygirls its own cult following.  However, shortly thereafter Kelly disbanded the group.  After a period of refocusing, he created a brand new group consisting of a seven piece back up band of different sexes.  Drawing inspiration from Latin music, swing, big band and modern pop, Kelly continued his brand of introspective lyrics in a new, high energy sound and, along with the new Kellygirls, released his latest album, Modernism, in May 2009.  With a new band and a new album to promote, Kelly and his Kellygirls headed on the road and toured across Canada summer of 2009.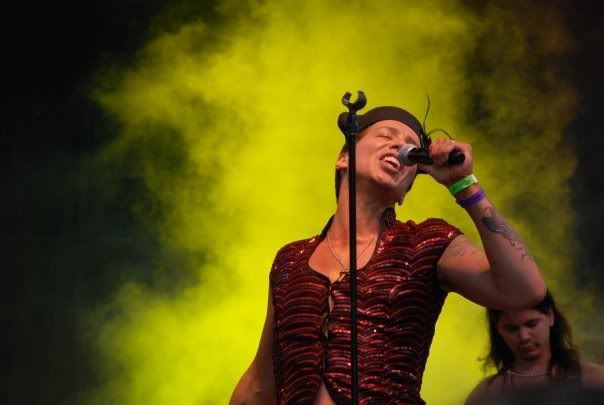 Kelly and the Kellygirls are, hands down, the most exciting group that I've seen in the last year, and I was instantly captivated with their sound, style, energy and sense of fun.  Upon getting a copy of Modernism, the album quickly became one of my favourite CDs, barely leaving my car stereo for over a month.  I knew that I just had to let the world know about this group, and to share the music and mirth that Kelly and the Kellygirls has to offer.
I spoke to Kelly just days after he finished his cross Canada tour.  After  performing more than twenty five performances from coast to coast over a two month period, Kelly was, once again, at a place of reflection and ready to change gears when we talked about his music and the new album.  Come and dig on the man who makes the Kellygirls happen as:
CONFESSIONS OF A POP CULTURE ADDICT PRESENTS
C'MON BOYS:
A CONVERSATION WITH

R. KELLY CLIPPERTON
I spoke to Kelly in July 2009 via telephone from his home in Toronto, ON.
R. Kelly Clipperton:  Hello Sam
Sam Tweedle:  Hello Kelly!  How are you?
Kelly:  I've been on my feet the whole day but now I'm going to sit down and chat with you.
Sam:  Sweet.  Now I want to thank you for taking the time to talk with me so soon after you got back from your tour.  How was the tour?
Kelly:  It was amazing.  It really really was amazing.  It always takes a little while to decompress from the whole thing and keep all the good things in perspective.  It is tough.  It's not easy touring.  I'm sure there are some people who do it a lot more effortless then I, but it definitely was the most successful tour I've ever done.  It was dynamite.
Sam:  How many times have you done a cross Canada tour?
Kelly:  This was the third and I've gone twice to the UK, so there's been a bit.
Sam:  Now you have a pretty large band with seven members.  Is it hard to travel for a month with such a large group and different dynamics?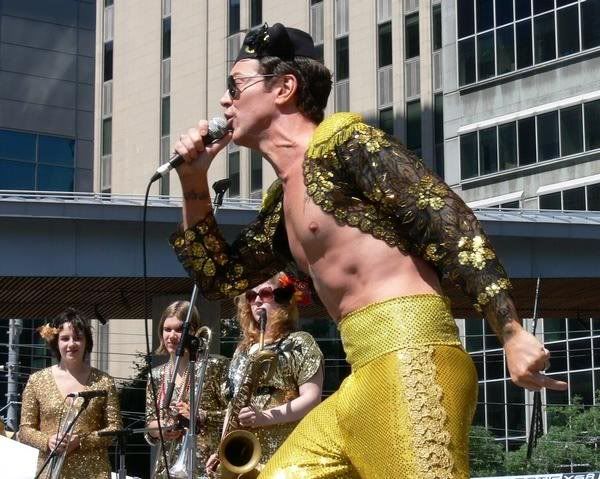 Kelly:  It's really tough.  This time, for the first time, I hired a tour manager.  I don't really know why I'd never done that before.  The easiest answer is financial.  It's an additional finance to take another person with you on the road.  There was nine of us in total and it really really is tough.  Being the type of person that I am, which is quite organized and I like certain things done in certain ways…I'm not one of those fly by the seat of my pants sort of people…and when you got a lot of people involved, well, if it was a three piece band it'd be a lot easier.  But with so many personalities involved it takes a lot of energy to keep everybody happy and everybody comfortable.  Comfort is of a paramount importance when you're on the road for so long and the objective is to be in top form to play every night.  That's the reason that you're out there.  Unfortunately there is 85% of the time when you're not playing and you're traveling and it's exhausting and you're cramped and all that stuff, and it's a tough go but it is the sound that I want and it's the sound that I always wanted and we did it and there was no casualties involved.
Sam:  Are you guys all still getting along?
Kelly:  We're all fine.  The dynamic within the whole band is fine.  Their perception of me is probably an entirely different story.  But, as I said, it takes a while to decompress that.  Let time go by before you can overanalyze that.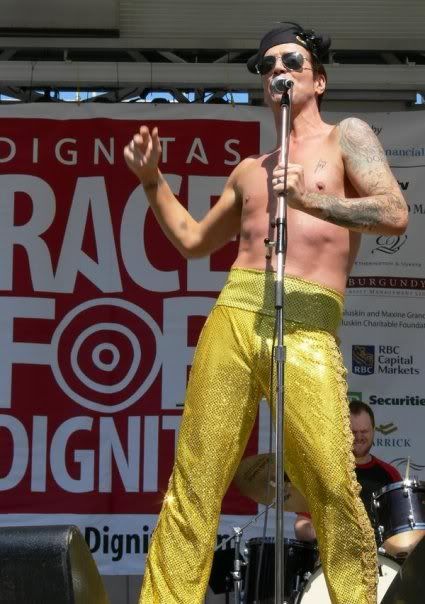 Sam:  Was there some areas of Canada that you found responded to you differently, or better?
Kelly:  I would have to say that there were three shows in particular that I didn't expect a lot from based on past tours when I didn't have a lot of success in those towns, and they were the best ones.  It's possible because my expectations were low, they weren't particularly high and they ended up being spectacular shows.  We had situations where I was able to get a booker at a club who did their job, they listened to my music and figured out what I was about and paired me up with local talent that really matched.  That was the key for that situation.  It was lovely and went and thanked all of them in particular, and that was in Kelowna, Calgary and Sault Ste. Marie.  They really paid attention and paired us with the right kind of acts, which in terms brought the right people and they turned out to be such great shows.  Another learning curve.  I've always known that that has to be an important part, is who you're playing with, but there has definitely been times that I've been on the road and we've been matched with metal bands and country acts and stuff like that.  Even though you got your own core of fans in each city you always need to build on top of that and grow and if the booker in question has not really taken that into consideration and put you with other acts that aren't suitable then that's not something that happens.  The room is going to clear out except the ones that are there to see you.
Sam:  So you're promoting your new album, Modernism, which has actually become one of my favorite albums at the moment.  But, I've been trying to describe your music to people and I don't know what to call it.  What do you call it?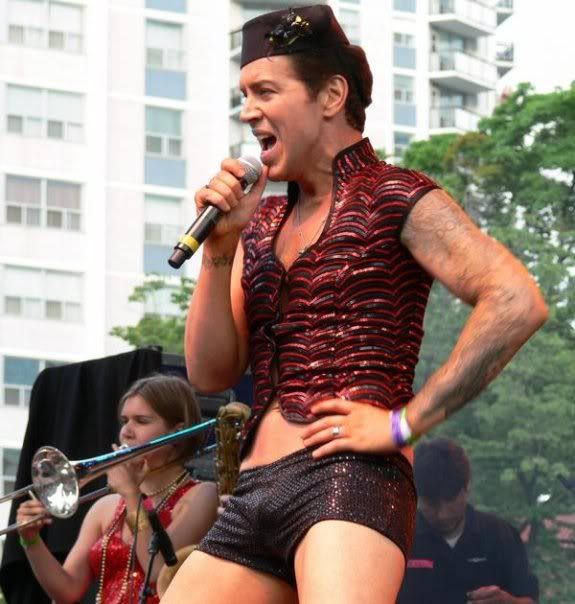 Kelly:  It really is a combination of many different things that I love…. a rather broad and vast spectrum of musical styles that have truly influenced me.  It's unique.  It doesn't really sound like anything else.  That was part of the challenge for bookers.  They'd say "I don't know who to put as local support for you in this town.  I can't think of anybody who would work really really well."  So I don't make a list of what it sounds like.  I tend to list what influenced me.  In particular for [Modernism], on the front of my brain for the whole time were the Latin influences of mariachi and flamenco which were a paramount importance for me, although people who might listen to it would only hear a slight flavoring of that.  The optimistic attitude was something I really had to work at.  I really wanted it to be, with the exception of a few songs, a very happy album.  Very danceable and not a lot of slow introspective songs, but a very optimistic sort of approach.  The ska thing is always there in everything that The Kellygirls do, which is interesting because I didn't listen to a lot of ska when I was a kid.  It certainly isn't something that I have in my CD player a lot.
Sam:  You talk about it being a happy album, and it is.  It is very upbeat and very high energy.  I find your show high energy, but some of the songs, like Better Times, are very bleak.  But at the same time its probably one of my favorite songs on the album.
Kelly:  That's a very personal song.  Bully and Better Times are probably the two more "downer" sort of songs on the album, but when I looked at the whole thing I said that I can't cut those songs.  I want those songs out there and I want them on the album and even though their not as optimistic as the rest of the record I still want them out there.
Sam:  It adds a more personal dynamic.  Are those the only two really personal songs on the album?
Kelly:  Everything is very personal.  Absolutely.  I've never really written as a third person.  I'm not really good at doing that.  I love listening to songwriters that are storytellers and they can just create a story that they observed somewhere or they know of or they take the prose out of themselves and turn it into something that is not about themselves.  But I just can't do that.  I take life very personally.  I take being on this planet very personally and literally and everything I write is very much about me.
Sam:  Has the album been fairly successful?
Kelly:  More so then anything I've ever done.  For sure.
Sam:  How does this album differ from your other work?
Kelly:  I think I planned better for this one.  That is probably the biggest difference.  Swing Swing, the first Kellygirls album, came out and literally the band had been together for six months and when we recorded that and I was straight out of my previous band and there was not a lot of fanfare around it and we didn't really tour a lot but we managed to move some units and get people interested in the Kellygirls.  When the second album came out, We Love You But, that was a knee jerk reaction.  It was like "I got all these songs.  We should record them now" and that was more of a slow building of momentum.  Especially with the song Catherine Deneuve.  The video for that came out six to eight months after the album had been released.  The album really picked up the momentum with that song in particular.  But [with Modernism], because I've been planning it for so long and I got a really great grant to make the album, the writing process took longer.  I really invested a lot of time in doing that.  The planning of the tour was long.  It's really been a year and a half that I've been working on it – from the second I started writing it until two days ago when the tour ended.  It's been a long process.
Sam:  I read somewhere that you actually learned Italian in order to write some of the Latin parts of the album.
Kelly:  I did.  Yeah.  I don't speak Italian or Portuguese.
Sam:  How difficultly was it to start writing in another language?
Kelly:  Not hard at all.  I was so excited to start doing that and I sourced two acquaintances of mine to write lyrically with me and to teach me, initially phonetically, to speak in those languages and then my desire to succeed took over and it happened.  There was an evolution there when I got more comfortable on my own, but it was something that I was really really excited to do and I was so happy to do it, and I want to do some more of that in the future.
Sam:  Well after Better Times, my favorite song is Tarantino which you sing entirely in Italian.  I fell in love with it when I saw you perform it live.  Is that actually about Quentin Tarantino?
Kelly:  You know, here's what.  That's one of the few situations where I wrote the music before I wrote the lyrics.  I came up with the horn line, as I was working with my guitar player and my bass player and fleshing out the music for the song, and I thought that it sounded like a song from a Quinton Tarantino movie.  It just sort of flew out of my mouth.  I've always really loved him as a director.  I adore his work for the most part.  So when I sat down with the gentleman who wrote the lyrics with me, I started pulling imagery from [Tarantino's] films that I really like and we worked with that thematically.  It is about him.  Also my husband's mom's maiden name is Tarantino.  There is a duo connection there.  I'd love to be Italian.
Sam:  I just assumed that maybe you were.
Kelly:  No.  All I can carry on is the basic slang language.  Other then that I couldn't carry on a conversation.
Sam:  Now the band that you are with now is a pretty new band.  You pretty much got rid of the original Kellygirls.  What happened to them?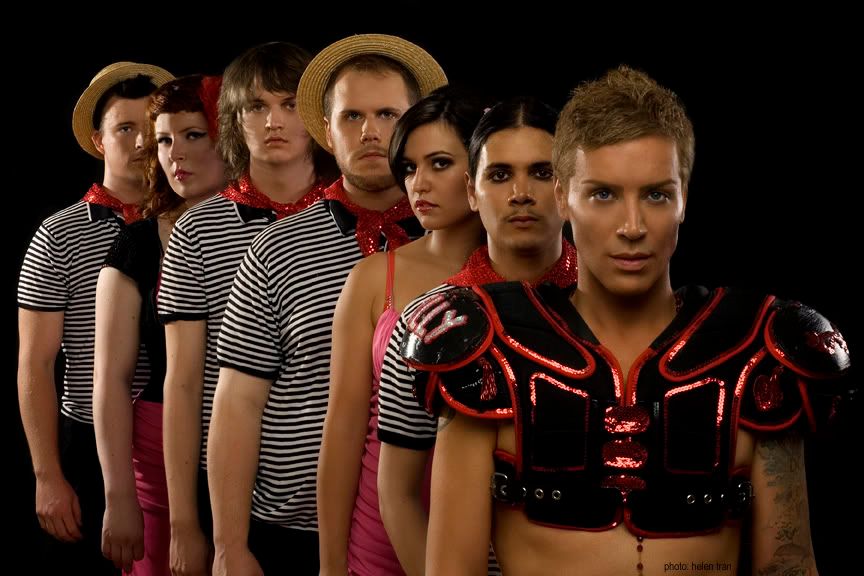 Kelly:  After the tour for We Love You But, which was across the whole country, I decided to take a break, which I'm in a similar head space right now, and after about six months I sent [the band] a note telling them that I had to take some time off and that I didn't know if I wanted to do it again and they were all like "Fine…no problem."  Then this opportunity came to go to the UK in 2007 and I sent them all a note and said "You know what, I think I need to rethink this.  I need to get some new influences involved and its not that things had ended terribly at the end of the last tour, but I need to reinvent this for myself because I need to get the excitement back if I want to get back on the road."  And they were all fine.  They all play in a plethora of bands and they all had a million things on their plates and nobody was particular distressed or upset and I'm still friends with them all.  Some of the band that you saw have been with me for over three years, and some of them are brand new.
Sam:  How did you find everybody?
Kelly:  The great thing about having a community of artists in your life is that you can resource anybody for anything.  I remember how I found Zackula, my current drummer, was that one of my musician clients [from my job as a stylist] came in and I said "I need a new drummer" and she said that I should call this girl.  I've always envisioned me with a full band of girls.  At one point in time I thought that'd be a total blast.  So I called this girl and she said "Oh, I'd love to but I'm to busy but you should call this guy Zack" so I called Zack and thats how I met him.  So through this maze of connections that I found the right people.  So I found Zack, and then I didn't have a bass player and I was trying to find  a bass player on my own and that wasn't working out and I was hitting a series of dead ends and I asked Zack if he knew any bass players and he said his best friend was amazing.  So that's how I met Nestor.  And the horn thing is a community all of its own.  The horns are just a wild group of people in the corner over here.  The thing is that the moment you know one of them, you know twenty of them.  Alison joined the band about a year ago and I resourced her and said do you know any trombone players, and because they are all jazz kids and in concert bands, they all know each other.
Sam:  Your trombone player can have me if she wants me.
Kelly:  I will let her know.
Sam:  Okay.  Sweet.
Kelly:  (Laughs) Just as an aside there.
Sam:  Just as an aside.
Kelly:  That's hilarious.
Sam:  So the Toronto Star once called you "A Toronto gay icon."
Kelly:  Rather daunting.
Sam:  What do you mean by that?
Kelly:  I don't know.  I would like to think that I have an affect on people.  I think that every artist does.  They hope that you reach people in one way, shape or form but the word "icon" is pretty huge.  There are people who, in my world view, are iconic and I was surprised by (being referred to as a gay icon), and embrace it to an extent but it's a daunting thing.  I mean how do you possibly live up to that word.  Nobody would ever view themselves that way.  Well I hope nobody would view themselves that way.  That's something you keep on the outside.  It was very flattering but I don't think of myself that way.  I'm a gay artist.  I'm definitely a gay artist and I'm possibly known for that.  I'm a proud out male and I've been an artist for over twenty years, but iconic?  I don't know.
Sam:  Well how important is sexuality in regards to you work?
Kelly:  I don't think about it much anymore at all.  When I was in my twenties, sure, it was on the fore of my brain to be out and important for me to not censor myself.  The thought of anyone censoring me was just evil but I don't think about that anymore.  I am who I am.  But, the interesting thing is as a Torontonian living in a big suburban center in the new millennium you take a lot for granted.  We have gay marriage now and nobody can be ostracized or put in a corner.  You have an urban view of the world.  But then you hit little places.  A couple of years ago we played Winnipeg's Pride where, I'll never forget that the MC got on stage…and this is 2007 for heavens sake…and said "Thank you!  We need to give a huge round of applause to the police department of Winnipeg for finally supporting Gay Pride here in Winnipeg," and I was shocked!  What?  Just now for the very first year?  You're kidding!  I went and talked to [the MC] later and asked "What had been the response before?  Have they been violent?  Have they been negative?  What had been the situation?"  He didn't give to much detail but apparently 2007 was the first year in Winnipeg that the police force were out during the parade making sure that everything went smoothly and making sure nobody got hurt and making sure naysayers and violent protesters were kept at bay and that kind of stuff.  You take an awful lot for granted.  So although it's not at the forefront of my head as an artist, when I'm out there promoting it I'm very aware of how important it still is for me to be vocal about that.  For me to do smaller Prides across the country and to show that solidarity and that community that fight for people rights is still an issue in a lot of places.
Sam:  Has being a vocal gay artist prevented you from breaking into the mainstream?  I
Kelly:  Quite possibly.
Sam:  I mean the stuff you do is better then, say, Nickelback or OneRupblic.  It's more original.  It's better done, but yet they're….
Kelly:  Honestly Sam, I could sit around, and there are days and weeks and sometimes months where I sit around and scratch my head and wonder why these creative ventures that I have pursued haven't succeeded to, perhaps, my desired response.  But at the same time I have to sit and be comfortable in reaching who I am reaching.  I don't know.  No promoter or record label has ever said to me "I'm sorry, I can't work with you because what you do is too gay."  I've never heard that directly, in those words, but sometimes there has certainly been subtext involved in the lack of response.  There were some cities across Canada where I had an awful lot of trouble booking a show because I was getting no response at all.  It wasn't like it was someone saying "I'm sorry, it's not my thing."  There was just no response.  People would not get back to me at all.  I had a really great conversation with one booker who said "I really like what you do, but I can't see anybody in my city getting into what you do so, therefore financially, I can't get behind what you're doing.  It would be a loss for me" and it was true.  But its 2009.  I honestly think being an out gay man is the last great prejudice, and you can even look historically at people who have come before me, like Freddie Mercury, and Boy George and George Michael and the list goes one, of people who really suffocated that aspect of themselves for a very long time until they reached a level of comfort in their career where they felt they could talk about it.  Because, either the industry pushed it or they did themselves because they knew it would backfire or what have you.  Ever since George Michael came out he hasn't sold as many albums as he used to.  I don't know if that's a co-relation but it could be.  I got a lot more upset about it ten years ago then I do now.  Now I'm honestly  at a place where I feel that I'm lucky and I'm privileged and I can still make music and make all the various elements of all my artistic endeavors that I choose to make without being censored, without being held back and I've always made my own opportunities.  I've been that kind of person since the second I was born.  Because I haven't had a top ten hit doesn't mean what I do isn't valid.
Sam:  Now talking to you now, compared to seeing you on stage, is completely different.  You have a very different stage persona.  You're very vampish and kitschy on stage.  Who is that person compared to who you really are?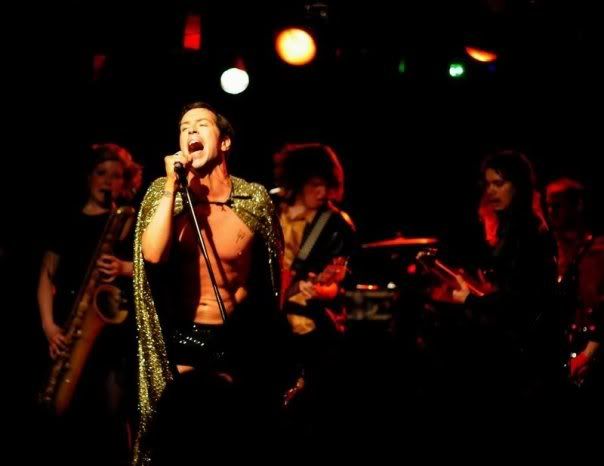 Kelly: I would say that it's a hyper accelerated version of who I am.  I don't know if there are a lot of people out there, especially a lot of entertainers that I love and adore, who have a different on-stage personality that is a disconnect from who they actually are.  I don't think that's my taste.  I do think who I am on stage is a hyper version of me.  And I love the reaction.  It's so easy for me to be high energy and exciting and entertaining when I'm getting a reaction out of the people.  I love responding off of people.  A lot of the banter I do between songs…I love comedians.  Joan Rivers, Sandra Bernhart, Margaret Cho.  I love how they can look at a crowd and latch onto somebody and make a whole ten minute bit of dialogue and hold them like that, so I try to keep that kind of thing in the back of my head and that becomes who I am, but I do that every day too.
Sam:  You have done a lot of different stuff.  You've been an actor, you've been in fashion, you're a photographer.  Would you say that you have worked all of those into what you are doing now?  Is it a sort of amalgamation?
Kelly:  Yeah.  I manage to do them all at the same time.  When I get home the other day I said "I need to stay stationary for a little while."  This album has been a long process.  Longer than anything that I have ever worked on from beginning to end and I need to change it up.  And usually I have all those things going at the same time and I love that constant change, but the album really did take over and I didn't allow myself to do other things.
Sam:  So what's next for you?
Kelly:  I started a photographic series about a year and a half ago which I've worked on slowly and it really fell to the backburner once the album started to take shape and I need to get back to that.  I've had some interesting offers as to acting in the last couple of months and I would like to do a little more of that.  I started writing a play again for the first time in six years and I think I might flesh that out a bit more.  I need to let the muse guide me.
POP CULTURE ADDICT BONUS:  You've read the interview.  Now take the time to listen to what I consider to be the best band of 2009 via our good friends at YouTube!  Also, for more information on Kelly Clipperton and the Kellygirls, please visit the official site at http://www.kellyclipperton.com/index.htm for photos, music, albums and more.
C`mon Boys – The first single from Kelly and the Kellygirls`latest album Modernisim.
Tarantino – The second single from Modernisim.
Catherine Deneuve & The Deus Ex Machina – The song that put |Kelly and the Kellygirls on the map, from the album We Love You But Not As Much As We Love Ourselves
Napoleon – From the album We Love You But Not As Much As We Love Ourselves, featuring the original Kellygirls.
Ferris Wheel – From the album We Love You But Not As Much As We Love
Ourselves.