Sam Tweedle:  Before you were on Leave it to Beaver, what kind of shows could I have seen you on?
Ken Osmond:  Pretty much any half hour show made in the 50's.  Stuff you'd never remember.  Colt 45, The Lawman, Walter Winchell Files…Ozzie and Harriett of course.
Sam:  I've talked to a lot of people that did Ozzie and Harriett.
Ken:  Everybody did one of those once.
Sam:  What was the audition process for Eddie Haskell like?
Ken:  It was a normal process.  I was interviewed by the directors and producers and it was a process of illumination.
Sam:  What do you think it was about you that made the producers of Leave it to Beaver pick you for Eddie Haskell?
Ken:  I don't know what it was, and if I knew I'd be working now.
Sam:  Was the role of Eddie immediately popular with audiences, or was it one that grew over time?
Ken:  The Eddie character developed over the years if you watch the shows in chronological order.  Eddie becomes more "Eddie" as the show goes on.  I think Eddie is a combination of a lot of people.  He's part myself, our directors, producers, writers.  I don't think any one person can take the credit for Eddie.
Sam:  Did you have a lot of room to develop the character of Eddie yourself?
Ken:  Yeah.  There was some leeway.  Of course.
Sam:  So how did playing a character like Eddie affect your life as a teenager?  Were you ever confused for being like Eddie?  Did girls reject you thinking you'd be a wise guy, or did you have problems with potential dates' fathers for being that guy on TV?
Ken:  No, I don't believe show.  There is a little bit of Eddie in everybody.
Sam:  Eddie Haskell has become iconic to the point of becoming a part of the pop culture lexicon.  What makes Eddie so endearing?
Ken:  God only knows.  It's a combination of lots of things.
Sam:  Leave it to Beaver is unique in the fact that it has never gone off the air.  While most shows become forgotten fifty years later, Leave it to Beaver survives.  Why do you think that is?
Ken:  The stuff that Wally and Beaver got into is stuff that every generation gets into.  Every parent knows things that on that show that there child got into.
Sam:  Was there a conscious effort while making the show to keep it timeless like that?
Ken:  Not on my part.  I don't know if the producers were looking for that, but I don't really think so.
Sam:  What was it that made you stop acting and go into law enforcement?
Ken:  Well, I was typecast.  When Beaver went into syndication I couldn't get a job in the industry.  I had a wife and a household to support so I went and got a job.
Sam:  So why did you choose police enforcement?
Ken:  The city offered me a regular paycheck and it was paying pretty decent at the time.
Sam:  Were you ever recognized as Eddie Haskell when you were on the police force?
Ken:  That was a rarity.  You don't see the cop.  You see the uniform, the badge and the gun.
Sam:  There has always been urban myths about you that, obviously, were not true.  There was a long time rumor about you becoming a pornographic actor, and another that you became Alice Cooper.
Ken:  Yes, I've heard them for years, and let me correct you.  There is no such thing as a pornographic "actor."  Okay?  Performer, I'll go with that.
Sam:  Over the decades you've returned as the character of Eddie on TV commercials, sit-com appearances, The New Leave it to Beaver, movie cameos….what is about the character that keeps you coming back.
Ken:  I don't really know.  I just like him I guess.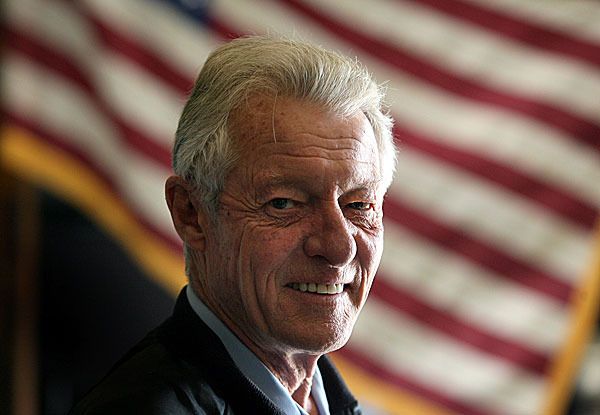 Although Ken Osmond greets fans at autograph shows with that familiar face, albeit a bit older, he does not greet them with the smirky attitude of Eddie Haskell.  A friendly and all around nice guy, Ken Osmond is pretty solid.  We may never be able to define exactly what it is about Eddie Haskell that makes him so endearing to the public, but perhaps Ken has it almost right.  We all know an Eddie Haskell, and we all have a bit of Eddie in ourselves.  Perhaps it's our ability to laugh at the wise guy that hides inside all of us which we don't often allow to the surface.  Eddie says it like we wish we could.
PCA NOTE:  Many thanks to the Hamilton Comic Con for allowing PCA access to all of their guests.  One of our favorite small conventions, check out their web-site for information on their upcoming shows at http://www.hamiltoncomiccon.com.  We're looking forward to the next show in October 2015.