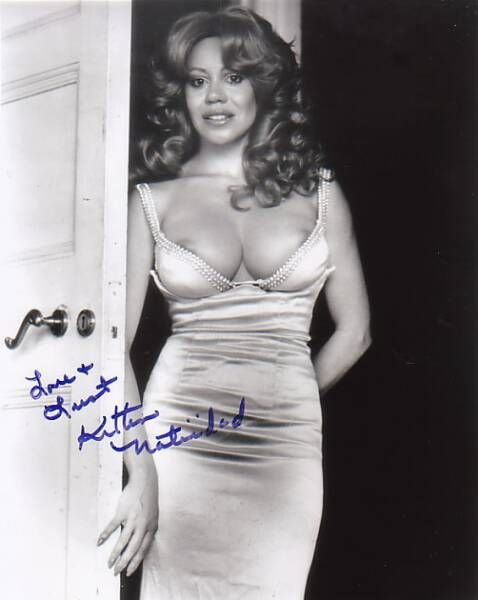 What comes to mind when you think of director Russ Meyer?  Women, sex, comedy, retro camp and, most dominantly, breasts are the elements that makes up the world of Russ Meyer.  The women from his films have become cultural icons to the legion of cult film fans that study his films.  But while Russ and his fans loved women, every now and then one woman would step in front of the rest, making an unforgettable impact that would stay with the audience, and Russ Meyer, for years to come.  Erotica icon Kitten Natividad is one of these truly exceptional women from the sexadelic world of Russ Meyer.  From her first major screen performance in Russ's 1976 film Up!, she stunned audience with her strange performance as a naked oracle, sitting in a tree reading nonsensical poetry.  Yet, despite the bizarre performance, Kitten had that special quality that made the audience fall in love with her, and made Russ Meyer fall in love with her too.  Kitten had all the things that Russ Meyer loved about a woman – the charm, the sense of humor, the glowing personality and, yes, the boobs.  Kitten Natividad and Russ Meyer fell in love, and remained together for fifteen years.
Throughout the 1970's Kitten became a sexual icon as a stripper, an actress and a fixture in men's magazines.  Returning to the screen in Russ Meyer's 1979 film Beyond the Valley of the Ultra-Vixens, Kitten also made appearances in the cult film Airplane! and the hit action film Another 48 Hours.  However, as the 70's turned into the 80's, Kitten's career took another direction.  Linked so closely to the sex industry, and harboring a battle with alcohol and excess, Kitten became a staple of pornographic films, attracting a new type of fan base.  As a result of the demand for Kitten and all of her charms, Kitten has continued to be a major presence in the erotica industry for over three decades.
Today Kitten Natividad is still charming audiences all over the world with her unique combination of wit and sexuality.  Now harboring a third generations of fans who discovered her photos and films hidden in their father's closest, Kitten is still involved in the erotica industry through her web-site at  http://www.kittenklub.com/, Kitten continues to have a special sort of connection with fans throughout the world.  Furthermore, Kitten is back on the cult film radar with her appearance in Cody Jarrett's latest cult film Sugar Boxx which has just become available on DVD.  A tribute to "women in prison" grindhouse films of the 1970's, Sugar Boxx became a favorite on the cult film circuit, and includes appearances by Russ Meyer favorite Tura Satana and grindhouse director Jack Hill.  Playing the villainous prison matron, Sugar Boxx is unlike anything Kitten has ever done before, but has once again strengthened her enormous fan base.
Talking to Kitten is a true delight.  Warm, welcoming and genuine, Kitten Natividad says it like it is, and doesn't hold back.  As a result, Kitten shows many different colors and sides to herself.    Her words are raw, yet sweet.  Her story is filled with love, passion, tragedy and pathos.  Your honesty is refreshing, her tongue can be so biting, but then suddenly turn around and be beautiful again.  She radiates energy of positivity that is purely intoxicating.  There is a reason why the world loves Kitten Natividad.  It's not just because she is beautiful to look at, but her sole radiates as much inner beauty as what is seen on the outside.  What can I say?  Everybody knows that Russ Meyer had good taste in women.
CONFESSIONS OF A POP CULTURE ADDICT PRESENTS
KITTEN'S KONFESSIONS: 
A CONVERSATION WITH KITTEN NATIVIDAD
I spoke to Kitten Natividad via phone in March 2011
Sam Tweedle:  Now I want to make a confession to you before we start this interview.
Kitten Natividad:  Okay.
Sam:  Well, basically, I've only seen your films with Russ Meyer.  I've never seen any of your pornographic films.
Kitten:  Well, you know what?  You're not missing anything.  (Laughs)
Sam:  Why is that?
Kitten:  Because I did it when I was drunk and on drugs and I didn't look my best.  If I had been in my prime and looking good I would have been proud of that.
Sam:  Well let's start at the beginning.  You came to the US from Mexico when you were a kid.
Kitten:  I was born in 1948 in Jaurez, Chihuahua and I lived there with my grandparents for nine years until my mother got married to an American/Mexican from El Paso, Texas and he brought us over.  I was in first grade at nine years old and I said "This is not going to happen to me" so I learnt English in two months and I lied and told them that I was in third grade.  So I skipped a few years but I learned everything real fast.  I'm not a stupid girl (laughs).  I caught up immediately and learnt English.  Whatever it takes I'll do it Honey.  I work best under pressure.
Sam:  Do you still use that as your philosophy?
Kitten:  Yes.  Right now I own a couple of apartment buildings.  Everybody said that all I knew what to do was take my clothes off and know how to screw.  I knew it was challenging but I'm remodeling [the apartments].  Just because I pack a pussy doesn't mean I can't deal with contractors, and I know when their trying to fuck with me (laughs).
Sam:  And obviously real estate is a lucrative business.  Is it more lucrative then the porn industry?
Kitten:  It's more secure Baby!  Oh God I love it.  You know, porn was not a big part of my life.  Now as for stripping – for thirty years I stripped.  Then I did "T & A" but porn was only for eight films, and that was only for a year of my life.
Sam:  Then if that is the case, why do you think that people have focused so much on that aspect of your career?
Kitten:  I don't know, but I'm glad it is because everybody watches porn.  Everybody loves to watch porn, even if they don't admit it.  And that's fine.  It got my name out there.  I did it.  I might as well get something out of it.
Sam:  You started in the entertainment industry as a o-go dancer in the mid-60's, right?
Kitten:  Yes honey, but only because I didn't know how else to get into show biz and I felt that if I was on stage that I was in show business.  I didn't care what it was and in those days go-go dancing was so much fun.  Oh God, I just loved the music.
Sam:  Was there a kinship between the go-go girls at that time?
Kitten:  Yes, because we were young.  We were all growing up and most of my relationships are still with the girls that I knew when I was first starting.  They've been in my life for forty years, although they've moved and they're grandmothers.  I never had children so I would be a grandmother if I had any.  But they all went on to be mothers and lawyers and other things.
Sam:  How did you get involved with Russ Meyer?
Kitten:  Very simple.  He liked strippers a lot because he said it was easier to get a stripper to take her clothes then a real actress, and a real actress just won't do it the best.  He says if I take a stripper and teach her [to act], which worked.
Sam:  When you first met Russ, what was your impression of him?
Kitten:  Oh god.  He was my kind of man.  He was dark and I found him very manly.  Very handsome.  I said "Oh God, I'd like to strap him on."  I was married to a wonderful man but, still, sometimes when the chemistry is there you just can't fight it.
Sam:  Oh.  Trust me.  I've been in that position.
Kitten:  (Laughs) Good.  Good.  You know what I mean.  You just know it the instant you meet them.
Sam:  Now your first movie for Russ Meyer was Up.  Up is a strange movie and you have a very strange and unique presence which is why you are so beloved by the Russ Meyer fans.  What were your first thoughts about sitting in a tree, naked, reciting nonsensical poetry?
Kitten:  It was very very hard because none of it made sense.  I had to learn these lines and it was my first movie.  I was used to performing in front of a live audience, but when Russ would say "Action" and everybody would be quiet, it was very scary.  [Russ would say] "Don't  blink your eyes, and hold in your stomach and don't move your nose down, keep it up" and blah blah blah.  There were just too many things to remember but I did it and he was very proud of me.
Sam:  Well you're quite dynamic in Up.  You are the most memorable presence.
Kitten:  Well that was my prime.  I felt confident physically.
Sam:  By the time you moved over to Beneath the Valley of the Ultra-Vixens, did you feel more comfortable as an actress?
Kitten:  I felt very very good because I was working with someone I had fallen in love with.  He had actually made me his star and I knew that everything was going to be okay because I trusted him.  Everything that he told me to do, and how to do it, was going to be just right.  It made a big difference.  By that time I had already left my husband, which was very very hard on me.  Its not easy breaking up with somebody whether you love them or not.  You don't want to hurt people.  The karma did come back to get me but I did manage to get through.
Sam:  Russ was married a number of times to different actresses from his films.  Was he married when he met you?
Kitten:  No.  He was a single man.  He had been dating the mother of his child.  He has a child you know.  On and off this woman was married.  She was a beautiful lady.  Well they had a child, but I think the child doesn't know that Russ was his father.  It's not a child now.  It's a grown man.  She went back to the father and they agreed that it was best that [the child] never know, but she'd bring him to a gas station when she was pumping the car, Russ would drive up and see him.  He said that [his son] looked like his mother.
Sam:  You and Russ were together, on and off, for more then fifteen years.
Kitten:  We tried to keep it happening, but [after awhile] it was over.  We just loved each other as human beings and we were happy that we did things together.  I cared for him a lot, even after he had Alzheimer's.  He'd have horrible accidents and I'd have to clean him up.  But that was a different sort of love.
Sam:  I often feel that Russ Meyer's craftsmanship and his brilliance as a director often gets looked over due to his sexual subject matter.  Did that ever frustrate Russ?
Kitten:  Russ didn't care what people thought.  He just wanted to do the extension of his imagination, and he loved big breasts.  If people were going to knock him for it, he didn't give a shit.  He wanted to make the best films ever.  He had an incredible camera and paid seventy-five thousand dollars for it, and when we went to these small towns, you bet your ass that he didn't leave it in the room.  He brought it to dinner.  He had a love for certain things, and he really did it no matter what.
Sam:  Russ filled his films full of beautiful women, and they've all become beloved cult film icons to the fans.  Is there any kinship between yourself and the Russ Meyer girls?
Kitten:  We're all friends because we experienced something that was very different.  We experienced Russ and we all loved him.  He brought the best out of us.  I am very close to Haji and I was to Tura Satana.  Raven De La Croix is a little kick to the head.  She's great.  I just wish I got to see them more often.
Sam:  Throughout the 70s, you appeared in various different films, with probably the most famous being Airplane.
Kitten.  Yes.  I went up for various films.  Someone wanted me for some Disney film, but I got turned down because of what I had done in my past.  For taking my clothes off.  Now it's different.  Now if you're a porn star, you're a big star.  So I had to go through all these barriers and open them up for the girls that are now doing it.
Sam:  Throughout the 70s you mainly appeared topless in films.  You were in a lot of the men's magazines.  What kept you in that industry?
Kitten:  Well I loved my body, and I loved being appreciated by men.  I also made a lot of money, and I knew it was only going to be for a time.  You can't show your body forever.  It wears out and it doesn't look good after awhile.
Sam:  How did men generally treat you in the industry?
Kitten:  They treated me fabulously until I became a drunk and then I was a magnet for jerks.  I don't blame anybody but myself for that.  But even Liz Taylor, who had everything, went through her bad period.  It's a way of life.
Sam:  Its one of the things in the entertainment industry.  Everybody has a dark period it seems.
Kitten:  Yeah, but you don't even have to be in this industry.  You just have them.  When I go to my AA meetings there are people of all shapes and forms and walks of life.  It hits us all.
Sam:  Did you have a long battle with alcohol abuse?
Kitten:  Yes.  Way too long, but thank god it's over.
Sam:  How long have you been sober?
Kitten:  About fifteen years.  I didn't start drinking until I was thirty.
Sam:  Why did you start drinking in the first place?
Kitten:  Because I was with Russ and he had me drink.  He said "I don't trust a person who doesn't drink" so I started to pick it up.  He'd drink every night and I tried to keep up with him, and pretty soon I was.  I'm not blaming him, but that's how it happened.  I'm not going to make any excuses for anything I've done in my life.  It's my life.  I didn't mean to hurt anybody in the process.  It's over.  It's done.  It's the past.
Sam:  Do you feel like you hurt anybody?
Kitten:  I've probably hurt some of my husbands probably.  My family, when I was drinking.  You know what I mean?  They cared.  They loved me.  They didn't like the fact I was hurting myself.
Sam:  Are you a happy person?  You sound like a happy person.
Kitten:  I'm happy right now.  I'm single and it feels good.  I think marriage is wonderful and everything but it doesn't work for me.  People say "Why can't you find a guy" and I say "Why should I?  I'm fine."  There are friends with benefits, but why should I?  This is what I want.
Sam:  Do you find that independence empowering?
Kitten:  I find it is like a freedom to come and go as I please.  To go to bed when I want to go to bed.  To watch the shows and the movies I want to see.  Just simple little things.
Sam:  How does one survive in the erotica industry?
Kitten:  Well, there are a lot of jerks in there, and you just have to believe in yourself and weed out the jerks.  There are a lot of guys posing as photographers just trying to fuck you.
Sam:  And I'm sure that happened a lot.
Kitten:  Yeah.  In more ways than one.  You just say "I don't need this crap and you walk out."  That's why it's good to have an agent, and that's why I had an agent.  When a guy says "Lets not involve your agent," that was a red flag.  I'd say, "No thank you."
Sam:  Now your latest film, Sugar Boxx, has just come out on video and has already gained a cult following.
Kitten:  Yes.  Sugar Boxx is going to be a cult film.  There are so many great lines.  All you do is laugh.  It's a very great film.
Sam:  What can you tell me about your role?
Kitten:  I am in a role that is not very attractive, and I don't look attractive and I don't care.  It was a great role.  I play a lesbian prison matron.  I'm an old dyke and I'm very mean and I deserve to get killed in the end (laughs).
Sam:  How did you get involved in Sugar Boxx?
Kitten:  Through my agent.  It was written for another Russ Meyer girl.  But I got it and I did my best and it turned out great for all of us.  He's happy and I'm ecstatic.  It's funny and he gave me some great lines.  It turned out to be a great role for me, and even though I get killed you know I'm loved because the audience goes "No!"  They don't want me to be killed even though I'm a bitch.
Sam: The film is a tribute to the "women in prison" grindhouse films by Jack Hill that were made in the 1970's, isn't it?
Kitten:  Yeah.  It's about women, because men like to see women.  We've got some pretty girls in there that are really adorable.
Sam:  Tura Satana was also involved with Sugar Boxx.  Would you share some of your memories about Tura?
Kitten:  What you saw was what you got.  She was very generous with her love and with what she had.  She always wanted to pick up the check when we went out to eat.  She always gave you gifts.  What a sweetheart!  She tried to put on this [image as if to say] "I'm going to kick your ass" but she wouldn't.  She was a big marshmallow.  (Laughs)
Sam:  So tell me about your Kitten Klub organization?
Kitten:  Yes.  That's for my fans.  I have a big Russian fan base.
Sam:  Why do the Russians love you so much?
Kitten:  I think they are starting to watch the Russ Meyer, and I guess they think I still look the same way that I did.  But it doesn't matter.  They write me and I sell them photos.  They keep me alive.  I also do personal appearances, just like Batman does.
Sam:  When the fans come out and see you, how do they respond to you?
Kitten:  Well, first of all they say "I saw you because my father kept your magazines under the bed.  Those are my fans.  I'm running into the third generation now.
Sam:  But isn't it wonderful that you seem to have that unique connection with men of multiple generations?
Kitten:  Yes, and they go for the same taste that their father and their grandfather had.  It stays in the family.
Sam:  Do you have any projects in the works right now?
Kitten:  One of my friends [and I] are going to put a coffee table book out with thousands of my best pictures.  Put together the story of my life and when I go to do my signings I'll have this big coffee table book full of my beautiful beautiful breasts.
Sam:  Are you finished with films?
Kitten:  I don't say I'm done.  They say I'm done.
Sam:  Why do you think that?
Kitten:  Well you know why.  It happens even to the big stars.  Once you've hit forty they're dependent on the young crowds to go to the movies.
Sam:  But you've become an iconic figure in the cult movie industry.
Kitten:  Well you tell them that!
Sam:  Well if I ever get a chance I will tell them that!
Kitten:  Good!  If they want me I'm here!
Although her career in films may have slightly slowed down, Kitten remains to be a survivor of the erotica industry.  An industry that is famous for exploiting young women, using them up and then spitting them out, Kitten has managed to survive via her brains, her beauty and her sense of self.  Not the most conventional industry to make a long term living in, Kitten has that special quality that has made it work for her.  That, in itself, gives Kitten Natividad her own unique place on the pop culture journey.  Kitten Natividad is a true original, and deserves all the good things that comes to her, no matter how conventional, or unconventional, the path that leads her there.
POP CULTURE ADDICT NOTE: A special thanks goes to Siouxzan Perry from Girlwerks Media for her part in arranging this interview with Kitten Natividad.  I send all my love and gratitude to you Sooz, for opening the doorway to the unique world of Russ Meyer for fans throughout the world.  Thank you for continuing to work with PCA!