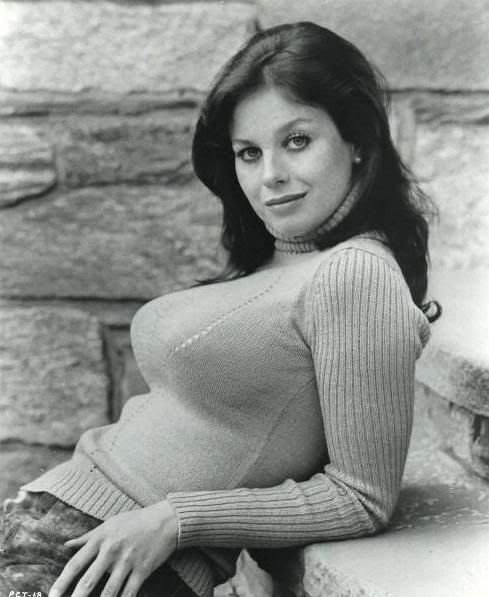 There is a special place in my heart that belongs to Lana Wood:  I seriously adore her.  From the moment I met her I was taken by her high energy, her enthusiasm and her big personality.  Lana Wood is one of those rare, genuinely nice people that you meet along the pop culture journey.
Lana Wood was born into the luxurious Hollywood lifestyle where film studios and movie stars were just a part of her everyday life.  Of course it was no wonder considering that her big sister was none other then Hollywood icon Natalie Wood.  As a result, James Dean was just a guy who came over to the house to pick her sister up, and John Wayne was just a guy at work.  Starting her acting career at the age of eight in John Ford's Western classic The Searchers, the sights and sounds of Hollywood were just part of her everyday existence.
While her sister became a star on the silver screen, Lana toiled as a child actor on television, doing guest appearances on programs such as Playhouse 90, The Real McCoys, and The Fugitive.  However, during a brief pause in her acting career to attend high school like a normal teenager, Lana transformed from a cute little girl to a voluptuous, raven-haired beauty queen.  Upon re-entering the world of show business, Lana's career hit a turning point  in 1966 when she took the role of Sandy Webber in the hit television version of Peyton Place. 
It was in 1971 that  Lana finally escaped the shadow of her sister's superstardom and made her own unique mark on the pop culture journey when she was cast opposite Sean Connery in Diamonds Are Forever as bright-eyed and optimistic Bond girl Plenty O'Toole.  A favorite with Bond fans, the character became infamous when Connery uttered "Named after your father perhaps" in response to her innuendo charged moniker, creating one of Sean Connery's most infamous lines.  With her perky attitude and unique dialogue Lana's portrayal of Plenty O'Toole captured the hearts of thousands of Bond fans worldwide.
For me, it was over two days in Toronto that Lana Wood captured my heart.  Working at an autograph show that Lana was attending, she and I became fast friends.  Despite being, unbelievably, a grandmother of two, Lana still has the same bright eyes and voluptuous curves of Plenty O'Toole, but four times as much wit and charm.  Over the weekend Lana spoke to me about many of the joys, as well as some of the sadness, which have occurred in her life and, as a result, I developed a certain devotion to Lana by the end of the weekend.
When it came time to do this interview, and the tape finally began to roll, I felt like we had already talked about everything there was to talk about:  there was no way to recapture two days worth of stories.  However, already quite comfortable with each other, Lana managed to repeat much of it again for me as fresh as the first time I heard it.  Come and join me as I talk to Lana Wood about her childhood in Hollywood, her career, her unique role as a Bond girl and her relationship with her big sister, Natalie Wood. 
CONFESSIONS OF A POP CULTURE ADDICT PRESENTS 
PLENTY O'LANA: 
A CONVERSATION WITH LANA WOOD
I spoke with Lana Wood in Toronto in September 2009.
Sam Tweedle:  You started acting as a child at eight years old.  How did that start?  Were you pushed into it?  Did you have a desire to get into acting?
Lana Wood:  What do you desire at the age of eight?  How are you pushed?  You are told "This is what you're going to do" and you do it.  So I didn't really feel one way or another about it.  My mom had heard that they were looking to cast a little girl to play Natalie as a child in The Searchers and I guess she arranged for an interview.  I came in and met John Ford and John Wayne, and John Wayne lifted me up and said "She'll do" and that was it.  I went to work.
Sam:  What was your impression of John Wayne at that time? 
Lana:  He was big.  I remember thinking "Wow.  That's a big man!"
Sam:  Do you have any memories of working with John Wayne?
Lana:  He was very sweet.  He was quiet around me, but what our little ritual was is that he would come up to me every morning when I'd come on the set all dressed and made up and he'd pull out a tin of Allenbury's Black Currant Pastilles and open them up and set it down in front of me.  I'd take one and he'd say to me (whispers) "Take another one."  I'd take another one; he'd give me a poke in the ribs and walk off.  He'd do that every morning.
Sam:  How about John Ford.
Lana:  John Ford didn't like children too much because he really didn't have too much to do with me.  He yelled at me a few times because I wasn't bending over properly at the grave site with the dog, and that was about it.  The one who was incredible towards me was Jeffery Hunter.  Oh my god.  He was so lovely.  He was the only one who would kneel down and sit down on the ground and be at my level and actually talk to me.  Ask me how I was feeling, what was I doing, is everything all right.  He was incredible.  Sweet, kind and really interesting.  You could tell when you are a kid [the difference between] somebody who is talking at you and someone who really really cares.  He was phenomenal.  I have the loveliest memories of him.
Sam:  When you were first starting out as an actress did Natalie have much influence on you?  Did she help you along?
Lana:  No, not really.  She was working on films and I had moved on to television so my Mom was sort of splitting up time.  I had people who would take me to work to watch over me because when you're a minor you have to have an adult with you at all times.  I remember on Five Finger Exercise the boy who lived next door, who happened to be eighteen years old, took me to the set.  It was very fun.  But I didn't really feel that I had an [acting] career as a child.  I was just doing what I was asked to do.  So it isn't like I considered it anything more than my everyday life.  Sometimes I go to school.  Sometimes I go to work.  It didn't concern me at all.
Sam:  Now you were telling me about the story where you met James Dean.  I was wondering if you could tell it to me again.
Lana:  James Dean came to our home at Valley Vista in Sherman Oaks to pick up Natalie for dinner, and at the time I had a friend of mine over and we used to do these funny little things that kids do where if you turn off all the lights and take a flashlight and you wiggle it up and down real fast on the other person and every movement you make makes it look like an old time movie.  So we put on this show for James Dean and made him sit and watch it.  And he was very sweet.  He was smiley and quiet and I got a very dear feeling from him.  And he was patient.  He sat and watched and gave the appropriate applause.  He was adorable.  I didn't know who he was.  He was just a guy who was taking my sister to dinner.  I was nine years old.  What did I know?
Sam:  So you moved into television.
Lana:  As a kid I did Playhouse 90, The Real McCoys, Have Gun Will Travel, whatever was on at the time.
Sam:  During your TV career, before you got on Peyton Place, was there any program that was special to you?
Lana:  No, not really.  I don't think so.  I really just took it as work.  I liked it, but it was just a job.
Sam:  There was a large age difference between you and Natalie.  How close were you two?
Lana:  Very close.  I mean we had fights.  All families have fights but unfortunately what we realized, many many years later,  right before Natalie passed away, is that my Mom was the big instigator in that because she felt if she could separate us, she could control us.  If we banded together too much she'd be out of the picture.  So it was a little unfortunate and it dawned on us [as late as it did] and we sat talking about it into the wee hours of the morning because we were astounded that we had this epiphany.  My Mom didn't do it viciously but she always wanted to be a part of Natalie's life and she always wanted to be able to control things.  She didn't want her to be attached to anybody else. [Natalie] was more like my Mom than my Mom because when I would get in trouble I would go to Natalie.  If I needed advice I went to Natalie.  When I ran away from home it was because I didn't want to act anymore since I was going to be taken out of school. I was really happy in junior high, dating and going to football games and doing all kinds of cool stuff. I went to school [that day]; went to a phone booth and called Natalie. I said "I don't want to act" and Natalie said "All right.  I'll send RJ to pick you up" so [Robert Wagner] came and picked me up from school and I stayed with them for about a month or so until my Mom calmed down and she promised that she would not try to get me to work anymore.  So I was able to go through junior high and high school and have a terrific time.  When I got out of school, I was really young and I took a job in clothing sales in a ritzy little place called Jaxs in Beverly Hills and Neile McQueeen came in one day and she spotted me and said that they were looking for a girl for an episode of Dr. Kildare and it was a great role being directed by Leo Penn and that I should go out for it.  So I said "I don't know" but she said "No. Go, go, go" so I did and I got the part on the first day and I left the set and I thought "Oh my God.  This is what I like."  But I didn't know before.  I had to get to the point where I could say "Yes, this is what I want."  So from that point forward I started working like crazy on TV.
Sam:  Was Peyton Place a turning point for you?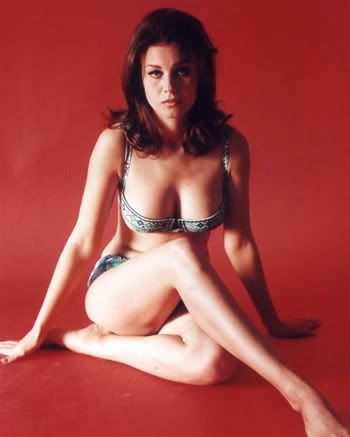 Lana:  I think so.  I was finally in an adult role and [20th Century Fox] had put me under a seven-year contract.  The first series though was The Long Hot Summer.  I was put under contract [for the television version of] The Long, Hot Summer where I played the Lee Remick role.  I played Eula.   They shot the pilot, sold it, and then the network cast the entire show except for me, so it was very peculiar.  It went on the air, we did thirteen episodes and we had incredible directors like Mark Rydell and Leo Penn, but the show didn't last and I was under contract [so] I was put in Peyton Place.
Sam:  It was Peyton Place that put you on the map as a seedy "bad girl" type.
Lana:  It was a flashy role.
Sam:  Were you doing those kinds of roles before Peyton Place?
Lana:  Well Eula, on The Long, Hot Summer was a little sex pot from the "wrong side of the tracks" as well, so Sandy Webber wasn't a far stretch from Eula.
Sam:  Why do you think you got those roles?
Lana:  I imagine physicality.
Sam:  Your most famous role is Plenty O'Toole from Diamonds Are Forever.  How did you hear about that role?
Lana:  Tom Mankiewicz, who wrote the screenplay, has been a dear friend of mine my entire life, and he thought of me immediately because he ran into me when I was doing a film at Fox called Little Ladies of the Night with Linda Purl and I was playing the bad madam.  [Tom] said to [Diamonds Are Forever director] uy Hamilton "That's the girl we need."  He showed him the film and they brought me in and he said "Look tall" which was cute because I'm 5'3".  I chatted briefly, left, did something else and then got a phone call from my agent.
Sam:  What I love about Plenty O'Toole, compared to all the other Bond girls, is that she is very happy and positive.  Your dialogue is very unique.  Instead of things like "Hello Mr. Bond" you say things like "Gee, you're a really great guy!"
Lana:  That was a choice I made.  Guy Hamilton was very sweet and I sat him down before we started filming and said "Look.  I'm very concerned because I play the sex pot.  The temptress.  Stealing husbands and this and that."  I said, "She's a shill.  Plenty's a shill.  Plenty's not the kind of girl you want to take home to your mom.  This could be an unlikable character or one who is easily forgotten.  What I would really like to do is a combination of Minnie Mouse and Leigh Taylor Young."  It's what [Plenty O'Toole] does for a living.  She's a sweet girl and she looks upon that as a job.  She's not the sharpest knife in the drawer, and [Hamilton] said "Whatever you want to do is fine."  I said "Really?"  He said "Yeah.  Do whatever you want."  So I actually spoke in a higher register and tried to make her just Plenty. 
Sam:  Big eyed and enamoured.  It was small, but very memorable.
Lana:  Well it wasn't that big after they clipped the heck out of it, that's for sure.
Sam:  What was working with Sean Connery like?
Lana:  Sean was fabulous.  I knew Sean before I got there.  I had friends in London and France and I was invited to dinner to his house a couple of times when he was married to Diane Cilento, so I knew Sean and felt very comfortable with him.  When I first saw him [during Diamonds are Forever], I ran into him in the lobby when I was checking into the hotel on my first day and I got my finger stuck in the wire of my cat carrier, because I was traveling with two cats.  They didn't have my room ready and [Sean] walked by and said "Take her to my suite.  It's fine.  I'll be working on the set all day so make yourself at home."  I said "Thank you" and we became best buddies.  We saw a lot of each other when we were filming.  He then worked on a movie with Natalie called Meteor and we all spent a Thanksgiving together, which was lovely.  He met my daughter Evan and she adored him!  Sean has a special quality.  Everybody likes him.  Men like him.  Women like him.  Dogs like him.  Everybody likes him.  I adore him.
Sam:  What did you think of Diamonds are Forever when it was released?
Lana:  The studio had sent me off on a world tour.  I went to so many countries that I can't even begin to tell you which ones I hit.  I don't think I missed any of them.  I spent three weeks alone in Japan.  So I didn't have time to see the film.  When I came home a couple of friends said "Let's all go!  Let's go to Grauman's Chinese."  We all went to the theatre and I got my popcorn and Junior Mints and my big soda and set everything on the floor and got everything arranged and was watching the movie.  I leaned over and got my popcorn and shook the bag to make sure that the butter hadn't gotten stuck in one spot and messed with my popcorn a bit and then I looked up [at the movie] and realized "Oh my God!  I'm dead?"  It was so startling.  What happened to everything in between? What happened to the whole explanation of who Plenty was?  Oh, I was devastated.  If I had known they were going to cut it like that I wouldn't have gone on tour.
Sam:  Do you care to talk about your book, [Natalie:  A Memoir by Her Sister]?
Lana:  Sure.
Sam:  Now the book has been said to be a very controversial book.
Lana:  Not in the least.  I thought it was so boring that I thought it wouldn't even do well.  I didn't even want to write it when it was first broached to me.  It was [suggested] by my agent who was representing me as a producer.  He took me to lunch because he wanted to know how I was doing because of Natalie's death and we had a long lunch and I started telling Natalie stories and he said "Gee, that would make a wonderful book."  I said "No, not really" because we weren't into drugs and not into this or that and there wasn't anything.  It was our sweet little old lives.  He said "No, no, you're wrong.  Do I have permission to ask around about it" and I said "Do whatever you want."  He left and I never thought a thing about it.  Twenty-four hours later I got a telegram from GP Putnam and Sons through my agent saying they had structured a book deal and my book was due on such and such a date.  I was like "What?  Oh my God!"  I had a deadline and I had to go to work, but I was working as Director of Development over at Warner Brothers at the time so it was a little tough because I had a very busy, full-time life.
Sam:  So if the book was not, in fact, controversial, why does it have that reputation?
Lana:  I guess because certain people would like it to be.  There was nothing controversial about it in the least.  I was tougher on myself because I had the right to be and there were certain things that I absolutely did not say, but it was touchy for other people because they were afraid I'd say things that I knew I shouldn't say, but I didn't.
Sam:  Your career was fairly quiet by the mid-1980s.  What happened to you?
Lana: I hadn't done anything because I did get blacklisted in this industry.  Somebody decided that I shouldn't work anymore.  I actually used to work for Sprint.  I took care of their major accounts.  I became at very good at telecommunications.  I was doing a lot of different things, and then my Mom burnt her place down and I moved her in with me. I had a two-bedroom house.  My daughter had just gotten married and they didn't know where they were going to go or what they were going to do yet and then my Mom was diagnosed with Alzheimers so we moved out of that house and we bought a house in Thousand Oaks. It was me, my daughter, my son-in-law and my Mom.  She was not in good shape.  She deteriorated rapidly and she passed away after five-and-a-half or six years.  I never sent her anywhere.  I was her caregiver.  Everybody used to get on me and say "Put her someplace.  They'll take better care of her" because it was so emotionally and physically draining.  I felt like I had been thrown under a truck.  But I had promised her when she was still coherent that I would not send her away.  One day somebody finally talked me into it and I found this really nice facility in the Valley. I took her there in the afternoon and at seven o'clock at night I came and picked her up.  I couldn't do it.  They said "You can't take her" and I said "Give me all her medication.  She's my Mom and I'm taking her out."  So I cared for her until she passed away and I had not been able to work for that entire time
Sam:  In the last few years you have done a number of projects, and have a few films currently in production.  You seem to be having resurgence.  How did that come about?
Lana:  I haven't the faintest idea.  I was contacted, on-line through my e-mail address from my web-site, by a gentleman by the name of D.J. Perry who makes some wonderful little films.  He's an incredible writer.  A while ago I had seen him on something and I wrote him a little note telling him that I really admired his work.  He contacted me and said "I have this film and I want you to do it."  I thought "What?  Yeah, yeah, sure."  Lo and behold they came up with an offer and a script.  It was The Book of Ruth.  It was one of the nicest experiences I've ever had, and I've worked with some incredible crews but these people were so phenomenal that I was absolutely blown away.  Every single person was so into what it was that they had to do for the film, and it was not the easiest shoot for the film.  We were out in Arkansas but it was a fabulous experience.  It will be on the Bible Network and obviously they are hoping to sell it other places as well.  From that the production company signed me to do three more productions for them and have sent me scripts.  I'm doing another one with DJ on November 1st called Renovation.  That's a horror film.
Sam:  Is there any sort of project that you would like to do now that you are coming back into films?
Lana:  There are very few roles that you could offer me that I couldn't find some kind of merit in.  I would like to play extreme characters at this point in my life.  That would be great:  a homeless person, or a harpy, or a murderer. 
Sam:  Have you ever thought about working with someone like Quenton Tarantino or Rob Zombie.  They would probably hook you up in something like that.
Lana:  I don't even have an agent.  The things that have come to me just have fallen out of the sky.  It's bizarre.  If I ever find an agent perhaps they will suggest me.  I'm not done yet.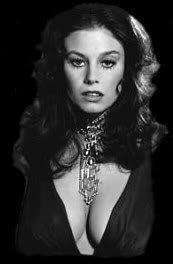 This conversation is only a snapshot of so many stories and talks that Lana and I had over two days.  Obviously some of the more controversial discussions were had while the tape recorder was turned off.  Lana's comfort in confiding in me was a gift that I cherished. My time with Lana was truly eye-opening.  While watching her interactions with the public, I was astounded by Lana's strength of character as she was often forced into potentially painful dialogues with film fans who wanted to talk about some of the darker moments in her life.  However, even through these moments Lana deflected these questions with a blast of positivity  and a smile.  That's probably why I came to love Lana Wood the way I did.  At the end of the weekend I struggled to carry her huge purple suitcase down to the hotel lobby, where a van waited outside to take her to the airport.  I had trouble holding back tears as I hugged her and said goodbye.  I didn't feel like I was just saying goodbye to another of the many celebrities I've encountered and interviewed:  I was saying goodbye to someone who had become a friend.  My time with Lana Wood has become one of the most cherished moments of my personal pop culture journey.  I only hope that eventually our paths will cross again.
 POP CULTURE ADDICT NOTE:  I would like to send a huge thanks to Carol Summers for introducing me to Lana, and for arranging this interview.  I would also like to thank Bob Kotsopoulos of The Kots Collection and The Show of Shows for putting together the opportunity to meet and interview Lana Wood. Your help in what became such a lovely experience for me will not be forgotten, and is much appreciated.