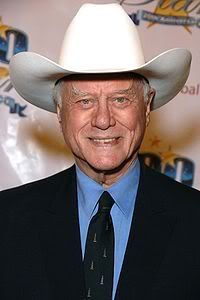 Meeting Larry Hagman is like meeting a member of TV royalty.  One of television's most important stars, Larry Hagman is who you would expect him to be, and he doesn't disappoint.  Dressed in a suit and a huge white cowboy hat, flanked by seasoned sun tanned women with the words "Team Hagman" written in rhinestones on the back of their jackets, it is difficult to separate Larry Hagman from that of his most famous character, J.R. Ewing.  Yet for the fans at Toronto's FanExpo, this is the Larry Hagman that they have come to see, and Larry himself probably wouldn't have it any other way.  With a smile, a "fist bump" and that familiar slight Texas drawl, Larry Hagman seems both cool and friendly, although underneath that hat of his, he is playing all the angles.
Son of Broadway legend Mary Martin, Larry Hagman was raised by his grandmother in Texas, which gave him an expert background for creating the character of J.R. Ewing.  A difficult childhood spent in military schools and a growing resentment for his mother lead to an early drinking problem. Following his grandmother's death, Larry often found himself displaced between New York and Texas.  He eventually found stability in Texas as a teenager when he discovered his own love for acting while in high school.  After a short stint in the air force, Larry returned to New York as a young man and rose through the ranks of the New York theater on his own, gaining attention on both the Broadway and off-Broadway stage.  Eventually his success in New York brought him to Hollywood where Larry became regularly employed in guest appearances on dozens of programs before landing the role of Major Tony Nelson in the classic sit-com I Dream of Jeannie.  Although the role brought him success, I Dream of Jeannie left Larry Hagman unsatisfied.  He craved the stardom that he couldn't get playing the straight man to the beautiful and charismatic Barbara Eden.  He craved something much bigger that he could call his own.  Little did anybody guess that I Dream of Jeannie would just be a stepping stone and that the universe had much bigger things in store for Larry Hagman.
In 1978 Larry Hagman first donned his cowboy hat and took on the role of the devious and often cruel J.R. Ewing in the legendary television series Dallas.  With a sinister grin and a smooth disposition, J.R. was the man that viewers loved to hate.  Sly, cunning and greedy, viewers returned week after week as J.R. made shady deals and betrayed or destroyed anyone and everyone who stood in the way of himself accumulating money and power.  Television's first successful prime time soap opera, Larry Hagman would make pop culture history in 1980 when he became the focal point of television's most famous cliffhanger when J.R. was shot down by a mysterious gunman in the third season's finale.  That summer America was paralyzed by the question, "Who shot J.R.?" Over three decades later the phrase is still emblazed in the pop culture lexicon.  Of course J.R. didn't die, and Larry went on to play the role of J.R. Ewing for thirteen seasons and two television movies.  J.R. Ewing was the role that Larry had been searching for to make him a star, and it made him infamous in pop culture.  Dallas turned Larry Hagman into one of the medium's most iconic figures and television's greatest villain.
But one thing Dallas fans know is that no matter how far down J.R. Ewing seemed to fall, you just can't keep a slick Texas oil man down.  Not even after your TV show has been off the air for twenty years.  Next year Larry Hagman will be returning to the Southfork Ranch when Dallas makes its triumphant return on TNT.  Once again playing J.R. Ewing, Larry Hagman teams up with former co-stars Patrick Duffy and Linda Gray as well as a brand new generation of Ewings who are sure to ignite the small screen with even more shady deals, feuds, betrayal, sex and scandal.  Despite the fact that the new Dallas won't premier until next summer, it has quickly become one of the most anticipated television events of 2012.
Due to his busy schedule and commitment to meeting fans during his appearance at FanExpo, I only had a few brief moments to speak with Larry Hagman and decided to discuss what Dallas fans really want to know – what can we be expecting when Dallas returns in 2012 and what approach does Larry Hagman have to bringing J.R. Ewing back to life?
CONFESSIONS OF A POP CULTURE ADDICT PRESENTS
RETURN TO SOUTHFORK: 
A CONVERSATION WITH LARRY HAGMAN
Sam Tweedle:  I am really excited about the new Dallas series that is coming out next year.  I've seen the trailer and it gives me goose bumps.  How did this project come about?
Larry Hagman:  Oh, about a year ago somebody contacted my agent and they went through the usual stuff you have to go through to get something happening.
Sam:  Were you reluctant to step back into the role of J.R. Ewing?
Larry:  No.  Not at all.  I like to be working at eighty.
Sam:  I guess so.  Was it hard to delve back
into the role after being away from it for so long?
Larry:  No.  Of course not.  I mean, I know the role.  I made it.
Sam:  On the new Dallas, will the rivalry between the Ewing and the Barnes family be reignited?
Larry:  No.  Cliff Barnes is not going to be in it.
Sam:  Will we see any other recognizable faces in it?
Larry:  Well, Patrick Duffy is in it, and Linda Gray will be playing Sue Ellen.
Sam:  Now possibly one of the biggest moments in pop culture history was when J.R. Ewing was shot in the season three finale of Dallas.  You have probably been asked every question ever asked about "Who shot J.R."  However, when that storyline happened, how did it affect your life directly?
Larry:  Well it was like a license to steal.  I was in negotiations for a higher salary and I got it.  They thought Dallas would only run two or three years, but it lasted thirteen.  Based on that, I got a raise in salary.
Sam:  In Barbara Eden's book, she writes that you often were worried that your character Tony Nelson came off as being harsh or a bad guy and you didn't like that.  However, in the case of J.R. Ewing, he is through and through the series star, but also adversarial. Did he become the character you wanted him to be?
Larry:  Absolutely.
Sam:  J.R. Ewing is possibly one of televisions greatest villains, but I've talked to people who have played villains and they often tell me that they don't feel their characters were villains at all.  How about you?  Is J.R. a good man or an evil one?
Larry:  He's a Texas business man.  That's synonymous with "asshole".
Sam:  Does he have any goodness in him?
Larry:  Oh sure.  He loves his family.
Sam:  Well, I guess he certainly does.
In 1995 Larry Hagman underwent a liver transplant that saved his life.  Admitting publicly that he was a heavy drinker nearly his entire life, and was reported to drink up to three bottles of champagne a day while on the set of Dallas, it was questionable to many cynics if Larry Hagman should have received the liver in fear that he would cripple it again with booze.  Over ten years later Larry Hagman is still standing, still healthy and still has so much to offer.  For one thing, if not for that liver transplant Larry Hagman wouldn't be around today to reprise the role of J.R. Ewing, and for the legion of Dallas fans, they know that there couldn't be a Dallas without J.R. Ewing. Nobody can play J.R. except for Larry Hagman.  There are more stories to be told out of the Southfork Ranch.  Thankfully Larry Hagman is still here to help tell those stories.  It just wouldn't be right without him.