Since learning to play the ukulele at the age of five, musician Larry Ramos has spent his entire life entertaining people through music.  From the shores of Hawaii, to the folk clubs of LA, to concert halls and music festivals, Larry's career has been one full of song and surprises, and he has become one of the voices behind some of the greatest songs of the 1960s.  First coming into the public eye as a child by way of Alfred Godfrey, Larry found his first major success while living in Los Angeles when he became a member of The New Christy Minstrels, which had a huge role in popularizing traditional folk music in the early 1960s.  Via the success of songs like Green Green and Walk Right In, The New Christy Minstrels gave Larry  massive exposure across North America via constant touring and television appearances.  But bigger things were to come when Larry quit the group and joined LA based pop group The Association in 1967, just after they rose to the top of the charts with a pair of massive hits – Along Comes Mary and Cherish.  Taking over duties on guitar and vocals, Larry sang lead on The Association's next two hits – the psychedelic feel good pop tune Windy, which embodied the spirit of the Haight-Ashbury generation, and Never My Love, which has gone down in music history as being one of the most played songs on radio.  Through his dedication to The Association, Larry quickly became one of the most visible, and memorable, figures in the group.
In a career that has spanned over sixty years, Larry Ramos continues to entertain audiences throughout North America today.  A key figure in the reforming of The Association in the 1980s, Larry, along with original members Russ Giguere and Jim Yester, continue to keep the music of the 1960's alive, lending their blended voices to some of the world's biggest pop tunes and beloved love songs.  Having created truly timeless recordings, the music of The Association has proved to be as relevant today as it was yesterday.  This summer The Association has been crossing America as part of this year's Happy Together line up.  One of the acts from the original tour over thirty years ago, The Association has been sharing the stage with some of the greatest groups from the era, including The Buckinghams, The Turtles, Mark Lindsay and The Grass Roots, and keeping the music of the sixties alive all summer long.  I was fortunate enough to be able to talk to Larry about the twists and turns of his long and eventful career just prior to the start of the tour in May.  A friendly man with a good sense of humor, Larry Ramos reflected upon his life in music, and the success he found with both The New Christy Minstrels and The Association, offering fascinating insights into the story of a unique figure in both folk and pop.
CONFESSIONS OF A POP CULTURE ADDICT PRESENTS
ALONG COMES LARRY: 
A CONVERSATION WITH LARRY RAMOS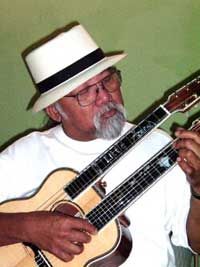 Sam Tweedle:  When this interview was arranged, I had no idea just how much you have done over the years.  You have had an amazing career!
Larry Ramos:  Well I kind of had a leg up, because I started real young.  I started at the age of five.  I didn't really hit my stride until I was seven, though.  (Laughs)
Sam:  Well let's talk about your early influences.  Were your parents musicians?
Larry:  Not really.  My mother sang, and she played a little piano.  One of my earliest recollections is sitting on the piano bench next to her and she was playing and singing.  My mother loved to sing.  I used to sing along with her.  My father liked to sing too, but he wasn't a great singer.  He just did it for his own pleasure.  But he did teach me how to play the ukulele, which started me playing instruments.  I was about three.  I had discovered the husk of a ukulele but it didn't have any strings or tuning pegs, and I asked him what it was and he said, "Do you want to learn how to play?" and I looked at him and said, "Sure."  So that very day he ran down to the music store and got some catgut strings and tuning pegs, and he fixed it and taught me "My Bonnie Lies Over the Ocean."  That was the only song he taught me.  After that I taught myself.  I was born in Hawaii just after the war started in the spring of '42 and there was a lot of music during the war.  I was about three by the end of the war and I used to listen to the radio a lot.  The second song I learned was a tune called "The Anniversary Watch".  When I played it for him he said, "Who taught you that?"  I said, "Nobody.  I heard it on the radio and just learned it."  Well that amazed him, but it never amazed me that I could hear stuff and play it.  I thought everybody could do it! (Laughs)  That's how stupid I was as a kid.
Sam:  Well obviously it came naturally.  You could easily say you were a prodigy.
Larry:  Well, I was very fortunate.  My mother said that I inherited some talent from her mother, who was a musician, and it skipped her generation and came to mine.  Just like my kids aren't talented musically at all.  They like to sing, but they don't play anything. But my grandkids seem to have a lot more [musical] talent, which makes me very happy.
Sam:  When you were just a little guy you appeared in the film Pagan Love Song.  How did that come about?
Larry:  Well my mother was working at a hotel in the gift shop.  During the weekends she'd take me to work with her and I'd sit with her behind the counter with my ukulele and just play to entertain myself.  My uke was like my teddy bear.  Most kids have little stuffed animals they go to sleep with.  Mine was the uke, and I remember going to bed and always having my uke above my pillow, so the first thing I did in the morning was grab my uke and play.  I was playing all the time.  But at the hotel, MGM was shooting the movie on the island I was on, which was Garden Island, Kauai, and one of the people came in [the gift shop] and heard the ukulele playing and asked my mother, "Where is that music coming from?"  My mother said, "Oh, that's just my son.  He's just back here."  Well they looked behind the counter and saw me and they said, "Well we'd like someone to hear him."  The lady that heard me told the producer, who was Arthur Freed, who used to produce all of MGM's musicals in the late forties and fifties.  He came in and heard my play and said, "I'd like to have you in my movie."  So they wrote a scene in for me, and I reprised the song that Howard Keel sang at the start of the movie.  And it came off great. I saw rushes of it when I came to the mainland from Hawaii when we moved and it didn't make it!  It ended up getting left on the cutting room floor because the movie was running over three hours and they had to cut it down.  I heard that Howard Keel didn't want that scene in the movie because it showed him up. (Laughs)  He did say something nice in my autograph book though, which was one of the motivations of my life.  He wrote, "Someday you will be very successful in the music business."  I didn't understand it at the time, because I was only seven years old, but he was right.  I kept that, and I owe him that because he definitely influenced my life.
Sam:  Another person that helped you early on as a child was Arthur Godfrey.  What sort of influence did he have?
Larry:  Well, the movie happened before I won the Arthur Godfrey contest, and that was around '49.  Godfrey took me to New York twice, in '50 and '51, to appear on his radio shows.  We went back to Hawaii, naturally, but some lady saw me playing at one of the luaus in Kauai and she said, "I'd like to see if I could place you in Hollywood."  So she paid for our trip to Hollywood and she brought me to all the major studios.  Warner Brothers liked me, but they said, "You gotta put on some weight."  I was a scrawny little kid of about ten by this time.  What they wanted me for was to be the new Sabu.  Sabu was getting a bit old and they wanted a new kid to do [his kind of roles] and they figured that I could be it.  They gave me about six weeks to put on some weight.  Well I ate like a son of a gun and I couldn't put on a pound!  I just burned everything off.  That was my big failure in the movie industry, but I was still doing stuff on television.  There was a television show in Hollywood called Harry Owens and his Hawaiians.  Harry Owens was a band leader who had an orchestra that played at a hotel in Honolulu, and he took that orchestra to Los Angeles.  They became a television show and I was a semi-regular.  That was around '51 – '52.
Sam:  Around that time you also were working with a stage version of The King and I with Yul Brynner.
Larry:  Yeah.  I auditioned for Rodgers and Hammerstein.  I actually auditioned to them.  I was thirteen and I knew their music, but I didn't know what an honor it was to be auditioning for these guys.  They liked what I did, and they hired me and I went on the road as an understudy for the Crown Prince.  I got to do the role several times for about a month in Toronto.  It was just fun.  Anyways, during the time I was the understudy I was also one of the king's kids so I was on stage every night.  The Crown Prince was a major part in the play, and I was real happy when I got to play the part because I was able to do something I had never done before, which was acting.  It's a lot easier than playing and singing.
Sam:  What was Yul Brynner like to work with?
Larry:  Yul Brynner was the king, and Anna was played by Patricia Morrison.  It was just wonderful.  Brynner used to have classes every week for people who wanted to learn acting and better motivation.
Sam:  I was fascinated to read that you were a part of The New Christy Minstrels.  The Minstrels have always sort of been seen historically as the "square" folk band.
Larry:  [The New Christy Minstrels] were not ethnic at all.  We were very, very commercial.  However, we reached more people than a lot of the real purist acts and since entertaining is the way you reach people, in many respects the New Christy Minstrels were highly, highly successful.  But hardly purist in the folk scene.  That's why we got panned a lot by all these purists who loved stuff Peter, Paul and Mary did.  I love that stuff too, and they were also commercial, but they were more pure because they were only three people while The New Christy Minstrels had ten people on stage.
Sam:  Yet, despite the reputation of The New Christy Minstrels, they still have legendary status for that day and for being so influential on the folk scene during its earliest years.  How did you become a part of that group?
Larry:  In my last year of high school I started going to folk clubs and coffee houses.  In my first year of college someone said, "Hey, why don't you come to this frat party we're having."  I've never been to a fraternity party.  I've never been a joiner of any kind.  But they said, "Yeah, come over and have a beer with us," so I went over there and there were these three guys that had guitars and were playing, and they were playing a Kingston Trio song.  I knew the Kingston Trio from Tom Dooley but I wasn't really a big fan because I thought it was too simple.  It was honestly just basic to me.  I was exposed to folk music in the 1950s after I had done the Godfrey Show, and we had gone to see New York and we went to a place called Auliem, and we went and saw some friends play there.  They had some Burl Ives records and I listened to them and thought they were kind of neat, so I learned them.  I could just listen to them once and I could play them.  The words took me a little bit longer, but I got the music immediately.   Well, when I would go to the folk clubs I would see all these young guys getting work.  They were working these clubs and I thought, "I can do that.  It's so easy!"  So I got together about a dozen folk songs, and a few show tunes that I liked, and I went to this club in southern California and I did a set.  That started me there, and when I was working one night a guy came in and saw me and said, "Hey, I want you to come and meet some people."  I said, "Okay," and we went up to Hollywood. He told me he wanted me for a group.  I said, "What kind of a group?" and he said, "It's a big group."  I said, "How big?"  He said "There are ten people in the group."  I said, "Ten people!  How are you going to make any money?  You have to split that pot a lot to pay ten people."  The first thing he said is, "We got the first year of the Andy Williams Show.  We're going to be on there all season."  Well that made a lot of difference in the way I thought of it.  So I auditioned for them and they didn't get back to me for several weeks.  I thought to myself, "Was I that bad?  Didn't they think I was capable of doing what they wanted me to do?"  I found out later on that they had to clear me with the producers of the show because I was a non-white!  I was the token non-white in the group, and it was kind of funny because they took so many weeks to get back to me and I had forgotten about it, to be honest, but they called me and said, "We want you to be in the band," and I said "Okay, great."  That's how they hired me and I was with the Christy Minstrels from 1962 to 1966.  The successful years for them.
Sam:  But you look at that group and you had some great talent coming out of it.  You had Barry McGuire and Kenny Rogers, amongst other people.
Larry:  Karen Black too.  She was in the Christys.  A lot of people don't know that.  We had some great talent in the Christys.   But eventually the management that bought the Christys ran the group into the ground.  They worked us like dogs.  I was on the road for 350 days of the year for three years running.  The reason I quit was that I got married the last year I was in the Christys.  My wife got pregnant and we had a kid in '65.  I flew home for the delivery because my wife had a C-section, so they had her scheduled for an operation and I knew what date it was going to happen.  So I flew home from the east coast to the west coast, and I got there in the morning going into the operating room.  I saw her when she came out and gave her a kiss, and saw the babies.  We had twin girls.  I gave her a kiss and said, "I love you, but I gotta go back to work."  I was maybe home for about three hours in LA, turned around and got on a plane for New York and never missed a beat.  I did a show that same night.  I never missed a show.  The reason I quit the Christys was because the next time I saw my daughters was six months later.  It was terrible!  I missed all that time that they were growing up as babies, and it killed me. So I told the management, "Listen.  I gotta quit.  I want to see my kids grow up and I can't do that if I'm on the road all the time.  I gotta stop.  I love the band but I've got to go home."  They said, "Well listen, Larry.  If you leave now you'll never work in show business again."  Well that statement is the kiss of death, but I said, "I guess I have to take that chance, because I want to stay home and it's much more important to me to watch my kids grow up."
Sam:  But of course you had bigger things ahead with The Association.
Larry:  Believe it or not, before I left the group, The New Christy Minstrels had recorded Cherish before The Association did.  Although Terry Kirkman, who was the leader of The Association, wrote the song.  I took the place of Barry McGuire in the New Christy Minstrels when Barry decided to leave and record on his own.  Well, before he left he brought in Cherish and we all thought it was a good tune and we learned it and we recorded it.  We wanted to release it, but we had to get a license from the publisher or the writer.  So we were working in LA and Terry Kirkman came over, because he was a friend of Mike Waylens, and after the show the manager spoke to Terry and said, "We want the license to release Cherish.  Could we record it?"  And Terry said, "No, you can't have the license to record it!  That's for my group!  We're going to release it." Well they gave Terry the "kiss of death" speech too.  They told him if he didn't release it that he wouldn't work in show business again.  Anyways, less than a year later I was asked to join The Association.  Believe it or not, Art Hodell, who was the guy who saw me at the folk club and introduced me to The New Christy Minstrels was the same guy who told Terry Kirkman that I had quit the Christys.  Terry was looking for someone to replace Jules Gary Alexander at the time, because Jules wanted to go to India and meet his guru.  They wanted to replace him while he was gone and I said, "Okay."  I had never seen them perform before, but when I joined them they had recorded Along Comes Mary and Cherish.  I came in just before Windy and Never My Love.  I sang on the lead on both of  those songs.
Sam:  How well did you gel with The Association at first?
Larry:  I slipped in very easily, and the reason I think I was successful with The Association was because I had done my homework with The New Christy Minstrels.  Ensemble singing is a lot different than singing as a soloist.  You've got to learn to blend when you're singing with an ensemble.  The Association was no different except that there was only six guys instead of ten.  So it was much easier.  So when I got in with The Association it was real easy for me. I was just very fortunate all through my life, and all through my career.  My wife says that I'm totally unconscious about my career.  She says, "You just do it and it just happens all the time."  I don't think I've had more than two years in a row where I was idle and not doing anything.
Sam:  Now although you weren't featured in D.A. Pennebaker's documentary, it was The Association that opened the Monterey Pop Festival, arguably the best music festival of the era.
Larry:  Well, we knew the Mamas and the Papas very well.  During the sixties they only did about a dozen shows.  They didn't work very much, and I think we did about half of them with them.  We were double billed with them all over the country, and when they got back together again in the 80's, we were doing a lot of work with them.  I knew Cass Elliot  when she was still in the Mugwumps back on the East Coast.  I did not know John Phillips when he was in the Journeymen.  However, our paths would cross.  So when they became successful I was very happy with that because he was a good writer.  We were doing a lot of work with them, when John went back out again in the '80s with the New Mamas and the Papas.  Cass had died and Spanky McFarlane took Cass's place in the band, and Mackenzie Phillips took Michelle's place.  Denny was still singing lead.  The Papas were the original Papas but the Mamas were not the original Mamas.  Anyways, that act was really good.  I loved that act.  Believe it or not, they were as good, or better, than the other.  Spanky is one hell of a singer.  I love Spanky.  Spanky and I are really good friends.
Sam:  I always thought the Mamas and the Papas would be a great subject for a film because they had such a tumultuous story.
Larry:  I wish I could tell you some of the stories I know.  (Laughs)  They were notorious back in the sixties, and a great band.
Sam:  Now The Association was always a bit different from the other bands of the era because of the fact that you had a large roster of six guys.
Larry:  We went up to seven members at one time.
Sam:  Was it difficult working in a group that large with so many different personalities and ideas and egos within the group?
Larry:  Oh yeah.  We were butting heads many times.  It was basically on the taste of music that we were doing.  It wasn't anything personal, but we were all writers and some guys put a lot more importance on their songs getting recorded than other guys did.  I didn't give a damn if they recorded my stuff or not, because I liked my stuff and I didn't have to prove it to anybody.  If you listen to my music, either you liked it, or you didn't.  That was basically the biggest area of contention, when it came time to select music, and that was the only time that we would butt heads.  We head two piles.  The circular pile, which is where we would get rid of songs.  After listening to eight bars of a song you'd know if it would grab you.  That pile was huge.
Sam:  I think Cherish is one of the best love songs ever written.  Never My Love, which you sang lead on, is said to be the most played song on radio.
Larry:  The second most played.  The first most played is You've Lost That Loving Feeling by The Righteous Brothers.  [Never My Love is] one of the most beautiful songs ever written.  The Addrisi Brothers did a wonderful job.  I still keep in touch with Richard Addrisi.  Donald died a few years back, but Richard is still alive.
Sam:  Now Windy is famous for its psychedelic lyrics.  What exactly is that song about?
Larry:  Well, the song is not about a girl.  It's about a guy.  It was written by a gal named Ruthann Friedman, and she wrote it about this guy named Windy.  He was a San Francisco/Haight-Ashbury type and if you listen to it with that in mind you can see how it's a totally different type of song than if you think of it being about a girl.  It's a happy tune, but if you listen to the lyrics you can see how it's about a guy stoned out of his mind. (Laughs)  Windy has stormy eyes / that flash at the sound of lies / and Windy has wings to fly / Up above the clouds.  I mean the guy's completely gone!  Anyways, the guy died from an O.D.  It's sad, but then that's what happens.
Sam:  The original Association disbanded in the early 70's.  What made you guys part ways at that point?
Larry:  Well, everybody got tired.  We worked our butts to the bone and we had to hang it up.  Once we were gone for a couple of years, someone offered us a show and we said, "Alright, we'll get back together for that show." Well, we did the show and once we got back together we thought, "This is ridiculous.  We're a little bit older now.  Maybe we can stand each other for a little bit longer on the road."  So we decided to stay together and see if we could get bookings.  So we stayed together and that was in 1979.  In 1980 we started touring again, and we stayed together until '84 for the [original] Happy Together Tour.  Well, during the Happy Together Tour the guys got tired because we had been out for four weeks.  [They said] "Oh, I can't go out anymore.  My wife wants me to go home."  I swear to God.  Wives have been the ruin of many groups!  Wives or girlfriends.  Anyways, four of the six guys decided to go home.  I said "Go home.  That's cool.  I can't go.  I still owe money." We had borrowed money to get the group working together again because you need finances to buy instruments and equipment.  It's not a freebie.  So we still had outstanding debts, and some of them were held by friends of mine– some of them who decided that they wanted to help the group get back together again– and I couldn't turn my back on my friends.  So I decide that I'm going to finish up the tour.  I'll get guys to sit in with us.  We got the drummer and the bass player and, I think, a keyboard player from Gary Puckett's band.  The drummer was Gary's brother.  They played with both bands.  They just changed clothes.  Well, Russ Giguere, my partner, decided that he wanted to stay too, and I said, "Great."  I figured that if we could just convince one more person we would have half the group and still be original.  We got Jules Gary Alexander to come with us, and Jules stayed with the group for about two years.  About four or five years ago Jim Yester came back.  Jim was gone from the group for twenty four years and he finally came back, which I was happy because he's the first tenor, and when he left I had to sing his part.
Sam:  Are you surprised that the music of The Association is still listened to in the 21st Century?  What's it like to know that the music you guys made is considered timeless?
Larry:  Let me put it this way, Sam.  When we selected the music, we took a long time determining what music we recorded.  The reason for that was because we kept our eyes open to longevity.  We wanted to do songs that would last.  We were fortunate to pick the right ones.  We were inundated with a lot of music that was offered to us.  We turned down MacArthur Park.  We turned down Spirit in the Sky.  There were a lot of songs that we turned down because it didn't sound Association.  Good tunes, but it don't sound like us.  I put a lot of those songs on my first, and last, CD.  Songs that I thought wouldn't apply to The Assocation or The New Christy Minterels that I had written.  The songs come from about four decades of writing from the 50's on to about the 80's.  These are songs that just rattled inside of me.  I thought I'd just keep these songs and eventually I'll recod them.  But a lot of these songs have gone past their prime.  (Laughs) I should have recorded them a long time ago.  But I finally did and I'm glad I did it.  The CD is called Poipourri.  It's potpourri, except it's "Poi."  It's Hawaiian.  (Laughs)
Sam:  And how can people get that album?
Larry:  It'll be available at my web-site at www.theassocationawebsite.com.
Sam:  You know, Larry, to be able to live as a musician your whole life is amazing luck.
Larry:  Yeah.  I just figured that out.  Most people get into one successful group and they're real fortunate.  I've been in two.  I think the only other person I know who has done the same thing, and he is more successful than I am, is David Crosby.  David started with The Byrds and then was with Buffalo Springfield.  The first group he was in was Les Baxter's Balladeers and they were the first copy group of The New Christy Minstrels.  I used to watch him during his folk days, and we were all crawling our way to the top at that time.  There were several folk clubs in Hollywood that we all worked.
Sam:  Well you were starting out in Los Angeles at a very exciting time.  There were a lot of great groups working the Sunset Strip at the time, such as The Byrds, The Doors, The Turtles, Sonny and Cher, Frank Zappa…
Larry:  Yeah, the LA Times had a music issue this June and The Association was listed as one of the fifty best LA bands ever.  I am so happy about that.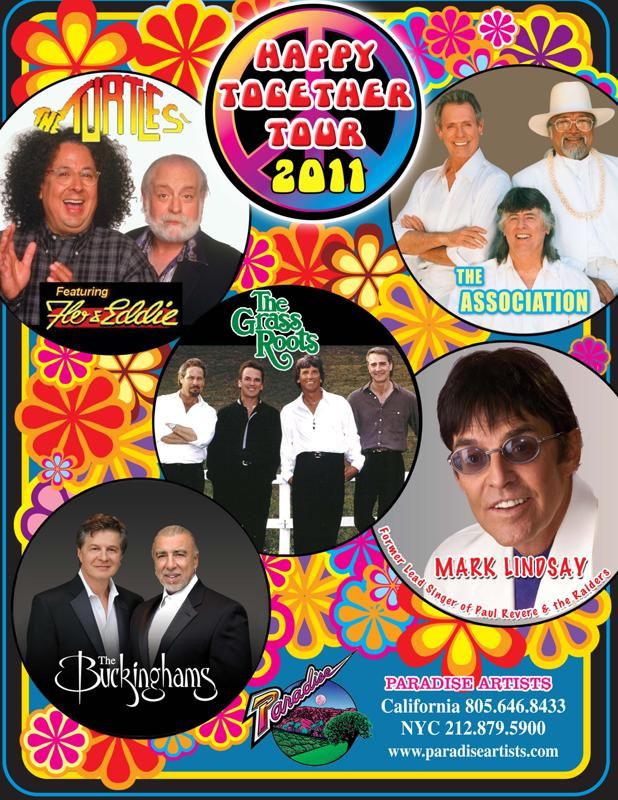 Larry Ramos' music and success in the entertainment industry has gone beyond that of most entertainers.  Not only has he been in two successful groups from two of the defining musical genres of the 20th Century, but, along with his cohorts in The Association, Larry continues to bring in audiences all over North America.   Don't miss The Association as part of The Happy Together Tour as they finish the final leg throughout August.  This is an amazing opportunity to see some of the 60s greatest acts perform the music that has touched our lives, in one big show.  For more information, including tour dates, visit www.theassociationwebsite.com/showdates.html.  Also featured are The Association's concert dates right through 2012, meaning there are lots of opportunities to see this legendary group.  And stop by The Association's website, www.theassociationwebsite.com, for music, news, history and more.  The songs of the 1960s continues to live on, and Larry Ramos continues to play a big part in the history, and continuation, of this unique and wonderful era of music.
POP CULTURE ADDICT NOTE: I'd like to thank Jeff Albright from The Albright Entertainment Group for arranging the opportunity to help promote The Happy Together Tour and for connecting us with Larry Ramos.  Thank you Jeff for an incredible experience.  We appreciate all the opportunities you have opened up for PCA.   
Many of the photos used for this interview were used by permission from Larry Ramos, and are property of The Association.  For more information visit their web-site at www.theassociationwebsite.com.