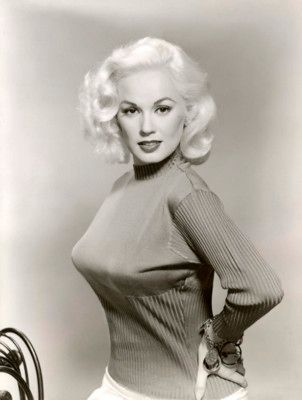 During the 1950's, platinum hairdos were in, and blondes were having more fun.  Hollywood was full of starlets getting their hair bleached to try to be the next big sensation, like the actresses who inspired the trend – Marilyn, Mansfield and Mamie.  Known as "The Three M's," Marilyn Monroe, Jayne Mansfield and Mamie Van Doren couldn't be more different in nature, but they became the era's symbols of glamour and beauty, attracting thousands of followers, admirers and copycats.  However, while Marilyn and Mansfield tragically died far too young, Mamie Van Doren is still with us in 2012 as the last of the 1950's glamour girls.  As vibrant today as she was sixty years ago, Mamie seems to have stopped the clock, and maintains the same beauty and vitality that made her a sensation during the final era of the classic Hollywood studio system.  As a result, Mamie is one of the surviving links that joins the pop culture journey to the biggest legends in all of pop culture.
Discovered by Howard Hughes while she was still a teenager, Mamie Van Doren began appearing in bit parts in a number of his RKO films.  Her career really took off in 1953 when Universal Studios signed her as their answer to Marilyn Monroe, who was a sensation for 20th Century Fox.  Hurtled into the glitz and glamour of Hollywood elite, Mamie Van Doren quickly became a sensation all her own, and was romanced by some of Hollywood's top leading men including Tony Curtis, Steve McQueen, Elvis Presley, Eddie Fisher and Warren Beatty, not to mention a well publicized "relationship" with Rock Hudson.  Mamie started her career as second female lead in a variety of different types of films, but eventually found her own niche, appearing in rebellious "bad girl" roles, which not only gave her an identity of her own, but also often made her far to hot for the Hayes office.  In her tight sweaters, short dresses and perfect bleach blonde hairdo, Mamie Van Doren was sort of like a female James Dean.  One of the first women to star in a rock 'n' roll picture, Mamie appeared in some of the era's top juvenile delinquent films as a "rebel without a cause" in a repressed society where women weren't expected to be rebellious.  An object of desire for the boys, Mamie became a role model to young girls who wanted to "let their hair down," helping to jar open the doors that would lead to the freedom of expression for young women in the decades that followed.
As film roles became less frequent by the end of the 1960's, Mamie turned her focus to the night club circuit and the stage.  She entertained troops in Viet Nam, and published a biography, Playing the Field, in 1987.  Although she hasn't appeared in film or television since 2002, Mamie is still going strong on the pop culture circuit.  Currently writing a second book, she has also written articles for Hustler Magazine and released a coffee table book with photographer Alan Mercer titled Mamie Now in 2010.  Furthermore, Mamie released her very first album, titled Still a Troublemaker, in 2011.  Mamie also maintains her own blog and a continuously updated web-site at www.mamievandoren.com.  Despite the fact that she may be a star of the past, Mamie Van Doren is very much a woman of today.
It was an honor beyond belief to be able to talk to Mamie Van Doren about her life, both past and present, in Hollywood.  Mamie's stories are those that Hollywood dreams are made of, including encounters with some of the most legendary icons of the classic era.  Nobody tells a story quite like Mamie Van Doren can.
CONFESSIONS OF A POP CULTURE ADDICT PRESENTS
DIAL "M" FOR MAMIE:
A CONVERSATION WITH MAMIE VAN DOREN
Sam Tweedle:  You started in show business at a young age.  What was it that made you decide to go into the business originally?
Mamie Van Doren:  Yes.  I started very early.  When I was living in the mid-West in Iowa I would go and see all the movies.  I just loved the big silver screen with all those big actors, and that's when I decided to become an actress, or a "movie star."  In those days it was always a "movie star."  It was just kind of ingrained in me because I think I was just meant to do it.  I think about myself in old photographs where I'm three years old, and I'm posing my leg over, and I never ever saw any pictures to make me do that.  It just all came naturally.  Then I came out to Hollywood and Howard Hughes discovered me in a beauty contest, and that's what sort of started me off.
Sam:  Do you think people are naturally born with the instinct to be attracted to the media, or to show business?
Mamie:  I think it's a gift.  I think you are born with certain things that lead you to where you're supposed to go.
Sam:  What was your first impression of Howard Hughes?
Mamie:  Well he was very craggy looking.  He had a lot of hair on his face.  He had grown a beard.  He had just had that terrible plane crash out in Beverly Hills that had burned him all over his body, and he was a little bit on the gruff side I would say.
Sam:  And you were fifteen when Mr. Hughes signed you.
Mamie:  Yes.  I did five films at RKO for him.
Sam:  When you started working in Hollywood in the late 1940's, just how competitive was it for women?
Mamie:  Well, today we have agents, but in those days we had studio moguls and they were the ones that really built the stars.  In my day you were lucky if you met someone who owned a studio, liked you and got behind you. You could be in a movie right away if that happened.  I worked for it though.  I didn't star in any of Howard's movies.  I was just an extra.  I was considered a bit player.  But it really taught me.  It gave me a lot of the experience that I needed.  There were stars working, and I watched every second of everything.  It's good to absorb it.  Then, when the opportunity came to me I was able to do it.  It was a lot of work.  I got up at 4:30 in the morning to go to the studio.  You had to prepare your body make-up, your facial make-up, and then they'd drive you to the set, and it was a three hour deal until the time you started shooting.  Then, when I first started, we worked on Saturdays.  There wasn't a union.
Sam:  Which of your films do you consider your breakthrough picture?
Mamie:  My first introduction to the big screen was The All American with Tony Curtis.  I starred opposite of Tony in that.  Tony Curtis was wonderful.  He and I hit it off very well and he became a personal friend of mine.
Sam:  You've worked with a lot of people, and there are stories that you had romantic affairs with some of the biggest names in Hollywood.  Did you ever find that you were ever star struck by anyone in particular?
Mamie:  Well I was star struck by Clark Gable.  Of course in those days he was considered the king of the movies.  He had Vivian Leigh and Lana Turner and all these beautiful women in his arms and I was fortunate enough to do Teacher's Pet with him.  Well I had a kissing scene with him, where he was holding me in his arms, and I nearly fainted.  (Laughs) I think I was twenty four, and he was in his mid-fifties, but it didn't matter to me really.
Sam:  Of course, in the fifties, you became one of what was known as "The Three M's."  What studio were you with at that time?
Mamie:  I was at Universal.
Sam:  Was there any sort of marketing going on to put you in competition with Marilyn Monroe and Jayne Mansfield?
Mamie:  Well when I got my contract at Universal, Jayne wasn't known yet.  Marilyn was at 20th Century Fox.  When I started at Universal, it was James Bacon who put the publicity out that my name was Mamie Van Doren and I was Universal's answer to Marilyn Monroe.  That really launched my name.  I took a bunch of sexy pictures, and then they put me in The All-American.  My next picture was Yankee Pasha with Jeff Chandler which was a very sexy role as a slave girl.  If you do one movie after the other, and you're out there all the time, and out doing publicity and romancing the stars of the top studios, you become known.  That is the way it was.
Sam:  Well, one of your romances that is legendary is your romance with Rock Hudson.  Did you know he was gay when you were with him, or were you hired by the studio to be a "beard?"
Mamie:  Well there was a rumour, at the studio, that he was gay.  Outside the studio it was quite unknown.  The studio was like its own little country town.  It was really quaint and everybody knew everybody.  Rock Hudson was very sexy and good looking and nobody really suspected anything like that.  I didn't suspect anything before I got to the studio.  Then, when the studio said that they wanted me to go on a date with him, I had just gotten my contract.  Well two weeks later I'm dating Rock Hudson and, that in itself was a shock to me. He picked me up at my parents place in the valley, and we went to the Golden Globe Awards.  I was so nervous.  (Laughs)  Then we sat with Joan Crawford.  Marilyn was prancing around in her golden lamé dress, and Joan was very jealous of her.
Sam:  Well your real name is Joan.  Weren't you named after Joan Crawford?
Mamie:  Yes.  She was my mother's favorite [actress].  Well she was drunk at [the awards ceremony], but I still loved her.
Sam:  Did you tell Joan Crawford that you were named after her?
Mamie:  Well she did a movie at Universal for Albert Zugsmith called Female on the Beach, with Jeff Chandler, and she was there for a couple of months working.  She came up to the "New Talent Department", where a couple of us young kids were working, and she wanted to meet all of us, so I told her then.  She was very humble and very sweet to me.
Sam:  What was your relationship with Marilyn Monroe and Jayne Mansfield like?
Mamie:  Well, Marilyn and I kind of grew up in the same town and we would run into each other at parties.  She was going with Johnny Hyde then.  Well my drama coach at that time was Natasha Lytess, which was also hers.  So I would go up to (Natasha's) house in Hollywood and Marilyn would be up there.  She was very sweet and I was trying to get a contract at 20th Century Fox, where she had her contract.  Well I was trying to learn a scene and Marilyn said to me "If you don't get a contract at 20th, you'll get it some place else."  Well I wasn't hopeful, but she said "You will."  So she watched my screen test while I was at [20th Century Fox] and she walked me out to my car.  You know, it's so funny because to me she's a person, but to other people she's an idea.  It's very hard to get people to understand when I'm talking about her.  To talk about any of her faults is bad, because she is just as human as you are or me.
Sam:  I've talked with a number of people who knew Marilyn, or met her briefly, or had worked with her, and I've never had a single person say anything bad about her.  Everybody seemed to be mesmerized by her, and loved her.
Mamie:  I know.  She was very vulnerable and very sweet, but there is always another side to people.  I had never seen her other side.  She had things the way she wanted it.
Sam:  Did you know Jayne Mansfield at all?
Mamie:  Jayne came on about five years later.  There was a screenplay written for me called Will Success Spoil Rock Hunter, which I turned down because it was a satire on Marilyn and I didn't want to be compared to her anymore.  Well they got Jayne, who was an unknown, and that made her famous.  Well Marilyn took off from 20th, and went with Arthur Miller, and married him.  20th didn't give her the money she wanted, so I don't blame her.  Well they signed Jayne and then she did a couple of movies [at 20th Century Fox] but that was about it.  She did a lot of publicity though.  She loved to do publicity.
Sam:  So how did you personally feel about being compared to these women?  What did you do to make yourself an individual outside of "The Three M's."
Mamie:  Well at that time none of us thought about how we were compared to each other.  It's later that people were comparing us.  At that moment it didn't cross my mind.  I started doing Rock n' Roll films.  My movies are now cult movies.  Marilyn was doing more sophisticated movies, and Jayne on the other hand, was doing more character roles.  She did one role the same way she'd do the other role.  All three of us were different, and I don't know why they would compare us.  Because we had blonde hair?  I don't even know.
Sam:  Well there is no denying that all three of you had a very different style of acting, and a different presence on film.
Mamie:  Well I really studied hard at it.  Marilyn and I really worked hard and tried to become good actresses.  I don't know that much about Jayne because she all of a sudden came on the scene, so I can't say if she had drama lessons or what she did.
Sam:  Let's talk about the subject of censorship.  Obviously a beautiful woman like you on the screen in the 1950's would be considered threatening to the repressed society of the era.  Did you have to deal a lot with the Hayes office.
Mamie:  Well the 50's were very depressing for me.  It was post war days and everything was very ultra –  conservative.  Marilyn opened the door somewhat with her nude calendar.  She was responsible for being able to bring out the glamour and the sex appeal that everybody was looking for.  Sort of the Ingrid Bergman look.  When Marilyn came out it was great.  I copied her before I became a name.  But I got my own individual look, and then I saw her copying me.  She called me one night and talked to me about the Hayes office.  She was doing How to Marry a Millionaire and they were giving her problems.  I was doing a movie called Aint' Misbehaving.  Our best friend was Sydney Skolsky, who was a columnist for The Post.  He had his office over Schwabb's Drugstore, and he didn't drive so I would drive him to Marilyn's and drop him off.  Well he was our go-between.
Sam:  Was there a film in particular where you were heavily censored?
Mamie:  Well, Untamed Youth was.  The "Legion of Decency" did everything they could to get that film from being released.  In those days rock n' roll films were a no-no, and  nobody had seen a woman do it.  Elvis was doing it, but for a woman to do gyrations and all that rock stuff…well they didn't understand it and they tried to ban it.
Sam:  So you were really groundbreaking in that sense.  You were more ahead of your time than a lot of actresses of the era.
Mamie:  Well thank you for that.  I think I was.  I tried to stay ahead of everybody.  I try to stay ahead of everybody today too.  (Laughs)  I've got so many ideas.  There is so much you can do.
Sam:  Today the tabloids are a vicious thing, but in the 1950's you had the notorious tabloid, Confidential.  Were you ever a victim of that magazine?
Mamie:  Well I had a very good attorney named Gary Gleasner, and he was like my father.  He took good care of me and he kept me out of those magazines.
Sam:  How did your career change in the 1960's from the types of films you were doing in the 50's?
Mamie:  Well, the Vietnam War came along, and as you know everybody started to burn their bras and did a lot of dope and let it all hang out.  Young kids were dying and it was a time of a revolution.  It was wild and LSD was running rampant.  I sort of liked it.  I still had my platinum hair, but I liked to wear it long and all curled up.  So I grew my dark roots and of course, I didn't burn my bra because I never had a bra to burn in the first place.  I never tried to stay in the 50's.  Some of them did.  They never wanted to let go.  I did let go and I changed my hair and I changed everything about myself.  I was able to do what I wanted to do then.
Sam:  Well I think I understand what you mean when you say you didn't want to stay in the 50's.  When looking through your web-site, and at some of the amazing photos that Alan Mercer took of you, it is clear that you are still extremely modern.  You have evolved with the times.
Mamie:  I'm very grateful that I'm still here.  It's hard to talk about people who have died so young.  I was at the Hilton not long ago and I went to the ladies room and there was a picture of Marilyn hanging there.  Here I am, looking at something that happened fifty years ago and I'm so grateful to still be here to see everything that has happened.  It's amazing that I was gifted to be the one that was left.  There is a reason for it, and I'm trying to do all the things that I can.  Pave the way for other women and to help them.  The last book that I had written was called Playing the Field, and in those days you'd call it a "kiss and tell" book.  Now I've changed completely.  My political views have changed.  I've become a different person.
Sam:  Well what is the difference in your outlook in life today compared to, say, thirty years ago?  In what ways have you evolved?
Mamie:  Oh God.  It's a journey I was on.  I've changed considerably.  I've gone from being a Conservative to a Liberal.  I understand things better from another perspective.  I'm smarter and wiser.  Things do change, and if people stay on the same level then I'm in disbelief.  I get bored with people who aren't very smart.  I don't like dumb people.  I don't like to be around dumb people.  It drives me crazy.  I just have to leave.  I'm more worldly.  I'm more understanding.  I was brought up a Christian but my roots are now more Buddhist.  I've come together on both levels.  It's just not that hard for me to intertwine them.  I can understand in me my more spiritual side.  I'm open to every religion.  There's something good in everything.
Sam:  You were part of the Hollywood studio system in its final days.  What do you think are the differences in the acting industry today, compared to the 1950's?
Mamie:  Well the 50's studio system went by the wayside and then [independent films] became very popular.  I think that had a lot to do with the movie industry being more independent and having more freedom to put on the screen what they wanted.  That changed the movie industry, and that's where we are now.  I think some of the actors today are excellent.  We have a lot of good actors out there.  The girls today are different looking.  They are taller and they are not as voluptuous.  They have more muscles in their legs.  Some guys like a lot of muscles on their women.  I like muscles because I don't like flab.
Sam:  Well, once again, when looking at Alan's photos, you have a timeless look.  You seem ageless.  How do you keep looking so young?
Mamie:  Well I got to pilates and I work out.  I keep myself fit.  I don't like to have just muscles.  I try to exercise to keep my breasts firm and nice so they don't hang, because my breasts are large so I like to keep them strong.  I've had cosmetic surgery but I've only done it a couple of times.  I've had a face lift but nothing else.  No botox or implants or collagen.  Nothing.  What I think happens is that actresses and actors go in to see the doctors, and the doctors say something will make them look better, and they believe it.  They do the operation but what happens is that it's too much.  They put the cheek bones too high, and they look like they have little pins in their face for eyes, and they all have that same look.  When I go to Hollywood, I see people but don't recognize them, and that's not good.  They want to look young, and age has always been the "thing" in Hollywood.  It always has been and always will be.  Everybody is so age conscious.
Sam:  Well how did ageism affect your career?
Mamie:  Well when I got my contract I was signed for seven years with a three year option.  I was there five years.  I remember that when I went into makeup, Em Westmore, who was one of the famous Westmore Brothers, did my make-up for me.  I asked him, "How long do you think I'll be doing movies for?" He said, "By the time you hit thirty years old. You've got ten years."  So I thought to myself, "Ten years.  Great.  That's a long time.  I've got ten years to do everything that I want to do."  Well when I hit thirty I was still working a lot and from thirty to forty I was still working a lot.  But when I hit sixty I was not working as much.  I started to do a lot of theater.  I sing and dance so I did a lot of musicals. I went to Europe and worked there, and I went to Vietnam and sang.  I don't know.  I never really stopped working.  It's crazy.  I haven't stopped.  Now I'm writing my second book.  I don't know what the title will be but it's going to be a good book.  It's not just another "kiss and tell."  I'm excited about it.  I wrote five hundred words today and wrote four hundred yesterday.  I want it to be a nice thick book.  I want to do something really different.
Sam:  What do you make of young women today looking up to you as a role model?
Mamie:  I'm very flattered.  It makes me feel good.  I'm always happy when I hear somebody talking nice about me.  It shouldn't be any other way.
Sam:  What is your advice to young women today who are thinking of going into the movie industry?
Mamie:  Well, of course it's a different time, but its just like any career you choose.  If you want to be a good actress, be a good one.  Really study.  It's not that easy.  It's a craft.  Every day you have to go at it.
Sam:  As one of the beauty icons of the 1950's, what is your personal philosophy on beauty?
Mamie:  I think a lot of beauty is always from within.  When a woman is beautiful she radiates the moment she walks in the room.  There is almost a light around her.  There are very few women who have that.
When given the opportunity to talk with Mamie Van Doren, I was thrilled to be able to pick the brain of one of Hollywood's living legends.  However, Mamie was not at all what I was expecting.  Perhaps I bought into Hollywood's stereotype of the platinum blonde, but I was taken aback when I discovered that Mamie Van Doren was one of the smartest and most insightful celebrities I have ever talked with about the subject of show business.  Recording the stories of celebrities is important in order to create an oral history, but Mamie had the ability to remove herself from her past and play with her memories.  Situated entirely in the present, Mamie is able to look back at the past with an analytical mind, and look at her memories through the perspective of even the best cultural historian.  Mamie is more than just an actress.  She is a philosopher.  Mamie's insights could be some of the most valuable that I've ever recorded.
POP CULTURE ADDICT NOTE: I would like to send a very special thank you to Mamie Van Doren's official photographer Alan Mercer for arranging this interview and allowing me to use many of his incredible photos of Mamie.  Your friendliness, openness and trust towards me is so appreciated Alan.  For some of the most personal celebrity interviews on the internet, make sure to check out Alan Mercer's web-site, Profile, featuring his conversations with the show business community from the past and present, and his incredible photogrpahs.
Also, I'd like to send lots of love to the amazing Giddle Partridge for doing the introductions.  Thank you for everything Giddle.