My journey with Herman's Hermits has been a long and surreal one.
When I was growing up there wasn't very many pop albums amongst my parent's collection, but two exceptions were a pair of albums by 1960's hit makers Herman's Hermits, featuring headman Peter "Herman" Noone, one of the era's biggest stars and one of the most important teen heartthrobs of the 1960s.  As a result I've always had a special place in my heart reserved for the band, and in the summer of 2007 my mother and I took in a Herman's Hermits concert.  However, when the band took the stage only one familiar face was amongst the group – Peter Noone.  Peter's show was great!  An evening of all of Herman's Hermits hits sung by the charismatic and entertaining singer.  It was easily the best concert of my summer and Peter was a hit with the audience.  However, I couldn't stop wondering what happened to the other four faces that stared back at me as a kid when I sat looking at those old LP covers.  Being the pop culture addict I am, I went home to investigate the whereabouts of the original Hermits, which led me to discover that Peter Noone's band was only one of two bands calling themselves Herman's Hermits.  Another band, based in England, also claimed to be Herman's Hermits but also featured only one Hermit from the original lineup -  drummer Barry Whitwam.
I contacted Barry and asked him the question "how can Herman's Hermits be Herman's Hermits without Herman, and how can the Herman be Herman's Hermits without the Hermits?"  Barry graciously got back to me, which led to my highly controversial interview with Barry Whitwam.  Barry not only shared the origins of the band, which was new material compared to the superficial fluff that seems to be written about Herman's Hermits by other sources, but also discussed many darker aspects of the groups history, including a long standing rivalry between Peter Noone and his former band mates, legal disputes, name calling, back stabbing and disagreements over money.  Well the interview with Barry caught the attentions of music fans all over the world and soon PCA was flooded with e-mails by readers, music professionals, disc jockeys and Herman's Hermits fans who seemed split on the information that Barry gave us.  Many wrote to me who stood behind  Barry, but a large and very vocal group of readers stood strong behind Peter Noone, especially his dedicated fan base who call themselves Noonatics, who wrote letters that ranged from very angry, to touching, to informative.  Yet whether they believed Barry or stood behind Peter,  the majority of the readers who contacted us let us know, loud and clear, that they wanted to hear the other side of the story.  They wanted to hear from Peter Noone!
It wasn't surprising that our interview with Barry Whitwam eventually gained the attention of Herman himself.  There was a kind of hush all over the PCA office when that e-mail came from Peter and, to say the least, he was not pleased.
Peter Noone let us know that he had his own story to tell and after a number of e-mails, and much negotiation, Peter Noone agreed that if I sent him interview questions he would answer them via e-mail.  It's not my usual way of conducting interviews as I prefer the spontaneity of conversation, but I was not about to give up the opportunity to get Peter's side of Herman Hermit's history.  So I set to work on a series of hard hitting questions that would act as a counterpoint to the issues that Barry discussed so candidly in his interview.  These were not the sort of questions Peter Noone normally gets asked in other interviews.  A far cry from the 40 Intimate Question from the days of 16 Magazine.  I was asking about rivalries and legal disputes, not what Peter's favorite drink and color was.  However I wasn't going to just concentrate on the bad things.  Peter Noone was part of the most revolutionary period of music history, an icon of the British Invasion and has had a long and colorful career in entertainment.  I was going to take every opportunity to try to get Peter's perspective on everything, from his time working as a child actor on British television, to his memories of some of the other great icons of his era.
Peter Noone is a man who doesn't hold back.  He says what he means, and says it without fear.  Peter Noone does not seem to be a man that is afraid to speak his mind or have an opinion.  The answers to the questions I sent Peter show many sides of Peter Noone, and often a side of him that is rarely seen in other interviews.  They are charming, witty, funny, confrontational, blunt, nostalgic, unapologetic and often controversial.  That is why I am very proud to be able to present Peter Noone's side of the story
Presented here to you are the questions I sent to Peter Noone, and the answers he sent back to us.  These are Peter Noone's own words.  I have altered them very little for the sake of presentation purpose.  You wanted to hear what was on Herman's mind.  I am glad that I am able to deliver it.
CONFESSIONS OF A POP CULTURE ADDICT PRESENTS
DANDY!: 
PETER NOONE STRIKES BACK!
In Canada, where I am from, Coronation Street is a phenomena.  Can you talk a bit about your time on the show?  How did you get involved with Coronation Street?  Who did you play and what was your character all about?  
I went to a school in Manchester called Manchester School of Music and studied voice and music theory.  One day a talent scout from a new TV station called Granada Television came to the school and I was offered my first acting job as a schoolboy in a series called Knight Errant.  This opened up other opportunities to portray schoolboys on other series like Family Solicitor and to play an Indian boy in a Munroe Saki series in my first speaking role, where I said "a packet of quail seeds please" with an Indian accent and in black makeup! My success in these roles ultimately caught the eye of the producers of a new series called Coronation Street who were looking for a schoolboy with a Manchester accent who was a member of the union. Typecasting? I got to say "hello spudder" and many other forgettable and silly lines, none of which helped the plot.
The origins of Herman's Hermits seem to be quite muddy because very little information has been written/revealed on the formation of the band.   Can you tell us about how you met Keith Hopwood and Karl Green and how the band was originally formed?  Can you give an account of how Barry Whitwam and Derek Leckenby came to join the group?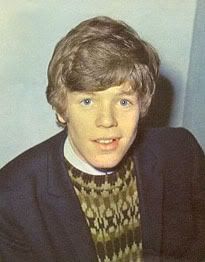 I had grown accustomed to being near Manchester School of Music and the Granada station, and both were within four minutes walk of the Oasis Club and the Twisted Wheel Club and I began spending most evenings at one or the other.  I got a job as the DJ at a club called El Rio where I played the latest American records but did not speak or even own a microphone.  Some of my allure was because I was Stan Fairclough from Coronation St but I also had a fab collection of American records and, along with my unusual theme of not owning a microphone, I quickly became the DJ who played more music.  Visiting local clubs, and not necessarily looking for musical input, I went to the Shaw Hall Youth Club one night hoping to see Mags Casey or Angela Denner and instead met Allan Wrigley who informed me that their singer Malcolm had not shown up then he asked me if I would sing a few American songs to help them out.  I was stiff but not bad and that wasn't because Mags Vasey hadn't shown up to be blown away.  In my memory I see Alan Wrigley and Steve Titterington.  Maybe Alan Chadwick.  Maybe Karl Green and maybe someone else.   I have a pic somewhere and I find that whenever there is a question regarding the truth that pictures are useful and invariably prove my memory is better than most. Especially better than people who were not present!  Sometime around this period Keith Hopwood and I were responsible for what was to be the future Herman's Hermits repertoire.  As a matter of fact, I cannot think of any songs or ideas that were brought to the band by Karl, Lek or Barry. But this is not a revenge for the total nonsense that was Barry Whitwam's interview in which he accused me of being a liar about the part of the group that he wasn't even in at the time.  "I'll Never Dance Again." "Mrs. Brown You've Got a Lovely Daughter." "Can't You Hear My Heartbeat." "The End of the World." "Mother in Law" and most of the songs on our first LP, Introducing Herman's Hermits were songs that Keith and I taught the others.
One of these songs was "Mrs. Brown" and although you have heard other Hermits tell the story of the recording, it was Keith Hopwood who played guitar on the track and he played it on a Gretsch Country Gentleman guitar, which any guitar player from the period will know had a damper which causes it to sound like a banjo. You may have seen multiple non original hermits showing off the cloth under the strings story but the truth is it was a Gretsch Country Gentleman.  Keith did use the cloth on an Ed Sullivan show but just because he didn't have the Gretsch there that day.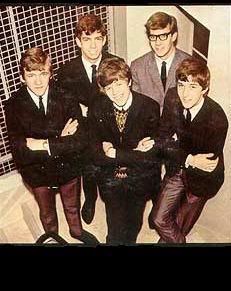 Harvey Lisberg became the manager and had a partner named Charles Silverman and they began to push us locally and got us on another Granada TV show called Scene at 6:30.  Slowly it became obvious that Alan Wrigley, who was our bass player, was not going to be an asset if we ever became successful. He had the wrong personality to function in a democracy and it was decided that he and our drummer Steve would be replaced.  They were replaced by Barry Whitwam on drums and Derek Leckenby on lead guitar. We taught them the songs from the Herman and the Hermits repertoire and we learned all of the songs from their band, the Wailers, repertoire.  They filled their roles perfectly and we changed our name from Herman and the Hermits to Herman's Hermits as it sounded more like Faron's Flamingos which we thought was a hipper name. Barry and Lek had no input in the name.  The hermit character which I created is now the logo for Barry Whitwam's group. You can see it on Steve Terrington's drum kit before Barry was a hermit but he thinks he invented it even though he never met Steve Titterington!
What are your recollections of recording "I'm Into Something Good" and skyrocketing to the top of the charts?   Do you remember where you were when you heard that Herman's Hermits was at #1?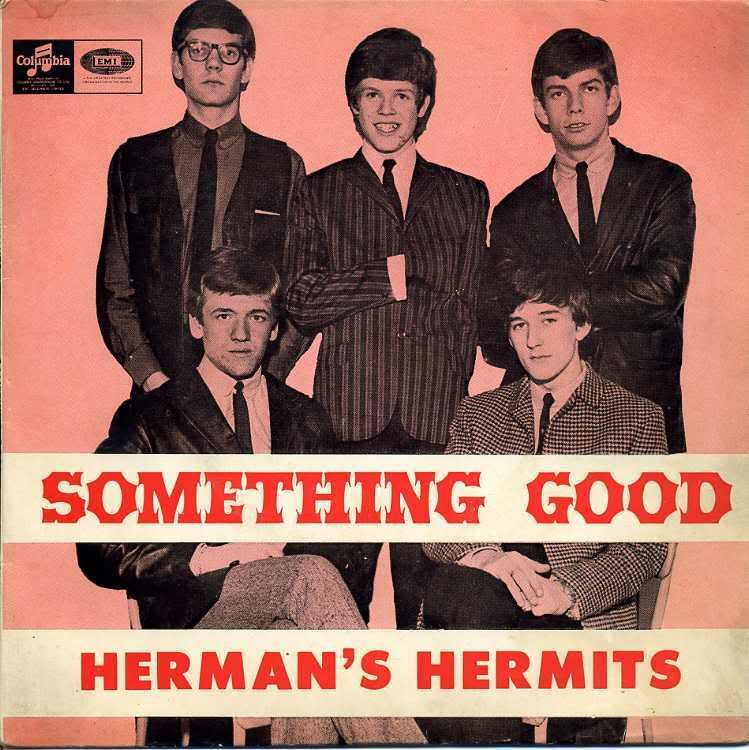 We went to Kingsway Studios on Bank in London, not EMI as Barry recalls, and we tried a few songs, one of which was "I'm Into Something Good," which was our first number one. We were playing at the Beachcomber in Bolton on August 7th 1964 when it was played by DJ Jimmie Saville (my friend then and still to this day) and we screamed with joy and off we went. Our second single was "Show Me Girl" and during the session to record the song Mickie Most suggested we got rid of the drummer and I recall that I was the biggest supporter of keeping Barry in the group as he was such a great guy.  We decided that we could use Clem Cattini from The Tornadoes and not tell anyone it wasn't Barry. I liked Barry. He was the nicest and most friendly person in the group. Notice I do not claim this award. So the less I say about him and his version of the story the better and more interesting it will be.
What was Mickie Most's influence on the band?  What was working with Mickie Most like?
Mickie Most and I were friends. I had moved to London and we became friends as well as partners and we both had very similar musical taste.  My greatest memories are of Mickie and his wife Christina singing "So Sad" with a kind of beauty reserved for those wonderful moments when you see people who love each other, singing a beautiful song, with perfect harmonies to and with each other. Kismet?  Hardly!
A lot of debate has been made over how many songs were performed by the Hermits.   Barry has said that session musicians were used on any songs that used any sort of orchestration (i.e. Kind of Hush) but that he and Karl, Keith and Lek still provided harmonies, and played on all songs that did not have outside involvement.   Do you agree with this account?  Just how often were session musicians used?
Mickie and I became the tyrants. We took over the recordings. No malice was intended because we didn't tell anyone who was on the recordings and sometimes the Hermits produced brilliance as witnessed in "Mrs. Brown," "Henry the VIII,"  "Listen People" etc etc etc But we also recorded many hits without them.  Keith and Karl should be remembered as wonderful background singers who delivered the right parts in exactly the right way. In tune and with a laugh when it was tense. That was the very essence of the 60s and what we put into it. We laughed we sang and we made recordings without ever asking how much
What is it about the music of the 1960′s, and especially that coming out of England, that has stayed so popular and/or relevant to this day?  
I think most of us British musicians had a great amount of enthusiasm, compared to the American musicians at the time and any music teacher will tell you that enthusiasm is a key element.  You can still hear the enthusiasm and that's why they still sound lively. Most of us were making records because we wanted to make records with no thought for futures and profit. That is also a key element too.  I am sure you agree. I heard "Do Wah Diddy" by Manfred Mann today and was taken aback by its magnificence.  Listen to the first sixteen bars of "I Wanna Hold Your Hand" by the Beatles and you will hear something that has never been reproduced ("God Save the Queen" by the Sex Pistols not withstanding).  Pure energy and enthusiasm. I bet they were laughing as they played the tracks, despite the fear of making a mistake. That is what lives forever.
Barry shared some stories of encounters with such icons as Elvis, the Animals, The Who, The Hollies and Ed Sullivan.   Do you have any memories of meeting these performers, or of any other performers that made a real impression on you?
I have different memories than Barry but I am always happy to hear the other versions. Barry and I were the only two who showed up for the Elvis thing, as it was set up as an interview by Herman with Elvis, and Barry tagged along. THE OTHERS DIDN'T EVEN BOTHER! I loved Elvis and he was amusing and fun and eloquent. All three things that were so carefully hidden by his minders, who by the way tried to "take the piss" out of me, but Elvis was a true gentleman and I treasure his memory as the greatest singer of his generation and a funny and pleasant chap too.  I remain friends with many of his minders to this day, and they all know that I am first to stand up and challenge anyone who tries to put down the king. He was the total package and he did not die from a drug overdose but a disappointment overdose. I chatted a lot with Col. Parker in his last years living in Las Vegas and think he was a brilliant and cunning manager.
Ed Sullivan liked Herman's Hermits and on one appearance asked me to join him at St Patrick's for mass the following day. He said "meet me at Demoniacs at ten" and it was done. He lived at Demoniacs and we walked and genuflected. He knew when to so I just copied him but recall he was very impressed with my knowledge of the Latin mass and my perfect altar boy responses. Et cum spiritual sancta? He announced on the next appearance on his show "my friend PETER HERMAN MOON."
Eric Burdon is a friend and was in the early days of HH when we would play I Drink to the Health of Cardinal Puff at the Bag of Nails and The Duke St James. The Hermits lived in Manchester and I had moved to London to be a pop tart. Eric lived with my friend's mum.  I see Eric Burdon frequently and he is as astonished as I am to see a band called The Animals which has only the original drummer and the same thing has happened to me.  I was friends with Eric and have no recollection of any drug destruction (as Barry spoke of in his interview) other then by burning, inhaling and swallowing. People from Newcastle and Walker do NOT WASTE and are not so dim as to travel to a foreign country carrying drugs. I am not saying there were not drugs there. I am saying with some conviction that no drugs were wasted by stupidity, not counting the stupidity of doing drugs.
As for The Who. I have many pictures of me and The Who and Barry isn't in
them. Maybe he took the pictures? I am a Who fan. Always have been since the Thank Your Lucky Stars Christmas Show 1964. I see Pete Townsend and Roger Daltery whenever I can  (I interviewed them both for VH1′s My Generation) and John Entwistle came to my house before he tragically (passed away).
I am Allan Clarke's biggest fan and he was the best singer in Manchester along with Wayne Fontana and is irreplaceable. I see Graham Nash and still have nothing
in common with him, other than we are both above average intelligence and
are from the same place.
I used my fame to meet my heroes. I met Johnny Cash and Little Richard and Chuck Berry and everyone I wanted to meet because I was Herman. I even got to meet and chat to Don and Phil Everly and become friends with my idols.
Many performers, from George Harrison to Donny Osmond, have talked about the feeling of isolation as a result of fame.  Did you experience this, and how did you deal with it during your reign as a teen idol?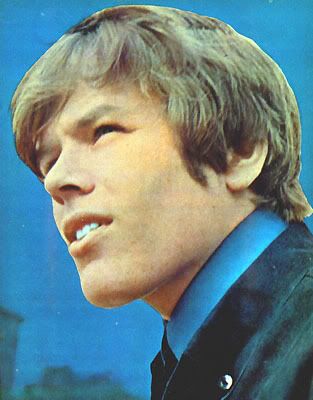 I was lucky because I was better educated than the rest of the so called teen idol types.  I was close to The Hermits at first and slowly distanced myself more and more and in retrospect that was maybe a failure on my part, but I wanted to do more than sit around in the bars of the world and drink. I enjoyed drinking but there were much more fun places to do it than with The Hermits, and that is probably why I made so many friends as I came up.  George had a reason to feel isolated. He was a Beatle. We were only Hermits. We had no pretensions to be great.  We had fun.  We felt lucky to be included.  I look back at my past with nothing but pleasure, and memories of great people. I have twenty five million great things that happened to me. I have and only eleven bad things.  I like isolation.
As a writer and entertainment freelance journalist, I have a lot of admiration for 16 Magazine's legendary editor in chief Gloria Stavers.   She took a lot of personal interest in you.  What sort of impact did Gloria Stavers have on your career, and could you tell us a little bit of insight on what she was like?
Once again I became FRIENDS with Gloria Stavers. Our friendship is written of in books. She didn't hang around at the hotel bar either so we spent lots of quality time together, and she made me happy with her own kind of genius, and was someone who I called a true friend. She knew that her readers were young girls and had a massive amount of respect for the fan, which I did too. At the time people in the music business were unaware of the frailty of fame and how pure and beautiful it was to have a crush on a singer and Gloria and I knew this and agreed that the fan was to be treated with respect. Something I had learned as an eleven year old fan and met some of my heroes and they had all been nice to me.  Gloria edited the nastiness from some of the bands responses and that's what the fans wanted. To believe their heroes and heroines were nice people like they were. Of course when Rolling Stone Magazine came along and made fun of young girls, the music biz began to crumble and apart.   Nothing has happened to challenge Rolling Stone's mean spirited look at music and musicians and not fans and crushes. My wife and I took Gloria on her last ride to the hospital in New York and said goodbye for a few days, and I hope she has lots of happy teenage girls to boss around up (in heaven)!
There is no denying that you were the face and the personality of Herman's Hermits.   The world never really got to know Karl, Keith, Barry or Lek.  Could you tell us a bit about each of them, and the last time that you encountered any of them?
I see Keith when I go to Manchester and we chat a lot. He was the best musician in HH and of course has gone on to fresh and wonderful new works. He and I were responsible for the original music in HH and together we brought "The End of the World," "Mrs. Brown," "Sea Cruise," "Mother In Law," "I'll Never Dance Again," "Can't You Hear My Heartbeat" to the other Hermits.  Keith is one of my favorite musicians and one of the most underrated and knowledgeable guitarists from the period
Lek was a great bloke and sadly I didn't get to tell him how much I respected him before he passed away. Being fifteen and sixteen when we got busy and famous didn't give me the tools one needs to not hurt peoples feelings and some of my humor was probably a bit too acidic for most peoples taste. I see he lives on through his daughters, one who is a phenomenal musician just like him.
Karl was always envious of my ability! Envy made him miserable. I envied talent like Paul McCartney and John Lennon and spent my time trying to hang out with them in case any talent fell off and I could grab it.
Karl, Keith and I were the "sound" of HH and we built it around my lead and their incredible knack for getting the harmonies right!  The last time I saw Karl and Barry was at Mickie Most's funeral when they refused to say hello to me, so I went and chatted with Jeff Beck and John Paul Jones.  At the funeral Mickie had chosen his own music and had chosen two HH tunes and a Zeppelin song. To everyone's surprise the music that got played was the "fake" tracks that Barry and Karl had made, with Karl doing a pretty poor version of me. I felt sorry for them both, as Mickie would have preferred to have the recordings he made of "I'm Into Something Good" and "There's a Kind of Hush" played at his funeral, but thank GOD he didn't hear the fakes. I'm glad Barry and Karl got to hear them in front of all the people who knew what they had done. The perfect revenge for a dirty deed done dirt cheap.
The legend has it that members of Led Zeppelin played on a number of Herman Hermit's albums.   How deep was John Paul Jones' and Jimmy Page's involvement to Herman's Hermits recordings….really?
I am sure Jimmy Page played for money and that he was slightly amused by HH as we were not his cup of tea, but he was always a gentleman and as you may see, he is always a jovial sort by nature and he played on a couple of our tunes and I can't find the session lists to see which.  John Paul Jones is on lots of stuff. Any time Barry isn't on a record you will find John Paul Jones. He was the bass player and arranger (strings brass, drums, guitars, bass) on "No Milk Today," "Dandy," "There's a Kind of Hush," "My Sentimental Friend" and most of the stuff after 1965.
On Lady Barbara, you were billed separately from Herman's Hermits (Peter Noone and Herman's Hermits).   It has been said by Barry Whitwam and Keith Hopwood (through a letter received by Kent Kotal and featured in 60′sForgotten Hits) that it was this decision which hurt your case in the name ownership lawsuit in 1975.   What was the original motivation to the separation?
It was Mickie Most's idea to have two recording opportunities and for me to have a shot at solo success. As I have previously stated Mickie and I were friends. He was best man at my wedding.  His wife is my daughter's godmother.  Get the idea? We spent hours every day chatting at his office with Peter Grant about HH, Zeppelin and what was happening in the real world, what we could do to have fun and make money. The BBC was getting sick of HH and Alan Klein was stealing the USA royalties, so we were looking for opportunities to be like Cliff Richards and the Shadows (no joke) and have a lifelong career. Oldies acts were Little Richard and Fats Domino and no one else. SO WE HAD LOADS OF IDEAS LIKE THE BOWIE SINGLE.  What hurt my case was that I didn't believe that The Hermits could call themselves Herman's Hermits without me. The one date I had missed through illness had sued The Hermits for their money as I was a no show and I think they got one hundred pounds for the band without me, so I felt that the people would judge it that way. I think my lawyer gave me poor advice and told me to let them use the name because they would not get away with it. I feel bad that the whole thing caused bad blood between us all. I call my band Herman's Hermits Starring Peter Noone and I think that Barry should call his version what it is too. Let the public choose who they want to pay to hear the music, the drummer or the singer.
You left Herman's Hermits in the early 1970′s, and the band continued without you but with Peter Cowsap as a lead singer.   What motivated you to leave?
The band did NOT continue without me. They renounced Herman's Hermits, danced on their tuxedos (true) and went out as a band called The Blue something or other.  Only when they failed to get the record released did they suddenly decide to call themselves at first The Hermits, and then HERMAN'S Hermits.
Barry Whitwam went into great detail about the 1975 lawsuit in which the high court of England awarded he, Keith Hopwood and Derek Leckenby the ownership rights to the name Herman's Hermits.   Can you tell us your side of the story on this case?
It is not a high court order.  It is an agreement between The Hermits (all four of them at the time) and myself regarding the use of the name.  It is an agreement between me, Karl Green, Derek Leckenby and Keith Hopwood and NOT a lifetime permit for Barry Whitwam to call himself Herman's Hermits. It was a ten year deal between me and the four Hermits. Not me and Barry and whoever he wants the other three to be this week.   Look at a copy of it. I am not wasting his money on lawyers. I am simply doing the best concerts I can, with the best musicians I can find who will play the music as good as the original Hermits did! You may take a look at the types of venues I play at, and then take a look at the ones Barry's Hermits play and you will get my point immediately. The
public will choose. I hope that doesn't sound angry.  I want HH to be remembered lovingly.
There seems to be a lot of animosity between you and Barry Whitwam.   Where do you think this originates?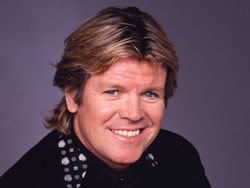 I think all the animosity comes from him. I have yet to see my name connected to anything negative about him other than that he didn't play on the records in his own discography,  and calls me a liar? Him saying that only ten percent of what I say is true translates to me as him saying ninety percent of what I say is a lie. I can happily prove all my facts and can find pictures, copies of cheques to drummers dated in 1965 and 1966 and anything else. However I will not be claiming any recordings I was not even at in my discography. I didn't play drums on "Be Bop A Lula" by Gene Vincent and bass on "Bohemian Rhapsody" by Queen.  Would you like the list again of the songs he claims to be on with the name of the drummer on the recording?
This is the original question I posed to Barry, and I would like to pose it to you as well.   How can Herman's Hermits be Herman's Hermits without Herman, but how can Herman's Hermits be Herman's Hermits without the Hermits?
I haven't seen his response but here goes. Herman's.  See that apostrophe? Possessive? They are my Hermits but to avoid confusion I add "starring Peter Noone." He should call his band Barry's Hermits or at least follow his lawyer's advice and say Herman's Hermits starring Barry Whitwam.
Is there any left over issues that I haven't covered that you would like to get "the record straight" about?
Maybe I have started some new issues…..
Indeed Peter, maybe you have.
Herman's Hermits history seems to be sort of like the Japanese story of Rashaman.  One story, with many fragmented viewpoints and sides.  I once had a university professor who said that "history is the study of perceptions, and the truth can only be discovered once all the sides of the story are examined."  I have presented you two opposing sides to the Herman's Hermits story.  That by front man and singer Peter Noone, and another by drummer Barry Whitwam.  Personally, I am able to find truth and validity in both stories.  I don't always agree with Barry, nor do I always agree with Peter.  However I believe different aspects of both stories.  If you line up these stories, even when they are contradicting each other, it is easy to see that the history presented by these two men are two different perceptions, and two different experiences of the same events.  It is up to you, the reader, to come to your own conclusions in what you choose to believe, and whose story you choose to put your faith in.  However, we will never truly know the full truth behind the Herman's Hermits story.  Only those who were there – Peter, Barry, Karl, Keith and Lek, truly know the real story.  We can only attempt to piece together the shattered fragments of different perceptions.
Yet despite all the conflict and hurt feelings that goes along with the Herman's Hermits story, we should try to focus on what is important and that is the music that Peter and Barry, along with Lek, Keith and Karl, created in the 1960s.  It was a special time for music, and Herman's Hermits was a special band.  Their music will surpass and live longer then this feud.  We should never forget the way that their music has made us feel, nor the fact that despite the different perceptions, these five young guys from Manchester affected our lives with their music.  It doesn't matter to me who calls themselves Herman's Hermits these days as long as we still have their music.