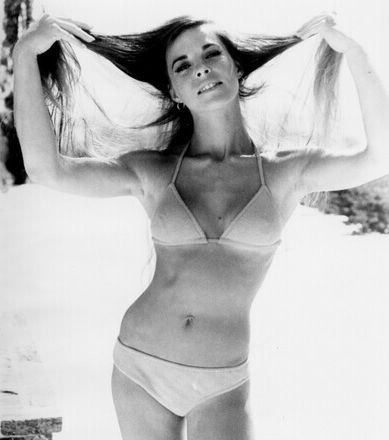 Sam Tweedle: Are you surprised when people still manage to pick you out of your films all these years later after your appearances in films?
Salli Sachse: I am totally surprised. I had no idea that this five or six year film career would still be active.
Sam: Even though you were essentially a background character in most of your films, AIP films were so good at reusing their stock players prominently that fans could begin to recognize and become familiar with everybody on the screen over time.
Salli: I know. It was amazing. [AIP] were very clever marketers and [the films] always good titles. They were creative, and spent their money in funny places. The films created quite a following, and I am amazed that I still have people contacting me. It's amazing. I had no idea when we were doing it that it would last this long. In fact, just last week I got two residuals and I still get fan mail.
Sam: Really? Wow!
Salli: Yes. We still get residuals.
Sam: That's fantastic! So how did you start out on this path? You started off as a model, right?
Salli: Well, I grew up in La Jolla, CA. Oh, I was Miss La Jolla and Miss this and that, and I hung out at the surfing beach, which was called Windansea, it was one of the first surfing beaches. So two artist friends of mine, Mike Dormer and Lee Teacher, put together a cartoon character called Hot Curl. He was a potbellied surfer guy with long hair and always had a beer in his hand. Well, they brought Hot Curl to Hollywood to try to market him. One studio said "We can't use it, but why don't you take it to American International because they are doing these beach party movies." So they did and they used Hot Curl murals in some of the café and night club scenes. So AIP asked them "Do you know any beach guys and girls?" Mike and Lee went down to Windansea Beach and said "Hey, who wants to go to Hollywood?" So about fifteen of us piled into woodies and drove up. We changed into our bikinis to meet producers Sam Arkoff and Jim Nicholson, and we lined up in their offices at AIP on Sunset Boulevard.
Sam: Was that not at all awkward? It sounds sort of awkward.
Salli: We were used to it; it's showbiz. So they said, "You, you, you, you…don't call us, we'll call you." They introduced us to Jack Gilardi, who was engaged to Annette Funnicello at the time, and said, "He'll be your agent." So we got home and they chose eight of us; four girls and four guys. The four guys were Butch Van Artsdalen, who was the first surfer to shoot the pipe line in Hawaii and grew up in my neighbourhood; Chuck Hasley, who founded the Windansea surf club; then there was Billy Graham and Mike Diffenderfer. So these were four hard core surfers. Then there was my friend Linda and I and two other girls.
Sam: So you were really part of the actual California beach culture of the era?
Salli: Yes! So when we got called and were told to report to the studio at six am Monday morning, Linda and I drove up to LA, and stayed at the Hollywood Studio Club. We were both newlyweds, and would stay there from Monday to Friday and drive back Friday night, or Saturday morning, depending on how late we had to work. So we did this for several movies. But my husband was a folk singer and also a psychology student and he was singing with a group called The Green Grass Group which Randy Sparks, started. Randy also started the Kingston Trio. So we moved to LA and AIP put me under contract. So here I was, getting paid every week whether I worked or not, and during the summers the contract players went out on the road. There were nine of us, so we'd go out in three groups of three. One group would hit the West Coast, one the Midwest, and other group the East Coast. We'd go to all the theaters, radio and television stations for interviews. We were treated like big stars. Then we would all meet up in New York and we went to the World's Fair and the studio would have photo layouts with movie magazines set up for us. It was really pretty incredible.
Sam: So you had guys on the set who were hard core surfers. What was their attitude to a guy like Frankie Avalon pretending to be one?
Salli: Frankie had never seen a wave before. We'd just crack up! We just thought he was so phony and so goofy, but we were getting paid, so we didn't care.
Sam: I discovered the Beach Party movies in the very early nineties and I fell in love with the genre for the campy goofiness of the films.
Salli: I know, and that was Bill Asher's brilliance.
Sam: But, I can't figure out just who went and saw them during the sixties. Who were those films marketed towards? Who were your core audience?
Salli: They were marketed towards teenagers in the mid-west who had never seen Malibu or California. The theater owners did a lot to promote these movies when there were still drive-ins. The people I meet say, "Oh my God, I grew up on those movies," and they just can't believe that I was in them and that I'm a painter now and have a different life.
Sam: I think the interesting thing about the Beach Party movies is how they were full of sexual innuendo, yet still very chaste and aimed towards teenagers. They could have been the first films in film history that brought sex and teens together.
Salli: Yeah, because in the fifties the girls had the pointed bras, but there wasn't a lot of cleavage; I think of Natalie Wood's movies with the high collar sweaters.
Sam: Was it as innocent as it seemed, or was there any sex and drugs on the set?
Salli: No. No sex and drugs. I can't speak for everybody. We were usually filming at the beach, and we'd shoot sometimes day for night, and we'd be using filters. We'd be shooting in December and it'd be freezing. We'd have these little terry cloth robes and every now and then we'd have to drop them and run off and dance and carry on. Once in a while the thing closest to a drug was that the prop man would pass around a bottle of brandy so everybody could have a swig to warm up.
Sam: Obviously the beach culture has changed a lot, but I know that the real beach culture isn't the one that America grew up on in the movies. William Asher got some amazing people to show up in those films.
Salli: I know! Eve Arden and Mickey Rooney, Buster Keaton, Peter Lorre. It was so campy and hokey and fun, but there was such innocence and people wanted to be in there and to do them.
Sam: Were you ever star struck by any of these stars?
Salli: Oh sure. But you hang out so much on the set that you get to know each other very intimately because you're around each other twelve hours at a time. Then you might not see each other until the next movie. You get a little star struck, but it's just fun. It's kind of exciting and everybody's in the same boat. It was really just hilariously fun. Don Rickles was such a character. We'd be sitting around waiting for our scenes, and we'd have to be picture perfect ready all day long. So we'd be sitting around the set waiting and waiting, and Don would start joking and laughing and just do a little comedy routine about Frankie and
Annette. He'd just be so silly and we'd be laughing and laughing. I mean, it was just so much fun. Everybody was just loving and had a great time. It was always just good vibes.
Sam: What were Annette and Frankie like to work with?
Salli: Annette was a lot of fun. She was pretty naïve, and a very nice, well-meaning person. When we would pass around the brandy to warm up she'd have a sip and get giggly and silly and just be a lot of fun. She didn't have a mean bone in her body. Frankie was a night club singer. He was really out of his element with the beach thing. There wasn't a blonde streak in their head. They both were from Italian families. But Frankie was a little aloof.
Sam: You went on to do the AIP films with Frankie Avalon and Dwayne Hickman, which seemed the same, but were totally different.
Salli: Right. AIP were running out of themes by then, but by this time, Paramount and some of the other studios were doing their own beach movies, so everybody was spinning off the same themes. Then we did Ski Party, Dr. Goldfoot and the Bikini Machine and Ghost in the Invisible Bikini.
Sam: What was Vincent Price like to work with?
Salli: Oh, he was funny. He had that great voice. He was a lot of fun. Very smart and very talented. He was a master cook. He was a kick. These people were so seasoned and so good at what they did, and nobody was any better than anybody else. Everybody just worked hard and laughed hard.
Sam: So let's bring it over to The Trip then; that is a freaky, freaky movie. You were working with a whole different caliber of individuals. That was Roger Corman, right?
Salli: Yes, that was Roger Corman, who is really kind of a straight guy. He doesn't know how to smile or laugh. He's very serious.
Sam: So Jack Nicholson wrote the script. Peter Fonda was your leading man, and Bruce Dern was there. What was the dynamic different between Asher's beach movies, and then being in The Trip?
Salli: It was a different mood. Some of the same people were on the crew. David Crosby's father, Floyd, was the camera man, and his wife, Betty, was the script girl. Floyd was old then, I think he was seventy. Well it seemed old at the time. He had won an Academy Award for cinematography for High Noon. So I met him before I met David Crosby. I met David Crosby through Peter Fonda. But Peter Fonda and Dennis Hopper were so excited about The Trip. They just couldn't believe that this was going to be a movie about acid, and changing culture. They were so disappointed about the way The Trip was cut, and how they left out so many scenes. They had no control over the cutting room floor. Peter and Dennis even went out and did second unit filming out in the desert on the sand dunes with a sixteen millimeter camera. They thought it was going to be such a great movie, but it got cut and cut and cut. It was different. Peter and Dennis loved smoking pot. I don't think I was smoking pot at that time, and I hadn't taken any LSD, although I think Roger Corman went and had a clinical trip, just so he knew what it was.
Sam: One writer calls The Trip your standout moment in film, playing The Freak-out Girl. Would you agree with that?
Salli: Well, it was the first time I had a co-starring role. Yes, it was, but at that time I had been tragically widowed. My heart was just not in it anymore, and I felt so wounded. I just didn't have the energy to fight for roles. I was just grief-stricken. It was a difficult time. Everyone was so nice though, because they knew that I had gone through this tragedy.
Sam: The tragedy happened when you were filming The Million Eyes of Su-Muru, which was the film prior to The Trip. Am I right?
Salli: Yes. I was in Hong Kong when I got the news that my husband Peter and his friend [Phillip Bent], the other book end's husband, were flying at Windansea Beach. They were flying Phillip's brother's plane, doing loops and showing off to their surfer friends on the beach, and then they stalled out and went down right in front of all their surfer friends. The beach crowd knew whose plane it was, but they didn't know who was in it. Surfers paddled out to the plane, but my husband drowned with his feet tangled in rope and Phillip hit his head and died immediately.
Sam: Were you able to leave the filming of Su-Muru right away?
Salli: I did. I was on the set and somebody said I needed to go back to the hotel where there was a cable. I thought maybe a parent or an in-law had died, but I was just stunned when I found out my husband had been killed the day before.
Sam: You still managed to get the dynamic opening shot in the movie.
Salli: Yeah, but I don't remember much about that. I was only there for three days.
Sam: After The Trip you did a small part in Wild in the Streets and the episode of Mannix and that was it. Was your husband's death a catalyst in leaving show business behind?
Salli: Well, AIP had really finished the Beach Party series. The culture was starting to go into the hippie days, and I was just following the stream of what AIP was doing. I was the last one under contract, and they were putting me into what they wanted. But I was grief stricken and I was really searching for stability and spirituality. Something to anchor me because it was such a shock. My life changed so quickly.
Sam: Were you always an artist? Did you do art during your modeling and acting days?
Salli: No. I was always interested in art but I always had those five things that I had to be doing, and art was on the back burner. I never had formal art training, but I was always visual. I finally got a camera, and I had an artistic way of seeing things.
Sam: Do you think being on one side of the camera as a model and actress would help you looking through the other end of the lens?
Salli: Yeah. Certainly. Well, I moved to Laurel Canyon and I lived in a little cabin down the street from Joni Mitchell. Peter Fonda and I had been on tour for The Trip and we had been in New York for the premier and David Crosby was staying at the same hotel. He was up in the penthouse. So Peter introduced me to David, and I started hanging out with him and we'd go by rehearsals of The Byrds, right before Crosby, Stills and Nash was formed. So I got interested in rock n' roll and meeting musicians. Peter and Jane Fonda were studying metaphysics, so I started going to metaphysical classes and started yoga. I got interested in Eastern philosophies. I had such a broken heart that I had to reinvent myself. Eventually I lived in a rock n' roll collective. Peter Tork had a house in Studio City. It had a pool and a pool house, and I had met Bob Hammer, who was a friend of David Crosby's, and so I moved in with Bob and we lived in this huge house with nine others. There was Peter Tork, his girlfriend, his girlfriend's brother, a nanny, another guitarist, his girlfriend…well there was nine of us anyway. My friend Bob was into experimental filmmaking. He had a little film studio in the house. It formally belonged to Wally Cox, but now it was a hippie house. There was a big music room and all the musicians would come over. Crosby, Stills and Nash would come over after their recording sessions, and Joni Mitchell, and The Mamas and the Papas, Jimi Hendrix. There were things going on all the time. It was an amazing scene. They were all recording and bickering and fighting, and it was amazing. It was just around the time of Woodstock. In between, when I stopped working in film, I was doing print work and commercials.
Sam: On YouTube there is a fun little aftershave commercial you did with The Monkees, but Peter Tork isn't in it.
Salli: Isn't that fun? Somebody posted the video after Davy Jones died. I never thought I'd see it again. Well, after nine months of that, Bob and I moved out of the collective because it was wild. We rented a house and eventually Peter Tork lost the big house and he lived next door to us with his girlfriend, who was having a baby. I filmed the birth. David Crosby moved up to Novato, because Graham Nash had bought a house in San Fransisco, and The Jefferson Airplane was up there, and The Grateful Dead were living on a ranch just down the road from David's house. So one day I was driving home and I heard an L.A. DJ say that Christine Hinton, David Crosby's girlfriend, had been killed in a car accident. David invited me and Bob to come and stay there, because Crosby, Stills and Nash were about to go out on the road and he needed somebody to stick around. So I kind of became the house mother. They'd go out during the week and come back on the weekend, and I'd cook and help put them back together. They brought Mama Cass back one time. The Grateful Dead would come over after dinner and there would be chocolate chip cookies and joints going around. It was quite a time.
Sam: Sounds like you never knew who would show up. So what made you leave it all behind?
Salli: Well, I moved back to Los Angeles, and I realized this relationship I was in wasn't going anywhere, so I had always wanted to go to Europe, and I was at a party and this couple I had met at the metaphysical group were there, and they had started on an odyssey to India. He had been an accountant for Paramount Studios, and she was a wide-eyed metaphysical student, and they drove their Volkswagen Bus across the US and shipped it to Norway. She got pregnant along the way and they needed a place to stop until the baby was old enough to travel and they could fulfill this dream of going to India. So they had stopped in Amsterdam and ended up living in a windmill for a year and a half. They said, "Why don't you come and visit us." I thought, "I don't see why I can't do that" so I figured out how to do it and just took off with a suitcase. The night before I left there was a goodbye party for me on a commercial set, and I met a couple on the same flight as I was. They invited me to stay with them in Wales. They had just bought a 200 year old farm. I stayed with them for a week or two, and then I went to London and stayed at Stephen Stills' flat there and, unbeknownst to me, Jackson Browne was recording his first album, and was also staying at the flat. So we ended up having a love affair, and he wrote a song for me called, Something Fine. So I stayed in London, and met some of his friends, and went to some of the concerts. Then I went to Holland and stayed in a windmill and travelled around. I went back to the States briefly, but then returned to Europe and stayed there for eight years.
Sam: You talked about trying to find a way to reinvent yourself. Was art that reinvention?
Salli: Yes. After I left Europe I went back to Los Angeles and got my fine arts degree, and then realized it was hard to make a living at being an artist, so I thought, "Why don't I become a therapist, and that will support my art?" So I got my Masters in psychology, and then I eventually moved back to La Jolla in 1994 and interned as a marriage and family therapist. Part of my internship was working with at-risk teens and sexually abused children. It was just the gamut.
Sam: That sounds pretty heavy.
Salli: Oh my God, it was quite jarring; it really impacted my psyche. I had dreams of a wall being around me for protection. It was very disturbing. I almost felt like a voyeur hearing all these terrible things that had happened to these children.
Sam: How long did you do that for?
Salli: For about five or six years, and then I started to do art therapy. I'm not a tough enough person. I have a more vulnerable skin. It was traumatic.
Sam: Now you have your own gallery of sorts in La Jolla.
Salli: I have my little patio gallery when the weather is nice. I put my paintings out on my picket fence. I live near Windansea Beach, so it's a well-travelled spot. People drive by, or walk their dogs, or skate by, surfers go down the street, and I sell a lot of paintings in my neighbourhood.
Sam: How has beach culture changed now compared to when you were one of the girls on the beach?
Salli: Well, now everybody surfs and everybody has a surfboard. Before, the surfing culture was just really developing. It was very innocent. Now it's an entire industry. Everybody surfs all over the world. Little kids are surfing.
Sam: The mystique of the surf hero is something more of the past.
Salli: Yeah. It's very ordinary now.
Through film, music and art, Salli Sachse's journey has been more eventful than that of wildest plotted drive-in melodrama. Filled with success, romance, tragedy, rock 'n roll, exotic locations, and a tranquil ending, Salli's story is the kind that I love to tell at PCA. It's the roller coaster ride on the sidelines of stardom. Salli Sachse was far more than just another "girl on the beach", giving her a life of bitter sweet memories, and an incredible story to tell.
For more information on Salli Sachse and her art visit her excellent web-site at http://sallisachsefineart.com/.  Included are examples of her paintings as well as clips featuring Salli from nearly every film she made.