Tony DeFranco's office is located in Westlake Village, a three hour commute by Los Angeles city transit, beyond the San Fernando Valley and through the mountains via the Ventura Freeway.  Compared to the sea of cement and smog in LA, Westlake Village seems like the Garden of Eden with its lush green landscapes and wide open spaces.  It is no wonder that this area has attracted some of pop culture's biggest names as a place to live.  Notable names such as Cuba Gooding Jr, Tom Selleck, Will Smith, Mickey Rooney, Wayne Gretzky, Denise Richards, The Olsen Twins, Joe Montana and Donna Summer, amongst others, have called Westlake Village their home making Westlake Village a community for the rich and famous, which could possibly be one of the reasons that Tony DeFranco has been able to make a successful living out of selling Westlake Village properties to people looking to move to this high class community.  However my journey to Tony DeFranco's office had nothing to do with relocating from my home in Canada to Westlake Village.  Hell, I was worried if I'd even have enough money to buy lunch in the poshest plaza that I had ever seen across the street from Tony's office.  No, I had made the journey to talk to Tony DeFranco about his time as a hit making recording artist and teen idol.  You see, decades before Tony was a successful realtor, he was lead singer and poster boy for the pop group The DeFranco Family, and had a mega hit with the bubblegum classic "Heartbeat (It's a Lovebeat)."
Tony's story began in Port Colbourne, Ontario where he and his older brothers Benny and Nino, and sisters Marisa and Merlina, found relative success as a band in the Niagara Peninsula in the early 1970s.  When a local audience member sent a picture of the group to Tiger Beat Magazine's head honcho Chuck Laufer, Laufer took notice of the photogenic kids.  With family pop acts, such as the Osmond Brothers and the Jackson Five being popular at the time, it was no wonder that the DeFrancos would attract Laufer's attention.  Laufer flew the DeFranco Family to LA, did some photos and cut some demos and within months the DeFranco Family had their first single, "Heartbeat (It's a Lovebeat)" hit number one on the Billboard Charts in 1973.  A fixture in each and every issue of Tiger Beat, and appearances on programs such as The Mike Douglas Show and American Bandstand and even presenting at the Grammy Awards gave the DeFrancos even more exposure.  However every band needs its front man and thirteen year old lead singer Tony was suddenly thrust into the spotlight gaining the majority of the attention. Tony joined the brotherhood of the 70's teen idol amongst legends like David Cassidy, Bobby Sherman and Donny Osmond, during the decade that produced the best bubblegum hits of all time.  The DeFrancos had follow up hits with "Abra-Ca-Dabra" (not to be mistaken by the Steve Miller Band hit) and a cover of the Drifter's classic "Save the Last Dance For Me," but fame would be fleeting.  By 1978, as a result of mismanagement and the fickleness of the musical tastes of teenage girls, not to mention the advent of punk and new wave pushing out disco and bubblegum, the DeFranco Family decided to call it a day, and the group retired from show business.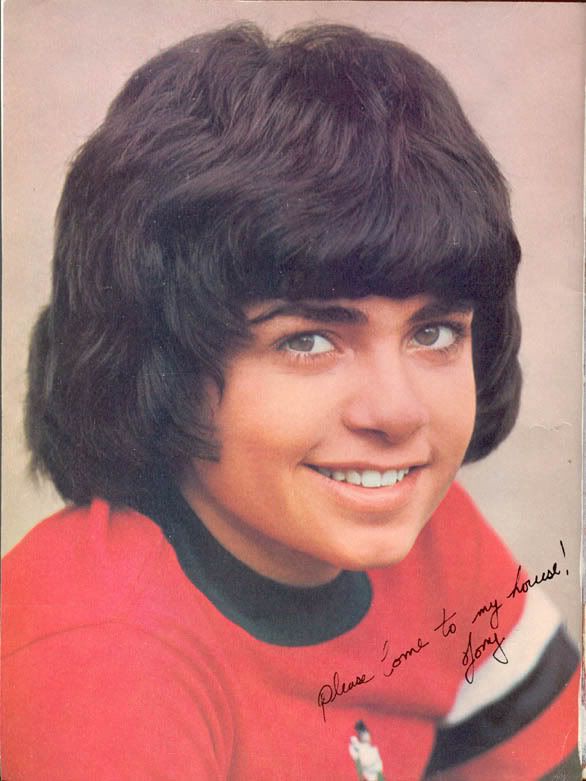 Today it is hard to recognize Tony DeFranco as being the same kid who sang "Heartbeat (It's a Lovebeat)."  He's obviously a lot taller and a bit older.  However, it is no surprise that Tony was once a major teen idol.  He still has the good looks, charisma and charm that one would expect a teen idol to possess, which, coincidently, are the same attributes to be a successful realtor.  Tony graciously took time out of his busy day to share with me stories about his days as a recording artist, and relived the good times, as well as the bad times, of being a teen superstar.  Our talk was open, honest and blunt.  Tony's story is not only a snapshot in the reality of the teen idol, but it also doubles as a warning to the teen superstars of today.  A lot can be learnt from Tony DeFranco's story.
So come and listen to a conversation between two guys from Ontario in the heart of California as
CONFESSIONS OF A POP CULTURE ADDICT PRESENTS
HEARTBEATS, LOVEBEATS AND TIGER BEATS:
A CONVERSATION WITH TONY DeFRANCO
I talked to Tony DeFranco at his office in Westlake Village in July 2008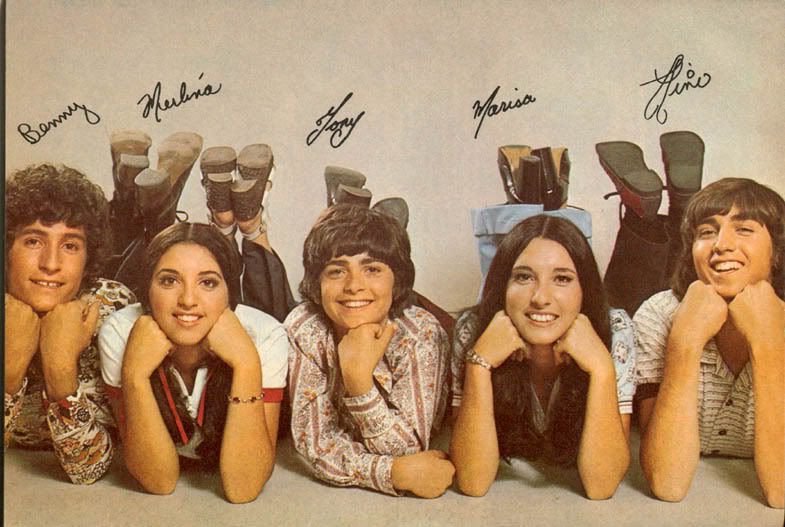 Sam Tweedle:  So Tony.  How often do you get a chance to talk about your days as a pop star?  Do you think about it very often?
Tony DeFranco:  I stay in touch with the old days a little bit.  Not too much.  I mean I get calls from promoters that say "Tony!  I guess things are pretty bad right now, huh?"  And I say "What are you talking about" and they say "Real estate is really bad" and I say "Well, it's not that bad for me" and they say "Damn, because we really hoped you'd join our show."
Sam:  Do you still perform at all?
Tony:  On occasion.  It's been a while now.  I get offers all the time to join up with some 70's revue program in Vegas and/or wherever they are.  I've done it a few times but, frankly, it takes me away from my business and in my business I have a lot of responsibility and I can't in all honesty say to my clients "Hey, I don't mind selling your property for seven million dollars but I'm leaving for a couple of days to sing 'Heartbeat' one more time."
Sam:  Well on the occasions that you have done the revue shows what has that been like?  Do you enjoy that?
Tony:  What I do enjoy most about it is being on stage in front of the people and meeting people that are flipping out and never got a chance to meet me and all of a sudden it's now decades later and they're standing there shaking with the record wanting me to sign it after and that humbles me.  I think that's kind of cool.  I don't like the travel part.  I don't like all the nonsense behind the scenes but, you know, the music starts, they introduce me and then I'm having a good time.
Sam:  Does any of your siblings join you on stage anymore?
Tony:  They have.  If it's in town.  We've done a couple of things in town.  Rhino Records did a Retro Fest at the Santa Monica Civic Center so that was fun, but that was years ago now.  I've done a few things with just my brother Benny because Benny can just back me up on guitar, we do four or five songs, and then we're out of there.
Sam:  So Tony, one thing we have in common is that we're two Canadian guys in California.  You're originally from Ontario…
Tony:  Port Colborne!
Sam:  And you lived in Welland as well at one point?
Tony:  Yeah, we lived moved to Welland for a year or a year and a half.
Sam:  So do you still have a lot of friends or connections in Canada?
Tony:  A lot of family.  You know there's a small army of us Italian Canadians.
Sam:  Do you ever go back there?
Tony.  Yeah.  You know, for a long time there I didn't go back there that often but we went back last summer and visited family.  We went to my Uncle's lake house and three or four years ago Benny and I actually went back to Port Colbourne and we sang.  They actually put together this thing for us in the little town hall and people were coming out of the woodwork so that was fun.  That was really cool.
Sam:  So how long have you been here in California now?
Tony:  Since 1972.  Once we moved here to record "Heartbeat" and the magic carpet ride, as I call it, [happened] we only went back to visit.  I never lived in Canada again.
Sam:  So I was doing some research and I saw this article that was scanned from an issue of Tiger Beat which was talking about you becoming an American Citizen in 1976 during the US Bi-Centennial, however, another article I read during my research says you maintain your Canadian citizenship.
Tony: Yes.  That was just Tiger Beat looking for something to talk about.
Sam:  Have you seen that article?
Tony:  No.  I have no idea.  I haven't picked up a Tiger Beat in decades.  The writers were very nice but they'd sit down and talk to me looking for something.  Anything to write that totally wasn't b.s. and it got to the point that maybe it looked like I had a bit of an attitude because I was a thirteen or fourteen year old kid and they'd ask "So Tony.  What's your favorite color?"  and I'd go "I don't know.  Orange?" and all of a sudden they write "Tony's favorite color is orange" and then I'm getting orange stuff in the mail from little girls.
Sam:  So let's go all the way back to Port Colbourne and your family.  Benny started playing guitar first and then all of you kids played instruments.
Tony:  That's right.  Without any vocals.  We were an instrumental band.
Sam:  Now were your parents musical?  Did they play?
Tony:  Well my Dad did.  He wasn't trained but one of the first things he bought once he got off the boat from Italy when he immigrated to Canada was a guitar.  So he would sit there and entertain himself and he actually had a great voice so whenever we played the Niagara Peninsula, playing weddings and whatever the heck we did my Dad would eventually, after he had a couple of drinks, get up and sing something in Italian and people loved it.  He had a great voice.
Sam:  Did you ever do Tiny Talent Time?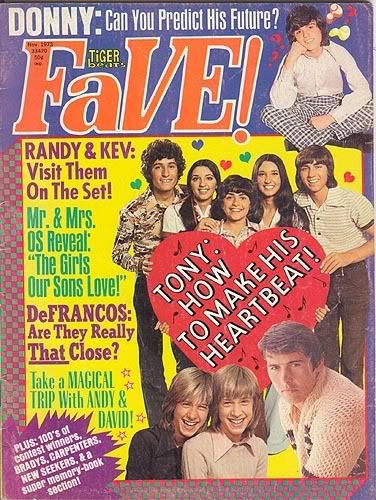 Tony:  We did!  My family did it once before I was old enough and once or twice with me.  We have little recordings of it…"and now we have little Tony DeFranco and the DeFranco Family.  Tony, please answer this question" and it's hysterical.
Sam:  I think everybody of a certain age that grew up in Ontario knows someone who did Tiny Talent Time.
Tony:  We thought that was huge but, in retrospect, was it just local?  Was it just the Niagara Peninsula?
Sam:  It was filmed on CHCH in Hamilton but it was broadcast all over Ontario.
Tony:  It was cool.
Sam:  Yeah, but it's not The Mike Douglas Show.  It's not American Bandstand.  It's not the Grammys.
Tony:  But it was a part of us growing up.  It's amazing over the years how much talent has come out of Ontario.  A lot of Canadian talent from actors to singers to comedians.  It's amazing and you kind of wonder why.  Is it something in the water?
Sam:  Something in the great polluted Lake Ontario just makes it happen.  So your family was a legitimate instrumental band, Benny's writing original music, and all of a sudden your picture gets sent to Tiger Beat, you're in LA and you guys instantly get turned into bubblegum/pop.
Tony:  Yes and no.  I mean, yes, for a lot of people that are trying to have a hit record, for that to happen to us, that's why I always refer it to the magic carpet ride.  Here we are playing in the Niagara Peninsula, I sing a song or two at a park, a gentleman saw us and approached my Dad and said "Hey, I used to work with the Osmonds and your family's got something here" and my Dad says "Okay, whatever you say" so this guy took some pictures, did a couple of recordings and sent them to various teen magazines and record companies.  He got a response from AMPEX Records in Canada and we actually got a deal with them briefly.  Then we got a response from the publisher of Tiger Beat Magazine who flew us to Hollywood and I was like a deer in headlights.  I'd never seen a palm tree.  Total deer in headlights.  Long story short, we met [Chuck Laufer] from Tiger Beat, we went to his house, I sang for him in front of a piano and he flew us up after and said "You know what?  Let's do a few demos."  He couldn't get a producer who wanted to work with us who had success, just because they were saying "I don't want to work with kids!  What am I going to do with these kids?"  So he got a guy named Walt Meskell under Mike Curb, and Mike Curb is huge these days, and we did three or four demos and one of them was "Heartbeat."  We took it to Russ Reagan, president of 20th Century Records, and he basically flipped out and the rest is history.  Within six months we're driving down Ventura Boulevard in the heart of the San Fernando Valley and my brother turns up the radio and he's flipping out!  And then you couldn't stop hearing because, back then in AM radio, the rotation was really short so you'd just change stations and there it was.
Sam:  So what can you tell me about the rest of the group?
Tony:  What their up to today?
Sam:  What do they do today, who they are as people.  Are you still close to your family?
Tony:  Well we're an Italian family.  All families have arguments and issues but we're close.  We're all within one hour of each other.  My brother Benny, my sisters Marisa, Merlina and their families, my mother, they all live out about forty five minutes from where I live here in Thousand Oaks.  My brother Nino is local.  No one is in the entertainment industry although Marisa continues to sing.  She never wanted to stop singing so she sings on weekend and keeps herself occupied and we all pretty much look the same except for a little more or little less hair.  I'm thinking a little less hair for a few of us but I'm not pointing the finger.
Sam:  Who are you closest to?
Tony:  Family wise?
Sam:  Yeah.
Tony:  That's an interesting question.  I don't know.  When it comes to family and brothers and sisters it's tough to say you're closest to somebody.  I think most recently Benny.  When I was younger Benny and I were not that close.  He was just my older brother but over the years we've become relatively closer.  I'm very close to my sister Merlina.
Sam:  Your closest in age, aren't you?
Tony:  Yeah.
Sam:  God.  She was cute.  I might have a bit of a crush on her.
Tony:  She still is.
Sam:  Now are you sick of all the Osmond comparisons over the years?  You know, people ask me about the DeFranco Family and I say that instead of being Mormons they were Italian.  They were the Italian Osmonds.
Tony:  Or the Canadian Jackson Five.  You know, I ended up going to a private school in the San Fernando Valley and it had celebrity brats, including me, and wealthy kids and Michael Jackson went there.  We never saw him except for on occasion.  So one day we're playing with my buddy's basketball and I'm a short little Italian/Canadian kid that can't shoot for shit, but Michael is standing on the corner and I yell "Hey Michael, just join us.  Lets have some fun!" and he's waving at us no. And I say hold on to the guys and I walk up to Michael and I say "Michael.  It's okay.  Just shoot some baskets with us" and he literally says to me "Uh, Tony.  I don't like to sweat unless I'm on stage."  So I say "Ooookay.  Thank you for that bit of information but you're welcomed to join us" and I just walked away.
Sam:  So I was talking to Jimmy Osmond a number of years ago and he was saying that one of the problems in the Osmond Family was that Merrill was the lead singer when the band started but when the spotlight fell on Donny there were some jealousy issues that the brothers eventually managed to iron out.  Were there any jealousy issues with the DeFrancos when the band became The DeFranco Family featuring Tony DeFranco?
Tony:  We always put it aside but, in hindsight, absolutely.  I think my brothers, and my sisters probably, knew that I was getting all the attention and the spotlight was obviously on me.  The lead singer always gets the most attention and I was getting a lot of mail but I think we all handled it well.  We all had our individual fans.  My brothers had their own age group of fans and there was no animosity.  In hindsight I see it, but we figured it out.
Sam:  Now Donny Osmond and Michael Jackson have both gone on record talking about feeling a lot of pressure being the youngest in the family and being in the spotlight and Donny has had his issues, and Michael has his issues.
Tony:  No…not Michael!
Sam:  Yeah.  He has more issues then a year subscription to TV Guide.  But how did you feel that same kind of pressure and how did you handle it?
Tony:  Yeah, I actually managed to handle fame relatively well.  Here's part of the problem when you have fame.  You start as nobody and then you have fame and, well, let's talk about going back to Port Colbourne and Welland after having a hit record.  We were greeted with the key to the city and a parade in Port Colbourne and people were coming out of the woodwork and pulling on our hair and going berserk and that's all fine and dandy but the real issue is what happens when you stop having a hit record.  You start going down and you can't get your career started again and all of a sudden you can't get arrested and people are treating you differently and you're still a teenage boy.  You're nineteen or twenty years old and people are treating you like crap.  So it was something that I had to deal with and I have my skeletons in the closet but, frankly I never went down the toilet like so many people do.  I never had any drug problems.  It's hard for me to even take a Tylenol.  Maybe it was because we came from a loving family.  Maybe it's because I've always just pushed forward and tried to be a good person but during the actual fame portion I kind of retracted.  We bought a property, closed the gates and there were always girls parked down at the bottom of the driveway so you drive by or walk by and they were all over you so I learnt to deal with that, but maybe because it was so short lived, after all these years, looking back I handled it pretty good.
Sam:  So let's talk about those girls sitting at the bottom of the driveway for a minute.  I can remember being twelve years old and having a hard time getting a dance with a girl.  What was it like for you to have your pick?
Tony:  You know, it was a bit overwhelming because I didn't know who to trust.  I mean, did they like me because I had fame and hit a record or were they just genuine?  I'm sure fans would not like hearing this but more often then not if I met a girl who had no idea who I was, I had more interest in her.  But the ones that were just drooling and sitting at the bottom of the driveway…well how do you have a relationship with someone like that?  I just couldn't do it.  I feel weird saying that but it's been enough decades that I doubt it matters anymore.
Sam:  Have you ever sold a house to a fan?
Tony:  People have known who I was and we've talked about it and people get a chuckle out of it but anybody who is a big time fan, I don't know.  That may be difficult to work with.
Sam:  What was the most ridiculous or insane thing that a fan ever did that, even at the age of thirteen, you were stunned and wondering what was going on?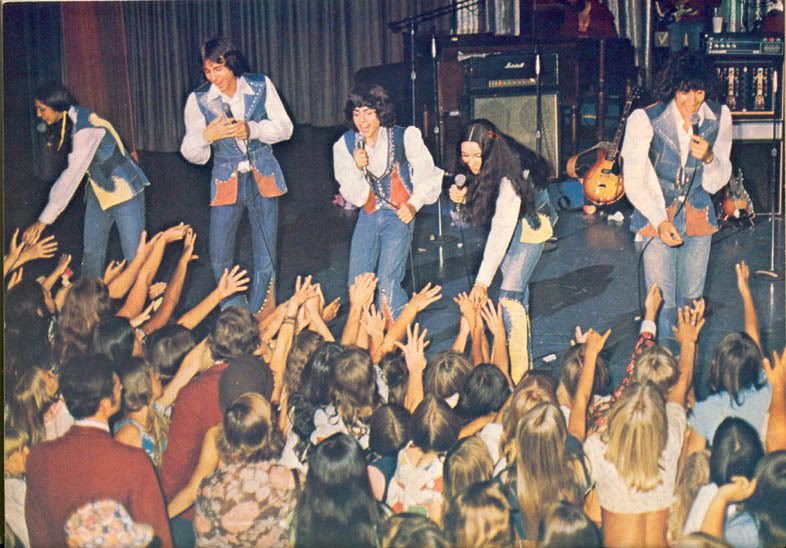 Tony:  Well I don't think it was one particular fan but we had security issues a lot on tour and we were playing in Chicago and the stage got overrun by girls.  First one girl jumped the stage and a cop comes out and pulls her off the stage.  Then two, three, four and suddenly the entire stage was overrun by girls.  We were literally getting mauled and pulled down.  We managed to get back to the dressing room.  They followed us back to the dressing room.  Hundreds of them, pounding on the doors.  So they get us on the bus and they were hanging all over the bus and ripping off the mirrors and we just barely got out of there.  I mean I was bruised, had hair pulled out and it was pretty overwhelming.
Sam:  Do you think it was a mob mentality or a type of hysteria that made them act like that?
Tony:  Well, yeah.  I have a picture of us doing a live show and the shot is from behind.  You can see that it is me singing on the stage but the shot is really of the crowd and the cops are standing along the front and the girls are pressed up against the stage and bawling their eyes out and screaming so when I see footage of that, like the Beatles, I remember that I had a small piece of that.  And I guess what you call it is a fanatic and it's so over the top that they aren't even listening to the music.  It's just their chance to see you and they are flipping out.  They also feed off of each other so if one is flipping out they all start flipping out.
Sam:  Now near the end of your singing career you started working with Mike Curb, who was working with Donny Osmond, and he had this absolutely moronic idea of making the DeFranco Family into a cover band.
Tony:  Not only that, but to us, and I'm going to be brutally honest, they were Osmond leftovers that Donny and the rest of the Osmonds didn't want to sing.
Sam:  Well that is what Donny was doing at that time.  He was having hits with covers such as "Puppy Love" and "The Twelfth of Never" and "Are You Lonesome Tonight."
Tony:  But here's the deal.  We had a sound.  When you listen to the talent and the musicians that Walt Meskill had hired for our early sessions they were really good.  So we had a sound that I thought was really cool.  I don't listen to it very often but when I got into the project of re-releasing our family music on CD I listened to them and thought "Damn, [Walt] was really good."  So then we look at the progression were we said "Let's go to Mike Curb.  Lets go to somebody else who has had success" and that's all fine and dandy and maybe we could have had done better with him.  Maybe not.  But my memory of it as a young man was "Okay.  I'm not comfortable with this" and the record company and the manager saying "What do you know?  You're a teenage boy.  Just go in.  He's really good."  So they decide that he's going to produce us.  We work on song keys and the next thing we know and the songs are ready for vocals.  I went "What do you mean?  Where's the session?  I want to go to the session of the tracks being recorded."  They say "No no, their all ready to be sung on."  So I go "How do you know their in the right key?"  They said they'd be fine.  So, you know what, I may have been a young man but I wasn't stupid enough to know that these songs had already been recorded and I went and listened to them and my heart sank, my head sank and I went "These are somebody else's leftovers."  I didn't like it.  This is how I felt back then.  Mike Curb was a very successful…is still a very successful…business man so I don't hold a grudge against him.  I think it was a mistake of management and the record company to go down that path.  I'm not criticizing Mike Curb's work.  I'm criticizing the choices for what we were known for sound wise and those songs didn't work for us at all.
Sam:  Now Benny was writing songs and they wouldn't let those songs be recorded.  What was the reason for that?
Tony:  It's probably mostly politics, because I remember having gone to a few people and you would think that they would say "Hey, this is great" because as greedy as everybody was in management and our circle of people, you'd think they'd go "Hmm.  Well their writing songs, and Tony's giving Benny lyrics and their kind of putting together these great ideas, maybe we can make a lot more money off the publishing side."  And anybody who knows anything about music knows there's a lot more money in publishing but it just never came to be.  So be it.
Sam:  What would you say the difference between the 70's pop industry compared to today's pop industry?
Tony:  You know, I don't think there is much of a difference anymore.  Because for a long time there after the so called manufactured children's groups were going away, people said it was bubblegum and it had a negative condemnation.  Then it went through the boy band era.  Now if you look today, what is probably the strongest selling marketing thing, and it's all manufactured, is Disney stuff.  Hannah Montana to High School Musical, and its all the same [as the 70's], just magnified, because I was just telling my son last night, because we were talking about whose making it and whose not making it, that I made it in the wrong era because if I had made it today I'd have a lot of money.  Back then I made nothing.  Big difference.  Because all of these people, and I'm not taking away from their talent because I'm not throwing out any names, some of them are probably genuinely talented but some of them are really borderline. Their are applications and studio tricks that make some of them sound really good and all I know is that when I was in the studio I worked my butt off until two or three in the morning, as a little boy, rerecording.  There weren't any computer tools to fix my vocals.  I had to do it.  But I think it's the same thing.  It's a marketing machine.  I don't think Chuck Laufer, who was the publisher of Tiger Beat, had it wrong.  He signed us and simultaneously promoted my face in the magazine which fueled interest in the record, which was two fold.
Sam:  Which came first?  The magazine or the record?
Tony:  He did some test pictures of me in Tiger Beat to see what the response was, and from the responses he got back from the little girls he said "We gotta do a record with this kid."
Sam:  Now one of the greatest things I get to do in my work is getting the chance to talk to my icons and idols.  In your career was there anybody you met that just blew your mind?
Tony:  That's a sore subject because a lot of times people have celebrities, actors or singers or whatever, and you really want to meet them.  You just can't wait to meet them and then you got to be careful what you wish for because when you do meet them you think "What a god damn asshole."  It's happened frequently.  But realistically I've never been overly excited about meeting to many people but every once in a while you meet somebody and you think "That's a genuine talent" and you know why they have a long career.  I worked with Tina Turner.  I met her when she was doing the movie What's Love Got to Do With It.  I helped coordinate the sessions to recreate her recordings and she was down to earth, she was great, and she sang her ass off.  And I remember one of the Disney suits, because the whole studio was full of Disney suits, asking "How do you work this thing," talking about the talk back feature and the engineer says "Push that button" and the suit says "Um, Tina, I'm thinking…" and he wanted to put in his two cents about how she should sing her song.  And she asks "Who are you?  Well, I've been singing this song a long time and there are many things you can tell me how to do in life, but don't ever tell me how to sing that song!"  So that guy put his tail between his legs and left.  It was hysterical.  Then there was Dick Clark.  We met him numerous times.  He was fantastic.
Sam:  Well I read that when you guys first appeared on American Bandstand that it received the highest rating that the show had gotten up to that point.  The record was obviously broken soon afterwards, but that's pretty impressive.
Tony:  Well it was cool because it was the first national show we were on and we had this stupid, ridiculous dance routine for "Heartbeat" where we did this stupid heart shaped thing [with our hands].  Some of the dance routines were pretty cool but that very first time on Bandstand was like "What the hell is this?"  We got rid of that choreographer and we got somebody else.  But my point is that Dick Clark made us comfortable.  He said "This is what's going to happen.  You're going to do this, this and this and I'm going to ask you a few questions, make your answers relatively short, and then we're going to segway and you walk off this way."  I've always been comfortable in front of people, comfortable on stage, comfortable with a microphone but never comfortable with cameras and that very very first time on that show it hit me like a freight train so I just did what he said.  I sang, answered the questions and I think I got through that.  The cameras were always bothersome.
Sam:  What I find interesting when I flip through some of the teen magazines from the 70's, and right into the 80's, is that I often have to actually wikipedia some of the featured stars, like Sajid Khan and Corky Nemic, so I can figure out who some of these guys are.  So this proves that fame can be fleeting.
Tony:  Absolutely.
Sam:  So what would your advice be to some of the teen idols of today?  I mean, if you could sit and have a one on one with a guy like Zac Efron what would you tell him?.
Tony:  I would just say don't let it get to your head.  And it's really interesting because that was one of the first things they said to me and I didn't know what they were talking about.  But in hindsight it all got to their heads and they were the ones who got an ego out of it and got greedy.  So to go back to these younger kids right now I'd say don't let it get to your head and stay humble because you might think your amazing today and everybody's telling you you're so fantastic and your hearing yourself on the radio and everybody is taking pictures of you and everybody wants your autograph so you think you're fantastic.  But stay grounded.  Keep control of knowing where your money is at.  Who's handling your money and be smart about it because it may not be there very long.  Odds are it wont.  Think about how many people, and I'm just talking about the music business, who have had more then one hit record.  Not many.  How many have had more then two hit records?  I mean it goes down and down and down, and the artists that have had success from decade to decade can probably be counted on two hands.  That's it!  The road is littered with the carcasses of many dead careers.  But be smart about your career today and what you do with your money because otherwise your going to find yourself twenty or thirty years down the line being desperate to hang on to your fame.  So what happens with that, and I'm not throwing out any names, is you're still working the system.  You're trying to get some interviews with some companies and a record deal and you're on tour and you're just trying to live off of that old fame.  It took me a long time to say "I don't need to do that."  I really don't.  I mean I did want it for a while.  Could I record again?  Do a CD of some standards?  Yes I could and I would do it for fun with zero expectations of it taking off and I'd just sell it on-line but that would be the only way I'd do that.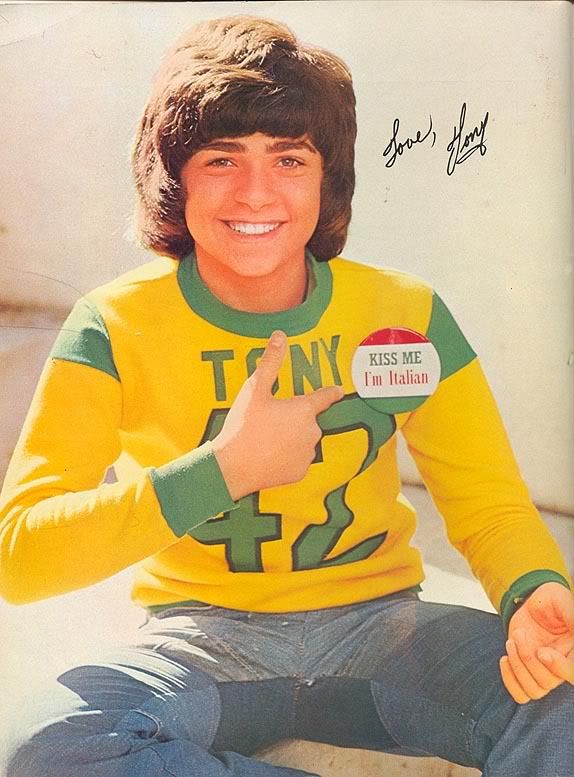 Sam:  I know what you are talking about.  I've seen it happen to guys far too often.
Tony:  It's like their hitting their heads against the walls and their desperate for the next gig where they're going to get paid three hundred bucks.  It's pathetic.
Sam:  What would you say the most valuable thing you learnt from that period of your life?
Tony:  School of hard knocks.  Not to be so trusting of anybody when it came to contracts.  You see, my parents immigrated from Canada right off of the boat and were struggling with the English language and they were very trusting so when somebody wanted to work with us or wanted to sign us my Dad would be very humble and say "Take good care of my kids" instead of saying "Maybe I should get an entertainment attorney to look at this contract and make sure my kids are being taken care of."  And I'm not bagging on my Dad, but the biggest lesson I learnt is that the entertainment industry is a dirty business, it's a greedy business and you have to look out for yourself because nobody is going to look out for you.  But it was fun though.  I have memories from back then that I wouldn't trade for anything because the reality is that when people say "You must have become a millionaire from that," I'm a millionaire in experiences and how it changed my life.
Sam:  Well that's great Tony.  Thank you!
Tony:  You got it!
My afternoon with Tony DeFranco was easily one of the highlights of my time in California.  Tony was very good to me and one of the most down to earth and genuine people I have ever had the chance to interview during the time that I've been doing Confessions of a Pop Culture Addict.  However, its no secret that I am a huge 1970's bubblegum fan, so spending some time with one of the stars from that industry was a thrill all it's own.  I want to thank Tony for being such an open and honest host, and for giving me something special to remember during my first trip to California.