William Schallert is one of those special kinds of actors who become the backbone of Hollywood.  His name might not be on the tip of your tongue, and the paparazzi isn't parked outside of his house, but he has one of those recognizable voices and comforting faces that has been entertaining audiences for generations via television and motion pictures.  With a career that has spanned over six decades, William Schallert has made hundreds of television appearances in every genre of program imaginable, often playing "everyman" or "straight" characters – businessmen, judges, lawyers, doctors and TV fathers.  Best known by classic television fans as Martin Lane, the father/uncle of Patty Duke on the 60's hit series The Patty Duke Show, Mr. Schallert also played Carson Drew, the father to detective Nancy Drew on TV's The Nancy Drew/Hardy Boys Mysteries as well as the father to Gidget on the short lived The New Gidget.  Many television fans remember him as "square" teacher Mr. Pomfritt on The Many Loves of Dobie Gillis, and as the absent-minded elderly Admiral Hargrade on Get Smart.  Science fiction fans remember him as politician Nilz Barris in the classic Star Trek episode The Trouble with Tribbles. 
However, in his long career William Schallert has participated in television's greatest, and sometimes not-so-greatest, TV productions including Playhouse 90, The Burns and Allen Show, Zorro, Leave it to Beaver, Maverick, Peter Gunn, Gunsmoke, The Jack Benny Show, Have Gun Will Tarvel, The Red Skelton Show, The Twilight Zone, The Rifleman, The Andy Griffith Show, Alfred Hitchcock Presents, Bonanza, Perry Mason, 77 Sunset Strip, Rawhide, Rat Patrol, Mission: Impossible, The Wild Wild West, Bewitched, That Girl, The Mod Squad, Room 222, Land of the Giants, Hawaii Five-O, The Partridge Family, Banacek,  Ironside, Kung Fu, The Six Million Dollar Man, The Bionic Woman, Archie Bunker's Place, Little House on the Prairie, CHiP's, The Waltons, Sheriff Lobo, Lou Grant, St. Elsewhere, Matlock, Quantum Leap, Murphy Brown, Lois and Clark, Roseanne, ER, My Name is Earl, How I Met Your Mother, Desperate Housewives, True Blood and Medium.  That might look like a mighty list of television programs there, but that doesn't even scratch the surface of his TV appearances and doesn't even include his film appearances, including Singing in the Rain, Mighty Joe Young, The Man From Planet X, M, Them!, The Incredible Shrinking Man, Band of Angels, Pillow Talk, In the Heat of the Night, Speedway, Colossus: The Forbin Project, The Jerk, Gremlins and Innerspace.  From Shakespeare to Soap Operas, William Schallert has done it all.  While we watched the pop culture journey from our living rooms, the path was his reality.
Listening to William Schalllert's stories is like listening to the history of the entertainment medium.  His words are probably one of the most valuable oral histories of the behind-the-scenes-reality of Hollywood, through all of its multiple generations and changes.  After nearly two hours of tape I know that I didn't even begin to hear it all. 
What we are presenting is just a fraction of the amazing stories and memories of one of Hollywood's most beloved and respected character actors.   William Schallert is a man who has quietly lived the complete Hollywood experience:
CONFESSIONS OF A POP CULTURE ADDICT PRESENTS
HOLLYWOOD EVERYMAN:
A CONVERSATION WITH WILLIAM SCHALLERT
PART ONE
I spoke to William Schallert via telephone in November 2009 from his home in Los Angeles.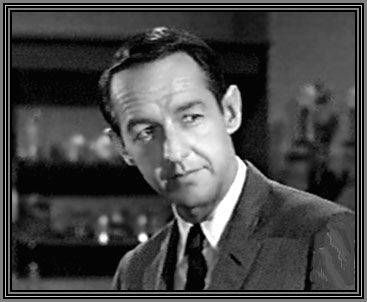 Sam:  Sitting in front of me here is your list of film and television credits printed out from  IMDB and it prints out to thirty six pages.
Bill:  I've seen IMDB and it's just ridiculous, and it doesn't have everything.
Sam:  For my research it's been a little overwhelming because I just don't know exactly where to even begin.  You've had an amazing career! I have never interviewed anybody with this extensive amount of work.
Bill:  Well, I was busy.  There's no question about that.  I was also the main support of the family.  My wife worked from time to time, but not a lot, and we had four sons so I had to keep working; I was not selective.  Strother Martin and I were pals in the early days.  He was very particular with what he did.  I wasn't:  I did whatever they offered and would fish for things, too.  I had to keep working.  That's all I did.  I never did anything else so the only way to make any money was to act. 
Sam:  What keeps you working?  You're still appearing on television now, while most actors your age have long retired.
Bill:  I have a good pension with SAG and ACTRA and with Equity but I love to act.  That's the bottom line:  I just like to do it.  There's nothing else I've ever done that gave me any real satisfaction and that I could do fast enough to make a living.  On a professional level you have to be fast enough to do something for a living.  All of the people that I know that do anything professional as a living, are sort of like track stars: they can be coached, but they have to start out being able to run really fast.  People have basic talents that put them out of a normal range.  In terms of acting, I don't think I was a great actor but I was a very versatile actor.  I fit into a variety of things.  I was what you called a "straight character" actor.  That turned out to be less of an advantage when you get old.  It would be better if I was more gnarly-looking. 
Sam:  Well in True Blood and Desperate Housewives you were effective as playing sort of a "distinguished gentleman."
Bill:  Yeah, but its fun when I play a curmudgeon.  In According to Jim I did that, and when I was on How I Met Your Mother I played someone who's kind of loony because he's so angry.  That kind of stuff is fun.
Sam:  You're a lifelong resident of Los Angeles and your father was Edwin Schallert, the famous drama editor.  Did the combination of the two have an influence on you to become an actor?
Bill:  My father was the drama editor of the LA Times for forty years.  He started out as a reporter and was hired only two years after the Los Angles Times bombing so that had a big influence on the household.  It was very Republican and very anti-labor.  My mother was not really that way at heart, but she also wrote for the fan magazines.  She had a radio show for a couple of years.  So I grew up in a household where there was a lot of talk about the business and, once in a while, someone from the business would come by the house.  Bonita Granville and Marcia Mae Jones came by the house once and were very nice.  We lived in a modest bungalow on the west side of LA, just off of LaBrea and they came by on a visit and I got to meet them.  I was a bit starstruck.  We used to get invited to Shirley Temple's birthday party every year.  She'd sit on one end of the room and the rest of us would be at least a quarter-mile away from her.  I never really met her but it was kind of fun.  I grew up in an atmosphere where a lot of stuff like that was going on, but it was not necessarily going to lead me to acting.  I kind of stumbled into acting when I was at UCLA.  I got into a play more or less by accident.  The result of that was that I got kind of hooked. 
Sam:  What do you mean "by accident?"
Bill:  I mainly got involved because I was going out with a girl who was involved with a little theatre that was getting started.  It was The Circle Theatre and it was quite an important theater in the development of small theatres in Los Angles.  Charlie Chaplin's son, Sidney was involved, so Charlie Chaplin used to come down.  A lot of people came because we were one of the only places in Los Angles where people could see theatre.  We had a distinguished clientele.  The whole place held about 125 people but the acting area was about the size of an 8X10 rug and the audience would sit around.  There was only about two or three rows on each side and deeper on one end.  The ones who were sitting on the sides were very close to us and we'd be very aware of what their reactions were. 
Sam:  Didn't you eventually do a production directed by Charlie Chaplin?
Bill:  Yes.  Well, one of the people who would come down and see us was June Havoc and her husband.  We thought she hated us because she never laughed, but she said to us that she would like to do the show Rain because she had done the musical version on the stage in New York.  She wanted to establish her dramatic chops in town.  We were thrilled:  God, we have a name!  When Chaplin heard about it he said "Oh.  I would like to direct that.  I saw the original production with Jean Eagles and they did it all wrong."  But that was the ego of a genius.  We had a fellow named Terry Killburn who was with the theatre, who put the production on its feet, and then Chaplin came in and put the finishing touches on it over a three-week period.  It was very exciting.  Some other people who were at the theatre at the same time and started there were Sydney Chaplin and Kathleen Freeman and Struthers Martin.  We had some good young actors.
Sam:  Does the theatre still exist?
Bill:  Yeah.  The building still exists and it's become an historical monument now mainly because of us.  For a while it was called The Cast Theater and it's the El Centro Theatre now.  It was a fifty year old drugstore when we got our hands on it and we gutted it and turned it into the theatre in the round, and then we got a hold of the building next door which was a storage space for RKO.
Sam:  Were you doing straight roles back then?
Bill:  I did all the character roles.  I was never a real leading man, although I did some.  I did some of the off-beat character; I did a lot of the older guys.  I stayed with the theatre and through the four years there I gradually gained a foothold into the business and, amongst other things, I did The Red Badge of Courage for John Huston.  I'm not credited in it, but I've got a part.  He told me "You're the philosophical soldier.  The poetic soldier."  John Huston had written unconnected lines of dialogue for members of the permanent cast and I got some of the interesting lines. 
Sam:  What do you consider your first major break-out role?
Bill:  The first thing that really amounted to anything was The Man From Planet X but it was a pretty cheap picture, so it really didn't amount to much.  But I got star billing and I was in the paid advertising and all that.  We kind of struck on the wave that was created by The Thing, which was a really good science fiction picture, but we were released a week before so we picked up a lot of pre-momentum from that so the picture made its money back. 
Sam:  The Thing is a good picture, but I think that some of the themes in The Man From Planet X are more interesting.
Bill:  (Laughs)
Sam:  No, it's true:  the whole idea that the invader isn't friend or foe until there is aggression put towards the alien, thus making him foe.
Bill:  Well I ruined him; if he was ever going to be any use to the earth I messed that up!  I was evil.  I had evil intent all the way.
Sam:  Well you're not famous for playing villainous characters.
Bill:  I've played my share.
Sam:  A lot of your early television work was the anthology programs and the live television.
Bill:  Yeah.  I did a lot of it.  I was in the very first Playhouse 90 and another show I worked on was Climax. 
Sam:  Did you find live television to be stressful?
Bill:  It could be.  I used to do a show called Matinee and they did five shows a week.  If you worked on it you had four days to work on it and then it went live.  It went on at noon.  The music used to give me nightmares.  Everytime I did it I didn't know if I was going to get through it.  Live television was hairy.  The golden age of live television in New York only lasted about five years but it was a wonderfully creative period and a part of it was because the people who were running the networks weren't paying a lot of attention so people who were creating this stuff had a pretty free hand.  They sort of made it up as they went along.  You had Paddy Chaefsky and Rod Serling and a whole bunch of really good writers who were writing stuff for that, and a whole bunch of good New York actors.  The Actors Studio had just started and the Group Theatre had just finished but I wasn't there.  I missed that but it spilled over to the west coast and we had a very active live television production out here.  We had Lux Theatre and Buick Electra Playhouse.  Then I also got to do live comedy with Red Skelton and Jack Benny. 
Sam:  You've been a part of a lot of beloved television programs as either a regular character or a semi-regular character.  What was your first solid acting gig?
Bill:  That would be Dobie Gillis.  Before that I worked on Phillip Marlow where I played a 45-year-old cynical Jewish police sergeant.  The only thing cynical was the guy who cast me because I wasn't 45 or Jewish, but that sly, slightly sarcastic humor was something I could do.  That really suited me.  That was kind of a helpful thing.  But that same year I was on Dobie Gillis.  I was the second choice.  I was often the second choice.  I was the second choice for The Patty Duke Show too.  Herb Anderson, who played Dennis the Menace's father, was the initial Mr. Pomfritt but he got Dennis the Menace and left, so they were looking around and found me.  I had a wonderful time doing that.  I worked off and on on that for four years.
Sam:  Dobie Gillis is one of my very favorite shows of that era. 
Bill:  Isn't it good?
Sam:  Even now I am amazed on just how "hip" it was.
Bill:  Oh it was!  The first year I was on it  I got to work with Warren Beatty, and the next few years I was able to work with Tuesday Weld.  She was such a wonderful light comedian and very underappreciated actress.
Sam:  You know who was really cool on that show was Bob Denver.
Bill:  Oh yeah.  And you know after we had shot the first four episodes, Bob had to leave the series because he had gotten drafted.  So the producers hired Michael J. Pollard as a replacement for Bob, but after a week Bob showed back up and said "They turned me down.  I've got a bad knee."  So then they had to make up their minds if they were going to go on with Bob Denver or use Pollard.  The show hadn't aired yet, but they had a feeling and they were right.  Denver had something unique.  Pollard was good too, but not in the same way.  He wasn't as warm or cozy as Denver was.
Sam:  There was a strange rhythm to Dobie Gillis.  A natural patter of sorts.  Was there much improvisation going on during filming?
Bill:  No.  Max Shulman wrote the first year and you better know your lines.  Max Shulman was a comical genius. 
Sam:  There is a tongue-in-cheekiness at times.  Especially with Dwayne Hickman.  He seemed to be in on a giant joke.
Bill:  He was very droll, very understated.  I always loved Florida Friebus, and Frank Faylen was a little over the top but he had great lines.  It was always fun to work on.  We would shoot it over two days.  We would get together on one day, rehearse and block it, and on the second day we would shoot it using two cameras.  That was a technique that had been developed by George Burns.  Rod Amateau, who was the producer and director of Dobie Gillis had worked for George Burns and he adapted that particular way of doing things.  It was very efficient.  The other thing about Dobie Gillis is that they got the laugh track honestly.  They used to show the episodes to a studio audience and they would record it and get the genuine studio reaction.  They relied on the show working.  
Sam:  Of course your most famous role is as Patty Duke's father Martin Lane on The Patty Duke Show.
Bill:  Yeah.
Sam:  How did you get involved with The Patty Duke Show.
Bill:  They originally cast Mark Miller, but lost him to Please Don't Eat the Daisies.  So I got the offer to do The Patty Duke Show.  Oddly enough, Jean Byron was already cast in it, and she had been on Dobie Gillis too, working as a teacher on that.  She taught anthropology and I taught English.  Jean was terrific.  She used to sing with Tommy Dorsey.  She did a lot of stuff and she was lovely to work with. 
Sam:  I am a huge fan of Patty Duke.  What was it like being her TV dad?
Bill:  Patty and I really bonded because I had four sons and she had no father.  Her father had left the family when she was a little girl.  He died while we were shooting the show.  She came in one day and said "I heard today that my Daddy died" but there was no real affect because she hardly knew him.  It was very strange coming from her almost impersonally.  I always called her the "daughter in my heart."  I see her from time to time.  She also served as the President of the Actors' Guild, a few years after I did.  I love her.  I think she's a wonderful person and she has a couple of really terrific kids.  Sean has done very well in the business.  She was a good mother. She was a conscientious person.  That's how she approached her work.  She knew everybody's lines including her own, she was already "Johnny On the Spot" on the set.  She was in complete control of herself as an actress and she was only sixteen!  I thought she was terrific.  A real professional.