PCA reviews the latest graphic novels, for people who wait for the TPB.
Anybody who ever bought an Archie Digest has read a  Li'l Jinx comic.  She is the precocious little girl in the four panel gag strips that fill in the page count of the popular digests.  Not really an Archie character, Li'l Jinx strips have always seemed a bit out of place, but oddly familiar at the same time.  Created by cartoonist Joe Edwards, Li'l Jinx originally appeared in Pep Comics in 1947.  Jinx, her father Hap, neighborhood bully Charley Hawse, boyfriend Greg and rich girl Gigi was Archie's answer to the Little Lulu or Little Audrey strips that were popular during the era.  However, by the early 1970′s Li'l Jinx was discontinued, although her strips would be recycled as digest filler to this day.  Well Li'l Jinx is back for a new generation.  Last year, as part of Archie's 70th anniversary celebration, J. Torres, Rick Burchett and Terry Austin recreated Li'l Jinx's world by not only making her and her friends older, but putting them in a realistic world which today's kids can actually relate to.  After what proved to be a shaky publishing history, the four part Jinx series is now finally available in one accessible collected volume!.
Archie Comics announced last year that Jinx was going to be a four issue mini-series, and then it was slated to move to the extremely popular Life with Archie series.  However, after the first issue was published in Life with Archie #7, the rest of the series was banished to digital format.  Fine for the minority that have moved to that format for reading comics, but for traditional fans that want a comic book in their hands, the Jinx series went basically unseen.  As a result, collecting Jinx in a TPB form is the first time that most readers have actually been able to get their hands on the updated Jinx series, and it's been a long time coming.
J. Torres has always had a knack for writing all ages stories featuring teenage characters.  From his creator owned projects like Alison Dare and Sidekicks, to his Johnny DC runs on Teen Titans Go and Legion of the Superheroes, to his superb work on the Scholastic series of Degrassi: The Next Generation graphic novels, Torres has become the expert at writing intelligent and fun stories aimed towards kids, but that are creative and thoughtful enough for adult readers to enjoy.  This is not an easy balance to achieve, but Torres just has this special ability to find a realistic voice for adolescent characters.  As a result, Torres is the perfect creator for the updated Jinx project.  Torres obviously took a good look at the source material and carefully lifted the original characteristics and inter-relationships of the Li'l Jinx characters and used it to flesh out Jinx's world.  What helps Torres dramatically is the fact that Li'l Jinx comics were usually a single page, although on the rarest occasions ran for seven pages.  As a result there is little continuity or mythos to the series to stay true to, allowing Torres to have a much wider space to play with when reimagining the characters.  However, in most cases, the characters in Torres' Jinx are very much the characters that readers remember, just older and, in many ways, far more endearing.
Each chapter in Jinx is a stand alone story, although it is loosely linked at the end with a continuity creating cliffhanger.  The book chronicles Jinx's first two months in high school, going from Labor Day to Halloween.  Within the four chapters Torres reintroduces readers to her cast of characters, and establishes love triangles and relationship problems that manage to connect back to the original Li'l Jinx stories.  But what the new stories have is a sense of depth without ever getting too intense or dramatic.  What really is refreshing about Jinx is that while Torres decided to go down a far more realistic route then even the Archie series, he still keeps the Jinx stories light hearted and fun.  He doesn't delve into the "heavy handed" issues like teen pregnancy or drugs or suicide or bullying that many teen publications feel that they have to get into.  There is enough platforms for such topics to be discussed in other forums, so it is refreshing that Jinx's world doesn't get any more melodramatic then trying to join the football team, kissing a boy and fighting with her friends.  Although the plots may sound trite, Torres is able to bring them out in a fast and fun way making them enjoyable for a wide range of readers.
Possibly the best thing that Torres was able to do was reestablish the same relationship between Jinx and her father which appeared in the original comic.  One of the early single Dad's in comic history, Hap always was forced to be stern by Li'l Jinx's antics while the two tried to outwit each other, although the end result was often a bewildered amusement from Hap at Jinx's ultimate cleverness.  Torres reestablishes this dynamic but adds a more realistic third dimension to their relationship, with Hap having to now face the new challenge of raising a teenage daughter and trying to be a supportive and understanding father while Jinx continues to be as headstrong as she was as a child.  Although the two are at odds throughout the series, the true closeness between father and daughter is beautifully captured by Torres as Hap confronts Jinx's new found teenage angst in some of the books strongest moments.
A big part of what helps Torres' stories keep their charm is the fantastic artwork by Burchett.  Burchett successfully updates the Jinx characters to look like real awkward teenagers while still being recognizable as teenage versions of the original Li'l Jinx characters.  Greg is tall and lanky, Mort has zits, Charley is ugly and Roz is plump.  It's great to see kids that actually look like kids.  The confusing members of the cast to me is Gigi, who is suddenly turned into a Asian character and Russ who is just a little too well tailored for a jock.  But then we come to Jinx herself, who is the same spunky, wide eyed, tom boy from the original comics.  Burchett's facial expressions, conveying a range of emotions, are simply classic and he makes the character far more endearing then she had ever been before.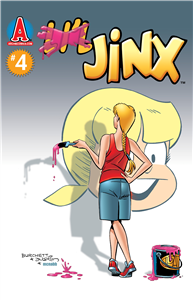 Now I'll be honest.  I have never been a fan of the original Li'l Jinx comics.  Even as a kid I found them to be sickening sweet and juvenile.  However while Torres, Burchett and Austin's take on Jinx and friends is also sweet, it is in all the right ways.  I absolutely love their version of Li'l Jinx!  At the end of the book it states "The End…for Now" and I hope that Archie Comics keeps to this promise.  With three books being recently discontinued by the company could a regular Jinx book be on its way?  If not, then Archie Comics should at least put out additional volumes of Jinx graphic novels.  Perfect reading for today's kids, and enjoyable for the adults that remember the original Li'l Jinx comics, this is a charming little book which leaves me wanting more.  Torres has breathed new life into what was a dead franchise, and Archie Comics should hold on and run with it!  The comic industry needs more all ages books like Jinx.