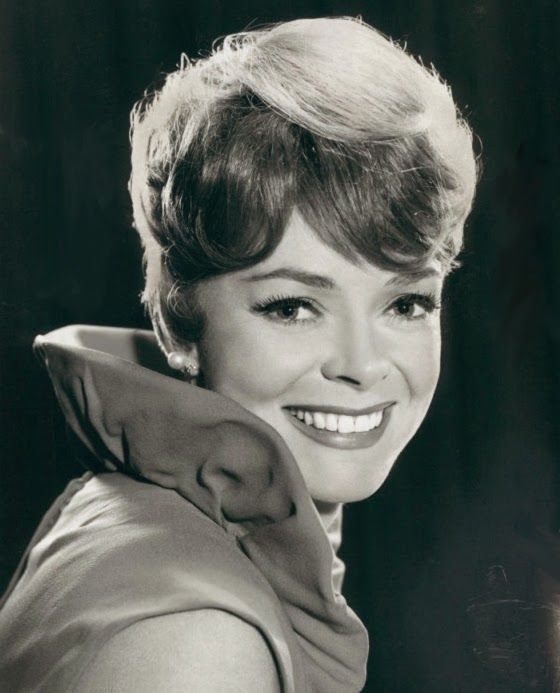 For over seven decades actress June Lockhart has had one of the most varied careers in pop culture.  Finding success in film, television and Broadway, she has appeared in space operas, family melodramas, rural comedies, Universal horror films, MGM musicals, live television, anthology programs, kid shows, animation voice acting, and every single sort of genre of television one can possibly imagine.  However, despite an amazing career with hundreds of credits to her name, fans will always remember her as two of television's favorite Moms – Ruth Martin on Lassie and Maureen Robinson on Lost in Space.
The daughter of respected actors Gene Lockhart and Kathleen Lockhart, June made her film debut in 1938 when she played her parent's daughter in A Christmas Carol.  Although choosing to focus on her studies instead of being a Hollywood kid, film roles kept calling and via the guidance of her father she found notable parts in a series of well-remembered films including All This, and Heaven Too, Adam Had Four Songs, Sergeant York, Meet Me in St. Louis and Son of Lassie.  A move to New York in 1947 to star in For Love or Money on Broadway earned her a Tony Award, and she began to appear on live anthology programs during the golden age of television.
Gaining a reputation as a well-respected character actress, it was during a low point in her life that she replaced Cloris Leachmen in the role of Ruth Martin on the insanely popular family drama Lassie.  The role popularized her in households across North America, and put her on the pop culture radar.
But June would strike pop culture gold when Lassie left the airwaves in 1964 and she changed gears completely and donned a silver space suit to play the youthful mother and wife Maureen Robinson on Irwin Allen's cult classic Lost in Space.  A psychedelic space opera beloved by generations of fans, Lost in Space ended in 1968, where June took another unlikely journey on the Cannonball Express and moved into Petticoat Junction to replace recently deceased star Bea Benederet as Dr. Janet Craig, the new "motherly figure" at the Shady Rest Hotel.  June would stay with Petticoat Junction until its end in 1970.
Three popular series in a twelve year span sealed her his legacy on television, but June's television appearances would stretch throughout the decades in such TV favorites as Love, American Style, Marcus Welby, Adam-12, The Hardy Boys, Magnum PI, Falcon Crest, Knots Landing, Quincy, Full House, Babylon 5, Roseanne, The Ren and Stimpy Show, Beverly Hills 90210, The Drew Carey Show, Greys Anatomy and hundreds of other TV programs.
However, in recent years June Lockhart has moved her attention away from acting and has found a new passion working with The Los Angeles Lawyers Philharmonic.  A lifelong fan of classic and choral music, June Lockhart considers her to be the group's most vocal "groupie."
I had the great pleasure of speaking with June Lockhart as she was preparing for The Los Angeles Lawyers Philharmonic yearly concert at The Wilshire United Methodist Church, which is to be held on November 15th.  A lovely lady with a plethora of stories, June and I spoke about music, movies, television and her amazing career.

READ FULL INTERVIEW