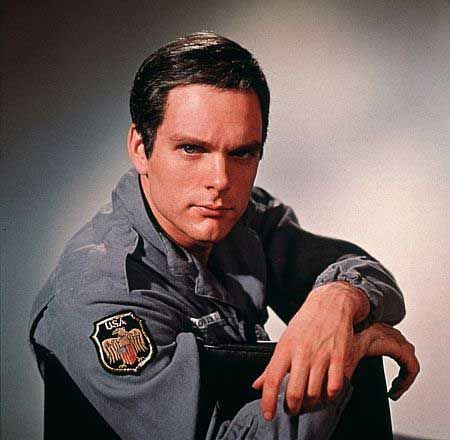 In a career that has lasted over five decades, Keir Dullea has found a lifetime of success as a working actor on stage, television and film.  Breaking onto the cultural radar in 1959, Dullea made a reputation for himself for playing intense and troubled young men.  With his fair complexion, youthful features and striking pale blue eyes, Dullea found an instant niche in the roles of loners, weirdos and psychopaths.  Within time Dullea was able to break out of that typecasting by taking parts in independent films and, primarily, the stage.   As a result, Dullea has created a solid career as a dependable character actor who delivers in every performance he gives.
The son of Greenwich Village bookshop owners, Dullea studied theater at San Francisco State College and New York City's Neighborhood Playhouse.  After spending time in summer stock, Dullea began to find small roles in television productions before landing his breakout role in 1961 as a good kid on the wrong side of the law in Don Murray's pet project Hoodlum Priest.  Igniting the screen with a performance filled with pathos and tragedy, Dullea captured the attention of audiences when the film won praise at the Cannes Film Festival.  But he would define himself as a leading dramatic actor a year later when he teamed up with actress Janet Margolin in David and Lisa.  A bold look into the lives of adolescents suffering of mental illness, David and Lisa was shocking for its time and is still bold for today's standards, and launched Dullea to stardom.  The film would be nominated for two Oscars, and Dullea himself won the Golden Globe Award for "Most Promising Male Newcomer."  More roles highlighting his ability to play disturbed characters followed.  In The Thin Red Line he played a tortured soldier; in Bunny Lake is Missing he played a psychotic brother with incestuous tendencies; in The Fox he played a mysterious stranger who destroys a lesbian couple.  He even played the title character in the ill-fated 1969 film De Sade.  But he gave his most famous performance in 1968 when he took the role of astronaut Dave Bowman in Stanley Kubrick's epic 2001: A Space Odyssey.  One of the most important films of all time, Dullea's performance sealed his place in the history of cinema, and made him one of great names in cult movie history.
More projects followed in the 1970's, including the horror favorite Black Christmas, Canadian dramedy Paperback Hero and the not so classic TV series The Starlost.  But during this time Keir Dullea returned to the stage and found greater success in the theater.  Making his Broadway debut in 1967 in Dr. Cook's Garden, Dullea followed in productions of Butterflies are Free, P.S. Your Cat is Dead and the 1974 Broadway revival of Tennessee William's Cat on a Hot Tin Roof in the starring role of Brick.  Dullea's career in the theater would continue for decades, eventually eclipsing his television and film appearances.
With two new films, Isn't it Delicious, currently on the film festival circuit, and Infinitely Polar Bear, scheduled for 2014, Keir Dullea is currently preparing for a return to Cat on a Hot Tin Roof, this time in the key role of Big Daddy.  Gaining the opportunity to speak to one of the true talents of the cinema, I was excited to talk to Keir Dullea and found him to be a true gentleman as he talked about his life, his films and his career in the theater.