PCA reviews independent and foreign films that you haven't seen…but you should!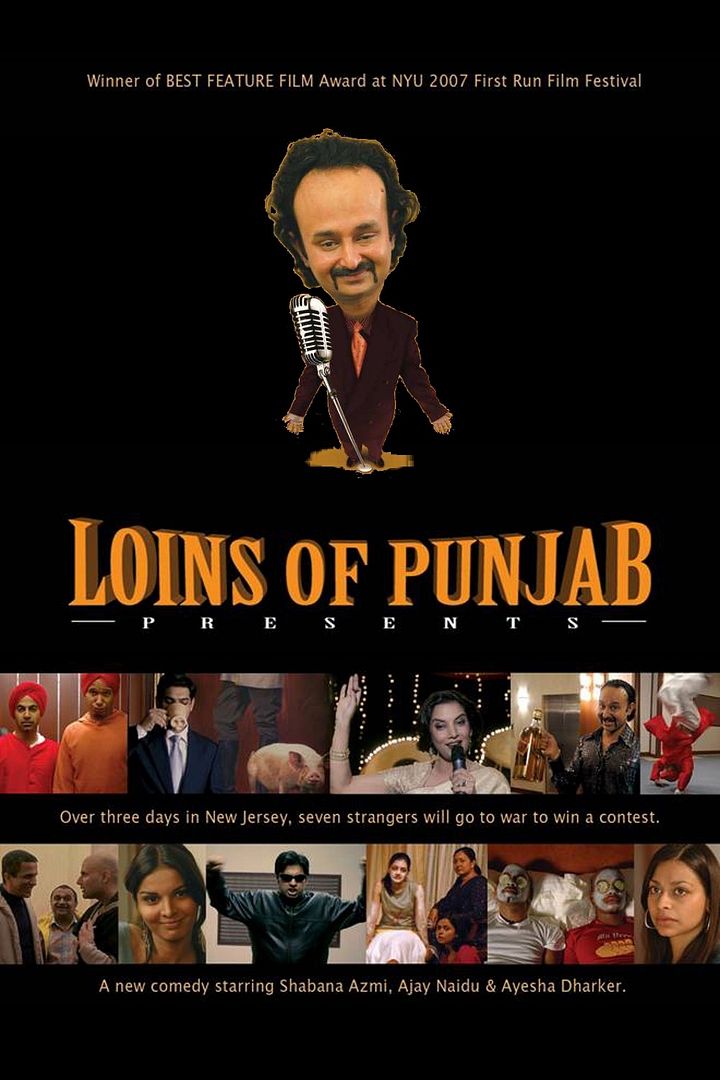 Loins of Punjab Presents (2007) – Loins of Punjab Presents is an American film directed by Indian director Manish Acharya, about Bollywood music, for an American-Indian audience, but completely in English so that it can be accessible for any North American audience.  That, and it all takes place in New Jersey.  Got all that?  Good.  Then you are ready to bear witness to Acharya's comical look at "American Idol" type contests and Indian culture.
Mr. Bokada (Jameel Khan), the so called "loin king" of New York, is proud to present Desi Idol, a 72 hour singing contest dedicated to Hindi music with a cash prize of $250000.  In hopes to be the next Bollywood singing sensation a collection of colorful characters come together in a New Jersey hotel with a song in their heart and their eyes on the prize.  Vikram Tejwani (played by director Acharya) originally came from India to America for a job, only to have that job sent to India.  Sonia Rahman is a working actress who doesn't know a single word of Hindi, but hopes that she can fool the judges.  Turbanotorious B.D.G. (Ajay Naidu) is an angry and radical Bangra performer, who is also secretly gay despite his explosive persona. Preeti Patel (Ishita Sharma) is a musical prodigy who is oppressed under the opinions, and zealous enthusiasm, of her family, and especially her overbearing father (Darshan Jariwala).  Socialite and philanthropist Rrita Kapoor (Shabana Azmi) wants to give the prize money to charity, but has ulterior motives of her own and will do just about anything to win.  And then there is Joshua Cohen (Michael Raimondi) who isn't Indian at all, but a white dude who is obsessed with India's culture, films, music and people.  Together they, and other colorful characters, come to scheme, fall in love, fight, fall out of love, betray and, of course, sing their was to the top of Desi Idol!
Now I'll be the first to admit that I know very little about India's culture or media, other then watching a handful of Bollywood films and having my own love for Vindaloo and Tandori Chicken.  But thankfully you don't need to know very much in order to enjoy this light hearted and truly funny little film.  Although many of the characters are based on basic cultural stereotypes, they are based on stereotypes that exist within Indian-American society.  Thus, they become broad enough for American audiences to get it, and realistic for Indian audiences to personally know someone just like these characters.
A character driven film, Loins of Punjab Presents depends  on the strengths of it's characters and sub-plots to keep the film afloat, and Acharya's script succeeds.  From the nervous relationship between Vikram and Sonia, to the explosive nature of Turbanotorious B.D.G., the zany antics of the Patel family and the powerful plot involving the Indian community's rejection of Josh and the way it plays havoc on his once happy relationship, the film never drags or slows down.  If there is a drawback at all it's the character of Mr. Bokada.  Not only is the character unfunny, but actor Jameel Khan seems to over do it much of the time.  However, I do recognize the fact that Bokada's character itself has a basis as a stock character from Bollywood comedies, thus perhaps it is my own lack of understanding of the culture which makes me find the character annoying instead of endearing.  Thankfully Bokada gets lost in the more engaging comedic drama.
Of course the main feature of the film is the music itself, and although, once again, I can't say that I understand the first thing about Hindi music, the musical numbers are absolutely incredible.  From uplifting dance numbers to traditional ballads, the people in this film can certainly sing.  The standout performer is, without a doubt, Ishita Sharma in the role of Preeti Patel.  Her delicate angelic voice matches her psychical beauty.  Another highlight is Vikram and Sonia's duet, and an incredible performance by Bollywood legend Shabana Azmi.  Someone with more understanding of the music could give you a better over view so I won't try, but I know what I like, and I know I own the soundtrack to this film.  For a North American audience it is different, but wonderful!
What is the most surprising is how unpredictable this film is.  While most standard comedies seem to have a criteria or pattern set in stone, I honestly had no idea who was going to win the contest until the final award was won.  The film has a number of twists and turns with different characters winning, and then losing, an edge on the competition because of their own drama or scheming.  Furthermore, with the current cultural landscapes fascination with singing competitions (X-Factor, America's Got Talent, American Idol, The Voice ect. ect. ect.) the film is not only timely, but the basic premise is assessable to anybody from any culture.  While I am sure that an Indian audience get all the inside jokes, the film still remains to be funny, relevant, thoughtful and enjoyable for any audience.
The directorial debut of Manish Acharya, Loins of Punjab Presents was a film festival favorite in 2007, taking top honors at The South Asian Film Festival and NYU First Run Festival.  Unfortunately, Acharya would only live to make another two films before his tragic death three years later at the age of forty when he was thrown off a horse during a visit to India.  However, when the film came out he left this message about what Loins of Punhab Presents meant to him: "The movie reflects my beliefs and my concerns. Issues of belonging, of defining "home," of self-image — these are on the top of my mind. And the manifestation of these issues through a comedy, through songs, through characters that don't normally populate cinema screens, seems like the appropriate way to both include my concerns in my work and make them invisible.  Perhaps most importantly, when I watch the film, the characters in the movie come alive for me. And just as I once breathed life into them, they now breathe life into me."  Loins of Punjab Presents  is a remarkable film from a talented director who was taken too soon.  Thankfully he gave us the gift of this one incredible secret gem.
For more information on Loins of Punjab Presents, visit the official web-site at http://loinsofpunjab.com/.  Visit IndiePix Films to order your own copy or instantly stream Loins of Punjab Presents, as well as an entire world of other independent and international films to instantly stream or purchase for your collection.