PCA reviews the latest graphic novels, for people who wait for the TPB.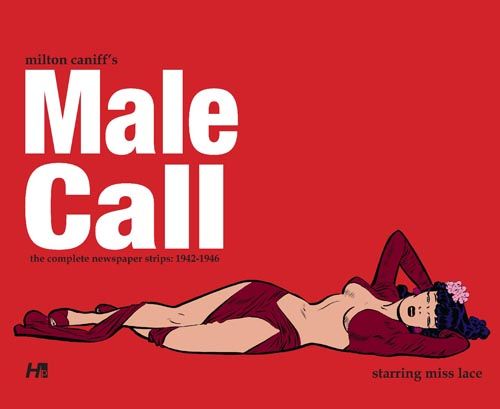 Milton Caniff's cartooning career will always go hand and hand with the US armed forces and aviation, as creator of two of the most popular adventure strips of all time, Terry and the Pirates and Steve Canyon.  The characters from his most famous comic franchises have found their way onto television, film, merchandise and countless reprints over the decades.  However, for the first time in twenty five years, Caniff's legendary, although rarest, comic strip. Male Call, has gotten the hard covered archive treatment from Hermes Press.  Although most people never had the chance to see it when first published, Male Call and its heroine, Miss Lace, has had a cult following since its debut in military camp newspapers in 1943.  Now Caniff's unique contribution to the war effort, combining sex and humor, is available in its entirety for a new generation of comic fans and historian, and reads as a fascinating document of the life and desires of the common soldier.
One of the first cartoonists to deal directly with the real life topic of WWII, Milton Caniff became popular overseas and on the home front for his painstakingly accurate research and attention to detail in Terry and the Pirates, which has gone into history as one of the most important comic strips of the era.  However, the comic strip was a continuing daily strip, and with many GI's often being away from newspapers for long periods of time due to being in battle, the continuity of the strip often became lost, making Terry virtually unreadable to the men that it celebrated.  As a service to the US armed forces, Caniff developed a second "gag a day" Terry and the Pirates strip that he would draw and submit to overseas military camp newspapers completely separate from the on-going Terry comic strip.  Popular for his smart and sexy heroines, Caniff chose his popular character Burma, a con-artist turned singer, as his central character.  In each strip Burma would be put in a fun and often sexy situation involving her interactions with American GIs.  However, when the editor of the Miami Herald learnt that a second version of the strip was being given away to overseas papers for free, he complained to the Tribune that he was being "cheated."  Always takes one jerk to wreck everything. Caniff was forced to end his daily Terry strip with Burma in just less than four months.  However, the Miami Herald's editors moment of ill nature would pay off for comic fans in a big way and Caniff retooled the Terry/Burma strip into the completely independent Male Call.
The premise of Male Call was pretty much the same as the Terry/Burma strips.  A young and mysterious American woman, Miss Lace, takes residence near an unnamed military base in the South Pacific, the theater of war that seemed to attract Caniff the most, and befriends the military men that come in and out of the base.  The only reoccurring characters in the strip were Miss Lace and occasionally an Chinese servant, who intermingled with an interchangeable cast of military men who flirted and romanced her.  What makes Male Call fun is the varying types of male figures that Caniff used in his strip, trying to encompass every type of military stereotype possible, from the rugged and heroic grunt, to the goofy and dim witted sad sack, and everything else in between.  With her long dark hair and elegant black gowns, no background or origin was ever given for Miss Lace, making her almost a mythical pin-up muse   To Caniff, Miss Lace was the ultimate female fantasy of American soldiers.
Filled with PG rated sexual humor, Male Call was a bit more risqué then what would have been accepted by regular American newspapers, appealing to the "rough and tumble" sense of humor of the primarily male audience that it was aimed at.  But Male Call was not just about a romp between Miss Lace and the US military.  Although it was highly suggested that Miss Lace was sexually active with some of the military men in the book, Caniff portrayed her as a worldly and sophisticated women with a keen sense of fun and good sense of humor who could use her brains, as well as her looks, to her great advantage.  While some strips had the men getting one over Miss Lace, often Miss Lace was the one really in control of the situations.  While she sometimes got groped, and seemed to enjoy being ogled, Miss Lace wasn't beneath clubbing a soldier that went to far, and often her admirers went away "empty handed."
But Male Call isn't just about tits and giggles.  Respected and loved by military men for his integrity when dealing with the realities of the war, Caniff had Miss Lace encountered and befriended men who were wounded and maimed.  She mourned the dead, laughed with the living, celebrated victories and cried over defeat.  Caniff also didn't hesitate to put in his own opinions and commentaries.  One of his most frequent topics was criticism about the hypocrisy between ranks and bullying by senior officers towards their men, with Caniff always taking the sides of the common GI's.  While Male Call sought to provide laughter to the men fighting in WWII, it observed the full range of emotions and subjects.
Last reprinted in 1987 in a long out of print collection by Kitchen Sink Press,  Hermes Press has created a brand new package that  brings Milton Caniff's Male Call together in its entirety in one beautiful hard covered volume that almost reads as a historical document all its own.  Making its debut on January 24th, 1943 during the height of the war, Male Call brings readers through the war's ugliest years, to the defeat of Germany, the bombing of Japan and concludes on March 3rd, 1946, seven months after V-J Day.  The final months of Male Call are amongst some of the most interesting in which Caniff deals with the GI's battle with assimilating back into normal daily life and their difficulty becoming normal civilians again.  Although often played for laughs, a tone of cynicism is bluntly evident in Caniff's commentary, pointing out the banality of everyday life compared to the American GI's experiences in the war, and the social hardships that the men faced after returning home.  This would be an early example of a theme that would often be written about after Viet Nam, but was almost unheard of in a comic strip so soon after the war.
Hermes Press' Male Call volume not only contains all the daily strips, but also collects the short lived Terry and the Pirates/Burma  strips, as well as Miss Lace pin-ups drawn by Caniff as recent as 1982.  But possibly one of the most fascinating sections is a chapter containing nine unfinished strips that were rejected by the papers prior to publication when Caniff went just a little too far, including a sequence where Miss Lace uses her breasts as a pair of ear-muffs for a solider, a sexy Thanksgiving moment, and a strip where Miss Lace wakes up next to a WAC eluding to an accidental lesbian encounter.  It is interesting to see just what Caniff could and couldn't get away with.
Male Call was a personal love letter to the US Military by Milton Caniff, and featured one of his sexiest and beloved characters.  As poetically pointed out in one strip, the soldiers in Male Call were "every man" and the theater of war could be "any place."  Although often seen by comic historians and fans in small bits, Hermes has done an impeccable job making this Male Call available once again for comic fans and collectors.
To order your own copy of Male Call by Milton Caniff click here.