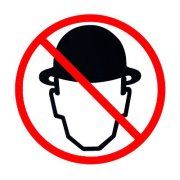 With their first new album in twenty years, and currently on a North American tour, Men Without Hats is back after a long hiatus.  Best known for recording one of the most beloved and timeless songs of the 1980's, The Safety Dance, Men Without Hats is keeping the sound of the era alive with their new album Love In the Age of War, and a new single titled Head Over Water.  Still sounding the same as they did thirty years ago, yet sounding as modern as the current wave of music, lead singer Ivan Doroschuk, along with a newly formed Men Without Hats, are connecting with old fans that remember The Safety Dance the first time around, and a new generation of fans that discovered Men Without Hats via The Mexican, Shrek, House, Take Me Home Tonight, Hot Tub Time Machine, That 70's Show, South Park, Glee, The Simpsons, Scrubs,  and Family Guy, reminding people of all ages that they can dance if they want to.
Formed in Montreal in 1977, Men Without Hats originally consisted of Ivan Doroshuk and his brothers Colin and Stefan, as well as friend Jeremy Arrobas.  Building upon the "New Wave" sound which was bridging the gap between Punk and Disco, Men Without Hats struggled to find a record deal in Canada, but would find success in Europe, and then the United States, when Ivan's statement against bar bouncers, The Safety Dance, hit the top of the charts and became a dance club standard in 1983.   Helping to maintain the popularity of the song, a lavish video was filmed featuring Ivan in a medieval setting, accompanied by a "little person" in a jester costume and a dancing servant girl.  The video for The Safety Dance remains to be one of the most memorable videos from the early era of MTV, and Ivan was branded in the minds of the music listening public as a handsome and intense baritone singer, making him the iconic face behind Men Without Hats.  Over the years the band's line up would continuously change, with Ivan as the only constant member.  In 1987 Men Without Hats hit big a second time with another top charting hit, Pop Goes the World, sealing their place as one of the bands that shaped the sound of the 80's.
One of the first bands that I remember listening to as a young music fan, I was excited at the prospects of visiting with Ivan Doroschuk, as well as getting the chance to see Men Without Hats when they come to my town later in November.  However, while preparing my interview I began to feel a certain amount of irrational trepidation.  First of all, I am widely known for being a man with a hat.  Secondly, I don't dance, and if I don't dance, then it is very possible I won't be a friend of his.  Well the anxiety was completely unnecessary.  Ivan proved to be an easy going and friendly man, who was enthusiastic to discuss both the past, and the present, of Men Without Hats.
CONFESSIONS OF A POP CULTURE ADDICT PRESENTS
YOU CAN DANCE IF YOU WANT TO:
A CONVERSATION WITH IVAN DOROSCHUK
Sam Tweedle:  I really dig Head Over Water.  I think it's great.
Ivan Doroschuk: Cool.  Thanks a lot.
Sam:  What I was thinking as I was listening to it is that while it still mirrors your iconic sound of the early 1980's, it fits very well in with today's current musical trends.  How do you manage to evolve as a musician, yet still keep the sound of an era from thirty years ago?  Has music actually evolved, or is it a case of everything old being new again?
Ivan:  It's a bit of that.  That's what encouraged me to come back and do this record.  I was hearing all kind of 80's influences on the radio with new bands.  Actually, Dave Ogilvie, who produced the record, and I went into this purposely to produce a record that sounds like it was recorded a week after The Safety Dance.  We updated it sound wise, but that's what it is.  It's like an album that was recorded back then in a modern studio.  I think we achieved what we set out to do.
Sam:  I think that it's important when a band that is considered "retro" returns with a new album that they have the same sound the fans know, while still maintaining some sort of evolution.
Ivan:  One of the comments that I've been getting a lot, and that I really appreciate, is that they really like the new record because it sounds like Men Without Hats.  We didn't try to reinvent the wheel.  [Fans] were afraid that when they heard we were doing a new record that it would be some kind of "Dubstep" thing.
Sam:  How long has it been since you last put out a full album?
Ivan:  Almost twenty years.  One of the fun things about the new album is that when we were putting the band back together and about to go out on the road we had no new record on the horizon.  Well in the back of the tour bus I started fooling around on my i-pad with Garage Band and plunking down new ideas.  By the end of the tour I had ten or twelve new songs ready to go, so we decided to make a new record.  It's always exciting when something grows organically and without an agenda.  We didn't go into the studio and go "Okay, we got to make a new record.  We've got to do this and that."  We just wanted to go out there and play songs.  We wanted to go out there and play our back catalogue, which we've never had the chance to do ever.  This kind of just came out naturally from it, which has made the project a lot more fun, and easier to cope with.
Sam:  But you've done some solo work between then.
Ivan:  I did one solo album about fifteen years ago.
Sam:  Now is this a reconstructed version of Men Without Hats?  I read that your brother has been touring with you again.
Ivan:  Well he is coming in and out.  Whenever he can join us on tour he does.  We've got a set prepared for him, but we never really know when he's going to show up.  The band is basically me and three new people.  I did a "family tree" the other day and there have been nearly thirty people in Men Without Hats.
Sam:  I know that you've had a massive line-up.
Ivan:  I'm the only constant.  Men Without Hats has always been a vehicle for me.  I do all the writing; both the lyrics and music, and I do all the singing and all the keyboards in the studio.  I do all the programming.  [Men without Hats] is basically one of those bands where its one guy, but he calls it a band, like Dinosaur Jr.  That type of thing.
Sam:  Now you come from a musical background.
Ivan:  Yeah.  My mother was a voice teacher at McGill University.  My father was an amateur musician.  His parents were musicians.  My brother Colin has his master's degree in music from McGill.
Sam:  When you were growing up, what influenced you musically?
Ivan:  My music period was the early 70's so I grew up listening to a lot of "Pro- Rock."  I'm a keyboard player, so I listened to keyboard influenced rock like Genesis, King Crimson and Pink Floyd.  But then mid 70's Disco came along, and I was front and center in that group too.  To me "New Wave" and 80's music has been a combination of "Prog-Rock" and Disco.  It's basically synthesizer music that you can dance to.  So that's where I came from, and I still listen to mostly early 70's stuff.
Sam:  How did Men Without Hats originate?
Ivan:  It was the late seventies in Montreal.  I was going to McGill University in the film and communications program.  It was a brand new program that just started up.  I had met a bunch of musicians there.  It was around 1977, and the start of Punk Rock.  So I started putting bands together and playing music.
Sam:  And where did you come up with the name Men Without Hats?
Ivan:  I have a theory that everyone wears a uniform, but if you take the hat off it makes no difference.  Then you all look the same.  But if you put the hat on people can tell who you are.  That's kind of where it comes from.
Sam:  Now despite coming out of Quebec, you guys were huge in Europe, the UK and the US before Canadians knew who you were.  What was that like for you guys?  I know that seems like such a broad question, but I can't put my brain around what that'd be like.
Ivan:  It was awesome.  It was doubling interesting because it was the beginning of video.  In those days, on MTV, there might have been ten videos in existence.  So we were on all the time and I started getting recognized everywhere we went.  That was just the power of video.  That was one thing that struck me as peculiar.  But it was funny being in Canada, because when we first started out we were looking for a record deal and we couldn't get one.  We got turned down by every record label in Canada, and then we got signed to a little label in the UK.  When our first record came out you could only buy it through import in Canada.  Then we finally got a distribution in Canada through Warner Brothers, and we were being distributed by a company that had turned us down in the first place.
Sam:  How did the record find its way on the US market?
Ivan:  It was the dance remix of Safety Dance that broke the whole thing.  Well we were in the studio making the follow up.  We were half way through our second album when the dance remix of Safety Dance went number one on the Billboard dance charts.  We didn't even have an American deal then, so when that single hit number one we got courted by all the major labels.  We eventually signed a deal in the United States and we had to put the album we were doing on hold, and we hopped on a bus and went on tour again for a couple of years to promote it.
Sam:  I know you are always bombarded with questions about The Safety Dance.  It's obviously your biggest hit.  It's the one you'll always be remembered for.  I was reading that The Safety Dance is about something called "pogoing," which I've never heard of…
Ivan:  Oh no? (Chuckles) Okay.
Sam:  Explain "pogoing" to me.
Ivan:  Well pogoing was the first sort of punk dance, which was basically jumping up and down.  Slam dancing and the mosh pit all kind of grew out of pogoing.  So that's where The Safety Dance kind of grew out of.  The inspiration for the song was from back in the days when Punk and "New Wave" were starting off and the discotheques were still playing disco music.  But every now and then they'd slip in Blondie's Heart of Glass or Rock Lobster by The B-52's.  Well, obviously, anybody who was into that kind of music would rush on the dance floor and start jumping up and down and would bang into the guys trying to do their disco two steps. I got thrown out of a lot of clubs because of that.  So that's basically the origin.  I was kind of mad that they wouldn't let me dance if I wanted to, so I took matters in my own hands and wrote an anthem for it.
Sam:  Now thirty years later The Safety Dance has become a modern standard.  The song is as popular as ever.  Kids are still listening to it, but they don't really understand the lyrics.  It's sort of morphed into something else.
Ivan:  Well that's why I think it still connects with people.  Ultimately I think people need to hear the message that you can dance if you want to.  You can be who you want.  Just do your own thing.  Don't succumb to peer pressure.  Just dance if you want to.  I think that message isn't just universal, but it's timeless.  People will always need to hear that.  People will always need to hear that message of self empowerment.  I have a nine year old son who found out of my through the Disney Channel.  [He saw it] on the Crazy Frog video.  He kind of knew who I was before that, but when he saw Crazy Frog doing The Safety Dance I became a whole other person in his eyes.  And then with Glee coming in and reaching a whole other section of people, and then Family Guy.  It's been great.
Sam:  Do you think music today will stand the same test of time as The Safety Dance?
Ivan:  I'm sure it will.  Only time will tell.  A good song is a good song.  It depends what it is.  Things like Disco is still around because people still need to dance.  80's music is still around because people still need to dance.  There will be 80's nights in clubs, but there won't be too many 90's nights, or 2000's nights.  But who knows?  Things are always changing.  I think the record industry is always changing.  I've seen over half a dozen formats go by during my life already.  Everything is always evolving.  But, as I say, a good song is a good song, and that's the bottom line.
Sam:  Speaking of timeless, even the video for The Safety Dance is one of the most memorable videos in music history.  I think The Safety Dance video is one of the first music videos I actually remember watching.
Ivan:  What people liked about that video is that people knew we were a "New Wave" band, and they expected a bunch of guys with spiky hair and slippers and pink outfits, but they see this guy who looks like he's from the 70's with long hair, and dressed like a pied piper kind of guy.  I think that threw people a little bit, and it's had that staying power.
Sam:  The video still holds up.  It looks like it could have been made a year ago.
Ivan:  Well you can't date something that has a medieval theme to it.
Sam:  The term "One Hit Wonder" is often connected to Men Without Hats.  When I say this I always go "Hey hey hey.  What about Pop Goes the World?"
Ivan:  We're the only "One Hit Wonder" with two hits.
Sam:  Do you get offended when people use the term "One Hit Wonder" in relation to you?
Ivan:  Not at all.  You know all the millions of zillions of bands out there wish they had one hit?  That's how I feel about it. I am blessed that I had one hit. I am blessed that I have two!  I'm a huge music fan, and it sometimes saddens me when I listen to all these guys that put their whole lives into music and never had a hit.  It's a hard business and you sacrifice a lot of things.  You don't only sacrifice money, but your family is in jeopardy and all your relationships.  Everything.  To see all these bands that have poured so much of their soul and everything into this and just disappear without a trace sometimes saddens me.  That's what makes me realize how fortunate to have just one hit.
Sam:  There was a stretch of time between The Safety Dance and Pop Goes the World.
Ivan:  Three or four.
Sam:  What was it like to be back on the top of the charts after a four year stretch with Pop Goes the World?
Ivan:  It was quite a feat for me because between the two records I had changed management, labels, band and got a divorce.  It was a major life change for me, and I remember the guy who signed me to the Pop Goes the World album said to my parents one day "Your son's very lucky because not to many get two bites of the apple."  It was great to be back on top, but it was also hard work.
Sam:  What was the meaning of Pop Goes the World?
Ivan:  Back then the green movement was going on, and the start of political correctness was being used.  I was getting in touch of a lot of things.  I became a vegetarian for a while, and I was thinking of the world on a global scale.  That's why I think Pop Goes the World also still touches a lot of people, because kids today are still talking about the same thing.  They are saying that if we don't treat Mother Earth with the same respect that she is just going to blow up.  Pop Goes the World is being used as a soccer chant all over the world now.  We were in Peru and within the first couple of notes of the song the crowd just exploded into this soccer chant.  Every country sings it in their own language, and puts their own words to it.  Someone even sent me a video from the Toronto soccer club which uses Pop Goes the World too.
Ivan:  We are concentrating on the East Coast of the United States, but we'll be doing some Canadian dates too.  We just got back from Peru.  We are off to Europe after that.
Sam:  Is this your first big tour?
Ivan:  No.  We toured last summer quite extensively with The Human League and The B-52's.  That was awesome.
Sam:  What has it been like to reconnect with the fans?
Ivan:  It's been awesome.  That's what made it worthwhile for me.  I was playing in front of people who have waited twenty years or more to see me.  Just to see the smiles on their faces was amazing.  Some of them brought their kids.  It was just awesome.  It made me realize that it's kind of my duty to do these songs for people.  It's touched so many people, and it's still touching people.  It makes my job a lot easier.
Sam:  And are people eating up the new music as much as the old music?
Ivan:  We are playing the new music and people don't even know the difference.  Only the die hard fans that have every single record I put out know that they are new songs.  They are kind of blended in seamless with our old material.
Sam:  After nearly twenty years, what made you decide to go back on the road?
Ivan:  Well, I've been a stay at home Dad for ten years, so I was itching to do something, but mostly it was because I was hearing my songs played everywhere.  Also, the fact that I was hearing the 80's influences in the new music.  A combination of a lot of things made it possible for me to do it because, I tell you, touring isn't as easy as it sounds.  It's a log jam out there.  Herman's Hermits are still out there touring.  Dr. Hook and the Medicine Show are playing the casinos.  Everybody is out there, and especially at an age now where live performances are a big chunk of your revenue because there are no record stores anymore.  The industry has changed so much.  People are counting on live shows a lot now.
Sam:  It's the absolute truth.  Come to think of it, I only ever buy CDs when I hit a live show.
Ivan:  I know.  That's it, because there isn't anywhere else to buy them.  I don't even know of a record store close to my place.  The only record stores where I live are guys selling second hand vinyl and CDs.
Sam:  When I think of Men Without Hats, one of the things that comes to mind is the image of Bonhomme.  To me, Bonhomme wasn't the Quebec festival snowman.  He was the drummer for Men Without Hats.  Do you still incorporate Bonhomme in your act?
Ivan:  No.  We've given Bonhomme a break.  He's retired.
Sam:  What's next for you guys?  After the tour do you plan to go back into the studio?
Ivan:  Hopefully.  I'm working on new stuff right now.  That's the plan.  I'm back to stay.  This was not a one off type of thing.  We're looking ahead all the time.
Men Without Hats are currently on tour.  Make sure to check them out if they are in your area.  For more information on the group, their tour and to order a copy of Love in the Age of War, visit their web-site at http://www.menwithouthats.com/.  You can also see them in the following cities and venues this fall:
Oct 23 – Vancouver, BC – Venue
Oct 25 – Kamloops, BC – Blue Gratto
Oct 27 – Calgary, AB – Hi Fi
Oct 28 – Edmonton, AB – Pawn Shop
Oct 30 – Saskatoon, SK – Amigos
Oct 31 – Winnipeg, MB – Pyramid
Nov 02 – Fort Frances, ON – Club 88
Nov 03 – Thunder Bay, ON – Crocks
Nov 06 – Peterborough, ON – Red Dog Tavern
Nov 07 – Toronto, ON – Lee's Palace
Nov 08 – St Catherines, ON – Barracuda Pretty
Nov 09 – Quebec City, PQ – Union Commercial
Nov 10 – Montreal, PQ – Café Campus
Nov 12 – Hamilton, ON – Casbah
Nov 13 – London, ON – Call The Office
Nov 14 – Kingston, ON – The Merchant Tap House
POP CULTURE ADDICT NOTE:  I'd like to thank Amanda McCauley of Indoor Recess for arranging our interview with Ivan Doroschuk.  I hope in the near future we can work together to help tell the stories of the wide range of artists on your incredible roster.