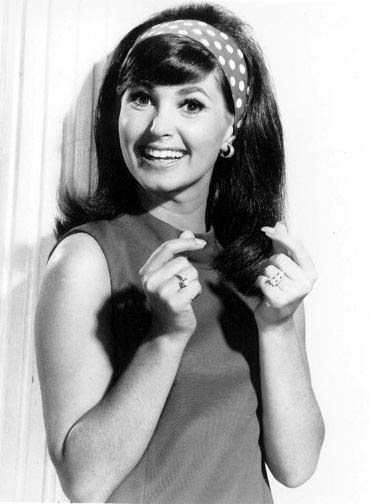 The true sign that we are in the sure fire, full swing of summer is when Toronto's CITY TV do their Annette and Frankie Beach Party marathons. For one week each year CITY TV designates their afternoon movie to the cheap and corny romps of surfing, bikinis, motorcycles, music and early battle-of-the-sexes frolic and fun. Ever since I was a kid I have, for some reason, had a soft spot for these films. Nobody can really understand why. I'm not sure I even understand why. However, since I was a young teenager I have collected and enjoyed the antics of Frankie, Dee Dee, Bonehead, Candy, Eric Von Zipper, Big Drop and all their guys, gals and foils. And then there are the girls… WOWZA! So much eye candy on that beach. But for me there was one special girl on that beach I always looked for. No, it wasn't Annette. It wasn't Marta Kristen or Linda Evans or Luciana Paluzzi or even Candy Johnson. No, it was the dark haired, dark eyed angel who sang It Only Hurts When I Cry in Beach Blanket Bingo. With the plink plink of the guitar and the enthusiastic encouragement of "Go Donna!" I lost my heart to Donna Loren. Now growing up in the eighties and nineties, when I discovered these films, I was a bit lost about exactly who and what Donna Loren was. To me she was nothing more than a girl that was found in the background of the Beach Party movies. She wasn't quite a character exactly, as she didn't have any lines nor did she participate in much of the action. However, being rewarded with a solo performance in Bikini Beach and Beach Blanket Bingo and a duet with Dick Dale of the Del-Tones (who regained fame when their song Misirlou was used as the opening theme for Quentin Tarantino's Pulp Fiction) in Muscle Beach Party, I had to assume that Donna Loren was more than just a face in the crowd. Thus I recently went on a search for the beautiful Donna Loren who had held a few of my heartstrings since I was fifteen. How was I to know that I was to find a figure richly imbedded in pop culture history? How the career of Donna Loren had escaped me all these years hurts my brain and why this multi-talented model, actress and singer is not more of a house hold name in the current century remains a mystery. So come friends as Confessions of a Pop Culture Addict introduces you to
CONFESSIONS OF A POP CULTURE ADDICT PRESENTS
DONNA LOREN:
THE GIRL WHO DRANK DR. PEPPER
Donna Loren was far more than just a girl on the beach. By the time she was ten years old Donna was working in commercials, talent shows, radio and even making recordings and a token appearance on The Mickey Mouse Club. However it wasn't until 1963 and at the age of sixteen that Donna Loren's career would really take off when she won a national talent search by Dr. Pepper for the teenage spokesperson for their drink. Thus began Donna Loren's five year career as "The Dr. Pepper Girl". With her face being featured on Dr. Pepper ads, billboards, television commercials, radio spots and every other type of advertising imaginable Donna became a familiar sight in America's collective consciousness. However Dr. Pepper had gotten much more than they had bargained for and it certainly did pay off. Donna had both a radiant smile and that special charismatic quality which made America sit up and take notice. However Donna Loren didn't simply have a talent for just sitting about and looking pretty while holding a bottle of Dr. Pepper – Donna Loren could also act and sing! Dr. Pepper had a bonafide potential teenage celebrity on their hands.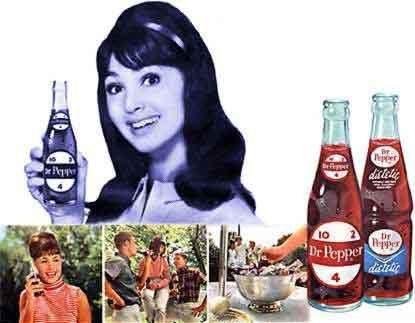 Donna's first go at the public spotlight as the Dr. Pepper Girl was in 1963 was as co-host of Dick Clark's Celebrity Party which was really nothing more than a 45 minute Dr. Pepper commercial featuring a number of celebrities plugging their new albums and movies and performing some musical numbers. Featured were teen idols such as Paul Peterson, Connie Stevens, Jan and Dean, Connie Francis, Donna's future co-stars Annette and Frankie and Dick Dale and the Del-Tones as well as a few odd choices such as Wayne Newton, Johnny Mathis and Nino and April. The special was oddly scheduled only a week after the Kennedy assassination so its success was questionable, however the world would be introduced to the talents of Donna Loren in a strong way. On the special she performed two musical numbers – the slow country ballad I Can't Make My Heart Say Goodbye and was backed by the Challengers on Bill Bailey.
It wasn't much long after that Donna, Dr. Pepper and American International Pictures joined together to create the time capsule that would make sure that Donna Loren would be seen by future generations (a.k.a. me). In 1964 Dr. Pepper became a sponsor for the Beach Party movies and Donna was slated to make a cameo in Muscle Beach Party holding a bottle of Dr. Pepper. However some genius realized that there was much more talent in Donna and paired her up with Dick Dale for the musical number Muscle Bustle (written by Brian Wilson). The performance was one of the highlights of the movie which solidified her inclusion as part of the Beach Party gang. In her next two outings with Annette, Frankie and the gang in Bikini Beach and Beach Blanket Bingo Donna received similar musical numbers. The best of the bunch was definitely Beach Blanket Bingo's It Only Hurts When I Cry. Donna also appeared in Annette's Pajama Party and Frankie's Sargent Deadhead.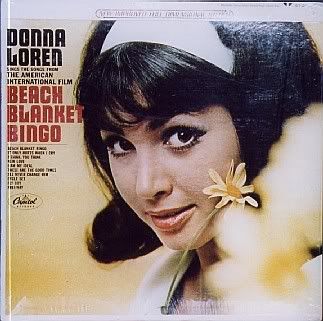 It was at this time that Donna recorded the album Donna Loren Sings the Very Best of Beach Blanket Bingo. The album, which has recently been released on the CD The Very Best of Donna Loren, is what it is. It's kind of an uneven album in the sense that while a number of songs, mainly the songs that didn't appear in the Beach Party movies, are rather good, the rest of the songs just sort of lack something. The highlights of the album include the Lesley Gore-ish Ten Good Reasons, the garage sound of So, Do the Zonk, a slow ballad called I'm Just a Little Girl and, of course, It Only Hurts When I Cry. However some of Donna's covers from the Beach Party films such as I Think You Think and Beach Blanket Bingo aren't what one would call stellar. Firstly, I think part of the problem is that the songs, which were originally written to be duets between Annette and Frankie are recorded by Donna as solos thus they don't seem quite right. Perhaps it's just that I am used to hearing these songs as they are done in the films. Also, Donna's vocal range and Annette's vocal range are completely different. I prefer Donna's strong and confident voice to Annette's squeaky under-developed one, however in these recordings Donna seems to try to imitate Annette, or sometimes the opposite happens when the song just doesn't seem to fit Donna's style. Furthermore, the songs are all likeable enough but lack any depth – especially with the caliber of music that was being produced in the sixties. With a world that was still reveling in the British Invasion Donna's album didn't take the cake. However this was no fault of Donna's. Her recordings display a strong and sensational voice. One must wonder what could have happened if she had been working with better producers or songwriters such as Phil Spector, Billy Strange or Burt Bacharach and Hal David. A real wasted opportunity which we'll always have to wonder "What if…" about.  Under better musical direction Donna could have been another Jackie DeShannon or Dionne Warwick. She definitely had the talent. Yet, despite the lack of depth that might be in the songs, they all remain to be likeable.
Meanwhile,  if promoting Dr. Pepper and appearing in five Annette and Frankie projects in a two year period weren't enough, Donna Loren also took another job appearing as a regular songstress on the popular music program Shindig!. The first of the rock and roll variety shows of the 1960s, Shindig! featured big rock acts performing their biggest hits, accompanied by luscious go-go dancers dressed in good girl outfits but dancing like they belonged in a red light district. Truly tantalizing and exciting stuff in the early sixties.  Shindig! kept a few celebrities as regulars, such as Darlene Love, Bobby Sherman and, of course, Donna Loren, to sing the hits when they were unable to get the real singers to sing them. It was also at this time that Donna did seven consecutive appearances on Dr. Kildare in the role of Anna Perona. Now the question is when the hell did the girl manage to sleep? At age 18 she was getting more exposure than any teenage girl in America. One must assume she was running on adrenaline or something. That's a lot of work for your average 18 year old. Mind you, she was truly living the teen queen dream in the mid sixties. Who knows what the reality was?
Donna stopped appearing in AIP movies in 1965 but she wasn't out of the spotlight yet. Besides still representing Dr. Pepper, Donna made two major pop culture appearances between 1966 and 1967. The first was in the Adam West Batman series. Playing a cheerleader that Robin was in love with in the two part The Joker Goes to School and He Meets His Match, That Ghastly Ghoul, Donna got to finally play what she never played before – a bad girl. Donna's character "Susie" was actually a cronie of Cesar Romero's Joker who was trying to corrupt Gotham's youth by putting silver dollars in milk machines. A year later Donna played Davy Jones' romantic interest of the week, Princess Colette Yaduin, on an episode of The Monkees. Her performances on Batman and The Monkees only strengthened her pop culture appeal.
Then, all too soon, 1967 was the beginning of the end of Donna's short but successful show business career. Just as her Dr. Pepper contract ended she joined the regular cast of Milton Berle's new variety show. However, with The Man From U.N.C.L.E in the same time slot, Berle's show was cancelled after only one season. A performance on The Danny Thomas Show and a guest spot on Gomer Pyle, USMC in 1968 would be Donna's last two pieces of television work. This wasn't by failure but by choice. Danny Thomas and Aaron Spelling offered Donna a series called, Two For Penny as a spin off from her appearance on The Danny Thomas Show. However Donna turned it down to marry and to retire at the ripe old age of 21.  Can you imagine retiring at 21? It only proved that Donna's continuous hard work had truly paid off. Thus after 1968 Donna Loren disappeared from the world of film, television and music to become little more than a memory to the people that were there, and a "Donna Who?" to those who weren't. Perhaps it's no wonder that I hadn't heard of Donna Loren.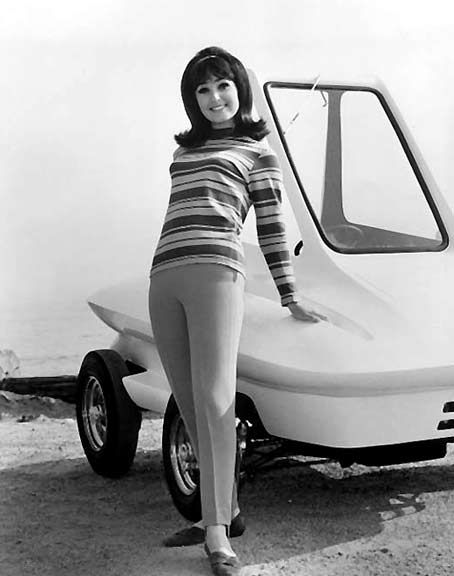 So where is Donna Loren now? Well Donna is a partner in the Hawaii-based fashion company ADASA (http://www.adasa.com/ ). However, to those who lived in the 1960s she will always be remembered as the pretty dark haired singer in the Beach Party movies or the girl who drank Dr. Pepper. In fact, I think later today I'm going to go and purchase a Dr. Pepper and think of Donna Loren as I drink it cause, well, I'm a Pepper too I guess.
HEY! ARE YOU INTERESTED IN SEEING MORE OF DONNA LOREN, OR INTERESTED IN 1960s POP CULTURE?
 I can't express enough how much I recommend that you visit Donna Loren's website at http://www.donnaloren.net/. On the site is a tonne of information, merchandise, links and numerous video clips featuring highlights from her career. Below I am including links to some of my favourites so you can see for yourself why I've fallen in love with Donna Loren. If you have any interest in 60s culture at all I highly suggest you take a look.
It Only Hurts When I Cry from Beach Blanket Bingo (1965)
Donna sings Bill Bailey on Dick Clark's Celebrity Party (1963).  This special was a 45 minute commercial aired a week after the Kennedy assassination, and introduced Donna to the world as the Dr. Pepper Girl.
Donna Loren's film deut in Muscle Beach Party!  The song was written by Brian Wilson and Donna performs with Dick Dale and the Del-Tones.  How can it get better then this?
Donna Loren and the characters from Johnny Hart's B.C. hock Dr. Pepper!  There are tons more of these odd little Dr. Pepper commercials featuring Johnny Hart's characters and Donna Loren.  Make sure to check them out.
Donna Loren sings "Shakin' All Over" on ShinDig!
Donna Loren performs Goldfinger on ShinDig!  Donna pulls off the impossible by recreating Shirley Bassey's trademrk hit in one of her sexiest performances ever!
Donna Loren performs Cher's The Way of Love on SHinDig!  A daring performance shows a glimpse of what could have been a promising recording career with better song choices then Donna's solo material.  There are tons of performances of Donna singing some of the 60′s biggest hits on ShinDig! via YouTube.  Make sure to take a look at them all!
Donna Loren and Ceasar Romero on Batman!  Long before Harley Quinn, Donna Loren was the Joker's moll!
Donna Loren meets Davy Jones on The Monkees!
Donna Loren sings Call Me on The Milton Berle Show!  And check out that crazy guest star list!  Paul Revere and the Raiders, Bruce Lee, Phyllis Diller,  Adam West….how could this show have failed?
Donna Loren sings It Only Hurts When I Cry in 2009!