In towns across the world there is that one talent that is just bursting to be heard.  Those individuals that have more talent in their little toe than most of the artists currently on the forefront of the music scene will have in a lifetime, yet still haven't managed to attract international attention.  Those artists that are dripping with untapped potential to be the "next big thing."  Some of them never find fame, while others find themselves seated just to the left of stardom.  In Peterborough, ON that artist on the left is singer/songwriter Missy Knott.  Beautiful and passionate, Missy Knott is one of Canada's most talented musicians that you haven't heard of….but you will.  To put it simply, Missy Knott is one of the musicians that has made me believe in music again.  In a modern musical landscape full of banality and deceptions, Missy Knott's music is painfully honest and raw. Her lyrics cut like a hot knife through a wounded heart. One of Ontario's most talented singer/songwriters, Missy Knott is a performer that needs to be heard.
Beginning her musical journey at age eleven, Missy released her debut album, For No Reason At All, in 2009 and toured Ontario extensively, sharing the stage with noted performs as Sass Jordan, Craig Cardiff, Crystal Shawanda and The Sam Ferguson Band. But at that time Missy hadn't quite shown the listening audience what she had in her yet.  In 2012 Missy went into the studio with Peterborough home town heroes The Spades to record a brand new five song EP which blew the lid off of just what was brewing inside of her soul.  Titled Runaway, the new EP showcases the true power of Missy Knott.  Embracing her aboriginal heritage, Missy draws from the real life pain and passion of her life, drawing the listener into a virtual roller coaster ride of emotion.  There is no shades of grey in the way Missy delivers a song, as she takes you on a blissful high of exhilarating passion or she brings you crashing down to a place full of rage and sorrow.  Missy's emotions are raw and real.  There is no room for mediocrity in a Missy Knott song.
Already creating a mythos all of her own in her hometown, Missy Knott has found a new musical partner in guitarist Brian Mehlenbacher where the two have become one of the most recognized and respected musical acts in Peterborough.  Painfully good looking and talented, Missy and Brian create and intimate and mesmerizing stage presence which has gained them a strong fan following.  Currently working on a new CD which is set to debut in the summer of 2013, Missy and Brian has created something special that is too good to be a hidden in Peterborough any longer and Missy Knott has the potential to be a national treasure.  That's why I realized that I had to hurry and talk with Missy until she became too famous to return my phone calls.  Grabbing lunch together in one of Peterborough's legendary hot spots, Missy and I talked about her passions, her inspirations, her music and the things to come.
Sam Tweedle:  You've been performing since you were a teenager, but you've just started getting attention in the past couple of years.
Missy Knott:  Well, the right kind of attention. 
Sam:  I found clips of you on YouTube where you're just a kid.  I can barely recognize you.  When did you first start performing in front of an audience?
Missy:  I think my first performance would have been when I started doing theater at age eleven.  But in terms of my music, I started performing when I was seventeen. 
Sam:  What is your origin in music?  What were you listening to when you were a kid? 
Missy Knott:  Spice Girls.  (Laughs)
Sam:  (Laughs) Seriously?  Your music is nothing like the Spice Girls.
Missy:  Oh yeah.  I remember the bubble gum with the stickers.   But, yeah.  I loved the Spice Girls,
Sam:  Who was your favorite?
Missy:  It was Sporty, but it started to change more as the years went on to be Scary.  She was more wild.  As I started to grow up I seemed to relate more to her.  I wasn't athletic at all.  I'm still not.  But as kids they were a huge influence.  We'd make up dances and sing along.  I loved how it was a "girl's club."  It wasn't about being one girl.  One day you could be Sporty and the next day you could be Baby.  A group like that helped develop friendships.  They taught me how to entertain.
Sam:  Well that would explain so much because you have a very strong presence on stage.  The way you move, and the way you sing.
Missy:  Well that's an important part of it. 
Sam:  Do you still find that "girl club" aspect in your career today.  Do you have a close relationship with other musicians?
Missy:  Absolutely.  I don't do anything by myself.  I like having the teamwork, and to work with others to find inspiration.
Sam:  I was surprised to find out not long ago that you were a Rhianna fan.  I made a crack about her and I thought you were gong to punch me.
Missy:  (Laughs) Oh, I love Rhianna.  But again, it's about her performance and her bad assed image.  She had this boyfriend that beat her up, and you can look at her and see that she is a real person.
Sam:  What about you?  What do you think your image is?
Missy:  I just let other people decide.  One day I'm a bad ass horror story, and the next day I'm a cute little pop star.  Who knows…
Sam:  (Laughs) Well I've had people warn me not to get involved with you.
Missy:  (Laughs) And probably people I haven't even spoke too.
Sam:  You currently collaborate with Brian Mehlenbacher.  How long have you two been working together?
Missy:  Off and on, three and a half years, but we started writing together and taking it seriously for about a year now.
Missy:  Well, we just wrote a song called Corrigan Hill.  How it developed was that Brian went on my blog and took one of my entries and took my lyrics and wrote the song.  He just knows how to put the melody to my words.
Sam:  When you and Brian are together on stage you make such amazing music, and you have an incredible chemistry, yet against popular belief, you guys aren't a couple.  You are sort of like The Eurhythmics or Roxette that way. 
Missy:  (Laughs) People ask us if we are a couple every day.  People just assume things, but we don't care.  We do love each other.  We really care about each other, but we know that we'd make better music than be in a relationship. (Laughs)
Sam:  So you have two releases out – you're first album, For No Reason at All, and the new EP that you released late last year.  I can't even express the musical growth between these two releases.  You've grown so much as a lyricist and performer.  It's astonishing.  What changed with you between the two projects?
Missy:  Well, looking back almost four years later, [For No Reason at All] was all a learning experience. The group I was working with at the time, The Sam Ferguson Band, more focused on…well …Sam and I were together and we loved each other, but we fought, and argued and tried to make each other feel pain, and in the end we just rushed it so it was just me singing unpoeticly. (Laughs) You know. It wasn't me. But I didn't care. It was all about the money. For the new EP I worked with The Spades, who love music.  They love it!  And they weren't going to let me release anything that wasn't a direct reflection of me, and without putting my heart into it.  While we were recording it, to see the smiles on their faces was like. "YES!"  With the last one each track was more like "Okay, that's cool, what's next.  Alright.  Let's just get it out."
Sam:  Well there is quite an evolution between the two discs.  I discovered your music during a crossroads in my life where I was figuring some heavy stuff out, and I found the raw truth in your lyrics really appealed to me.  I liked the fact that the emotional content of your lyrics were right off the scales, and you were really blunt in your choice of words.  You cut through the crap. You are a very emotional performer.  The emotions are high in your lyrics and your performances. 
Missy:  Well, that's the other thing too.  I do have a little bit of a story. 
Sam:  Do you want to talk about that, or is it something you'd rather keep to yourself.
Missy:  Well that's the thing.  Coming with age too, I'm not really afraid anymore.  I was always afraid of it, you know?  Its mainly just heartbreak.  You move out when your fifteen, you fall in love, then you lose the boyfriend, and then your Dad's got cancer, and then your Dad dies, and then it's your Papa and then your Granny and then you just [get overwhelmed].  But for me, I had music and music's never going to go anywhere.  That's what my Dad would say to me.  He'd say "Write the single.  Get it out there.  What do you want to say? Say it!" But I also just want people to know that their not alone if their [hurting], because there are people like me who nobody would say has the perfect life. 
Sam:  So what is your next move?  Have you been playing gigs out of Peterborough?
Missy:  I'm trying too, but here's the thing.  I'm going with the flow.  I mean, I do get offended when people say "You play Peterborough so much.  You've got to leave."  I want to say "Shut up.  You don't know what I need."  I love my community, and I love who I work with, and I love the venues and the people…and Brian's here.  We're both busy.  We both keep up our music between our busy lives.  I have a huge family and I'm not really ready to go anywhere yet.  I just feel lucky that I live in the community I live in.  I mean, it could be worse.  The music scene here is just incredible.  The teamwork and how people want to help each other. 
Sam:  Tell me about the album that you and Brian are working on.
Missy:  Well, Brian and I are working towards the new album, although Brian just got accepted to work on his Masters in Kingston, so he will be leaving at the end of August, which is unfortunate.  But our plan is that we'll have it released before he leaves.  But you never know.  I don't want to rush it.  We just go with the flow.  We never say no.  We play wherever they need us.  We perform more fundraisers and charity events then we do to make money, and when we make money we end up using it to buy the opening acts food and drinks anyways.  That's just how it's going, and that's how I love it.  I have a job, but music is my world, and I love it because its fun.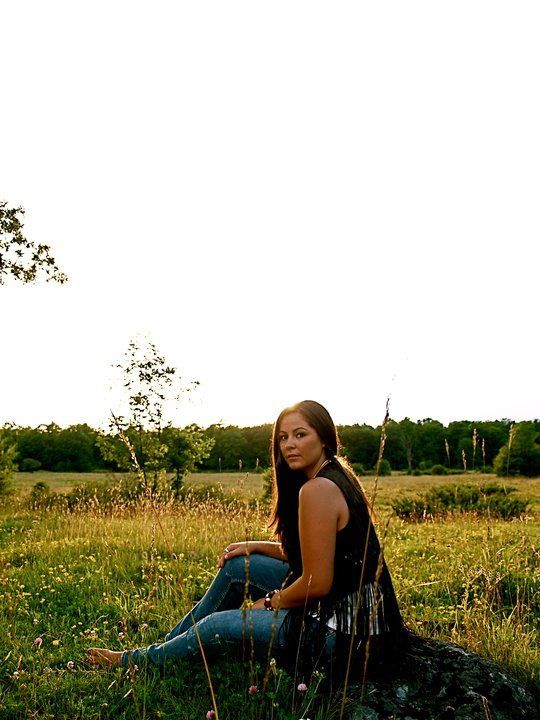 The one thing that Missy Knott and I disagree on is that she should be content to stay in Peterborough.  Missy Knott's music is far too big for such a small city, and her music needs to be set free and find the ears of people looking for something genuine in their music.  She is Canada's best kept secret and needs to be discovered, cultivated and have her wildest musical dreams come true.  She deserves it, and the Canadian musical landscape needs her.  I have comfort in knowing that it's only a matter of time before Missy Knott is one of the major players on the Canadian music scene.  Honest talent like hers is only contained for so long until it breaks free and listeners take notice.  For more information on Missy Knott make sure to visit her web-site at http://www.missyknottmusic.ca.  This is only the beginning of a bigger career to come. Missy Knott needs to be heard.