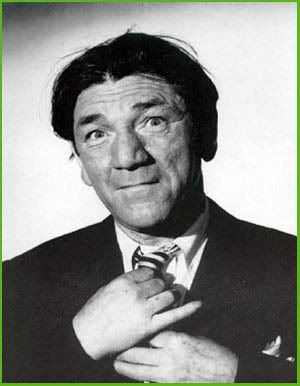 Shemp was never anybody's favorite Stooge.  I mean, have you ever heard anybody say "Curly is okay, but I sure do like that Shemp?"  When was the last time that you actually saw a piece of Three Stooges merchandise with Shemp on it?  How many Shemp fans do you know?  No, Shemp just never gets any respect. The problem with Shemp is that he just never had much of a chance.  Relieving his younger brother Curly Howard of his duties as one of the fabled Three Stooges in 1946; Shemp Howard would always be unfairly compared to Curly, which pretty much doomed him.  You see, everybody loved Curly.  He is now, and forever, the world's favorite Stooge.  Thus, Shemp following Curly was sort of like a dog act following Andrea Bocelli.  Nobody was going to ever like Shemp better.  But, unbeknownst to the movie public at the time, long before Curly even walked on a stage, Shemp was slaying audiences with his brother Moe Howard as one of the original Stooges in Ted Healey's vaudeville act.  Heck, Shemp was a Stooge even before Larry Fine was!  However, what also often goes overlooked was that Shemp Howard had far bigger aspirations then to just be a Stooge.  Shemp wanted more, and unlike the other members of the Three Stooges, Shemp Howard branched out beyond Stoogedom.  Yet, due to family devotion, Shemp Howard rejoined the Three Stooges and sacrificed a budding film career and the potential of solo success and, instead, became nothing more then the unpopular fourth Stooge.  Yet, while the Three Stooges will always be pop culture legends, Shemp was a little bit more, although his career beyond the Three Stooges has been nearly completely ignored.  So who was Shemp Howard?  He was a funny man who lived in fear.  Fear of what?  Well, pretty much everything.  Join us as we take a look at Shemp Howard:  his life, his phobias, his imposters, and the forgotten legacy he left behind as
CONFESSIONS OF A POP CULTURE ADDICT PROFILES
SHEMP HOWARD:
THE LITTLE STOOGE WHO COULD
The third of five Howard brothers, Shemp was born Samuel Horwitz in Brooklyn, New York in 1895.  His unusual moniker "Shemp" came when his mother couldn't yell "Sam" in her thick Lithuanian accent, and instead it came out as "Shemp," so that's just what everybody called him.  Now during his early days Shemp had no ambitions to be in show business.  However, that wasn't true for his younger brother Moe, who wanted nothing more then to enter vaudeville.  As a result of his desire, Moe was continuously coming up with new dance hall acts and recruiting Shemp as his partner.  Moe was a natural on stage, but Shemp was just along for the ride in an attempt not to let his younger brother down.  However, after dropping out of both high school and failing at being a plumber, not to mention a discharge from the army after it was discovered that he was a bed wetter, which saved him from the trenches of WWI, Shemp really had nothing else left to do.  As a result, by 1917 Shemp and Moe were working the vaudeville circuit as part of a blackface act but by 1921 the act broke up when Moe joined comedian Ted Healey as part of his roughhouse act.  As Ted Healy and his Stooge, Ted and Moe became a popular vaudeville act, and the foundations of The Three Stooges began.
It was in 1922, when Shemp went to one of Ted and Moe's performances that Moe saw his older brother sitting in the audience and started to yell insults at him from the stage.  Shemp, in total sync to his brother's sense of humor, got out of the audience and jumped on stage and he, Moe and Ted improvised the rest of the act together.  The result was a roaring success and after the performance Ted Healey asked Shemp to join the act.  At first Shemp was reluctant to join Healey and Moe, especially as a result of the protests of his mother.  Jennie Howard was against any of her sons being in show business, and having already lost Moe to vaudeville and with youngest brother Jerome (aka Curly) following in Moe's footsteps, she didn't want to lose Shemp to show business as well.  She had far bigger aspirations for her boys then to just be Stooges.  However, when Ted Healey, who was always a con man, gave a hundred dollars to the synagogue the Howard's attended, Jennie reluctantly agreed.  Thus Shemp became the second Stooge.  Three years later, in 1925, a third Stooge, violinist Larry Fine, joined the act and the four were finally christened Ted Healy and his Three Stooges.
Yet life with Ted Healey was not always easy.  A con man, drinker, gambler and tyrant, Ted and the Stooges were always in conflict over money and billing.  A number of break ups and make ups occurred between 1925 and 1930, with Moe, Larry and Shemp even breaking away from Healey briefly as their own trio called The Three Lost Souls.  However, in 1930 Ted Healey patched things up with the Stooges when he got them their first film gig in a short called Soup to Nuts.  This lead to Healy and his Stooges becoming part of a Broadway revue called The Passing Show in 1932.  However, one night in a drunken rage Healy and the show's producer J.J. Subert got into a disagreement over money.  Healey quit the show immediately, and was taking his Stooges with him.  However, finally fed up with Healey's drunken bullying, Shemp decided that he was going to stay with the show and left the Stooges behind.  At Moe's suggestion, Ted Healey replaced Shemp with youngest Howard brother Curly, who became the breakout star of the trio.  Thus, Shemp and the Stooges parted ways.  However, Shemp left at a time when doorways of opportunities were opening up for him.  Meanwhile, the Stooges would be forced to deal with Healey until the broke away from him for good in 1934.
At the time of his break up with the Stooges, Shemp Howard became associated with Roscoe "Fatty" Arbuckle who had moved away from Hollywood to New York and was attempting to make a comeback after being proven innocent of his much publicized scandalous rape and murder charge.  Arbuckle and Shemp, along with actor Lionel Standard, signed up to do six comedy shorts together for New York based Vitaphone studios.  As a result of his affiliation with Arbuckle, Shemp Howard became an important player at the Vitaphone studios, and between 1933 and 1937 Shemp appeared in over thirty shorts for the company.  His most important accomplishment during this period was taking over the role of Knobby Walsh from Jimmy Durante when Vitaphone acquired the rights to do a series of Joe Palooka films.  Shemp appeared as Palooka's manager in seven films between 1936 and 1937.  However, as the Vitaphone process began to grow obsolete into the 1930's, Shemp decided to try his luck elsewhere and left the studio after his final Joe Palooka film.  Shemp decided to join his brothers on the west coast, and so he packed up his wife and son and headed for the bright lights of Hollywood.
With his brothers riding high on their success as the Three Stooges by this point, Shemp had little problems finding work in Hollywood.  His affiliation with The Three Stooges, as well as his quick wit and easy going nature, made him a favorite amongst comedic short directors.  Calling himself "the ugliest man in Hollywood" Shemp Howard began to shop himself around with great success.  In fact, between 1940 and 1944 Shemp appeared in over forty films!  Highlights included playing a wisecracking bartender opposite W. C. Fields in The Bank Dick and alongside Bud Abbot and Lou Costello in Buck Privates, In the Navy, African Screams and Hold That Ghost.  In fact, it was reported that Abbot and Costello were constantly having Shemp's performances trimmed back in fear that he was outshining them on the screen.
Yet Shemp wasn't just restricted to appearing in comedies.  He offered comedy relief in a number of crime dramas, including Murder Over New York featuring Sidney Troler as Charlie Chan and Another Thin Man with William Powell and Myrna Loy.  Shemp also appeared in a pair of Universal horror films; The Invisible Woman and The Strange Case of Doctor Rx; and even ended up in such unlikely films as John Wayne's Pittsburg playing a tailor and The Arabian Nights featuring Sabu where he actually had the chance to play Sinbad!  But there were some odder moment's in his Hollywood career.  In 1941 director Charles Lamont thought that Shemp should be best utilized as part of a comedy duo in the fashion of Abbot and Costello.  His straight man was cast as horror legend Lon Chaney Jr!  The duo didn't mesh as well as Lamont had hoped, and only appeared in one film together.  Furthermore, in an attempt to cash in on the success of the Three Stooges, Shemp was featured in one short, titled Knife of the Party, with his own set of stooges.  Once again, the idea didn't take, and Shemp's stooges never appeared again.
Living comfortably in North Hollywood, Shemp Howard had set himself up with a happy life.  However, Shemp lived in fear.  Despite his good nature, Shemp was a nervous and uneasy individual with a number of unrealistic phobias.  Shemp had a fear of heights, cars, airplanes, water and dogs and other large animals.  This would often affect his career.  Shemp never got his driver license and would only travel by train.  When going for a walk in his neighborhood he would carry a stick with him just in case he ran into a dog, despite the fact that he actually had a dog at home, and in films which featured animals, such as a lion in African Screams, directors couldn't even get Shemp on the set.   Yet, as a result of his popularity with directors and producers, they would always find a way to accommodate Shemp and his many phobias.
It was in 1944 when Columbia Studios, which produced The Three Stooges popular shorts, came knocking on Shemp's door and offered him his own series of shorts.  It seemed that Shemp had finally hit the big time.  However, tragedy struck the Three Stooges camp when Curly suffered a stroke on the set of Half-Wits Holiday in 1946.   Although it didn't kill him, Curly was no longer able to work.  Moe turned to Shemp for help and asked him to rejoin the trio until Curly was able to rejoin the team.  With his solo career finally taking off, Shemp was reluctant to rejoin the Stooges, but he also knew that if he didn't Moe and Larry would be out of work.  For the love of his brothers, Shemp gave up his solo career and became a Stooge once more under the conditions that it was only temporary.  Unfortunately Curly never recovered enough to rejoin the team and died in 1952.  Thus, Shemp became the new permanent Stooge for the next 73 shorts.  It was one step back on his way to solo success, but obviously one step forward in securing his footing in pop culture history.
Unfortunatly, as part of the Three Stooges Shemp never really was able to find his individual voice.  In the previous line up Moe was the leader and the meanest of the group, Larry was the quiet one and Curly was the zany missing link.  Yet Shemp's comedic style wasn't like the other Stooges.  Shemp was a far more subtle comedian, relying on word play, mugging and ad libs.  Fast and ferocious slapstick wasn't his calling.  Thus, while the other Stooges maintained their individual personalities, Shemp just didn't adopt a distinct personality to go along with the other Stooges.  Furthermore, Curly's energy was sadly missing from the team, and audiences began to notice.  Although they were still going to see Three Stooges shorts, everybody missed Curly, and scorn was expressed towards Shemp as being the guy who replaced him.  The audience just never really accepted Shemp.
After Curly's death, now being so connected to the Stooges, Shemp realized that solo success was most likely impossible and settled in comfortably in his new life as a Stooge and lasted with Moe and Larry for nine years.  However, in November 1955 Shemp Howard suffered a massive heart attack during his way home from a boxing match.  He was pronounced dead upon his arrival at the hospital.  His sudden death came as a shock to his family and friends, and suddenly Moe and Larry were, once again, without a third partner.  Shemp was laid to rest next to Curly at the Home of Peace Cemetery in East Los Angeles.
Yet Shemp's story was far from done, and despite the fact that he was dead, his career in pictures wasn't quite over yet.  In 1955 the Stooges were under contract to film eight shorts, but at the time of Shemp's death only four had been completed.  As far as Columbia was concerned, death was not an excuse. Thus, by using recycled footage of old Stooges shorts featuring Shemp, four brand new films were written and produced.  For refilmed connecting scenes, Moe recruited actor Joe Palma to fill in for Shemp, who was usually filmed from the back in his scenes.  Thus, four brand new shorts were released featuring Shemp Howard, but completely written, produced and filmed after his death.  The use of Joe Palma as the "fake Shemp" was termed "Shemping" and has become a part of the filmmaker's lexicon to this day to describe the use of replacement actors as body doubles on the screen when the actor they are portraying is otherwise not there.  When the Stooges renewed their contract with Columbia a year later, Shemp's good friend Joe Besser, whom he met during his days with Abbot and Costello, joined the team as the fifth Stooge.  When Besser joined the Stooges, Shemp was finally able to rest in peace.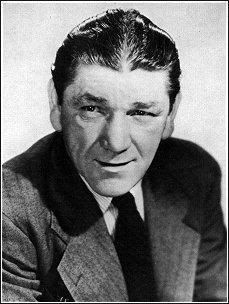 While he may not ever be remembered as the most popular of the Three Stooges, there is no denying that while he lived Shemp Howard worked just as hard, and in his own way, was just as prolific.  While Larry, Moe and Curly may have had the successful Three Stooges franchise securing their place in pop culture history, Shemp Howard worked continuously from 1932 to his death in 1952.  In his career he made 166 films.  Only 74 of those films were with the Stooges (one with Ted Healey and 73 after Curly's illness).  That means, on his own, Shemp Howard made an additional 92 films.  While the Stooges needed each other, Shemp was able to make it on his own.  So whether he is the most unpopular Stooge or not, there is no denying that Shemp Howard was the little Stooge who could.
‹ Previous · 1 · 2