Hollywood relationships can become nearly as iconic as the love stories that appear on the silver screen. The personal lives of beautiful and powerful people have offered film fans and pop culture junkies a wealth of fantasy and drama, and have captured the imagination of millions. From Mary Pickford and Douglas Fairbanks, to Brad Pitt and Angelina Jolie, garnering big publicity from fairy tale weddings, illicit affairs, nasty divorces, make ups and break ups, has become a staple of the entertainment industry. Gossip columns revel in them and tabloids depend on them for survival. One possible reason for the fascination with celebrity couples is the humanizing element that their relationships provide. It proves to the public that they are real people, not just images on a screen, and that they have the same emotions and problems that we do. Celebrity romances show the rich and famous at their best, and their worst, as we watch them experience love, jealousy, bitterness, anger and more. We become fascinated with the initial fantasy as they fall in love, but we relate to their pain when an affair falls apart; sadly, in the world of Hollywood, most love affairs end in tragedy and divorce. Nothing lasts until death do you part in tinseltown.
Yet, like so many things, love can be unpredictable. Every now and then, two unlikely people meet and fall in love, leaving the public in a state of awe and wondering "How the hell did this happen?" These odd, mismatched couples are the curiosity pieces of gossip columns. They are the freak show love affairs that defy the imagination and push the boundaries of our conventional love. However, as strange as they might be, they remain love stories all the same. Some of them are tragic in their oddity, while others are just plain weird. Sometimes the world embraces these strange romances. Most of the time we watch in fascination as cracks appear and things fall apart. However, each of these love stories had a beginning where two people met, fell in for each other, and fought the massive differences between them in an attempt to live happily ever after. It doesn't always work, but their unlikely unions remain to be some of the strangest true life stories in the history of pop culture.
CONFESSIONS OF A POP CULTURE ADDICT PRESENTS
STRANGE ROMANCE:
TEN CELEBRITY COUPLES THAT MADE HOLLYWOOD GO "WTF"?!!!
Orson Welles and Rita Hayworth – They were two of film's biggest powerhouses, but after that their similarities ended. Although they both were legends of Hollywood's golden era, Orson Welles and Rita Hayworth were from two completely different worlds. She was a beauty queen that found her way to stardom by dancing in nightclubs and appearing in B films and musical comedies. He was the moody boy genius who made enemies out of newspaper czars and caused nation wide panic via the airwaves. Thus, when Welles and Hayworth were married on September 3rd, 1943, the press called the pair "Beauty and the Brain", and Hollywood was left scratching their heads at the idea of this odd super couple.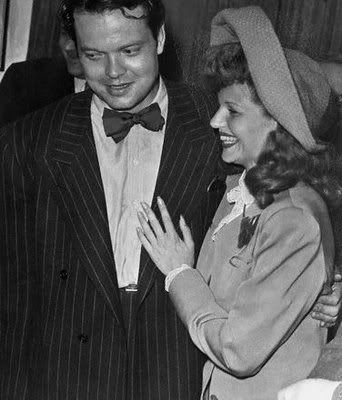 Their romance began in typical Wellsian fashion. During a trip to South America in 1941, Orson Welles saw Rita Hayworth in Blood and Sand and turned to a friend, exclaiming "I'm going back to America to marry Rita Hayworth." While Welles had never met Hayworth before, his infatuation with the actress became much like that of an adolescent film fan fawning over a starlet in a movie magazine. The pair finally met at a party held by Joseph Cotton in 1942, but by that point both Welles and Hayworth were in solid, well publicized relationships. Hayworth was involved with her My Gal Sal costar Victor Mature and Welles was with sophisticated film siren Delores Del Rio. However, when Welles got up to entertain guests with one of his famous magic acts, he persuaded Hayworth to accompany him as his assistant and stunned the guests by sawing Hayworth in half! The real magic happened afterwards, when the two stars fell in love. With Mature serving in the coast guard, and Del Rio in Mexico, it was only a matter of weeks before Hayworth had discreetly moved in with Welles.
Their relationship was kept quiet but for the exception of family members, close friends and colleagues, though not everybody was happy about it. Rita's "boss" Harry Cohn was viciously possessive of his star and was determined to put an end to this strange pairing. When Hayworth and Welles decided to put together a magical act to entertain troops during World War II, Cohn stepped in and prevented Hayworth from appearing, leaving Welles to use pal Marlene Dietrich instead. Cohn's jealousy and interference was a huge factor in the secrecy of the couples' wedding. While filming Cover Girl, Hayworth slipped out during a break without taking off her make up or costume, and drove to Santa Monica where she and Welles were married in a quick and simple ceremony before a justice of the peace. When word got out that the couple had tied the knot, Hollywood was shocked and Cohn was furious. Cohn would leave the couple alone for the rest of their marriage, but it wouldn't be the last that the pair would hear of the ferocious movie mogul.
The first year of Welles and Hayworth's marriage seemed to be a romantic one. Welles found Hayworth's lack of sophistication refreshing, and Hayworth liked the fact that Welles took her seriously. In 1944, Hayworth gave birth to a daughter and suddenly the pair were a real family. Unfortunately, soon after their daughter's birth things would begin to sour for the couple, as they went back to the separate worlds that would always keep them apart. Hayworth continued in audience friendly films, hitting the zenith of her career in 1948 when she appeared in the blockbuster Gilda, securing her place as one of Hollywood's most alluring sex symbols and greatest femme fatales. Welles, meanwhile, was not nearly as content; he continuously failed to recreate the success of his 1941 masterpiece Citizen Kane. Frustrated with the Hollywood system that he saw standing in the way of his creative endeavours, Welles turned his attention to politics, where he unsuccessfully toyed with running for congress. Meanwhile, Hayworth yearned for a conventional husband; she wasn't going to find it in an eccentric powerhouse like Orson Welles. In time, their careers and various ambitions began to pull their relationship apart. They each found companionship in the arms of others – Welles began an affair with Judy Garland, while Hayworth was slipping off to meet Howard Hughes. Ironically, Hughes and Hayworth would rendezvous in the Santa Monica beach house owned by William Randolph Heart's Hollywood mistress Marion Davies, whose vulva was rumoured to be the real "Rosebud." By 1945, the couple had called it quits. When asked why their marriage had failed, Rita Hayworth told the press, "I admire him greatly. We just don't get along."
However, it wasn't completely over for Orson Welles and Rita Hayworth. Following their divorce, and tired of his continuous failures in both film and politics, Welles decided to reform the Mercury Theatre and take it on the road with a musical version of Around the World in 80 Days. One evening, when the costumes didn't arrive at a theatre in Boston, Welles was horrified to find out that the costumes were detained at the train station. If Welles didn't come up with $55,000 dollars within a few hours to cover the outstanding debts he owed, the costumes were not going to arrive at all. Grabbing a cheap drugstore paperback novel called The Man I Killed that a box office girl was reading, Welles called Hayworth's boss Harry Cohn and told him that he had just discovered the greatest novel that he had ever read in his life and demanded that Cohn send $55,000 immediately to Boston to secure the film rights. He promised that he would come back to Hollywood to direct and star in the picture. Of course, Welles had never even read a single page of the book. Cohn bought Welles' bluff, but had a condition of his own. The only way that he'd send the money was if Welles would cast his ex-wife Rita Hayworth as the female lead. Welles reluctantly agreed.
In 1937, Welles and Hayworth reunited once more in Acapulco, where they boarded Errol Flynn's yacht, the Zaca, to make the movie that had been retitled The Lady From Shanghai. The shoot was not a happy one. Hayworth spent most of her time sea sick while Welles and Flynn snorted cocaine. In an act of revenge against Cohn for the set up, Welles had Hayworth cut off her famous red hair and dye it platinum blonde. The Lady From Shanghai was released in 1948 to mixed reviews and was not nearly the success that Welles had promised it would be. Movie audiences were able to get one final glance at Rita Hayworth and Orson Welles together, though it was clear that the magic had faded and the romance was gone. Just as they had started, the pair were once again worlds apart.
Lucille Ball and Desi Arnaz - They have gone down in pop culture history as one of the most famous and beloved show business couples of all time. However, we have become so used to the idea of them being together in the eighty years since they were married, their union just doesn't seem odd to us anymore. When they eloped on November 30th, 1940, however, there couldn't have been a couple more mismatched then the red headed comedian and the Cuban bongo drummer. She was a B movie actress and radio personality from Jamestown, New York. He was a mildly successful band leader, from Santiago de Cuba, who had fled to America during the Cuban revolution of 1933. She was known for her fast talking and zany patter. He could barely speak proper English. However, none of their differences seemed to matter when Lucy and Desi met on the set of a low budget musical called Too Many Girls. A spark quickly turned to a blazing fire of passion, and before the end of the year, Desi and Lucy were married in a quickie ceremony in Florida. Yet, as quickly as they were married, Desi and Lucy found themselves apart. Lucy was still trying to find her niche in show business, while Desi spent weeks at a time on the road with his band. There were also other things competing with Lucy for Desi's time and love – good liquor and cheap women. Desi couldn't keep away from either and Lucy wasn't a clueless wife who looked the other way. She knew darn well what made Desi tick. The pair's squabbles over Desi's affairs become one of Hollywood's worst kept secrets. Lucy even filed for divorce in 1944. However, the love between Desi and Lucy endured, and the two ultimate found their way back to each other.
Lucy did figure out a way to keep Desi on a short leash. When CBS sought to bring Lucy's popular radio comedy My Favourite Husband to TV, Lucy worked to persuade CBS to ditch her costar Richard Denning and get Desi to play her on-screen husband. The CBS executives didn't like the idea. They felt that the American public wasn't going to buy an all American housewife married to a Cuban band leader. It was just too odd. Furthermore, they weren't at all impressed by the pilot that Desi and Lucy had written and filmed via their budding production company, Desilu. However, Lucy wouldn't budge. She wanted a family and Desi home for dinner at night… and the ability to keep an eye on her philandering husband. In order to prove to CBS that the idea could be done, Lucy and Desi adopted the Lucy and Ricky personas in an act and took it on the road with Desi's band. The tour was a hit and CBS decided to take a chance on the strange duo. It paid off. I Love Lucy premiered on October 15th, 1951, and quickly became one of the most popular and revolutionary sit-coms in the history of television.
TV audiences fell in love with Lucy and Ricky Ricardo. With Lucy's shrill crying and her catch phrase "But why can't I be in the show Ricky?" and Desi's "I yi yi yi" and "Looocy! You have so 'splanin' to do," the strange couple found their way into America's hearts and minds. For the first little while Lucy's ploy worked. Desi enjoyed directing and producing far more then travelling on the road, and, as a result, his band quickly dissolved as Desi put more and more time into Desilu. They eventually produced a number of other hit programs such as Make Room for Daddy and The Untouchables. In 1951, while developing I Love Lucy, the couple had a daughter, Lucie Arnaz. However, when Lucy became pregnant again in 1953, she and Desi made the bold decision to work her pregnancy into I Love Lucy. At the height of the show's popularity, Lucy's pregnancy created massive headlines and publicity, which culminated in the birth of their son Desi Arnaz Jr. Viewers came to believe that the persona of the loving couple that they saw on television was the same in real life. Sadly, they couldn't have been more wrong.
Despite the fact that Lucy had Desi now had a family and Desi, for all intent and purposes, seemed to have settled down, his lust for liquor and women couldn't be stopped. Both Lucy and Desi were drinkers, but the pressure of running Desilu caused Desi to drink even heavier then before. Desi also still sought out the company of starlets, show girls and prostitutes, while Lucy unsuccessfully tried to look the other way. However, she had trouble the night she had to bail Desi out of the drunk tank. He had been picked up by the cops as he was singing Cuban songs outside of a Hollywood Boulevard brothel. By the end of the 1950s the marriage was pretty much over. Desi and Lucy wrapped up I Love Lucy in 1960 and a month later the couple filed for divorce. Lucy went on to marry comedian Gary Morton in 1961 and the couple remained married until her death in 1989. However, she always remained close to Desi and the pair spoke on the phone every few weeks. Desi married a woman named Edith Mack Hirsh, who he stayed with until her death in 1985, although he still had the reputation of keeping mistresses and having affairs. Edith also was a red head with a slight resemblance to Lucille Ball. Perhaps Desi never stopped loving Lucy after all?
Rock Hudson and Phyllis Gates - While they may have seemed unsuspecting at the time, Rock Hudson and Phyllis Gates were one of Hollywood's strangest couples. To fans, their marriage in 1955 seemed like a plot right out of one of Rock's romantic comedies. Hollywood's hunkiest heart throb had taken a total unknown as his new bride. What his fans didn't know was that Rock and Phyllis were pulling off one of the biggest cover ups in Hollywood history. Today it is common knowledge that Rock Hudson was gay and that the marriage was a sham created to keep his sexual orientation a secret. Yet, it isn't nearly as well known that Phyllis Gates was keeping secrets and managing an agenda of her own.
Although his homosexuality was a well guarded secret from the public, in Hollywood the fact that Rock Hudson was gay was common knowledge. While it was only talked about through giggles and whispers, Hudson's gay pool side orgies became legendary. Though he was one of Hollywood's biggest leading men, and held up as a symbol of American manhood, Hudson was fairly careless in keeping his sexuality under wraps. As long as he didn't bring too much attention to himself, and didn't jeopardize his image, the studios were fairly accommodating to him during an era when homosexuality was relatively taboo. The job of making sure that the world at large didn't get wind that Rock Hudson was gay was left to Hudson's manager, Henry Willson. It seemed smooth sailing at first, but in 1955 legendary Hollywood tabloid Confidential threatened to publish a scathing article outing Rock Hudson. With some quick negotiating, and at the expense of dropping details about Rory Calhoun's time in prison and Tab Hunter's arrest at a gay party, Willson got the article dropped from publication. Breathing a sigh of relief, it seemed that they had dodged a bullet until popular movie magazine Photoplay ran an article with the headline "Rock Hudson is Still Not Married, and Fans Want to Know Why." Willson knew something more had to be done. He decided that Rock's days of hedonistic pleasure were over. Rock was getting married. The lucky girl would be Willson's secretary Phyllis Gates. She was young, pretty and she and Rock got along fairly well. The three met, agreed to terms, and on November 9th, 1955, days after the filming of Rock's blockbuster film Giant, the pair were married in a simple ceremony with about a hundred guests present. Housewives and teenage girls swooned while Rock's pool boys wept, and the rest of Hollywood rolled their eyes and waited for the whole thing to explode under a mushroom cloud. Yet, for the most part the ploy had worked and the biggest romantic sham in Hollywood history had won over the unsuspecting public.
However, Phyllis Gates had her own secrets to conceal. A farm girl from Minnesota, Phyllis was, in fact, a lesbian! She had been known in both Miami and New York's gay scene and had moved to Los Angeles in an attempt to reenter the closet after her secret was nearly revealed to her family. In effect, her marriage to Hudson was just as convenient for her as it was for him, but it had its own perks. By being Mrs. Rock Hudson, the once simple farm girl became a Hollywood jet setter and settled comfortably into her new lifestyle of pools, cars and movie stars. Her only fear was that Rock's secret would eventually come out, bringing the walls of her Hollywood fairy tale crashing down around her. Thus, Phyllis created a double standard for their relationship. While she was allowed to still cruise for female companionship amongst Hollywood housewives, Rock was not permitted to take gay lovers. In her mind, the press wouldn't be watching her if she slipped away, but if Rock was caught it would be noticed. Rock complied for a time, but eventually he had an itch to scratch that fear of being outed couldn't quash. While making the film Farewell to Arms in Italy, in 1957, Hudson took a male lover. Word eventually got back to Phyllis, who decided that she should get out while the getting was good. After three years of marriage, Phyllis divorced Rock on the grounds of "mental cruelty" and received a healthy settlement. Rock never remarried while Phyllis slipped quietly into obscurity.
When Hudson's sexuality finally was revealed to the public via his AIDS related death in 1985, the stunned world looked to Phyllis, now 60 and working as an interior decorator, for answers. What was the truth about their marriage? What role had Phyllis played in the deception? As a result of increasing public inquiries, Phyllis released a book titled My Husband Rock Hudson in 1987, in which she decided not to reveal the deception. Despite the fact that Rock was dead and society was far more tolerant of homosexuality, Phyllis still "played stupid" and maintained her stance that she had absolutely no idea that Rock Hudson had any gay tendencies and that they had a completely normal marriage. Meanwhile, according to one source, Phyllis stated "I had the power to destroy Rock and I didn't use it. To have exposed his other life would have been vicious and vindictive. I faced enough trouble rebuilding my life without bearing that guilt." Like Rock before her, the truth of Phyllis' sexuality would not be revealed until her death in 2006 from lung cancer, when Variety senior editor Robert Hofler wrote an investigative piece revealing Phyllis' gay lifestyle and her own reasons for the deception. Phyllis and Rock were far more similar then anybody had ever imagined, and while they may not have been in love with each other, they obviously had enough affection between them to keep each other's secrets until the very end.
Marilyn Monroe and Arthur Miller - When Marilyn Monroe and Arthur Miller were married the headlines read "Egghead Marries Hourglass." Marilyn was Hollywood's most glamorous star and Arthur was New York's most intellectual and controversial playwright. There probably wasn't a more mismatched pair, but love would burn hot for this strange duo in what became a odd, yet tragically sweet love affair. Arthur met Marilyn during his first trip to Hollywood in 1951. Having sold his play The Hook to film director Elia Kazan, he took the trip out to Hollywood to oversee the project. Arriving on the 20th Century Fox lot for the first time, he and Kazan watched Marilyn in the filming of As Young as You Feel, and Kazan introduced the pair for the first time. They met again a few nights later at a party that had been thrown in Miller's honour, where the pair danced and talked the night away. During the evening Arthur encouraged Marilyn to take theatrical training and to seek out work in the theatre. Arthur was attracted to Marilyn's sensitivity, but he also saw her vulnerable and insecure side, which created a protective instinct in him. Marilyn, meanwhile, loved the fact that he was not part of the Hollywood system, and unlike the condescending studio bosses who tended to look at her only as a brainless sex symbol, Arthur took her very seriously and treated her like a person. The fact that a playwright of Miller's stature was encouraging Marilyn meant the world to her.
Unfortunately, there were factors that got in the way between Marilyn and Miller. Not only did they live on separate coasts, but Miller had a wife back in New York. Miller returned to his wife, but couldn't get Marilyn out of his head. How do you forget Marilyn Monroe? Meanwhile, it seemed Miller had a lasting impact on Marilyn as well. Shortly after Miller left for New York, Marilyn enrolled in a UCLA literature class and wrote to him for a reading list. Marilyn's star kept shining brighter, and in 1954 she had a much publicized marriage, and divorce, to baseball legend Joe DiMaggio. After her marriage to DiMaggio broke up, having just finished filming The Seven Year Itch, the newly divorced movie star announced that she was leaving for New York to enter the famed Actors Studio, where she became the protégé of Paula Strasburg. However, it seemed that the real appeal of New York City for Marilyn Monroe was that Arthur Miller was there, and the pair met in secret throughout the summer and fall of 1955. Finally, in early 1956, Miller divorced his wife and he and Marilyn began preparations to get married, though trouble brewed on the horizon for the couple when Arthur Miller was subpoenaed by Joe McCarthy's Un-American House Committee.
Despite the risk to her career, Marilyn accompanied Miller to the hearing in Washington DC. Miller gave the committee a detailed description of his activates, but would not reveal names of colleagues who were involved in similar activities. He was fined, blacklisted, denied a US passport and was to spend thirty days in prison, but the ruling was quickly overturned in Miller's favour. However, as a result of the hearing, the press was finally on to Marilyn and Arthur's relationship. The headlines shocked Hollywood, as, for the most part, people had no idea that the pair even knew each other. Marilyn had the reputation of being a neurotic glamour girl and Miller was one of America's leading intellectuals. It just didn't make sense! Arthur and Marilyn didn't care what everyone else thought and wed in a small service in June 1956. Marilyn used her marriage as an attempt to better herself, and Miller assisted by both encouraging her and using his influence to get her unique opportunities to enhance her career as an actress. The truth was, Marilyn believed that she was a lightweight and everyone in Hollywood seemed to agree. Miller arranged for her to receive the lead in Laurence Olivier's film The Prince and the Showgirl shortly after their marriage and the pair went to England to shoot the film. However, the shooting was rough and Marilyn was described as being "schizophrenic" by Olivier. Upon returning to America, Marilyn started filming on Some Like it Hot, and Miller began work on making his book, The Misfits, into a vehicle for his wife. He wanted to develop a role for Marilyn that would, for the first time, give her a chance to do some real dramatic acting, proving to the world, and herself, that she was a capable and talented actress.
However, in the years between Some Like it Hot and The Misfits, Marilyn started to unravel. Her drug use for anxiety and depression increased, which caused her to suffer from a series of miscarriages and endure several stays in institutions. As much as Miller tried to take care of her, Marilyn's fragile mental state began to put a toll on the marriage. Still, he hoped that if The Misfits was a success that it might save them both. 20th Century Fox got John Huston to direct the film, and cast Marilyn's childhood screen hero Clark Gable as the leading man. However, Marilyn's demeanour only got worse. In fact, the stress of working with Marilyn has been said to be a factor in weakening Gable's heart, who died only four weeks after filming was completed from a heart attack. The Misfits also marked a number of other endings. It would be Marilyn's final film and prove to be the end of Arthur and Marilyn's marriage. They would separate a few weeks after the film's debut in February 1961. In an odd footnote, Miller would start a relationship with photographer Inge Morath who he met on the set of The Misfits at the end of the year when she was commissioned to photograph Marilyn. Miller and Morath were married in 1962 and remained together until Miller's death in 2002. As for Marilyn, she would be dead a year later from an overdose of sleeping pills. Despite all the encouragement and love that Arthur Miller tried to give Marilyn, he couldn't save her. Marilyn Monroe never found the self assurance that she sought, though in death she would become one of the biggest icons in pop culture history.
Frank Sinatra and Mia Farrow -  When Dean Martin was stopped by reporters on his way into the Sands Hotel to attend the wedding of Frank Sinatra and Mia Farrow, he simply said, "I have scotch at home older then Mia." The rest of the world was thinking pretty much the same thing as Deano. When Frank married Mia on July 19th, 1966, Frank was 50, while Mia was only 21. It was Frank's third marriage after a slew of high profile Hollywood affairs. This was Mia's first real relationship. Somehow the numbers just didn't add up on this thing, but Frank and Mia didn't seem to care. They were determined to give it a shot.
Frank and Mia met at 20th Century Fox when Frank was filming Von Ryan Express in 1965 and Mia was starring in the TV version of Peyton Place. Legend has it that they bumped into each other in the Fox cafeteria, making Mia drop all of her things and prompting Frank to help her. Their eyes met and before you could say "ring a ding ding" they fell in love. Romantic story, but most likely untrue. It's unlikely that Frank Sinatra even ate at the Fox studios cafeteria. No matter how they met, however, there was no doubt that their affair was completely indecent. Mia was barely nineteen and Frank had children older than she was. Frankie wasn't going to let a thirty year age gap stop him from making time with a pretty girl though, and, well, Mia was just stunned by him. Years later she'd describe Frank by saying, "He was the coolest, handsomest, sexiest guy. I don't think there are many women of any age who could have resisted him. He was utterly charming. Absolutely adorable." Mia and Frank were caught in a tender trap and their wild affair began. In the beginning their romance was sweet. She gave Frank the nick name "Charlie Brown," while he, in typical Sinatra fashion, called her "doll face." Slipping away here and there to steal a few private moments, they attempted to keep their relationship discrete. However, word soon got out that the crooner and the teenage starlet were seeing each other and people started to talk. Accusations that Frankie was having a mid-life crisis and that Mia was looking for a father figure started appearing in gossip columns. Mia would respond, "Talk fathers all you like — he isn't anything like my father" and Frank would simply state, "I dig her for her brains." Nobody expected this daft affair to last, but Sinatra surprised everyone when he announced that he and Mia were to be married once she turned 21. As he said to his daughter Nancy at that time, "We may not have much time together, but we got to give it a try."
But as soon as they got married the generation gap started to force the couple apart, beginning with a simple haircut. Mia shocked the press, the wedding guests, and even the groom himself, when she appeared at the wedding with her long blonde hair cut off. Although her new look would spark a major fashion trend, Frank, who preferred a more traditional look, was reported to have hissed at her,"I didn't realize I was marrying a little boy."   Mia and Frank's worlds just couldn't meet up halfway. Frank was into booze and broads and the bright lights of Las Vegas. Mia was into acid, meditation and dancing at the disco. Mia would later address the gap by saying, "My friends from India would come into the house barefoot and hand him a flower. That made him feel square for the first time in his life." Their difference in interests and lifestyles only hurt the connection between them. Frank expected Mia to stay at home like a nice little wife, but it wasn't the 1940s anymore and Mia wasn't Nancy Barbato. In 1966, she took a pilgrimage to India to meditate with Maharishi Mahesh Yogi alongside the Beatles and Donavan, while Sinatra played the Sands. He shocked audiences when he referred to her absence, "Finally, I married a broad I can cheat on." Meanwhile, the age difference between Frank and Mia became a popular joke amongst Vegas comedians and late night talk show hosts, which not only deflated Frank's ego, but got him hot under the collar. Frank Sinatra was one cat you just didn't want to get angry.
The last straw came when Mia returned from India to star in Roman Polanski's 1966 horror film Rosemary's Baby. Filmed on location in New York, she had calmed Frank's protests by promising that she's costar in his next film, The Detective. However, Roman Polanski was a perfectionist and once filming began there was no stopping. Rosemary's Baby quickly went both over budget and over schedule. Waiting for Mia to return to Hollywood to start his film, Frank demanded that she quit and come home. However, Mia knew that the film she was making was special and she enjoyed working with Polanski. Besides, The Detective was a lacklustre film that read like a 1950's B movie filled with homophobic subtexts. Mia stood up to Frank and told him that she was going to stay in New York and finish Rosemary's Baby. But for Frank it was all or nothing. Days later a lawyer arrived on the set and presented Mia with divorce papers. Mia signed them and the marriage was over. Frank and Mia's marriage lasted only sixteen months, and for the most part they had spent it apart. Mia refused to take any settlement from Frank and fled back to India after filming of Rosemary's Baby finished. Frank dulled the pain with his usual habit of boozing it up in Vegas. However, Mia's hunch had paid off. Rosemary's Baby was a smash success, which turned her from a TV actress to a major movie star. The Detective, on the other hand, was a flop. Mia now had a career all her own, though it had cost her her marriage. In the years that followed, a new sort of affection between Frank and Mia grew. Although they rarely ran in the same circles, the pair remained friendly and affectionate to one another. As he got older, Frank looked upon Mia as someone he wanted to take care of and always made sure she was okay. In fact, the morning after the presses reported that Mia's common law husband Woody Allen had filed for divorce, and publicly accused Mia of abusing her plethora of adopted children while he was having a sexual relationship with Mia's seventeen year old adopted daughter, Mia received a telegram from Frank offering to send his goons to break Allen's legs. Now that's what I call love, Sinatra style!