John Travolta and Diana Hyland - When John Travolta and Diana Hyland were seen going out on the town in 1976, Travolta truly looked like he was on a date with his Mom. The 24 year old actor, who hadn't yet found stardom on the silver screen, was one of pop culture's hottest poster boys thanks to his role as misfit high school student Vinnie Barbarino on TV's Welcome Back Kotter. Meanwhile, at age 40, Diana Hyland had been a fixture on television for as long as Travolta had been alive and had just signed a contract to play TV Mom Joan Bradford on the new ABC "dramedy" Eight is Enough. However, while Hollywood gossip columns would snicker that Hyland was "robbing the cradle" with her new young "stud", the relationship between Travolta and Hyland would go down as one of the sweetest and most tragic love stories in the history of pop culture.
John Travolta explained his relationship to "Rolling Stone Magazine" by saying "I had almost decided to quit looking for anyone special, and then she came along "
Although he had appeared in a number of minor roles in cult films such as The Devil's Rain and Carrie, Travolta made little impact in movies during his earliest days in Hollywood. He would find his first break through television when he joined the cast of Welcome Back Kotter in 1975. However, the theatrically trained actor longed for more dramatically challenging parts than the Sweathogs had to offer him. Riding high on his success on Kotter, Travolta was given his first starring dramatic role in the 1976 TV movie The Boy in the Plastic Bubble. Based on the true life story of Tod Lubitch, the film was a highly emotional story about a boy that was born with a deficient immune system and forced to live his entire life in a completely sterilized environment. In the role of Travolta's mother was TV veteran Diana Hyland. Hyland had divorced her husband Joseph Goodson a year earlier and was now raising a young son as a single mother. Travolta had never been seriously involved with anyone before, but an unlikely spark was lit when the pair met during their first day on the set. In a 1983 interview with Rolling Stone, Travolta explained "On the first meeting, I was just incredibly attracted to this woman. I saw the whole picture in her first ten words — depth, intelligence, beauty, perceptiveness. She had gone through a rough marriage, a lot of career ups and downs, and had come out at peace with herself. It was very sexy. The most important things were the relationships in her life. She really savoured the people around her. At the time, I was open, just fooling around with a couple of little affairs. I had almost decided to quit looking for anyone special, and then she came along and was so dynamic, I knew I had to spend time with her."
John and Diana at home with Diana's son Zachary in 1977. Ironically, Diana was cast as John's mother in "The Boy in the Plastic Bubble" (1976)
At first the relationship seemed to be nothing more then just flirting, but when Hyland explained to Travolta that she didn't care if she had him as a lover or just a friend he was sold. During the height of his fame as a teen idol, Hyland was unlike the screaming girls who hung his posters on their walls. Travolta wasn't used to women who weren't enamoured with him due to his sexuality and Vinnie Barbarino persona. She saw beyond the fame and accepted him for who he was, and in return won Travolta's heart. Despite critics sneering at the huge age difference between the couple, Travolta and Hyland began a love affair and seemed on top of the world. The Boy in the Plastic Bubble was a huge ratings success and universally praised by critics, leading Hyland getting the Eight is Enough gig and winning Travolta the meaty role that would make him a major movie star – Tony Manero in Saturday Night Fever.
Travolta and Hyland's time together would be short. Hyland died in Travolta's arms in 1977.
Yet the cards were stacked against Travolta and Hyland, and the first card that fate played was death. Only months into their relationship Hyland was diagnosed with breast cancer. While cancer would be enough to scare most young guys into running away from their new relationship, Travolta did the opposite, moving into Hyland's home in order to help with her medical bills and take care of her and her son. In an attempt to save her life, Hyland had a mastectomy. Unfortunately the treatment failed and the cancer began to spread. Travolta was forced to leave for New York City to meet his obligations for Saturday Night Fever. He considered opting out of the film, but Hyland encouraged him to go. Only a few weeks into shooting Travolta received the call that he was dreading. Diana Hyland had little time left to live. Shooting was shut down so Travolta could race back to Los Angeles where Diana Hyland died in his arms on March 27th, 1977.
The death of Diana Hyland would shape John Travolta's career. It gave him the moody edge that earned him an Oscar nomination for "Saturday Night Fever" and he took "Greae" in order to heal.
The tragic loss of Diana Hyland was felt in Travolta's work for the rest of the decade. The darkness of his grief was felt in the intense torment of Tony Marino, adding the grimness that Saturday Night Fever required to become a success. His performance would earn him an Academy Award nomination for best actor and the film would become one of the landmark films of the 1970s. For his next project, Travolta decided that he wanted something far lighter as a way to heal from his grief. As a result, he went out for the role of Danny Zuko in the 1978 musical-comedy Grease. Throwing himself into the film, Grease was a complete change from the gritty world of Saturday Night Fever, but it was what Travolta needed to begin to get over the loss of Diana Hyland. Meanwhile, Hyland was honoured by winning a posthumous Emmy award for her role in The Boy in the Bubble, which was accepted on her behalf by an emotional Travolta. Although they had only been together for a matter of months, Travolta's time with Hyland had a deep impact on him, and he would not be in a serious relationship for fifteen years until he married actress Kelly Preston in 1991. Despite eventually finding love and a family with Preston, Travolta would face tragedy in his life again when he lost his sixteen year old son Jett, who hit his head during a seizure while on vacation in the Bahamas. As Travolta dealt publically with yet another loss, the ghost of Diana Hyland didn't seem that far away.
"Who's Your Daddy?" – Woody Allen and Soon Yi Previn
Woody Allen and Soon Yi Previn – Thier shocking relationship gave new meaning to the term "Who's your Daddy?" when neurotic film director, writer and comedian Woody Allen went public about his affair with 22 year old Korean art student Soon Yi Previn. You see, although he was never her biological father, Allen was the closest thing to a father figure that Soon Yi had in her life. When Soon Yi was only eight years old, her adopted mother Mia Farrow began a relationship with Woody Allen which lasted twelve years and produced a sibling. Little did Mia know that, when Soon Yi blossomed into a woman, she would lose her common law husband to the little girl that she raised. If she had, perhaps she would never have brought Allen into her home. Besides being known for her films, her trendsetting haircut and her odd ball marriage to Frank Sinatra, Mia Farrow is famed for her role as a world activist. In 1973, while married to pianist Andre Previn, Farrow began to adopt needy children, bringing them to America to provide them with a better life. Between 1973 and 2000, Farrow adopted nine children, who she raised alongside her own four biological children, making a large family of twelve children under her guidance and care. Soon Yi was the third of these adopted children and would eventually become the most famous by becoming the black sheep of Farrow's family.
Woody Allen with Mia Farrow and Soon Yi in 1987. Little would Mia know that her lover and her daughter would betray her in 1992.
Little is known about the origins of Soon Yi and Woody Allen's relationship. Obviously she met Woody when Mia started dating him in late 1979. Soon Yi would have been nine years old. Famous for his nerdy appearance and brilliant comedies, the neurotic New Yorker had already had six high profile relationships, including Mary Hartman, Mary Hartman star Louise Lasser, B movie actress Stacy Nelkin and Academy Award winner Diane Keaton, whose relationship he had chronicled in the Oscar winning film Annie Hall. Mia, just divorced from Andre Previn, was dining at famous New York restaurant Elaine's with Michael Caine and his wife, when they noticed Woody Allen dining across the room. Caine introduced the pair, who had had a number of minor encounters through the years. A week later Woody sent Mia an invitation to his New Years Eve party and a long term, and unlikely in its own way, affair began. Despite eventually becoming common law spouses, Woody and Mia decided to live apart; together they adopted two children and had a son, Satchel Farrow (aka Ronin Farrow) in 1987. Meanwhile, little attention was ever made to teenage daughter Soon Yi, who went unnoticed by the press, and didn't seem to have any connection with Woody Allen at all other then the fact that her mother was Allen's common law wife.
When confronted about his indecent relationship with Soon Yi, Allen replied ""It's real and happily all true."
However, that would all change in 1992. As described by Mia in her 1997 autobiography What Falls Away, Mia learnt of Woody's indecent affair with her daughter when she entered Allen's apartment and found pornographic photos of Soon Yi on the fireplace mantel. Was it an accident, or had Woody placed them there for Mia to find? Perhaps we'll never know, but Woody would describe Mia finding the photos as "One of the great pieces of luck in my life" in a Vanity Fair interview in 2005. Days later Woody filed for divorce and sought custody for their three children. Mia was shattered, and soon the press got word that Woody and Soon Yi had been having an affair for at least eight months. When questioned by the press about the shocking betrayal, Woody bluntly responded, "It's real and happily all true." What followed was a messy divorce in which Mia was awarded custody of all three of their children. Woody was allowed visitation with biological son Satchell, but angry at his father for what he had done to his mother, and for his "indecent" relationship with Soon Yi, Satchell chose not to see Woody. Father and son have reportedly not spoken since. Meanwhile, Soon Yi was blacklisted from the Farrow household, where she remains an outsider.
Woody and Soon Yi has defied the odds by being married for fifteen years, and together for eighteen years. Their relationship has lasted longer then any of Woody Allen's previous relationships.
With the ink fresh on the divorce papers, and their reputations destroyed in the eyes of the public, Woody Allen and Soon Yi had a life to rebuild. At least they were not alone. They still had each other. Defying the critics, the pair remained together and, in 1995, they were quietly married in a small ceremony in Italy. While their relationship has been universally criticized by the public, Woody Allen refuses to hide Soon Yi away in shame. Although famed for their privacy, the pair has become one of New York's most popular and prolific couples. Appearing together at various public events, the couple is continuously photographed hand in hand. Woody and Soon Yi themselves adopted two daughters, Benchette and Manzie, creating a little family of their own. However, the world still knows little about who Soon Yi really is or what her true thoughts and feelings are. Soon Yi has never given an interview nor spoken to the press about her relationship to Woody Allen or her betrayal of Mia Farrow.
Woody and Soon Yi, with adopted daughters Benchette and Manzie, visit Dylan Lauren at New York's famous Dylan's Candy Bar.
Fifteen years later, Woody Allen and Soon Yi have defied the odds by still being together despite the scandal and doubt aimed at them. It has been Woody Allen's longest and most successful relationship to date. Of Soon Yi, Woody said, "She's very self-possessed and she runs the house and our kids and our life." With the shock of the couple's relationship fading, fans and supporters of Woody Allen have begun to question just how indecent Woody and Soon Yi's relationship is. There is no doubt that it was unconventional and steeped in betrayal by both parties, but Woody Allen never adopted Soon Yi, nor is her biological father. They never lived in the same home, nor was Allen ever a primary caregiver of any sort to her. However, as Woody and Mia's son Ronan eloquently put it in 2005, ""He's my father married to my sister. That makes me his son and his brother-in-law. That is such a moral transgression. I cannot see him. I cannot have a relationship with my father and be morally consistent…. I lived with all these adopted children, so they are my family. To say Soon-Yi was not my sister is an insult to all adopted children.". Woody Allen and Soon Yi's relationship remains in a moral grey area, where they continue to be one of pop culture's most controversial couples.
Pretty Woman meets Erasurehead – Julia Roberts and Lyle Lovitt
Julia Roberts and Lyle Lovett – The brief love affair between Julia Roberts and Lyle Lovett continues to baffle the imagination. She was Hollywood's "Pretty Woman", the queen of the romantic comedy, and he was a cynical country crooner who resembled Eraserhead. Together they didn't seem to make a lick of sense, but there was something stragely romantically about their impulsive whirl-wind romance that left the world scratching their heads in disbelief. When Julia Roberts and Lyle Lovett were first spotted together in New Orleans during the summer of 1993, the pair were obviously on the rebound. Julia had been through a series of high profile relationships with some of Hollywood's hunkiest stars, including Liam Neeson, Jason Patric, Keither Sutherland and Daniel Day Lewis. Lyle, meanwhile, had just ended a three year relationship with girlfriend Allison Inman. Anyhow, strange things can happen in New Orleans, and sometimes that includes love. Julia was in town filming The Pelican Brief while Lyle was there on a North American tour. Somehow the unlikely pair crossed paths and by the end of the week they were seen cuddling and dancing in a jazz club. It seemed unbelievable, but the honky tonk singer and the Hollywood princess had found love. Their time in New Orleans would prove to be brief and soon they would go their separate ways as Lyle's tour went back on the road. However, as the weeks went by, Lyle dedicated songs to a mysterious "Fiona" at all his shows, referring to Julia Roberts' middle name. Julia showed up backstage at Lyle's stops in New York, Memphis and Vienna, West Virginia while Lyle made a surprise visit to the set of The Pelican Brief, arriving back in New Orleans after a late night drive.
Julia and Lyle shocked the world in 1993 when they were married in the sleepy town of Marion, Indiana three weeks after meeting.
Three weeks after they met, though they had spent only a handful of intimate moments with each other, the unlikely couple chose to forego dating and just tie the knot. One June 27th, three days after deciding to spend eternity with one another, Lyle, Julia, their family and friends, including Susan Sarandon, Tim Robbins and Tanya Tucker, descended on the sleepy little town of Marion, Indiana where Julia and Lyle exchanged vows at St. James Lutheran Chruch. The reason the wedding was held in Marion? It was conveniently located on Lyle's tour route. Why June 27th? Because Julia would be on break from filming. Once again the pair was forced to pencil each other into their busy lives. This would be a continuing factor throughout the rest of their relationship. There would be no honeymoon. Within hours of their wedding, Julia was on a plane to Washingon DC to finish filming The Pelican Brief and Lyle was back on his tour bus heading for the next gig.
Lovitt hinted at problems in his marriage in 1994 when he told a Buffalo NY audience, "No matter how well you may have planned, things don't always come out as you intended."
When Julia Roberts and Lyle Lovett's wedding photos made the press, the world was literally in shock; the couple became a favorite in checkout line tabloids around the world. "What does she see in him?" was the question asked by fans that looked only at Lyle's unconventional appearance, not considering that Julia had seen something deeper in the soul of a very talented and clever songwriter. It was that, or perhaps love truly was blind. No matter how often the couple exclaimed how much in love they were, the public had decided that the relationship was doomed and waited for the cracks to appear. Within a short time those cracks arrived. Important to any successful relationship is the time spent together building strength and trust, but time just wasn't something Julia and Lyle ever had. Between 1993 and 1995, Julia had a hefty schedule making four films on two different continents, while Lyle was spending months at a time on the road. The couple rarely had a chance to spend more then a week together, meeting up wherever the other was working when given the opportunity. Their conflicting schedules even got in the way of the two making a home. Julia kept her apartment in New York City as her home base, while Lyle returned to his family farmhouse in Klein, Texas, after his tours. Although they seemed happy on the surface, something was odder about Julia and Lyle then just their appearance.
During a 1997 interview, when asked about her marriage to Lovitt in retrospect, Julia Roberts replied ""'How can I explain it to you? I met him and fell in love with him. I can't tell it any different to that. It was the perfectly correct decision for me at the time.'
The real division between the pairs' lives began to show publicly in April 1994 when, despite the fact that Julia and Lyle were both in New York City at the same time, they chose to stay at separate hotels and socialize with their separate friends. A few weeks later, while Lyle was in Paris, photographs of Julia dancing with Hollywood stud Ethane Hawke surfaced, sending red flags up for gossip columnists and becoming the new favorite tabloid headline. Lyle was seen entertaining country singer Kelly Willis in Austin, while Julia was filmed by Hard Copy camera men crying on ex-boyfriend Jason Paric's shoulder in Central Park. While the summer of 1993 seemed to be the summer of love for the couple, the summer of 1994 was definitely the summer of doubt. As their press agents ran around running damage control, Lyle said to a Buffalo audience, "No matter how well you may have planned, things don't always come out as you intended." In April 1995, less then two years after they were married, Lyle and Julia announced their divorce. Julia was in London filming Mary Reilly. Lyle was at home in Texas with his shutters closed and his curtains drawn. Unconventional love burnt bright and faded fast for the couple who never truly fit in each others worlds. However, two years later when she was asked about her marriage to Lyle, Julia said "'How can I explain it to you? I met him and fell in love with him. I can't tell it any different to that. It was the perfectly correct decision for me at the time.' Even at the end, her recklessness wasn't deemed a mistake, but it would be a decision that would confuse the public for decades to come.
The Prince of Pop and the King of Rock n' Roll's Daughter – Michael Jackson and Lisa Marie Presley
Michael Jackson and Lisa Marie Presley – One morning in July of 1994, the world woke up to one of the most surreal headlines of the decade. It was rumoured, although completely unconfirmed, that two months earlier Michael Jackson had married Lisa Marie Presley in a quickie service in the Dominican Republic. Was it a hoax? An imaginary story? Nobody could really be sure. By the mid-1990's it wasn't unusual for strange stories about Michael Jackson to emerge in the press. Some of them were true, some of them were false and others were a little bit of both. Which was this – did the prince of pop really marry Elvis' daughter? Did they even know each other? The pair had never, ever, been seen together in their lives. As the world looked for answers, Michael Jackson's camp exclaimed, "There is no marriage." Lisa Marie's people said that the rumours sounded false, but they had no idea where she was exactly. Reporters even looked to Michael Jackson's close pal Elizabeth Taylor for answers, but she hadn't talked to Michael Jackson in three months. It was a Santo Domingo newspaper that claimed Jackson and Presley had been married by local judge Hugo Francisco Alvarez Pérez at his farm. Finally, the public's befuddlement turned to bemusement when Michael Jackson and Lisa Marie finally returned to the US a few days later, revealing that they were, indeed, married. One imagines a large "thump" being heard in the back garden of Graceland as Elvis rolled over in his grave.
Although they seemed mismatched, Michael Jackson and Lisa Marie had similar upbringings and, in a sense, could relate to each other.
In reality, it was Elvis himself who first introduced Michael and Lisa Marie to each other when they were youngsters. A fan of the Jackson Five, Elvis had taken Lisa Marie to a number of the Jackson Family's Las Vegas shows in 1975, where they watched from the lighting booth, and afterwards would go back stage to visit with the Jacksons. No evidence of a real friendship between the two was noticed during their earliest encounters, but then Lisa Marie was seven and Michael seventeen For children, it was a huge age difference. It wasn't until the two encountered each other again in 1994 that a friendship emerged. At first they seemed to be polar opposites, but at a closer glance they were more similar then anybody could have thought. Both had lived in bubbles their entire lives due to being immersed in superstardom and the music industry. Both had been denied normal childhoods, and didn't even know what a simple normal existence was. As odd as Michael Jackson's world was, Lisa Marie may have been the only woman who could understand it at all.
Lisa Marie was Michael's shoulder to cry on during his first child molestation investiagion. As a result, a strange romance grew between the pair that went unnoticed by the world.
In the early 1990's, Lisa Marie was looking to follow in her father's footsteps and recorded a demo tape. Discovering her musical aspirations, Michael Jackson saw an opportunity for a business venture and contacted Lisa Marie about signing her to a music label he was starting. Lisa Marie decided quickly not to sign with Jackson, but agreed to meet with him. After a heartfelt explanation about how the world misunderstood him, Lisa Marie's heart warmed to the strange singer. Feeling a combination of pity and affection, she was overcome with an urge to take care of him and help him with his issues. At the time of this encounter both Michael and Lisa Marie were at major crossroads in their lives. Lisa Marie had just divorced her first husband, the father of her two children, after a six year marriage. Michael Jackson, on the other hand, was facing child molestation charges that had not only shocked the world, but had forever tainted his image and shattered the public's trust in him. Distraught and emotional, Michael sought the comfort of someone who might be able to understand him and he looked to Lisa Marie for comfort and advice. For the next four months the pair talked every day; Lisa Marie was Michael's closest confidant and shoulder to cry on. Growing increasingly worried about Michael's mental and physical health, as well as his addiction to prescription pain killers, Lisa Marie persuaded him to settle the child molestation charges out of court and to go into rehab. Michael did both of these things and four months later called Lisa Marie, proposing to her over the phone by saying, "If I asked you to marry me, would you do it?" Despite barely spending any time with Michael in person, Lisa Marie realized that she had deep feelings for him, somewhere between love and sympathy, and said she would. The pair spoke of their marriage plans to no one, although multimillionaire Donald Trump stated later that, during a visit in New York, Michael had gushed about a woman named Lisa, never revealing to Trump that the woman was, in fact, Lisa Marie Presley.
Michael and Lisa Marie's secret wedding in Domincan Republic was kept a secret for months, shocking family, friends and even their staff who initially denied reports of the wedding.
The marriage ceremony was one of the most unusual and low key ever held by a couple of multimillionaires. On the morning of May 26th, 1994, at approximately 9:30 am, Michael Jackson and Lisa Marie Presley drove in a white van to a small farm in the tiny Dominican Republic village of La Vega. They introduced themselves to the judge that lived at the farm, showed identification proving that they were, indeed, Michael Jackson and Lisa Marie Presley, and fifteen minutes and a couple of "I dos" later they were husband and wife. The entire ceremony cost a grand total of $45. Somehow they managed to keep their union secret for another two months, until the judge who had married them went public with the news and had the marriage licence to prove it! Upon their return to the US, the pair was ambushed with questions, rumours and accusations. Besides the fact that nobody believed this was happening, questions were asked about their sex life. Completely sexually ambiguous, Michael was rumoured to be interested in young boys instead of grown women. Meanwhile the press began to accuse the pair in pulling a strange PR stunt to take the attention away from Michael's child molestation scandal, prompting Lisa Marie's ex-husband to file for custody of his two children in an attempt to keep them out of the Neverland ranch.
When asked by Dianne Sawyer about the legitmacy of their relationship, Michael answered "How can you fake this 24 hours a day–sleeping with somebody, waking up with somebody?"
Despite a handful of public appearances and photo ops, Lisa Marie and Michael's relationship remained incredibly private and closed off to the public. Both Michael and Lisa Marie were famed for their elusiveness and eccentricity before their marriage, and little was revealed about what was going on behind closed doors. However, in an attempt to calm the commotion that had erupted over their relationship, they did agree to do a joint interview with Dianne Sawyer that aired as a prime time special. During the special, Sawyer asked the questions that the world wanted to know the most. As Sawyer skirted around the subject of sex, Lisa Marie beat her to the punch by saying "Do we have sex? Yes, yes, yes." Meanwhile, in response to the questions if the relationship was just a huge sham, Michael answered, "How can you fake this 24 hours a day–sleeping with somebody, waking up with somebody?" The world had a hard time buying it. Eighteen months later the couple filed for divorce under the grounds of irreconcilable differences.
Michael's marriage to dermatologist Debbie Rowe in 1996 was more a business contract for use of her uterus. Meanwhile, Lisa Marie's marriage to Nicholas Cage would only last 108 days.
Both Michael and Lisa Marie would marry again, but their next marriages would be nearly as weird. Lisa Marie would marry movie star Nicholas Cage, but the pair would divorce after only 108 days of marriage. Insiders say that the only reason Nicholas Cage married her was so he could see Elvis' bedroom. Lisa Marie finally settled down with musician Michael Lockwood, to whom she has been married for four years. Meanwhile, Michael married his dermatologist Debbie Rowe in 1996, in what was really just a business deal so he could use her uterus to bear him children. Michael and Debbie never had any real plans to actually get married, but Michael's mother Katherine felt that Debbie being a surrogate mother for Michael was unethical and demanded the two tie the knot. Debbie mothered Michael's first two children, Prince Michael and Paris, giving Michael full custody to the pair before divorcing him in 1999.
Days after Michael's death in 2009 Lisa Marie issued a statement that said "Our relationship was not "a sham" as is being reported in the press. It was an unusual relationship yes, where two unusual people who did not live or know a "normal life" found a connection, perhaps with some suspect timing on his part. Nonetheless, I do believe he loved me as much as he could love anyone and I loved him very much."
After their quick divorce, both Lisa Marie Presley and Michael Jackson remained fairly quiet about their marriage. However, in 2007 Lisa Marie opened up to Oprah Winfrey, making a number of bold statements about her time with Michael Jackson in which she described the relationship: "It was insane…For me completely snowed, blind sided, stupid, naive…you name it, I was it…I was sort of enamoured and pulled in, and when he wants to pull you in he'll pull you in." Through the interview, Lisa Marie admitted that, like the rest of the world, she felt that she had been manipulated by Michael in order to help take the heat off of him. Furthermore, Lisa Marie's mother Pricilla Presley stated that she believed that Michael had planned to use Lisa Marie to bear the children that he desperately wanted. Thank god no child was ever born to the pair. Could you imagine the pressure that the son of Michael Jackson and the grandson of Elvis Presley would have to live with? And Julian Lennon thought he had issues! However, in 2009, while the rest of the world was shocked by Michael's sudden death from a drug overdose, an obviously grieving Lisa Marie put out a statement that Michael's death was inevitable and that she felt that she had failed to help him avoid a death that closely mirrored her father's. Shocked and in a state of grief, Lisa Marie released a statement that read:
In 2010 Michael Jackson and Lisa Marie's wedding license was auctioned off at a New York auciton house for $70,800
"Our relationship was not "a sham" as is being reported in the press. It was an unusual relationship yes, where two unusual people who did not live or know a "normal life" found a connection, perhaps with some suspect timing on his part. Nonetheless, I do believe he loved me as much as he could love anyone and I loved him very much. As I sit here overwhelmed with sadness, reflection and confusion at what was my biggest failure to date, watching on the news almost play by play The exact scenario I saw happen on August 16th, 1977 happening again right now with Michael (A sight I never wanted to see again) just as he predicted, I am truly, truly gutted. Any ill experience or words I have felt towards him in the past has just died inside of me along with him. He was an amazing person and I am lucky to have gotten as close to him as I did and to have had the many experiences and years that we had together. I desperately hope that he can be relieved from his pain, pressure and turmoil now. He deserves to be free from all of that and I hope he is in a better place or will be. I also hope that anyone else who feels they have failed to help him can be set free because he hopefully finally is. The world is in shock but somehow he knew exactly how his fate would be played out some day more than anyone else knew, and he was right." Lisa Marie and her daughter attended Michael's funeral, where they sat near the back trying to stay out of the spotlight. However, she was reported to have been overwhelmed with emotion as Michael's gold casket was brought in and was seen embracing Michael's mother Katherine after the ceremony. On January 26th, 2010, Michael and Lisa Marie's marriage licence was sold at a New York auction house, fetching $70,800. A hefty price for a strange piece of pop culture history.
The Cougar and the Cabana Boy – Demi Moore and Ashton Kutcher
Demi Moore and Ashton Kutcher - Demi Moore has a history of shocking the public. From getting fired from St. Elmo's Fire for cocaine addiction, to posing naked on the cover of Vanity Fair while seven months pregnant, to stripping for David Lettermen on Late Night, Demi always seemed to have her tongue firmly in cheek as she provoked a public reaction. Thus, no one knew if it was a joke or not when word got out that the 42 year old former Brat Packer had married 27 year old Hollywood heart throb Ashton Kutcher. Were we being Punk'd? Kutcher, known best for playing oafish yet loveable chowder heads in teen comedies such as That 70's Show and Hey Dude, Where's My Car? had never been known for his intellect, but he was quoted as saying, "This is the smartest thing I've ever done, and it took no thought at all. The great things in life tend to be that way." Of course, the real shocker was the age difference between Ashton Kutcher and Demi Moore. By the time Ashton had made his way to Hollywood in the late 90's, Demi had already hit the highest point of her career, been married and divorced twice, and was the mother of Hollywood tough guy Bruce Willis' three children. She had already lived at least three lifetimes, while Ashton was just barely getting his feet wet in show business. However, the attraction between them held, and after five years of marriage, Ashton Kutcher and Demi Moore continue the tradition of strangeness by currently being Hollywood's oddest couple. Their bizarre love affair started when the two met at an informal dinner party in New York City in 2003. Demi had been divorced from Willis for three years and Ashton had just broken up with actress Britney Murphy. It was reported that after the party ended, Ashton and Demi continued talking to each other until dawn. Their age difference, and the fact that Demi's career was fading while Ashton was just starting to break into films, didn't seem to matter. Something sparked between the two.
Of course, when the media got wind of their new love affair, Ashton and Demi became a punch line as the scandal hungry public waited for the shoe to drop and the unlikely pair to split. The often vicious press called Demi a "Cougar" and a "MILF" while they reduced Ashton into being a live in boy-toy. The final joke would be theirs, however, when Ashton and Demi tied the knot in a last-minute wedding at their home on September 24th, 2005. It was a small ceremony with only a handful of guests in attendance, including Demi's gal pal Lucy Lui, Ashton's That 70's Show costar Wilder Valderrama and Demi's ex-husband Bruce Willis.
Demi and Ashton with Demi's ex-husband Bruce Willis and Bruce and Demi's children Rumor, Tallulah, and Scout. Bruce is still waiting to find out that he's being Punk'd
In fact, one of the oddest aspects of Ashton and Demi's relationship is the constant presence of Bruce Willis in their lives. Bruce is often seen with Demi, Ashton and the kids, going on joint vacations, to movie premiers and dinner parties together. In 2009, Bruce married Emma Heming, who has now joined what has become an extended family of seven. The fact that Demi and Bruce get along despite divorcing in 2000 after eleven years of marriage, as well as Bruce's acceptance of Ashton in the life of his family, has been said to be a big part of the success and happiness in Ashton and Demi's relationship. Furthermore, Ashton has become a close confident to Demi's children who have given him the affectionate nickname "Ood," which stands for "Our Other Dad." Mind you, Ashton probably relates a lot with the kids considering that, with only ten years separating him and Demi's oldest daughter, Ashton is closer to their ages than he is to Demi's.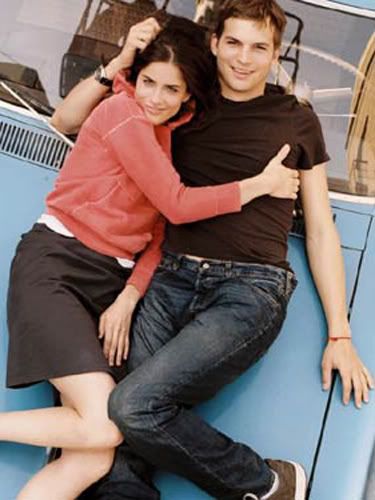 Although they are considered one of Hollywood's hottest couples, after five years of marriage Ashton and Demi continue to stay under the radar of gossip columnists, and at face value remain to be one of pop culture's happiest and most successful pairings. In recent years, Ashton has moved from taking roles as clueless frat boys into writing and producing films and television, while Demi's career has slowed down considerably since her hey day in the 1990's. Perhaps it is the combination of Demi's experience and Ashton's youthfulness that keeps these two successful, prolific and happy. Whatever the case might be, Ashton Kutcher and Demi Moore are living proof that opposites do attract.
[Pop Culture Note - 2012 - So seems that Ashton and Demi's love had its limits.  The pair called it quits in late 2011.  Well...you win some you lose some....]