"You know, I always forget that there are more Osmonds than just Donny and Marie," Jarred said to me as he watched in half horror/half humor at a vintage video clip of Cher and the Osmond Brothers singing a Stevie Wonder medley. Now Jarred isn't culturally unaware. Oh no. Far from it. In fact, he's often one of the only people I know who can keep up to me on topics of Pop Culture. However, it came to me that in the current century the influence of the once legendary Osmond family seems to be waning. In fact, the individual who had posted the video clip on the internet said it was of Cher, Donny Osmond and others. Others? It's a disgusting turn of events when the Osmond Brothers are thrown to the side as simply "others". I mean, a mere thirty years ago they were giants in the music industry. Thus, I decided that it was up to me, as a part of my duty of preserving the Pop Culture of yesteryear, to reacquaint you with the funkiest family of Mormons ever to come out of Utah. My goal is that once I'm done you'll not only know the names of each and every Osmond, but you'll be able to impress your friends with knowing a bit about each one of them. It's time to realize that the Osmonds are far more than just Donny and Marie. So hold on to your teeth folks as
CONFESSIONS OF A POP CULTURE ADDICT PRESENTS
BEHIND THE TEETH: KNOW YOUR OSMOND
The story of the Osmond family began in 1962 when Olive and George Osmond and four of their young sons; Wayne, Jay, Merrill and Alan, left their Utah home for California. Their goal was to meet famed television music host Lawrence Welk. For the last number of years Wayne, Jay, Merrill and Alan had been performing as a barbershop quartet. However, when Welk didn't want to take the time to see four cute little boys sing barbershop (now if they had been teenaged girls that may have been another story) the Osmonds set their sights on Disneyland. However, unlike most family trips to the famous theme park, the Osmonds had much bigger ambitions than to meet Mickey Mouse. The Osmonds auditioned for Disneyland's talent scout Tommy Walker who decided that Lawrence Welk's loss would be Disneyland's gain. He hired the boys to perform at Disneyland for the entire summer. It was at this summertime engagement that the Osmonds were spotted by Jay Williams, father of popular crooner Andy Williams. It just so happened that Andy was starting a brand new music show on NBC and Jay Williams encouraged the Osmonds to audition, as well as told his son about the boys' act. Andy realized when he saw the boys perform that he had hit gold. The Osmonds became regulars on Andy Williams' show, as well, they toured the country with Andy for the next two years. The Osmonds' partnership with Andy Williams lasted the rest of the decade. The Osmonds also became regular cast members on a short lived western series "The Travels of Jaimie McPheeters".
In 1964, the Osmonds introduced a fifth member who, even at the young age of 6, was destined to become the most famous Osmond of all time. This was, of course, Donny Osmond. The turning point for the Osmond act was in 1969 when they ended their partnership with Andy Williams and decided that it was time to leave the world of easy listening behind. Now all in their teens, the Osmonds had grown up to be a rather good looking group of guys. With the charts being dominated with pop musicians like David Cassidy and Bobby Sherman the Osmonds knew that barbershop wasn't gonna cut it anymore. In 1971 the Osmonds got hold of the catchy pop single "One Bad Apple," originally written for the Jackson Five, and within weeks the record rose to the top of the charts. Osmondmania was born and for the next decade, and well into the next century, the name Osmond would be a synonymous with entertainment. Anyways, enough of the history lesson. Let's get reacquainted with the children of George and Olive Osmond: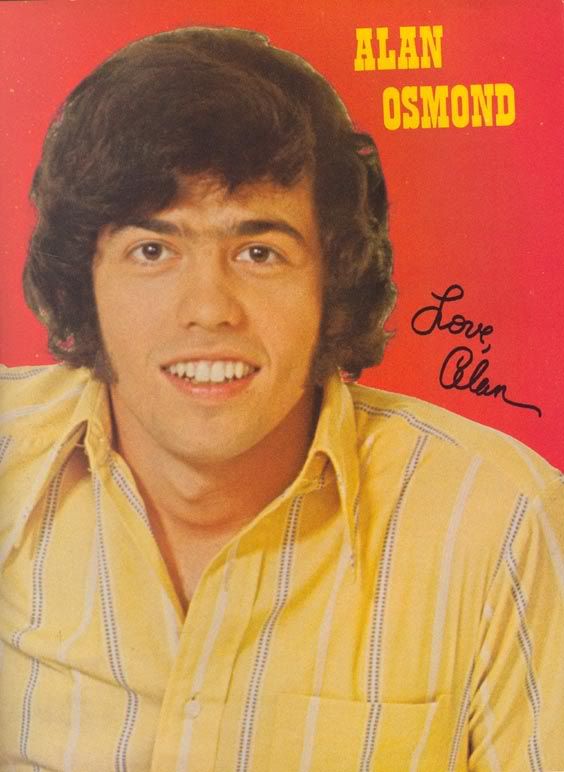 Alan "Big Al" Osmond - Although Alan wasn't the oldest of Olive and George's nine children, at age eight Alan was the oldest of the children that went into show business. As a result, he was given the responsibility in the early days to keep his younger brothers in order and organizing them to rehearse and stay focused. Of course, this was often hard to do at their young ages. As a result Alan became the unofficial leader of the Osmond Brothers. Alan was responsible for writing a number of the Osmonds' songs, but his biggest contribution was the hit song "Down By the Lazy River". During his time with the Osmonds Alan dated tragic pop star Karen Carpenter, but married Suzanne Pinegar in 1974. When the Osmond Brothers fell apart due to the popularity of Donny's solo career in the mid 1970′s Alan branched out from music into television production. Alan was the producer of a number of television variety shows, mainly in the country music field, including Donna Fargo and Roy Clark. It should be of no surprise that Alan became the executive producer of Donny and Marie's popular variety show of the late 1970′s. In the 1980′s Alan reformed the Osmond Brothers as a country band and received a number of rewards. At this time he and Suzanne began to manage their eight sons as a pop band called 2ndG. Alan also started his own firework company called "Alan Osmond's Stadium of Fire" which was responsible for the fireworks display at both the Ronald Reagan and George Bush Sr. presidential inaugurations. However, at the beginning of the 1990′s Alan had to leave show business due to a diagnosis of multiple sclerosis. However, MS hasn't slowed Alan down and now he and Suzanne travel the country as motivational speakers about living with MS and family values. Alan also spends his time as the webmaster for the Osmonds' official website http://www.osmondnet.com/.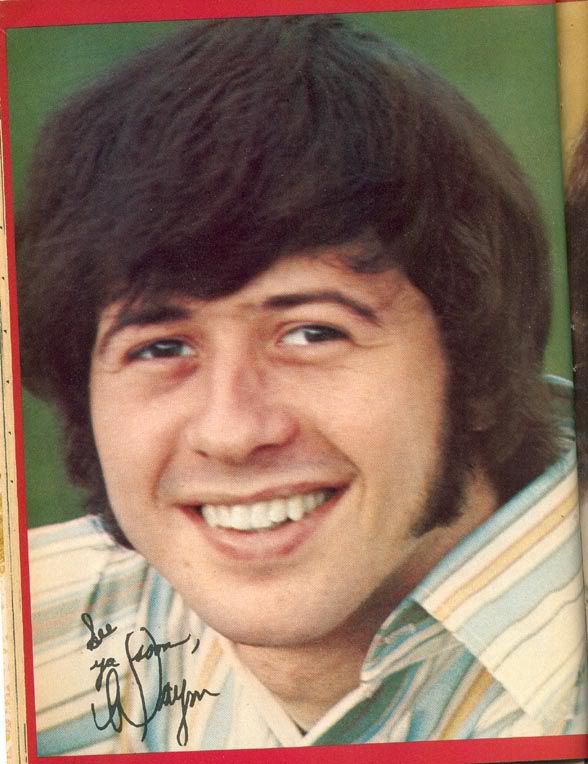 Wayne "Crazy Wayne" Osmond - Of all the stages of the Osmond Brothers band Wayne Osmond is the only brother who has been in every incarnation. Of all the Osmonds, Wayne is the most musically talented by mastering nine instruments including the flute, banjo, guitar, clarinet, drums, saxophone, violin, piano and bagpipes. Wayne Osmond has the reputation of being the Osmonds' wise guy and stage comedian, often interrupting the concerts to tell the audience anecdotes and jokes at the expense of his brothers. It's Wayne's voice that provides the low bass that is key to the Osmonds' unique sound . In the late 1970′s, when Alan was producing all those variety shows, it was Wayne who provided the announcer voice overs. In 1974 Wayne married Kathlyn White, a former Ms. Utah (where else?) and together they raised five children. In the 1980′s Wayne joined his brothers as part of the country band. Wayne can also be seen in the 1989 family holiday film "It Nearly Wasn't Christmas". In 1997 Wayne was diagnosed with a brain tumor but had it removed successfully. Wayne is also an avid pilot, receiving his pilot's license two years before he even learned how to drive a car. Wayne has also taught aviation classes to beginners. These days Wayne can be seen twice daily performing at Jimmy's "Osmond Family Theater" with his brothers, and he also tours the country as a motivational speaker on the subject of surviving cancer.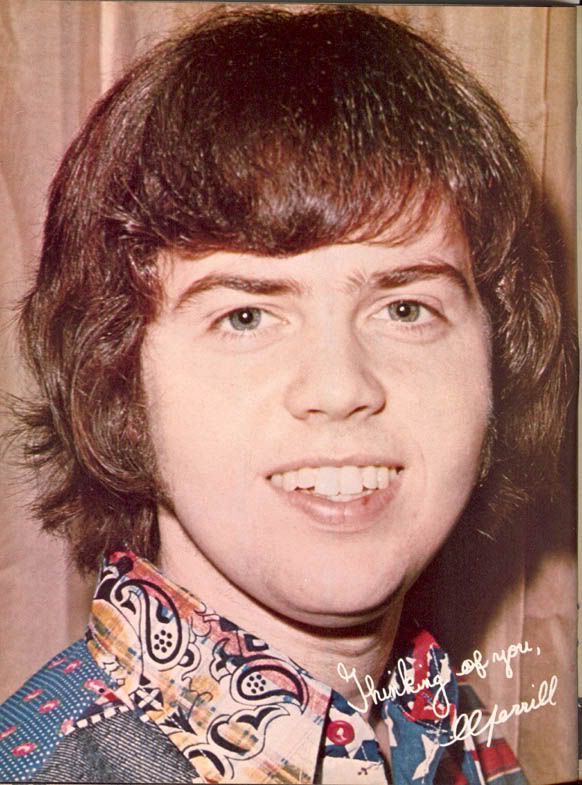 Merrill "The Bear" Osmond - The dynamic raspy lead vocals in early Osmond recordings, such as "One Bad Apple", "Down By the Lazy River", "Crazy Horses", and "That's My Girl" that are obviously not Donny, belong to Merrill Osmond, the Osmond Brothers' original lead singer. Merrill's vocals were so powerful that one almost has to wonder why it was Donny and not him, who became the "key" Osmond, but as the public screamed for more and more of Donny, Merrill faded into the background. To this Pop Culture Addict, Donny's replacement of Merrill is a serious disappointment. However, after Donny left the band to pursue a solo career, Merrill continued in show business as a television script writer and produced over 90 scripts and teleplays for television. Merrill was also Alan's right-hand man as co-producer of the "Donny and Marie Variety Hour" and also produced the television productions of Ronald Reagan and George Bush Sr.'s inaugural balls. Throughout the 1980′s Merrill became very prolific as a key supporter of the Utah Special Olympics. Although he may have been pushed out of the limelight by Donny, and although there was talk not long ago of retiring from show business, Merrill is still performing today, not only with his brothers at Jimmy's "Osmond Family Theater" in Branson, but also as part of his own solo project "The Black Bear Band". Merrill also has a brand new CD out called "Merrill Osmond Sings Broadway" which has been turned into a solo show which will be running from March 26th to October 27th 2006 at the Branson Variety Theater. If you're in Branson this summer make sure not to miss this dynamic singer, not to mention my favourite of all the Osmonds.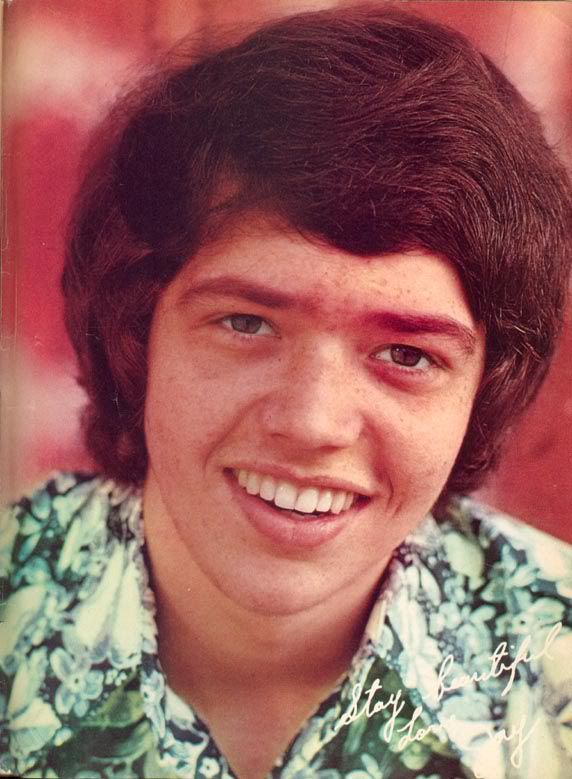 Jay Osmond - Jay started his career with the Osmonds at the age of two as the toothless, youngest Osmond. It was at the age of eight that Jay picked up his first set of drumsticks and from that day forward acted as the Osmond's drummer. When the Osmond Brothers act began to die down after Donny's solo career sparked, Jay also participated on the Donny and Marie Variety Hour as the show's musical director and dance choreographer. In the 1980′s Jay tried his hand at producing, working on Marie's short lived solo variety show as well as the first Osmond Family TV movie "Side by Side". Jay was also a member of the 1980′s country version of the Osmond Brothers but he left the band in 1985 to pursue a university degree. In 1987 Jay married Kandilyn Harris, who he met at university, and they raised five children. Jay's wife admits that when she met Jay she also didn't know there were so many Osmonds. When Jimmy opened the "Osmond Family Theater" in Branson, Jay was amongst the brothers who performed two shows, six days a week at the Theater, but, once again, quit the act in 2004 to return to Utah to finish his university degree and overlook his father's real estate business "Osmond Real Estate", which, these days, is being run by Jimmy. However, Jay still tours with his brothers on occasion and can often be seen on the Branson stage.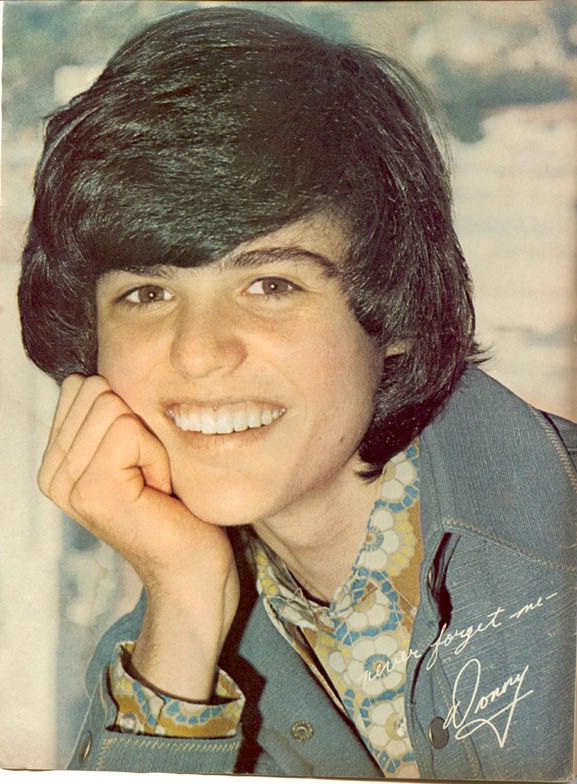 Donny "Corky" Osmond - Donny Osmond is, without a doubt, the most famous of all the Osmond Brothers, not to mention one of the most famous teen idols in pop culture history. Perhaps he was the right age or maybe just had the right amount of charisma but during the 1970′s phenomenon "Osmondmania", Donny became, head and shoulders above his brothers in popularity. Eventually splitting with his brothers' band, he went solo when the pre-teen record buying public demanded more Donny. Donny's solo hits, such as "Puppy Love", "Too Young" and "Go Away Little Girl," amongst a dozen others, became even more popular than those of the Osmond Brothers. As a result, the Osmond Brothers band came to an end. However, during the height of his popularity, a nearly career-ending twist happened in the recording studio in 1974 when Donny's voice began to change. The story goes that Donny could no longer hit some of the notes he was required to sing so the producer sent his younger sister Marie, herself established as a country singer, into the studio with him. Lightening struck twice that day and the duo of Donny and Marie was born. Donny and Marie went on to record a number of hit records together. It was on an appearance co-hosting The Mike Douglas Show that Sid and Marty Kroft saw the duo and thought to themselves that they would be perfect at hosting their new variety show. Donny and Marie agreed to do it under one condition – that their brothers all had jobs with the production of it. The Donny and Marie Variety Hour was a huge ratings success and ran four years, increasing the Osmonds' popularity for the rest of the decade and spinning off hundreds of merchandising products. During this time, much to the heartbreak of his legion of fans, Donny met and married Debra Glenn and they raised five children. However, all teen idols come to a point when their popularity fades and it's time for the new teen idol to come up to the plate. The 1980′s were not kind to Donny who had been performing since he was six.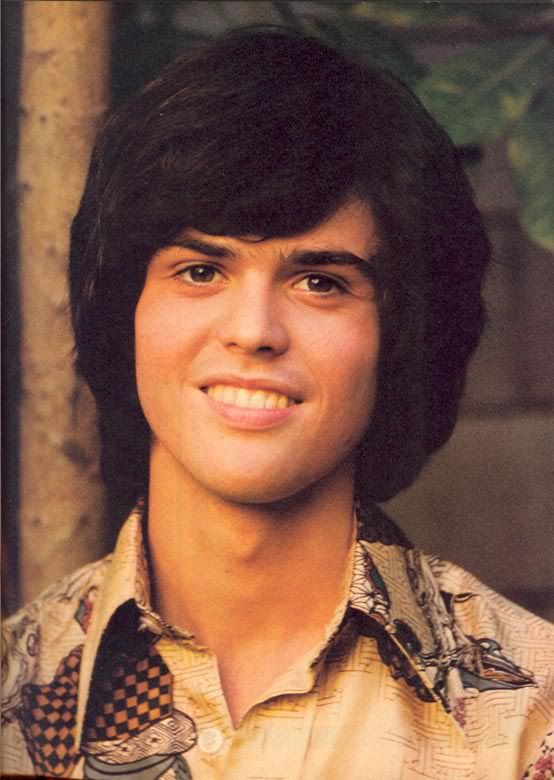 As he approached his thirties Donny was suddenly a has-been. Donny tried hard to recreate himself many times – shunning his teen idol image and even changing his name to Don for a while. The irony was that his brothers, by this time, had successfully re-launched their careers as a successful country music act. In 1986 Donny did have a comeback hit called "Soldier of Love" which was written and produced by Peter Gabriel. It must have seemed like the ultimate low point of his career, when at a State Fair at the end of the decade Donny was on stage and a drunken biker kept taunting him to sing "Puppy Love". In a moment of anger Donny performed the song and was amazed when the crowd went insane! He finally realized that you can't deny what made you famous because that's what your fans want. From that point on Donny didn't shun his teen idol roots anymore. In the 1990′s Donny found new success on the stage playing Joseph in "Joseph and the Amazing Technicolor Dreamcoat" where he set up a long time engagement in Toronto. However, it was during this run that Donny was diagnosed with Social Anxiety Disorder and eventually had to take his leave of the production. It was also during this time that Donny made an appearance on the premier episode of the Rosie O'Donnell show and accidentally insinuated that the rotund actress was fat on the air. Rosie was horrified and beat her Donny Osmond doll on the desk in front of him. For the next year Rosie didn't let it go and made jabs at Donny until he showed up on the show in a dog outfit and serenaded her with "Puppy Love". The jokes stopped, but O'Donnell and Donny did not leave as the best of friends. In 1998, after a lapse of nearly a decade working together, Donny re-teamed with Marie to co-host a daily talk show called "The Donny and Marie Show". In the 90′s everybody from Carnie Wilson to Howie Mandell had a talk show. The difference between the onslaught of those shows and Donny and Marie's was that theirs was actually successful. However, due to some personal problems Marie faced, the duo called it quits after two years. Donny was back in 2002 as host of the update of the popular game show "Pyramid" that ran another two years. Donny is still performing worldwide and has just released a new CD in 2005 called "What I Meant to Say". Donny also wrote a fascinating autobiography called "Life is Just What You Make It". Finally, I want to encourage anyone who gets a chance to watch an interview with Donny Osmond to do so. He is a fascinating figure who "tells it like it is" about the dark side of being a teen idol. Behind that pearly smile is a guy who has seen the best and the worst of the way that show business can chew you up and spit you out and he is frank, honest and fascinating in interviews. Donny Osmond is a true survivor of the entertainment business who, after almost forty years in the spotlight, is still singing and smiling.
Marie Osmond - The only daughter of George and Olive, Marie began her musical career at the age of thirteen. However, instead of following her brothers into pop music, Marie looked the other way and decided to be "a little bit country". Then, in 1973, Marie Osmond became the youngest female performer ever to get a #1 hit on the country music charts with "Paper Roses". From that moment on, Marie was thrown into the heart of Osmondmania. However, she would seal her pop culture status, as well as popularity, when her brother Donny's voice began to change. When he couldn't hit the high notes in the studio one afternoon, the record producer sent Marie in with him to do the harmonies. The combination was golden, which led to the two teaming up as a duo. It was after co-hosting the Mike Douglas Show that Donny and Marie were offered the chance to host their own TV variety show which lasted for four years. On the "Donny and Marie Variety Hour" the world became familiar with Marie's sense of humor, usually at the expense of Donny. One of the running gags was Marie sucker punching Donny in the stomach. Her stint on the Donny and Marie Show increased Marie to major teen idol material. Her haircut, which also was being popularized by Toni Tennille, Kiki Dee and Karen Carpenter, influenced tons of women to adopt a similar style and was called "The Marie Cut." For a while she dated troubled pop star, and member of another popular 70′s musical family, Andy Gibb but her parents disapproved of the pairing. She was also the original choice for Sandy in the film version of "Grease" but turned it down over what she called "moral grounds" (the part, of course, was given to Olivia Newton John). Marie continued acting in numerous television and film projects into the 1980′s, even portraying her mother in a 1982 television movie about her family called "Side By Side: The Story of the Osmond Family". She also continued to make hits on the country music charts while her brothers suffered in musical limbo. In 1982 Marie Osmond married Steve Craig and they had a son. However, two years later Marie and Craig divorced despite the Mormon faith's discouragement of divorce. Marie remarried in 1986 to Brian Bosil and they had another son and adopted five other children! Unfortunately, Marie and Brian filed for divorce in 2007. In the early 1990′s Marie turned her attention to Broadway, portraying Maria in "The Sound of Music" and Anna in "The King and I". It was also in the early 1990′s that Marie launched her own series of porcelain dolls on the collector market. The Marie Osmond Collection is still selling strong today. In 1998 Marie teamed up with her brother Donny on "Donny and Marie", a daily talk show. Once again, her zany sense of humor was evident. During the run of the series, Marie got pregnant once again and the world watched Marie for nine months through each stage of her pregnancy. However, days after the birth of a son, Marie disappeared from home. She reappeared days later, suffering from a severe case of postpartum depression. Marie is now an advocate of mental health and when Tom Cruise recently attacked Brooke Shields for using medication to help her with her bout of postpartum depression, Marie was one of the first celebrities to jump to Brooke's defense. The Mormon versus the Scientologist. Well… at least the Mormons are a real religion. These days Marie not only continues with the doll business, but also hosts "Marie and Friends", a national syndicated radio show. Marie is also, along with John "Bo Duke/Jonathan Kent" Schneider, the co-founder of the Children's Miracle Network.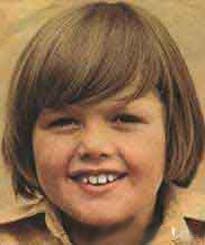 Jimmy "Little Jimmy" Osmond - Now I'll be honest with you. I'm not a big fan of Jimmy Osmond's solo musical career. However, as Osmonds go, I can't help but be the most impressed with Jimmy as a man with the eye for business and perseverance thus making me a HUGE Jimmy Osmond fan! Now it was natural that Jimmy Osmond would go into show business but, at the age of six, Jimmy's records, such as "Long Haired Lover from Liverpool", were more novelty pieces in the vein of Tiny Tim and Mrs. Miller than anything else. However, Jimmy's music was a hit in Japan, but then, you need to question a nation in which even Alyssa Milano can be a pop star. Yet, even at an early age it was very evident that Jimmy's real talent lay in business operations. By the time he was fifteen Jimmy was put in charge of all the Osmond marketing. This led to Jimmy forming his own advertising agency in which he represented companies like Coca Cola and Yamaha. Jimmy also took over his father's real estate company, "Osmond Real Estate" in Utah. In the early 1990′s Jimmy purchased a Theater and talked his brothers Alan, Wayne, Jay and Merrill to move to Branson and perform with him for two daily shows, five days a week. The Theater, dubbed "The Osmond Family Theater" has become one of the hot spots in Branson and the Osmonds' show has won a number of awards. Jimmy bought a second Theater and put on "The American Jukebox Show". He later sold the show to a cruse line. Jimmy's second Theater is now home to the CMN show "Country Tonight". In 1992 Jimmy married Michelle Larson and they started their own family and currently have four children. Jimmy, like Marie, also branched out in the toy market and created his own line of stuffed toys called Hummy Bears. In 1996 Jimmy even found time to write and illustrate a children's book titled "If Santa Was My Daddy". Jimmy is still in charge of the majority of the Osmonds' marketing and runs "The Osmond General Store", which is an online distributor of all things Osmond. Sure, I may not like Jimmy's recordings, but there is no denying that in many ways Jimmy is by far the most successful of all the Osmonds with every one of his fingers in every honey pot he can get them in. Jimmy Osmond knows you don't need to be a major celebrity to be a giant success.
AND NOW FOR AN ADDED BONUS
OTHER OSMONDS
Not all of Olive and George's children went into music, but that doesn't make them any bit less interesting. The two oldest Osmond sons, Virl and Tom, are both deaf. However, despite their disability, both men have not let their handicap slow their lives down. Both Virl and Tom were the first deaf Mormon missionaries who taught their religion to other deaf people. Virl married Chris Marie Carrol in 1968 and they raised five children. He spent many years living in Utah working at his father's real estate company, but has since moved to Branson to do PR work for his brothers and often even takes the stage to perform with them. Tom Osmond is a postal worker in Utah and has raised eight children between two marriages. Virl and Tom are said to be the inspiration behind Marie's "Children's Miracle Network" as well as Deaf.net, an Osmond family organization which help family dealing with deafness.
2ndG – In the late 1980′s, the Osmonds hoped that lightening may strike again for the family, when the eight sons of Alan and Suzanne Osmond decided to try their own hand at the pop industry. Dubbing themselves "The Osmonds 2nd Generation", which eventually was shortened to 2ndG, Michael, Doug, David, Nathan, Scott, Jon, Alex and Tyler Osmond made their show business debut on a Bob Hope special in the mid 1980s. That appearance led to an album and a tour of mall appearances. Finally they got a regular gig as the opening act for the New Kids on the Block. 2ndG made had some minor success in the UK, but was unable to get any billboard successes in North America. I guess North America wasn't ready for a boys band with more then five members. In 1992 members of 2ndG brought their act to Branson as an opening act for their uncles at the "Osmond Family Theater". 2ndG still perform today in different incarnations, however life has taken the boys to different directions making 2ndG more of a pick up band with whichever one of the members seems to be available for a gig.