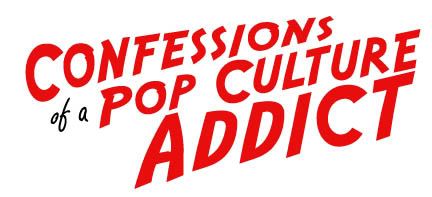 REMEMBERS
BETTIE PAGE
1923 – 2008
I loved Bettie Page.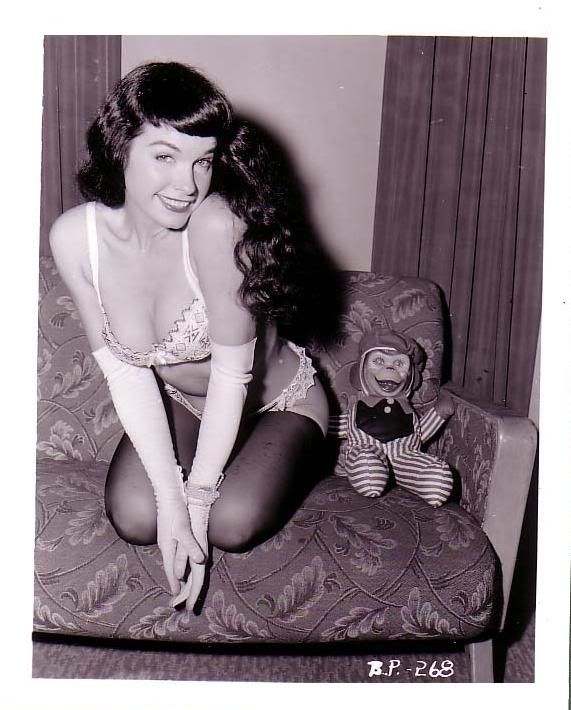 It may be difficult to understand what Bettie Page means to me but take one tour through my home and it's quite clear.  Bettie Page's seductive eyes stares back at me from every nook and cranny.  Her image is on sofa cushions, coffee table coasters, posters, framed photos, wall calendars, clocks, figurines, dolls, bath towels, coffee mugs, books, DVDs, refrigerator magnets and pretty much everything else you can imagine.  If they can put Bettie on it then I've bought it and it proudly remains prominently displayed until the day that I settle down and get married, in which it will most likely be banished to the basement.
But where does the feeling of hollowness comes from when someone you never met dies? How is it possible to love someone you never knew?  Bettie Page was loved by millions of fans and collectors world wide, but did any of us really ever know her?  Although she was one of the most recognizable women in pop culture history, Bettie Page was also one of the most elusive.  Sure, her fans all knew her story.  Th
e divorced school teacher from Nashville, Tennessee who moved to New York to start a new life, and discovered that she could make more money in an hour posing in front of the camera then she could being a secretary….and the more taboo the photographs, the bigger the paycheck.  However, besides that what did we know about her?  In today's celebrity obsessed society fans can tell even the smallest details about a celebrity's life.  However with Bettie those small details remained unknown.  Even during her hayday Bettie Page stayed distant and aloof.  The people who met her never got to know her, and the people who got to know her were careful never to tell too much.  Even in rare interviews during her later years Bettie revealed very little.  Her answers were always generic and her interviews repetitive.  She never said anything more then what you could have expected, or what any good researcher could have found out for themselves.  As a result, even the 2005 bio-pic The Notorious Bettie Page reverted to fiction and over exaggerations in order to bulk up on the dramatics.
It was her elusiveness that made her a legend.  By not knowing just who Bettie Page was, Bettie managed to fulfill every fantasy.  Whether she was being photographed by Irving Klaw or Bunny Yeager, Bettie Page could play every role and ever angle.  She could be a vixen, a damsel in distress, a dominatrix, a jungle girl, a bathing beauty or a girl next door.  She could be kitchy and campy or vampish and sexy.  However, what separated her from her peroxide contemporaries such as Marilyn Monroe, Jayne Mansfield and Maime Von Doren was that she had a certain urban seediness to her.  The appeal of Bettie was also what she wasn't.  She wasn't a celebrity.  She wasn't a socialite.  She wasn't a debutante.  She wasn't the girl you brought home to mother.  Instead you hid her pictures underneath your mattresses and in shoeboxes stuck way back in the top of your closet.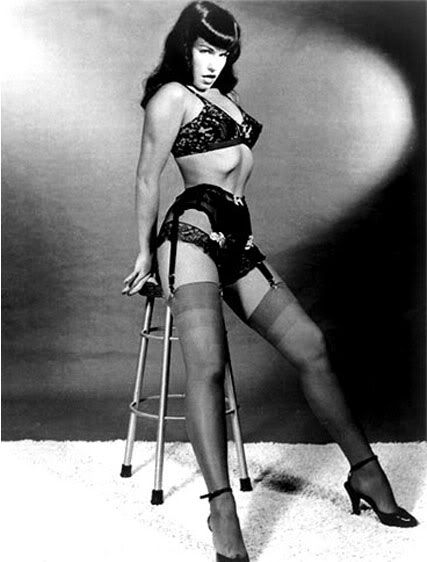 Bettie's mystique was only heightened when she mysteriously vanished circa 1957 as a result of the Kefauver Hearings.  Suddenly the whereabouts of the queen of the pin ups was the subject of as many fantasies as she was herself.  What ever happened to Bettie Page?  Was she killed by the mob?  Did she marry a shiek?  Did she just die in a New York back alley as some faceless and nameless Jane Doe?
As the stories and speculations grew more fantastic, her legend and notoriety grew stronger.  Yet the truth was not nearly as glamorous, nor often as romantic, as the fantasy.  In reality it was possibly better that we didn't know the truth.  However by disappearing from the world until the early 1990's Bettie Page managed to do something which most celebrities before her could only do if they faced sudden death.  Bettie Page became forever young without having to face a car crash, a sniper's bullet or a drug overdose.  The public never watched her grow old, and the only photographic evidence they had was of the young, voluptuous, high spirited beauty and Bettie was very careful never to be photographed again in order that the public would never have any image of her other then what she had left behind in the 50s.  As a result Bettie Page became eternal.  Her appeal managed to cross generations – from father, to son, to grandson.  Yet Bettie's look was always timeless.  With her dark hair, voluptuous curves, pouty lips and expressive eyes, Bettie Page was channeling the erotic fantasies from days of yore.  Was she not the living embodiment of Eve, Pandora, Delilah, Cleopatra, Morgana LeFey and the Dragon Lady?  As a result her style continues to inspire and is repeated today.  Bettie's look will last for eternity.
Although she was careful not to be photographed, current photographs of an elderly Bettie did get passed down to collectors and fans.  Possibly my favorite was a candid photo from Hugh Hefner's private collection taken in 2005 at the Playboy 50th Anniversary celebration.  In her eighties, Bettie posed between modern pin up legends Anna Nicole Smith and Pamela Anderson.  Although much older and with some extra pounds, Bettie, with her hair died black and her bangs cut in the trademark style just for the occasion, looks decades younger then her actual age.  However there is one major difference between Bettie Page and the other women in the picture.  Bettie Page never relied on plastic parts.  She had no enhancements, no air brushing, no touch ups and no camera tricks.  Bettie Page was all woman and what you saw was what you got.  Raw beauty and true charisma.  They just don't make women like Bettie Page anymore.
Although we only lost Bettie Page now, in reality we haven't had her since 1957 and even then we never really knew her at all.  Yet Bettie remains eternal.  Her image will continue to live in fantasies for generations to come, and her pictures will be hidden away in drawers forever.
But that doesn't stop the feeling of hollowness that I feel knowing that I am now living in a world where Bettie isn't out there somewhere living a life that we would never know any details about.
I love you Bettie Page, and I'll never forget you.