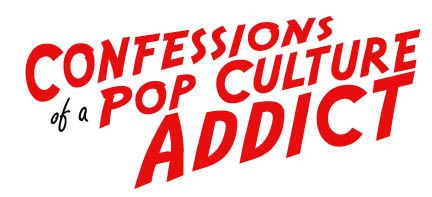 REMEMBERS
DAVID CARRADINE
1936 – 2009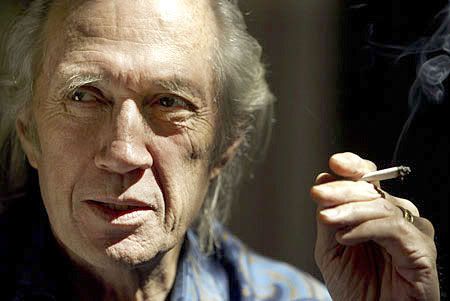 David Carradine was one strange dude.  He lived strange and died strange.  He probably wouldn't have wanted it any other way.
Born in 1936, David Carradine was the eldest son of famed horror actor John Carradine.  Growing up amongst a show business backdrop, it was little wonder that David and his brothers, Keith and Robert, would follow their famous father's footsteps.  Like many actors starting out during the early sixties, most of Carradine's earliest performances were on anthology programs such as Alfred Hitchcock Presents and The Chrysler Theatre.  However, after notable appearances on Wagon Train and The Virginian, Carradine won the unlikely role of Shane in a television version of classic film.  The series was short lived, and while appearing in guest spots on a variety of shows such as Gunsmoke, Ironside and Night Gallery, Carradine redeveloped his acting ability  on Broadway in productions of The Deputy and The Royal Hunt of the Sun.  However, things would change greatly for Carradine in 1972, thrusting him onto the pop culture stage.  Making his first major film appearance in Martin Scorcese's Box Car Bertha, Carradine also made his debut as his most famous character, the wandering monk Cain in Kung Fu.
Kung Fu was a landmark television series that changed an entire generation.  As the free love and revolution of the 1960's merged into the sensibilities of the 1970's, flower power  began to fade and a fascination with Eastern philosophy and martial arts began to emerge.  Kung Fu's debut, paired up with the American release of Bruce Lee's first feature film Fists of Fury, started a martial arts craze, ushering in a whole industry of kung fu movies and opening the doors for future icons such as Sonny Chiba, Chuck Norris, Stephen Segal and Jackie Chan.
Although the casting of David Carradine in the role of Cain was controversial due to his lack of ethnicity, including varied reports that Carradine literally stole the role from Bruce Lee right under his nose, Carradine was perfect for the role.  The tall and wiry actor had an air of mystery and intensity about him.  There was calmness in his voice, but demons in his eyes.  But most importantly David Carradine created a brand new type of pop culture hero.  For alienated and eccentric kids across North America, who didn't relate to athletes, musicians or movie stars, they were able to find something to relate to in the lonely wandering monk.  David Carradine's mysticism and isolation  was something unique and had a certain mysterious intensity that captured the imagination   Kung Fu would last three seasons and create a mass cult following, and despite the fact that most of his martial arts were faked for the screen, Carradine's performance inspired an entire generation to study both martial arts and Eastern philosophy.  Carradine would later say "Every day, at least six people will come up to me and say, 'Kung Fu changed my life.'"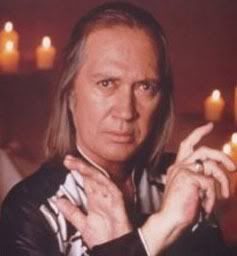 However, as the years went by, Carradine saw his share of hardships.  Despite gaining critical acclaim playing Woody Guthrie in 1976's Bound for Glory, starring in Roger Corman's cult classic Death Race 2000 and receiving a Golden Globe nomination for his performance in the award winning TV mini series North and South, by the end of the 1980's David Carradine's career began to enter a harsh decline of quality.  Battling his own personal demons, including multiple failed marriages, drug addiction and alcohol abuse, Carradine still managed to find constant work.  However, for the most part, his films were low budget flops and direct to video releases such as Karate Cop and Waxworks II.  An attempt to bring Cain back to television in 1993 in the series Kung Fu:  The Legend Continues proved to give Carradine steady work through to 1997 and gained its own fan base, but the show did not manage tp match the quality, nor capture the imagination of the public, like the original series.  Eventually Carradine was participating in such unlikely projects as doing voice work on American Tail sequels and directing episodes of Lizzie McGuire.
Yet like a phoenix from the flame Carradine would rise to greatness once again when he was cast opposite Uma Thurman as the mysterious and deadly Bill in Quinton Tarantino's two part masterpiece Kill Bill.  Tarantino, who has a certain soft spot for faded seventies icons, tailored made the role of Bill for Carradine.  Sinister, mysterious and deadly, Carradine played the role with both a certain amount of softness and maliciousness, creating a unique villain  that the audience both feared and loved.  Bill would become Carradine's greatest role since Caine, and made him an  icon to another generation of film fans in what proved to be one of the most bloodiest and dysfunctional love stories in cinematic history.  Furthermore, Carradine's performance in Kill Bill opened the doors to more film and television work, making David Carradine a major figure on the pop culture radar.  Known as being open and assessable to fans, Carradine was a regular guest at autograph shows and horror conventions, and was also known for entertaining fans with his musical abilities at the piano and flute, often performing in such odd places as restaurants and hotel lobbies.  Even at the time of his death Carradine was signed to do six films that were currently in a state of post production, including the film Stretch which is what brought Carradineo to Bangkok.
However, tragedy befell the 72 year old actor on June 3rd  when he died a strange and mysterious death in his Bangkok hotel room.  Found in his closet by a chamber maid, Cararadine's lifeless body was found with a shoelace tied around his neck and gentiles.  A police investigation followed, sparking fear and fascination amongst his fans, as rumours of suicide began to leak through the media.  However, it was eventually revealed that Carradine had died during what was a bizarre sex act gone horribly wrong.
The loss of David Carradine is a true tragedy, but the cause of his death is something that will baffle the imaginations for years to come.  Rarely does a pop culture icon meet his demise in such an odd manner.  However, compared to drug overdoses, cancer and plane and car crashes, death during masturbation is actually rather unique.  It was probably quick and, well, lets face it, pleasurable.  No matter what the case, it is a far better fate then suicide.  It is more comforting to remember David Carradine as a man who died trying to find a moment of pleasure instead of as a man who had so little hope that he would end his existence.  If anything, the details of his death only increases the myth of David Carradine, expanding his legacy of eccentricness and intensity.
As I said before, David Carradine was one strange dude