REMEMBERS
TOM SNYDER
1936 – 2007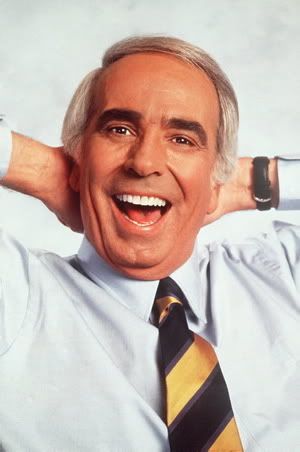 Three weeks ago, on July 29th, 2007, the world said goodbye to television journalist Tom Snyder.  Now I haven't done much coverage about Tom Snyder's death thus far because it's taken me a few weeks to be able to collect my thoughts and my feelings about this man's career.  You see, to me Tom Snyder was not just one of the players on the pop culture scene.  Tom meant a lot more then that to me.  Tom Snyder was a personal hero of mine.  Career wise, to me Tom Snyder was a role model, an inspiration, and the type of man that I have sought to be like.  Tom Snyder had all the qualities that any good interviewer should have – charisma, wit, intelligence, confidence, professionalism, courage, respect  and the ability to ask the right questions, and to know when to listen.  When it came to setting the standard, Tom Snyder was the man who set the bar.
In my continuous attempt to break into entertainment journalism I am often asked what I want to accomplish.  I often answer "I want to be like Tom Snyder." From most people my own age, or younger, I'll often get a puzzled look. For a lot of people my age, who lived in the era of Carson/Leno, Letterman and Arsinio Hall, subtle and smart guys like Tom Snyder are hard to imagine being a part of late night television. However, from 1973 to 1982 after Johnny Carson was over and the jokes and big band all went home Tom Snyder's quite one on one interviews occurred on The Tomorrow Show. Tom Snyder was quite, friendly and funny. He didn't have a studio audience. He didn't do a monologue and he wasn't a comedian. He didn't allow the entire interview consist of plugging a movie and then having the guest talk about some awkward thing that happened at some Hollywood party. Tom brought a big name guest in and he just talked to them. Tom believed that an interview was nothing more then just a conversation which allowed the celebrity guest to tell where they came from, where they were going and what was on their mind in order for the audience to get an insight into what they were thinking. Then Tom would offer personal insights and added to the conversation.  Before you knew it Tom's interviews became an exchange of thoughts and ideas – not a question answer period to make someone look good or bad. Furthermore, Tom asked the questions that others were scared to ask, without being aggressive like Larry King, or manipulative like Barbara Walters. For instance, in John Lennon's very final televised interview Tom actually asked Yoko Ono why people feel she broke up the Beatles (John interrupted the answer and tactfully changed the subject).
While Tom's interviews were usually quiet and subtle, he was also willing to take risks that other interviewers weren't willing to take, and as a result his interviews often became legendary.. In a disastrous Halloween interview with KISS, when Gene Simmons lost all control over the proceedings it was Tom Snyder that played ring master and kept a drunk and high Ace Frehley in line. He also kept his cool as Plasmatics lead singer Wendy O. Williams took a sledgehammer to a TV monitor on the set and Tom was even cool and quick enough to spar insults with an angry and passive aggressive Johnny Rotten.  However, no matter how notorious or often out of control the guest would become, Tom Snyder always respected his difficult guests enough to treat them like a human and an individual. This was no more true then when he sat down face to face with mass murderer Charles Manson in a rare prison interview in 1981. Between talking like a charismatic guru and then turning into a savage psycho at a drop of the hat, Tom Snyder kept his nerve, his courage and never wavered at treating Charles Manson like a man, and even an equal.
Tom's brilliant conversations ended in 1982 after some brains at NBC, wanting to compete with the likes of Donahue, made Tom get a studio audience and a co-host. Tom wanted out and left TV for radio where he could continue his brand of journalism and interviews without the Einsteins at the network interfering with his formula.   However,  in 1995, at the urging of David Letterman who also considered Tom Snyder a role model and idol, Tom Snyder was hired by CBS and appeared right after Letterman to be the original host of the Late Late Show and brought back his subtle style of conversational interviews. However in 1999 Tom Snyder decided it was time to retire and the Late Late Show was reformatted to compete with Conan O'Brien and given to Craig Kilborn.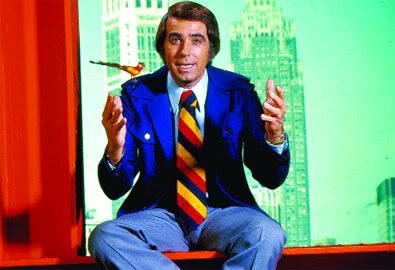 From the first interview I ever did, with Hardy Boy member Norbert Solystiak, I adopted the Tom Snyder method of interviewing. I did my research. I drafted out a series of smart questions that not only encompassed the entertainer's full career, but also their ideas and what makes them tick as an individual Then, when I sit and talk to them, I may ask my questions but I am ready to throw them out on a whim and I allow the conversation lead me in the direction to take. I make jokes, I get personal, I share ideas. I listen to the celebrity I am talking to and they listen to me. This connection I have had with some of my biggest icons has been one of the most treasured experiences of my life!  From Brady's, Monkees, Osmonds and members of KISS, Herman's Hermits, the New Kids on the Block, the Happy Days cast and even Hollywood elite, that sharing of ideas has justified my role in the pop culture journey.  However, the most important thing is that I know who they are and why they are important to our cultural identity. Tom Snyder was always able to make that connection because he had an idea of who he was talking too.  Too many kids in this business, guys like Ben Mulroney for example, have no idea who the people they are talking too and just asked the questions their producers tell them to ask. Tom Snyder controlled the direction of his conversations and allowed his opinions and thoughts shape the conversation at hand.
Tom Snyder may not end up being a legend of Late Night television to the public at large, but he will always be an inspiration to many who grew up on him and experienced his brand of journalism. I will never forget him and the example I took from his way, and I will always appreciate how it has helped in many of the greatest moments of my life, and has helped make my dreams of talking to celebrities come true. Through Tom's example I am living the pop culture dream.
Thank you Tom for helping set the example to making my dreams come true, and helping me achieve the successes I've had.  I'll never forget the lessons that you taught me, and the standard you set for me to be the man I want to be.