Ah Christmas music.  Either you love it or you hate it, but no matter what you just can't escape it!  Well you can call me a masochist if you wish, but personally I love it and for more then a decade I have been cultivating a large collection of holiday music.  The secret about Christmas music is all about weeding through the junk and finding the gems.  Just as with every other genre of music, for every five bad Christmas songs, one good one is recorded.  So this holiday season that's what I'm going to do for you.  Presented here are ten of the gems from my holiday CD collection.  Trust me; it was actually very difficult to narrow it down to just ten albums.  There is a hell of a lot of good Christmas music out there, so many of my favorite Christmas albums are not included here, but these ten albums are guaranteed to bring the Christmas spirit to even the most cynical of hearts.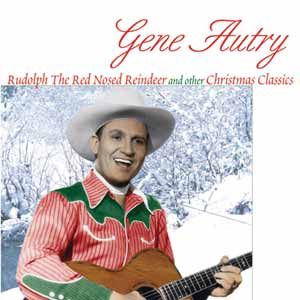 Gene Autry – Cowboy Christmas – Although we don't immediately connect him to Christmas today, during the 1950's singing cowboy Gene Autry was the king of Christmas music!  After appearing in the Hollywood Christmas Parade in 1946, where he and his horse Champion lead Santa's sleigh, he noticed scores of kids yelling "Here Comes Santa Claus."  This inspired Autry to write the classic song of the same name, which he recorded as a single for Christmas in 1947 which became an instant novelty hit.  In 1949 Gene Autry was sought out by Marks department store to record a promotional record featuring a brand new song, Rudolph the Red Nosed Reindeer.  Autry's version would be the first recording of the holiday standard and was followed up a year later with another promotional record for Marks Department store which would become the original recording of Frosty the Snowman.  With three massive Christmas hits aimed towards children under his belt, Columbia records approached Gene Autry with recording an entire album of Christmas songs in 1957.  Collecting his most famous original Christmas hits, the album also featured contemporary standards such as Silver Bells and Up on the Rooftop, and traditional carols such as Joy to the World.  A fourth original track, 32 Feet and Eight Little Tails, was a fun little tune about Santa's reindeer but remains to be an obscure Christmas song.  Yet what makes Autry's Cowboy Christmas unique is strange and haunting vocal narrations by Gene Autry between the album's tracks where Autry talks about Santa Claus, the Christmas spirit and even the birth of Christ!  Due to the copyright on Gene Autry's Cowboy Christmas having fallen into the public domain years ago, the album is easily available at a cheap price wherever most bargain Christmas CD's are sold.  A retro favorite, Gene Autry's Cowboy Christmas is a favorite from my childhood and remains to be a perfect holiday album for children today.  To order your own copy of Gene Autry's Cowboy Christmas click here.
Dean Martin – A Winter Romance – There is just something about the smooth vocal stylings of Dean Martin that nobody can resist.  The unpretentious crooner seems to have a smirk on his face and a wink in his eye with every note he sings.  Its no surprise that Dean Martin's 1959 album A Winter Romance has the same irresistible quality that Martin himself had.  The quirky cover alone, featuring Martin giving one woman the eye while romancing another on a ski resort lest listeners know that his tongue would be firmly set into his cheek.  A Winter Romance has a surprisingly small amount of holiday standards, with Rudolph the Rednosed Reindeer, Winter Wonderland and Let it Snow!  Let it Snow!  Let it Snow! being the only three.  However, Martin's version of Winter Wonderland and Let it Snow!  Let it Snow!  Let it Snow! have become amongst the most popular recordings of these songs ever.  Instead, Martin croons rarer tracks written during the era that inspires a sense of holiday romance.  The standout track is Martin's boozy rendition of Irving Berlin's I've Got My Love to Keep Me Warm.  Meanwhile, Martin's delightful version of Baby, its Cold Outside might make him sound lecherous if not for the fact that the song is playfully making reference to his persona as a womanizer.  Unfortunately the only track that A Winter Romance seems to be missing is Martin's classic A Marshmallow World, which he would record later in the mid 1960's.  Still, A Winter Romance drips with old school cool, perfect for a romantic evening in front of the fire.  To order your own copy of Dean Martin's Winter Romance click here.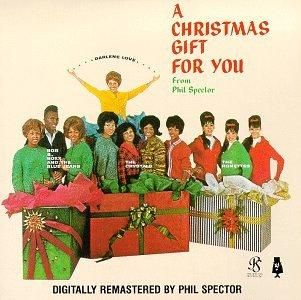 Phil Spector – A Christmas Gift For You – These days fabled record producer Phil Spector spends Christmas locked up behind bars for the 2003 murder of actress Lana Clarkson.   However, in 1963 the young and eccentric Spector released what was possibly the coolest Christmas album ever recorded.  Bringing together his stable of singers, including Darlene Love, The Ronnettes, Bob B. Sox and the Blue Jeans and The Crystals, Spector assigned them holiday standards and had them render the songs in their signature styles, backed by the legendary "wall of sound" for A Christmas Gift For You.   However, a fatal blow prevented the album from becoming an instant hit.  A Christmas Gift For You would fatefully be released on November 22nd, 1963 – the same day that President John F Kennedy was assassinated in Dallas!  As the country mourned, A Christmas Gift For You collected dust on the sales rack and the album was considered a flop.  However, as the 1960's raged on, the album was rediscovered and shared and quickly became a cult hit, becoming one of the most influential Christmas albums of the 20th Century.  Phil Spector's arrangements of the holiday classics helped shape and define the way that they were performed and popularized.  In fact, Santa Claus is Coming to Town, as performed by The Crystals, would become so popular that Spector's arrangement would be copied so often that it has become nearly as standard as the original arrangement.   But A Christmas Gift For You wasn't without its original songs.  Christmas (Baby Come Home) by Darlene Love was easily the albums' stand out track, which was later rerecorded and popularized by U2 in the 1990s.  The final track on the album, featuring Phil Spector giving the listener his own holiday greetings, is a holiday oddity and, in retrospect of things to come, is surreal and haunting.  A standard favorite for classic rock stations across North America, Phil Spector's A Christmas Gift For You continues to be as powerful and groundbreaking now as it was when it was first released over forty years ago.  To order your own copy of Phil Spector's A Christmas Gift For You click here.
The Vince Guaraldi Trio – A Charlie Brown Christmas – One of the special elements of the classic holiday special A Charlie Brown Christmas was the unique jazz soundtrack performed by Vince Guaraldi.  The first time a jazz score had been used for an animated feature, the soundtrackwas released simultaneously with the Christmas special in 1965.  The Vince Guiarldi Trio, consisting of Guaraldi on piano, Jerry Granelli on drums and Fred Marshall on bass, helped create some of the greatest holiday arrangements in Christmas history!  The album is full of holiday highlights, including Guaraldi's now classic jazz treatment of O Tannenbaum and the child actors that voiced the Peanuts characters singing Hark the Herald Angles Sing.  Yet it was Guaraldi's original song, Christmas Time is Here, that has become a Christmas standard and is included on the disc in both it's instrumental form, and the vocal version sung by a children's chorus.  As a bonus to the holiday music, A Charlie Brown Christmas also includes Vince Guaraldi's classic Peanuts theme, Linus and Lucy, which was reused continuously through the decades for all of CBS's Charlie Brown productions.  Not only is A Charlie Brown Christmas essential viewing, it is also essential listening.  To order your own copy of The Vince Guaraldi Trio's A Charlie Brown Christmas click here.
Paul Revere and the Raiders – A Christmas Present…and Past – Legend has it, when The Raiders' A&R man first heard their holiday album, he hated it so much that he pulled it off the turn table and smashed it to bits.  A Christmas Present…and Past, released in 1967 during the height of Raidermania, is an acquired taste, but remains to be a unique addition to any holiday music collection.  Unlike most Christmas LPs of the time, which had groups rehashing standard Christmas songs, A Christmas Present…and Past contains entirely original songs for the exception of The Raiders doing a rendition of Jingle Bells with, who sounds to be, Mrs. Miller!  Highlights include Mark Lindsay's haunting Christmas ballad Brotherly Love.  Set to the music of What Child is This, Lindsay sings of social hypocrisy during the holiday season.  The potent lyrics cover many of the issues concerning the counter culture movement of the era, with the most powerful verses being "At Christmastime who'd be such a fool/To not abide by the golden rule/although we send our children to different schools/and there don't seem much brotherly love."  The lyrics bring images of the school integration issues that continued throughout the 1960's at the time of the album's release.  Rain, Sleet, Snow is a psychedelic tribute to the postal workers that deliver packages and cards throughout the holiday season.  Peace is a beautiful trippy instrumental arranged and orchestrated by Mark Lindsay, leading into Valley Forge, which plays on The Raiders colonial military outfits by telling the narrative of the Christmas experience of a Revolutionary war solider.  The final track, A Heavy Christmas Message, questions the commercialization of Christmas by asking the question "Who took the Christ out of Christmas" in a clever, and not at all preachy, manner.  Where Christmas Present…and Past seems to fail is some campy comedy bits which were a favorite tactic of Paul Revere.  Also, for some odd reason, the sounds of an off key Salvation Army band is spliced between tracks which proves to be jarring to the senses.  Yet, despite these flaws, Christmas Past…and Present remains to be a fantastic Christmas oddity for the classic rock fan.  To order your own copy of Paul Revere and The Raiders' Christmas Past…and Present cluck here.
Herb Alpert and the Tijuana Brass – Christmas Album – Anybody who can't resist the unique horn of Herb Alpert just doesn't have a soul.  Its brassy and its cheesy, but its always damn good fun.  In 1968, coming off of the success of This Guys in Love with You, Herb Alpert donned a Santa hat and beard for the cover of his holiday album simply called Christmas Album.  Naturally the majority of Christmas Album is brassy instrumental arrangements, primarily of Christmas standards such as Winter Wonderland, Jingle Bells and Let it Snow!  Let it Snow! Let it Snow!  However, Alpert comes out from behind the horn for The Christmas Song and The Bell That Couldn't Jingle, an original song written by 60's hit makers Burt Bacharach and Hal David.  Yet, the real gem on the album is Alpert's careful rendition of Johanne Sebastian Bach's Jesu, Joy of Man's Desiring – an odd choice, but beautifully rendered by Alpert's unique sound.  Forget the standard boring instrumental Christmas albums at your holiday party.  Herb Alpert's Christmas Album turns any party into an instant cocktail lounge, adding a quirky retro sound to holiday festivities.  To order your own copy of Herb Alpert's Christmas Album click here.
TV Family Christmas – TV Family Christmas, released in 1992, is a pop culture delight.  Lovers of classic television will not be disappointed by this strange collection of Christmas songs being performed by stars from classic television programs.  However, what makes it essential for every pop culture addict's Christmas celebration is the fact that most of these songs have never been released on CD anywhere else.   Each and every track is a gem within itself.  The opening track, The Night Before Christmas, featuring the Chipmunks, is actually a jazzy rendition of the famous poem being performed by David Seville harnessing the art of beat poetry.  One of the coolest Chipmunk tracks ever recorded, the track is not available on The Chipmunks Christmas Album.  Bing Crosby, the king of Christmas classics, does a strange medley of holiday songs with sons Gary, Dennis, Phillip and Lindsey.  Of course, the friendly renditions of songs such as Here's to the Joy of Christmas and The Snowman has a sort of pathos today considering the reports of the abuse that Crosby inflicted on his children, leading to two of his sons eventual suicides.  Once again, these tracks featuring Crosby and his sons are not available anywhere else.  Howdy Doody and the McGuire Sisters perform a whimsical little tune called Have Yourself a Howdy Doody Christmas; Danny Thomas sings a beautiful original song called The First Christmas; and Lorne Green, Dan Blocker and Michael Landon, the stars of Bonanza, combine voices on Merry Christmas Neighbor.  Other tracks are performed by The Partridge Family, Buck Owens, The Brady Bunch, John Schneider and Mickey Dolenz and Davy Jones of The Monkees.  However, the gem of the album is Bobby Sherman's I'm Going Home (Sing a Song of Christmas Cheer).  Originally released as a single for Christmas 1971, I'm Going Home is possibly one of the best Christmas songs of the 1970's but has wallowed in obscurity for decades and A TV Family Christmas seems to be the only compilation to eve release the song on CD.  A rare album, which hasn't been re-released since its original pressing, is often hard to find, but is available through Amazon marketplace and e-bay and is worth seeking out.  To order your own copy of A TV Family Christmas click here.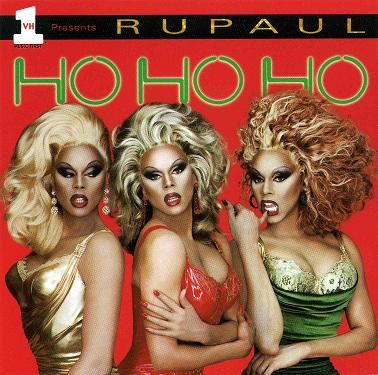 RuPaul – Ho Ho Ho – Although it may never be considered a Christmas classic, RuPaul's Ho Ho Ho album could be one of the funnest Christmas albums released in the last twenty years, and is surprisingly far better then you might ever imagine.  Released in 1997 in conjunction with VH1, flamboyant drag queen RuPaul recorded an unlikely, but delightful, holiday album.  Filled with girl talk and miscellaneous banter with his back up singers Latasha Spencer and Michelle Visage, RuPaul tackles an eclectic cross section of musical genres including country, pop and soul.  Of course, a RuPaul album wouldn't be complete without plenty of homoerotic references, which run rampant in tracks such as RuPaul the Red Nosed Reindeer, I Saw Daddy Kissing Santa Claus and RuPaul's spoken word odyssey, Christmas Night.  But through the camp and kitsch of this strange little album, a few gems shine through.  RuPaul's dance number, Christmas Train, is a pop medley of a number of Christmas standards such as Joy to the World, O Come All Ye Faithful, Jingle Bells, Hark the Herald Angels Sing and We Wish You a Merry Christmas and is surprisingly well done and uber-catchy.  Yet the highlight of the album is the disc's finale where RuPaul, Visage and Spencer perform Dolly Parton's ballad Hard Candy Christmas complete with charming improvisational banter.  RuPaul's holiday album is definitely an acquired taste, but it is a funny, original and surprisingly good disc.  If you're into campy humor RuPaul's Ho Ho Ho is worth a listen.  To order your own copy of RuPaul's Ho Ho Ho click here.
We Wish You a Metal Xmas and a Head Banging New Year – The combination of hard rock and holiday songs is not a new idea by any means.  Plenty of artists, including AC/DC, The Ramones, The Sex Pistols, Metallica and Ozzy Osbourne recorded holiday songs long before Twisted Sister recorded their brilliant holiday album, Twisted Christmas in 2006.  However, in 2008 Wendy Dio, wife of legendary hard rocker Ronnie James Dio, teamed up with heavy metal producers Bob Kulick and Brett Chassen to create the ultimate heavy metal Christmas album of all time!  Combining members of classic hard rock bands such as Kings X, Ratt, Styx, Queensryche, Iron Maiden, Motorhead, KISS, Marilyn Manson, Anthrax, Judas Priest and many many more, the musicians were carefully paired together and given holiday standards to arrange and record in their own unique style.  Standout moments includes Dio himself with a haunting hard rock version of God Rest Ye Merry Gentlemen that harkens back to his days as lead vocalist to Black Sabbath; Motorhead's lead vocalist Lemmy's rendition of Chuck Berry's Run Run Rudolph; the original shock rocker Alice Cooper on Santa Claus is Coming to Town; Queensryche's Geoff Tate on Silver Bells and Testament's Chuck Billy's disturbing version of Silent Night.  Meanwhile, Journey's Jeff Scott Soto harnesses the sound of 80's hair bands for We Wish You a Merry Christmas, and Ratt's Stephen Percy takes a go at Grandma Got Ran Over By a Reindeer.  Although it is no question that We Wish You a Merry Xmas and a Head Banging New Year is in no way a traditional holiday album, what makes the album unique is that while past hard rock musicians has released holiday singles as novelty singles or as a joke, the musicians on this album take the project very very seriously, and as a result makes these nontraditional renderings of holiday standards work.  We Wish You a Metal Xmas and a Head Banging New Year features the best musicians that the world of heavy metal has to offer and they deliver.  To order your own copy of We Wish You a Merry Christmas and a Head Banging New Year click here.
The Buckinghams – The Joy of Christmas – In the 1960's The Buckinghams were one of the Top 40's biggest hit makers with songs like Kind of a Drag, Don't You Care and Mercy, Mercy, Mercy.  Yet, while many 60's groups cut Christmas singles during the holiday season, it wasn't until 2009 that the current line up of The Buckinghams, lead by original members Carl Giammarese and Nick Fortuna, released a Buckinghams Christmas Album.  Available on their web-site, The Buckingham/'s The Joy of Christmas is a nine song ep where The Buckinghams brings the classic Chicago sound of the 60's to the holiday season!  Although it features your basic Christmas fare, including White Christmas, Jingle Bell Rock and I'll Be Home For Christmas, the true gems of the CD are Carl Giammarese's three original Christmas songs – The Joy of Christmas, Christmas Twelve Months a Year and Have a Little Faith.  The Joy of Christmas is a nice little piece celebrating the hustle and bustle of the holiday season where Giammarese questions how we all manage to get through it all, bluntly stating at one point "Is everyone thinking the same way as me/ a drink is all I need/Maybe some egg nog with a little extra rum/and maybe this Christmas will be much more fun."  Carl hits it on the head, and would fit in at my annual Christmas party just fine!  However, despite a tone of cynicism, The Joy of Christmas doesn't get bogged down due to the warmness in Carl's delivery as well as the sound of holiday festivities dubbed into the final bars of the song.  Have a Little Faith is a different type of Christmas ballad.  It is a man's reassurance to his partner that their fathering relationship will be able to make it through the holidays.  Christmas Twelve Months a Year is much like other songs written before, asking why the goodness that comes out in people's hearts at Christmas can't last throughout the year.  However, what makes this different is that it is the track that best captures The Buckinghams unique sound from the 1960's.  The Joy of Christmas is a special gift from one of the 1960's best bands, and although it is not available at most retailers, it is definitely worth seeing out.  To preview and order your own copy of The Buckinghams' The Joy of Christmas click here.