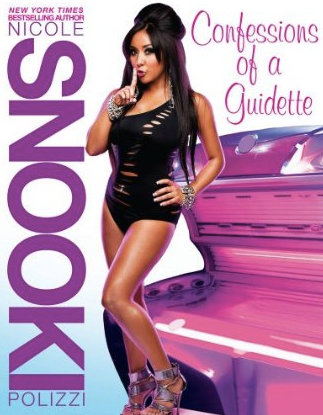 Confessions of a Guidette by Nicole "Snooki" Polizzi – With less then a week before Christmas there is little time left to shop for those last few people on your Christmas list.  But what do you get for those people that you are totally obligated to buy for?  Those people that you aren't really sure why you have to get them anything at all.  People like that distant cousin you've only met four times in your life that is spending Christmas this year with your family, or your brother's new girlfriend that you barely know, or your mother in law that you can hardly tolerate or the woman in accounting which you didn't know the name of until you picked her out of the office Secret Santa jar?  Well, for those tough buys on your Christmas list, make the yuletide gay by giving them the gift of Snooki for Christmas.  That's right!  Nicole "Snooki" Polizzi, the pint sized "beloved" star of Jersey Shore is back with her second book, Confessions of a Guidette, just in time for the holidays!  Fa la la la la, la la la la!
Hot on the heels of her best selling novel A Shore Thing, Confessions of a Guidette is not a biography as much as a scrap book of everything Snooki.  From her obsession with Hello Kitty to her fetish for pickles, Snooki takes you through her world via colorful photos and simple to read chapters.  But be warned.  There are no deep secrets or insights in Confessions of a Guidette.  The book is about as shallow as Snooki is herself.  In fact, it takes about sixty-four pages before there is any sort of substance (and I use the term "substance" very loosely), and the book can easily be read in a matter of hours.  Confessions of a Guidette is so shallow that it makes A Shore Thing look like Othello in comparison..  From chapters on what she'd bring to a desert island to her obsession with J-Wow's boobs, Snooki unleashes a fury of trivial knowledge to the reader which is really nothing more then a narcissistic vanity project.
While it was obvious that Snooki didn't actually write A Shore Thing (it was written by ghost writer Valerie Frankle with Snooki's input),  it is unlikely that Snooki actually wrote Confessions of a Guidette either.  Often it reads like it was written by someone writing what they think Snooki would say instead of being Snooki's actual words.  Perhaps I just want to believe that Snooki would give us some actual substance on her past, present and future.  Instead it is just one hundred and seventy five pages of stuff that people already know about Snooki, and what was unknown is so trivial that nobody would ever really care.   Snooki is continuously trying to get the media to take her seriously, stating that there is more to her then we think.  Confessions of a Guidette could have been a platform for her to prove that fact, making me believe that either Snooki didn't actually write it, or she obviously has very little story to tell.  Personally I believe that there is truly more story to Snooki then what Confessions of a Guidette offers.
Furthermore, the window of opportunity for Confessions of a Guidette has already flown the coop.  Eight months ago this book would have been a huge seller but it seems that the fickle world that eats at the smorgasbord of media has already devoured Jersey Shore and has moved on to the next thing.  Where Snooki was once hot, her fifteen minutes of fame has passed her by and she is now as cold as leftover meatloaf.  Confession of a Guidette just barely seems to have missed that window of opportunity.
So if Confessions of a Guidette is so poorly written and lacks anything of substance, then where does its values lay?  Well, first of all, Confessions of a Guidette makes a great conversation piece.  By sitting on the coffee table in my office over the last three weeks, every visitor has sat down and picked it up and thumbed through it in amusement and we've discussed the book, laughed at the Jersey Shore phenomena and bonded over our often secret love for Snooki.  The book has sparked lively conversation amongst my peers, who I consider to be culturally advanced beyond the world of Snooki.  Let's face it.  There is a little Snooki in all of our souls, whether we like to admit it or not.
Confessions of a Guidette also acts as an interesting bathroom reader, a decorative doorstop, or something quirky to have in your book shelf between the complete works of Steinbeck and Truman Capote's In Cold Blood.  But the true value in Confessions of a Guidette may lay in its future collectable value.  As an avid pop culture collector, I am a regular visit to antique shops and I am often fascinated by books that have been released, or written, about celebrities with a short shelf life that were produced at the height of their career.  The shorter their career, the more collectable the book becomes.  I am convinced that within twenty to thirty years Confessions of a Guidette will be a sought out collectable for people with a nostalgia for the current decade.  Watch out.  Our children's children could be the ones trying to emulate Snooki just as we emulated icons of the 60's and 70's in our youth!
At the very least it's a great gift to give someone that you either don't like or barely know.  Don't worry if they like Jersey Shore or not.  Just buy them Confessions of a Guidette and enjoy the look on their face when they open the package.  Have a camera ready.  It'll be priceless!  It'll either give you something to talk about, or they'll totally hate it and try to be gracious as they thank you.  Whichever, it'll be a gift they will never forget, and a Christmas story to talk about for years to come.  That's what Christmas memories are made of!  Merry Christmas Snooki, and thanks for giving us the perfect gag gift of the holiday season!
To order your own copy of Confessions of a Guidette by Nicole "Snooki" Polizzi visit Simon and Schuster Canada's web-site here.
Thanks again to the lovely Anneliese Grosfield of Simon and Schuster Canada for sending so many great books used as part of PCA Book Club this year.  Happy holidays to you and all your colleagues, and have a Merry "Snooki" Christmas and a Happy "fist pumping" New Year.  Looking forward to working more with you in 2012!